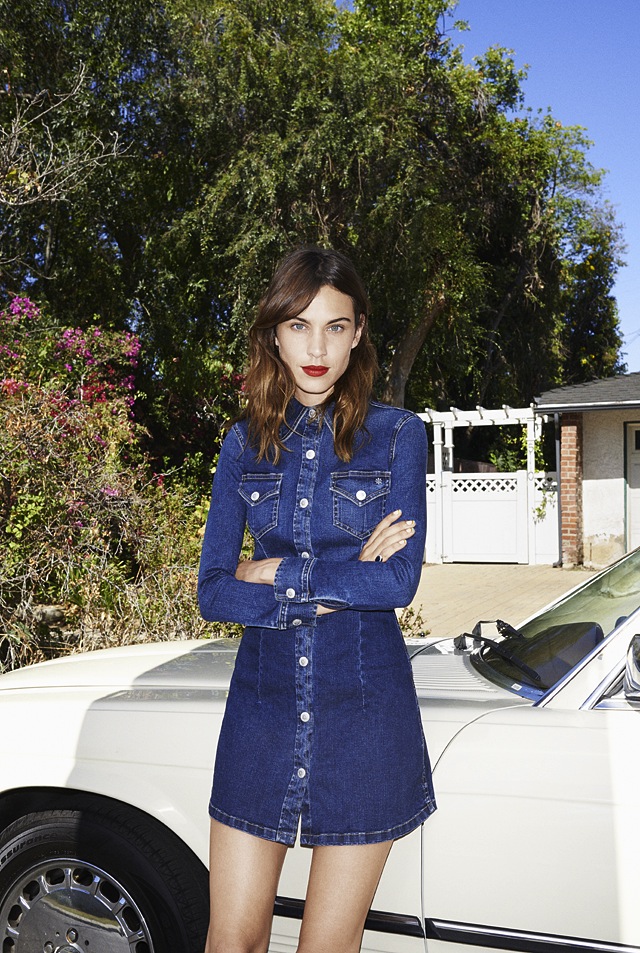 Back in June 2014, I announced the news that Alexa Chung will be collaborating with AG Jeans on a very special collection for Spring Summer 2015! Everyone has been excited and is anticipating this launch and I am able to now share all of the pieces and details with you! It will be available to buy Thursday on January 15th and here is all of the information on the Alexa Chung x AG Jeans collaboration!
The 21 piece collection unites AG's design expertise with Alexa's sense of cool; infusing modern staples with alluring throwbacks. It features a range of covetable silhouettes, including vintage- inspired overalls, mod dresses, perfect-fit-tees and high-waisted jeans. Alexa has mentioned the collection "is inherently the missing pieces of her dream denim wardrobe, which…is inspired by a late Sixties, early Seventies aesthetic."
You can see above and just below three gorgeous photos of Alexa wearing her favourite pieces from the collaboration. These photos were shot by Angelo Pennetta in Los Angeles and styled by Alexa herself. I have to say that the double denim look with the shirt and skirt is my favourite! I think she looks incredible in it, not to mention I love some of these skinny jeans she has designed for the brand! I mentioned the launch was next Tuesday, so all of these pieces will be available to buy at the AG retail locations online and in store, as well as select stockists! The price will range from $70 to $300, so it seems quite reasonable for the brand! You can shop it on Shopbop, Matches, My Theresa and AG Jeans from Thursday!
Alexa also stated "I visited their [AG] offices in LA and was delighted to discover it was also the site of their factory. I liked that it is a family business and that they are experts on denim technology. I found the trip incredibly inspiring and an opportunity to learn about denim and make things I had been dreaming about finding. The collection is inherently the missing pieces of my dream denim wardrobe, which, as ever, is predominantly inspired by a late Sixties, early Seventies aesthetic."
While AG mentioned "Identifying our next collaborator for AG has been a long and thought-out process. Our goal was to partner with someone who has a unique view on fashion and paves her own path in order to bring a fresh take on denim," said Sam Ku, Creative Director at AG. "After countless back and forth internal discussions, we trusted our instincts and chose to pursue a collaboration with Alexa Chung. As a modern day fashion icon, Alexa is a muse to some of the most incredible fashion designers in the world, yet remains real and accessible to the everyday woman looking to her as a fashion influence and inspiration. She has brought to the collaboration her impeccable taste and keen eye for what's coming next, and we're excited to partner with her on the Alexa Chung For AG collection."
You can see the full Alexa Chung x AG Jeans collaboration collection in the slideshow below! There are 21 pieces in total, ranging from denim jeans, skirts, shorts and overalls to dresses, sweaters, t-shirts and more!