Mott & Bow, premium men's jeans for under $100
The Jeans Blog got the opportunity to chat with Alejandro Chahin, the founder and CEO of men's premium denim label, Mott & Bow. Mott & Bow is a fairly new jeans brand on the market, but with a difference. They are a premium men's denim label that deliver meticulously handcrafted jeans drawing upon years of family heritage and experience, all for an amazing price of around $100. They're a perfect fit designed for the modern man, neither too tight nor too loose and really put the smart in casual. Mott & Bow jeans have a New York aesthetic to them and they pride their label on creating comfortable, affordable premium jeans. I was wondering how this is possible, which is why I spoke with Alejandro to find out more! Check out the interview below and you can see their new styles online at their website, Mott & Bow.
The Jeans Blog – So what makes Mott & Bow different from other brands?
Mott & Bow – 1) We are the most comfortable premium jean brand out there (extremely focused on the comfort and feel of our product). 2) We are the only men's denim brand to offer designer quality premium jeans at under $100.
TJB – Could you tell us more about it?
Mott & Bow – The two main reasons we can pull this off is because we are vertically integrated in manufacturing, my family has been making jeans in our own facility since 1982 (deep denim know how), and we are reaching the consumer directly (no retail middleman). This means we can really put the expensive denim fabric and labor intensive handcrafted dry and wet finishing processes (both determining characteristics of a true premium jean) and still offer our product at $96 (not the usual +$200). In essence, we are transferring our unique competitive advantage to the end customer by giving him a superior product at a bold price.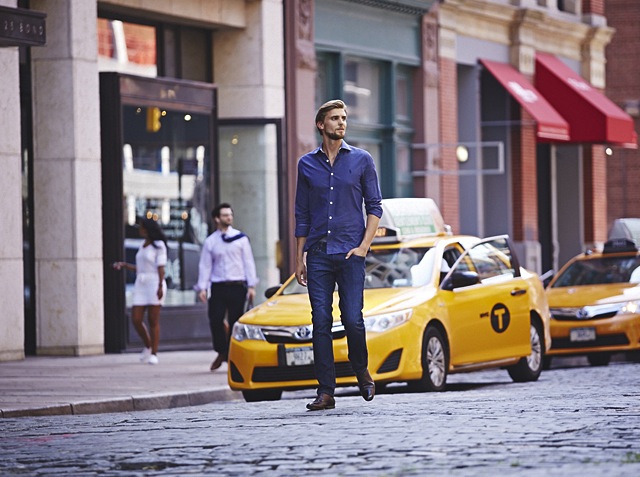 TJB – What inspired you to create the brand?
Mott & Bow – I could never find a premium jean at $100.
TJB – So was that the only thing? Or were you into creating different fitting jeans too?
Mott & Bow – The aforementioned seems like a simple premise but it is the heart of it. And we are uniquely positioned, because of our competitive advantage to change the paradigm of the premium denim industry and deliver on our promise.
Comfort is huge differentiator for us. We have really taken this to another level and choose (and treat) only the most comfortable denim out there. As a result, our customers constantly refer to our jeans as fitting and feeling like a glove. We are staying away from sandpaper like denim. Fit is tremendously important and we have nailed it. But there are other brands out there that have good fits as well (this is just a requirement in the industry to have the right to play in it).
TJB – So you are in the premium denim route, but for under $100, where do you source your denim fabric?
Mott & Bow – That is what makes us so special, we source from the same denim suppliers that supply the brands that charge +$200 retail. And yes, we are buying their expensive fabric. We know one of the most important components in having a premium jean is sourcing the premium denim fabric (there is no room for cutting corners here). To give names, we are currently buying from ORTA Anadolu and will be announcing a second prominent mill as a supplier this March.
Now you may be wondering how we are the only ones doing this. The answer goes back to our competitive advantages, these are:
1 – We are vertically integrated in manufacturing. We have been manufacturing jeans since 1982 (we know denim in and out). Having our own manufacturing facility allows us to control quality and eliminate the markups that are associated when you outsource production. For clarification purposes, when we say manufacturing facility this also includes our own laundry facility (dry and wet finishing processes). As you know, the dry and wet finishing processes are as crucial as sourcing the best denim fabric.
2 – We are a direct to consumer brand (vertically integrated in distribution). This allows us to cut the inefficiencies and markups in the distribution process. Not only do we eliminate the middlemen in the process but we also don't have to hold excess inventory for distributors/partners/chains that require brands having X amount of units in stock for immediate pull. Just to play devils advocate, what do you think happens when those units are not pulled/required? Or worse, what happens when the distributors call you to say that a certain item did not reach the required inventory rotation metric and they will be sending it back to your warehouse?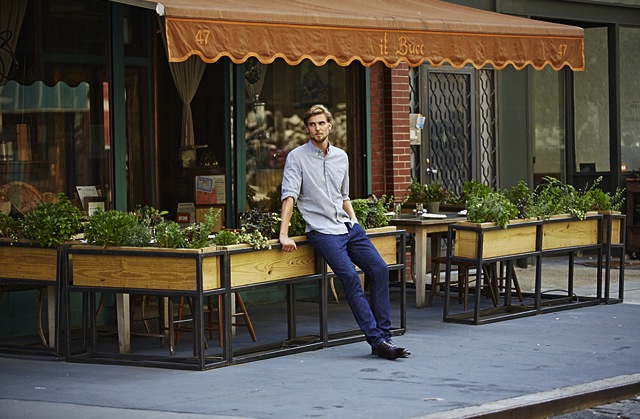 TJB – Amazing! So, what sort of jeans do you have to offer your customers?
Mott & Bow – We offer three fits, these are: skinny, slim and straight. In terms of style, we offer a modern classic premium jean. Our design is clean and minimalist. Our washing is subtle but elaborated. This combination makes it suitable for day or night. Our focus is offering an extremely comfortable jean that is enviable aesthetically.
TJB – What's your personal favorite style?
Mott & Bow – Fit-wise definitely the Skinnies. Style-wise it's currently a tie between the Gray (Horatio 4 Month) and Black (Thompson Rinse). It's hard not to mention our signature Mosco Resin Rinse (it's been the all time customers favorite) that was my favorite for the first 6 months.
TJB – What type of person do you envision wearing your jeans?
Mott & Bow – A guy that has a sense of style but does not over think things. He is smooth and easy-going. Confident.
TJB – What can we expect to see from you for SS15 and AW15?
Mott & Bow – We will focus on expanding our styles in the same fits. For example you will see a lighter more distressed tone of our gray which has been a huge success.You will see different colors of indigo come into play. We have a couple of surprise colors for AW15.
TJB – Thank you, Alejandro!