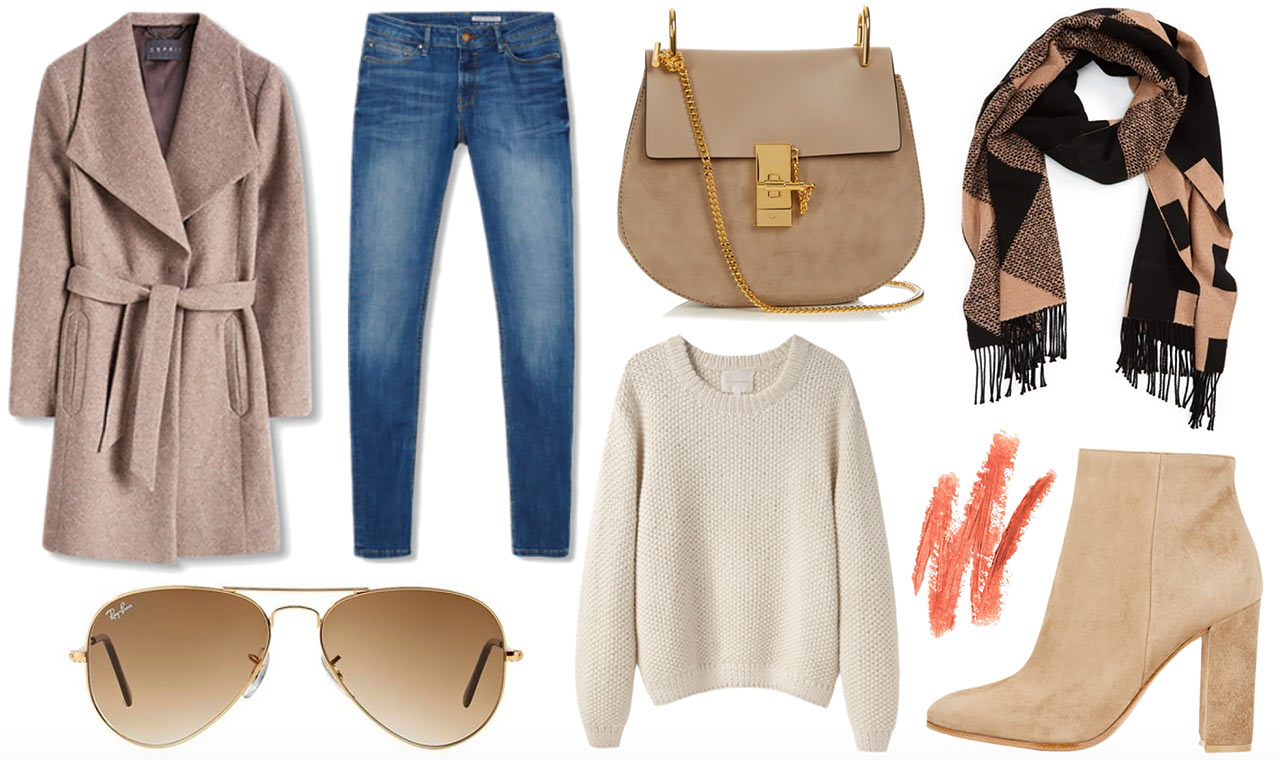 As you know, I recently put together a blog post on fashion week jeans that are wonderfully weird, but I thought why not go the whole way and style two fashion week outfits as well? I haven't gone crazy with these two looks as I wanted them to be perfectly styled, plus wearable, but entirely chic. I've gone for a Rosie Huntington-Whiteley, Heidi Klum, and Jessica Alba vibe with these two combinations.
The first look is actually more inspired by New York Fashion Week for me with the layering, neutral tones, and boots. I combined this beautiful wrap around coat from Esprit which you can get here with a pair of their blue skinny jeans (here). I then chose a simple cream sweater to stick with the neutral tones, with complemented these stunning Gianvito Rossi boots perfectly. Aren't they amazing? No look is complete without accessories though, so I stuck with the colour palette using the famous Chloe Drew bag and some Ray-Ban aviators. Finally finished off with a pop of colour from the Burberry scarf and coral lipstick.
I'm a huge fan of peachy and dusty pink right now, which happens to be the perfect accompaniment to grey in my opinion, so this London Fashion Week inspired outfit is one that I would love to wear myself, not just because I'm British, but because it's so comfortable. The reason I think this one is more suited to London is purely because it's got an element of casual and grunge to it, but in a much more feminine way.
I opted for these Esprit grey skinny jeans (here) as a base for the outfit, which I paired with this cream sweater (here) for a neutral mix. Since peach is a colour that's incredibly hot at the moment even for Fall, I threw on this Yumi peach coat to be worn loosely over the shoulders, and chose these grey and peach sneakers (here) to match the colour palette. Sticking to the theme, I then added in this peach scarf (here) for a more feminine touch, along with the delicate rings and pink lipstick, but then chose some black Ray-Ban Wafarers and a beanie hat to put some masculinity into the mix. I love how it turned out and think this one might be my favourite of the two, but it's a very close call.