I was at a PR showroom a couple of months ago in London, checking out the brand new AG Jeans denim for Autumn/Winter 2014. Despite the collection being amazing (as I always know it will be, AG never let me down!), there was a new denim concept that really caught my eye, but in actuality, it's not really denim at all! Are you intrigued? I definitely was!
Digital Luxe Denim employs a hyper-real printing technique to bring the weathered appearance of vintage jeans to AG's ultra soft Luscious Stretch Sateen, which is a consistent best-selling fabric for the brand. This high-definition imagery lends a textural illusion to both sides of the garment; as a result, you can turn up the cuffs without disrupting the effect. How cool is that? Three distressed washes have been developed for a selection of AG's most popular fits: the Legging, the Stilt, and the Nikki. The comfort of sateen and the visual characteristics of jeans make Digital Luxe Denim a mixture of truly the best of both worlds.
A few brands have been bringing out their own takes on printed jeans, implementing a realistic image of a pair of jeans and the wash onto a non denim fabric, purely to create the illusion of real jeans, sort of similar to Diesel Jogg Jeans, but I think these by AG are incredible. When I saw them in person, I didn't even realise that the distressed areas and rips were not actually there. It was my assumption that you could put your finger through them, but of course you can't. The prints are as 3D as you can imagine, creating what actually looks like jeans. It's amazing!
While this new printing technique is quirky, fun and innovative, creating comfortable jeans for everyone who buys them, I'm hoping that it wont take over the denim world in full force and will just be a sideline collection as I feel like it takes the essence of denim away a little bit. Don't get me wrong, I absolutely love this idea and I'm all for comfort to the maximum level, but I adore the true blue weaves of denim as a fabric. You can't beat it! You can read more on each individual pair of Digital Luxe Denim below and you can buy them online here. What do you think of them? Comment and let The Jeans Blog know!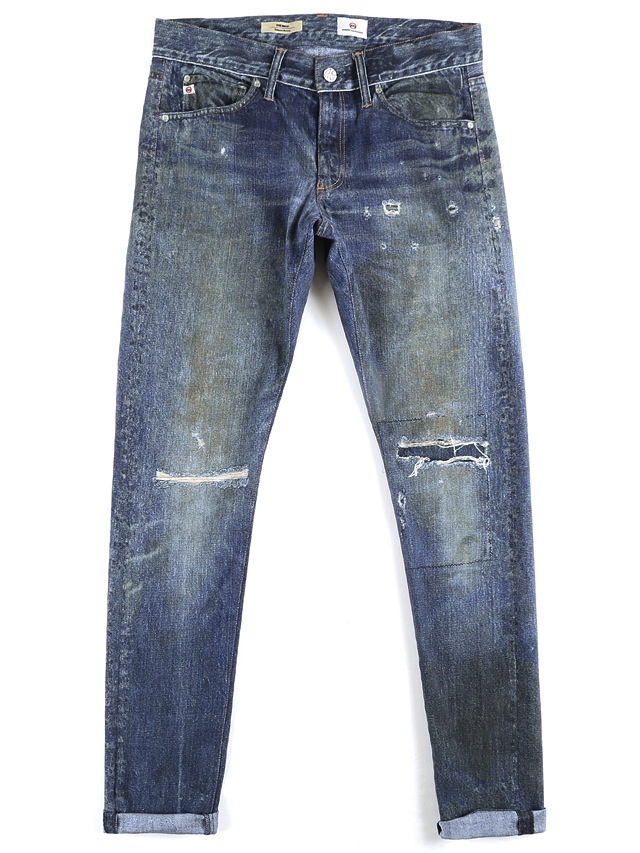 A classic faded blue that reflects authentic aging with haphazard abrasion, mending at the knee, and a dusty patina throughout, costing $325.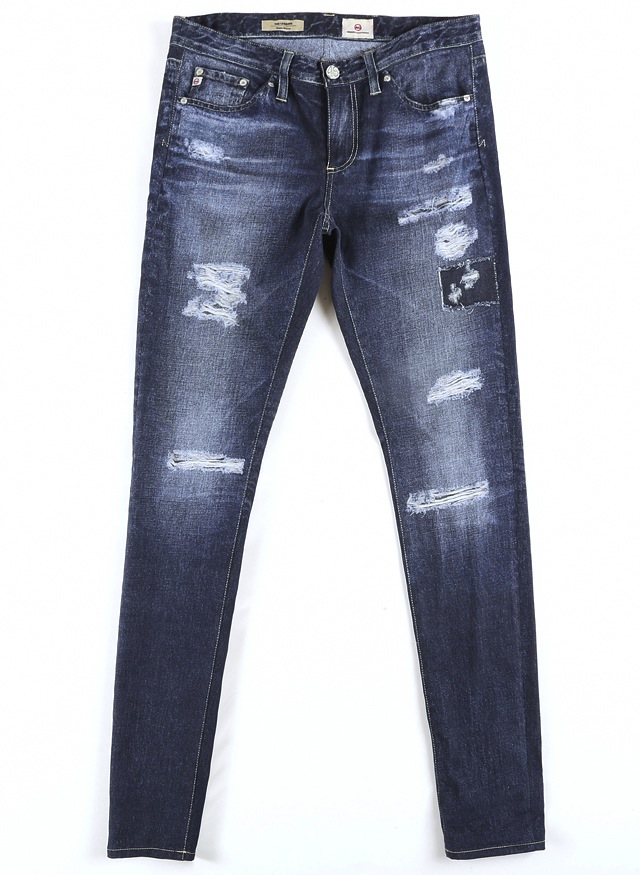 A dark blue rinse accented with high-contrast fading through the knee, ample deconstruction, and rip-and-repair patchwork. It's actually available in the Legging and the Stilt for $325.
A black wash lightened by fading through the knee and detailed with abundant shredding and patched mending, costing $325.