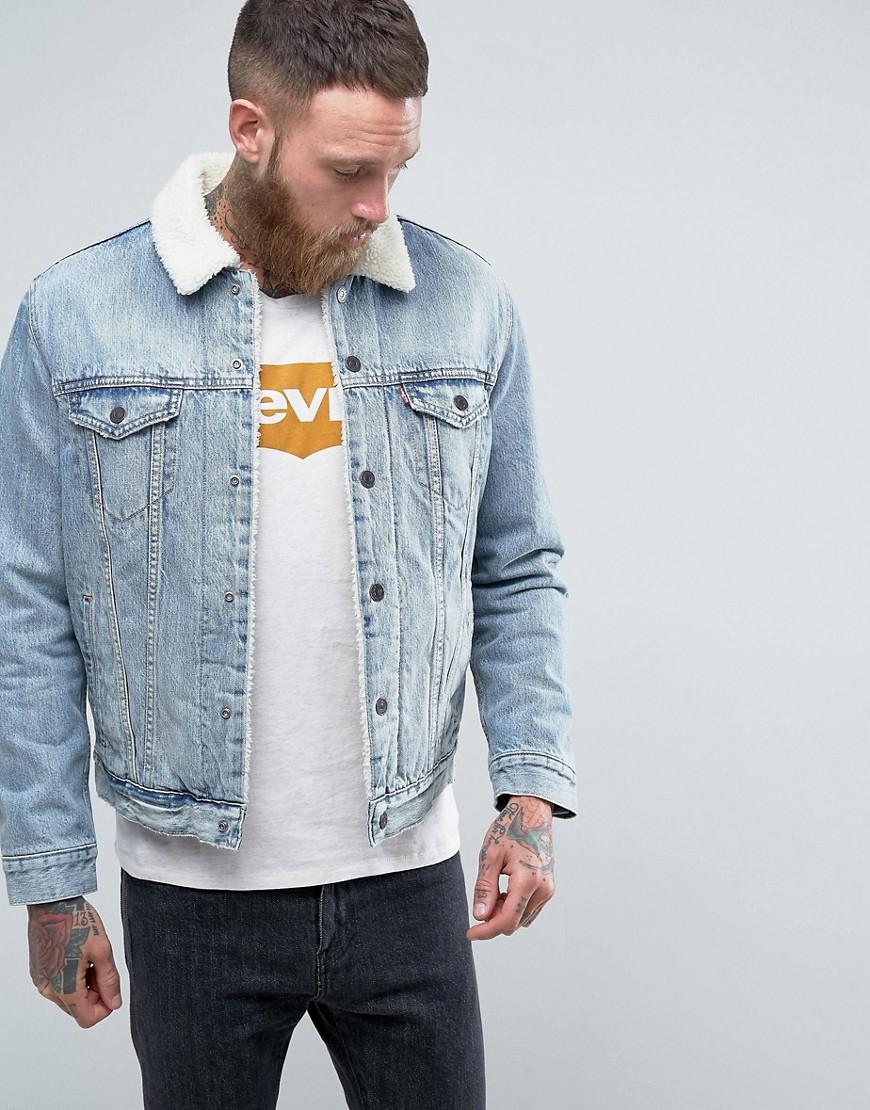 Guys, our Find of the Week this week is for you! I personally think that this is an absolute must have for the coming season that's just encroaching on us. Levi's always release a Sherpa/Shearling Denim Jacket every AW season and they vary the washes slightly. They always have a light blue, a medium blue, and something more unique. Since I am personally a huge fan of the vintage, washed out, authentic looking washes on denim, I'm more attracted to the lighter blues like this one.
This is the Levi's Type 3 Denim Sherpa Jacket in Fine Line. It's their newest colour and has just recently been released. You might have noticed that the shearling lined denim jackets only start in a size S and don't go smaller than that, but with the thicker lining, they tend to run quite small. Adam just actually bought this denim jacket and it looks fantastic on him (I have tried to borrow it, but it's just too oversized on me) and I am hoping he might review it for you soon!
The Levi's Trucker jacket has been the brand's original jean jacket since the 1960s. The 'Type 3' has been re-modelled to include soft and warm faux fur sherpa insulation to the collar and lined interior. The non-stretch denim jacket is crafted from pure cotton and features a press stud fasten button placket to the front and buttoned band cuffs. Two buttoned flap chest pockets, an internal welt chest pocket and side pockets also feature. Buttoned waistband tabs to the rear offer an adjustable fit. Characteristic flat felled seams and topstitching appear throughout. Finished with Levi's signature, branded red tab sewn onto the chest pocket. Made from cotton, polyester, and polyamide.
I thought it was easier to paste the description here as it explains it incredibly well, but one thing it doesn't state is the Fine Line wash and how gorgeous it is. As I mentioned, there will hopefully be a review soon with our own photos, so you can see it, but trust me, it's gorgeous! I've seen this Levi's denim jacket in a couple of stores (Urban Outfitters mostly) and each jacket does vary as the washes are slightly different on each one. Luckily Adam got a fantastic one and it looks like a vintage Levi's sherpa denim jacket from decades ago! They nailed it! It's one of their most popular jackets for the season, so if you haven't yet got one, you need to! Buy it in the links below:
Shop this Levi's jacket at ASOS, Levi's, Urban Outfitters & The Hut