FRAME | Generation Love | Hudson | RtA | DL1961
Another month has come and gone, and more denim has launched itself onto our radar for the warmer weather. This months Editors Top 10 Denim Choices has left me excited actually as I've included so many different types of denim – it's a real mix and match! There's everything from skinny jeans and cropped flares to denim skirts, patchwork, denim shorts, a denim jacket, and even a chambray top – which is unusual for me to feature, but I think it will be just the right piece for the coming months.
Light blue hues and white denim are the key colours for the SS17 season and I love every single piece here. As we always see celebs wearing maxi dresses with denim jackets in the summer months, I think that pretty option from RtA above could be the perfect one to layer over your florals. The wash looks like it would complement anything and since it's slightly distressed and bleached, it will help keep your looks casual. However, if you prefer to go without a jacket and want some statement denim, those AMO Two Tone Jeans are just beautiful, aren't they? I think the back and front denim panels with the twist at the hem is so fun!
Of course raw hems and skinny jeans are always going to be popular, so they don't need much description of their own, but there are two other pieces that I wanted to point out as well. The PRPS Patchwork Skirt is so cute! It's got an A Line style to it, so it's got a vintage feel, and the shredded hemline is easy going, but what attracted me to it was the wash and the denim patches. I've not really seen a skirt like this before, but then PRPS are known for making statement denim. Lastly, those embroidered denim shorts from RAILS are adorable. I love the stars and the distressing on them, they look so chic. I can see them being worn with a white shirt and some wedges or flip flops easily. Out of these 10 jeans and denim articles, which do you like the most?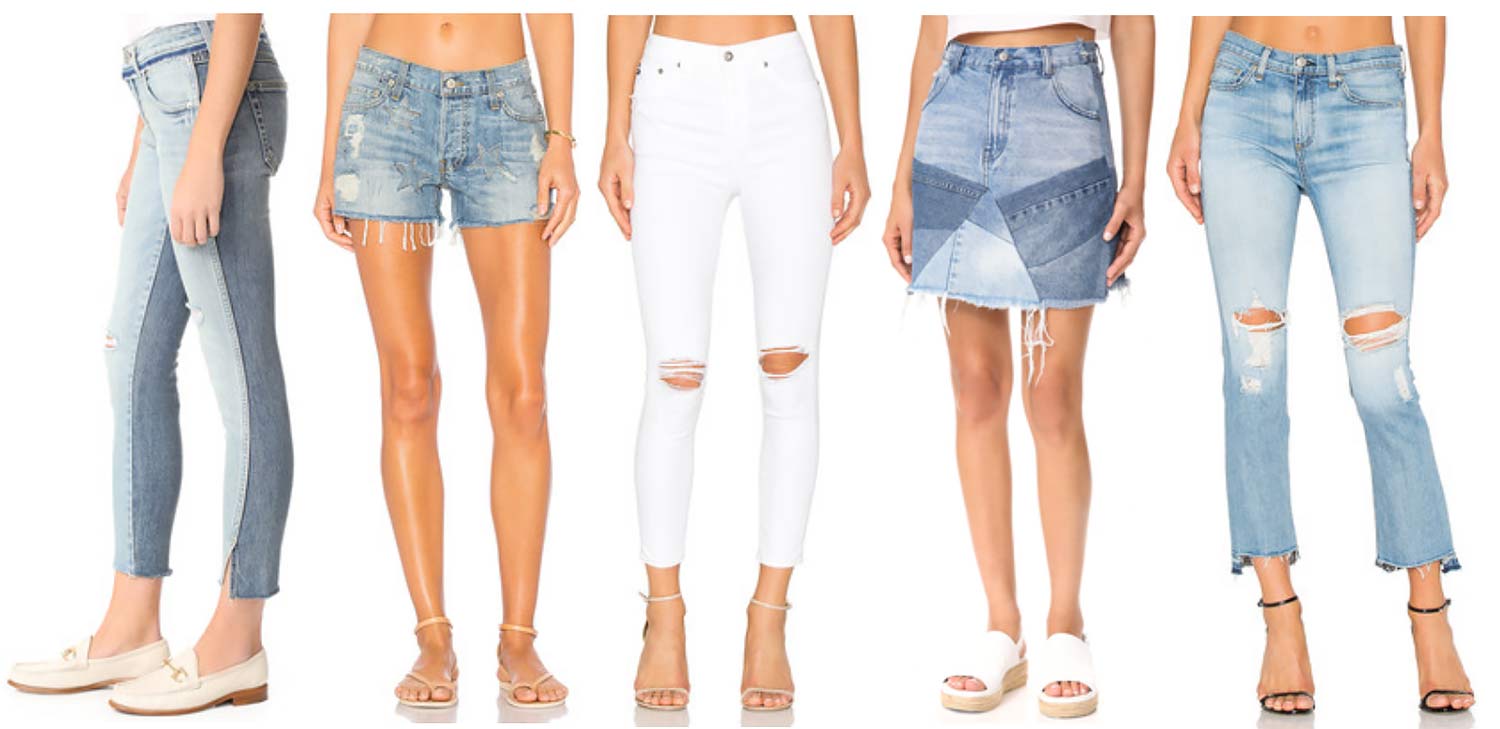 AMO | RAILS | AG | PRPS | Rag & Bone