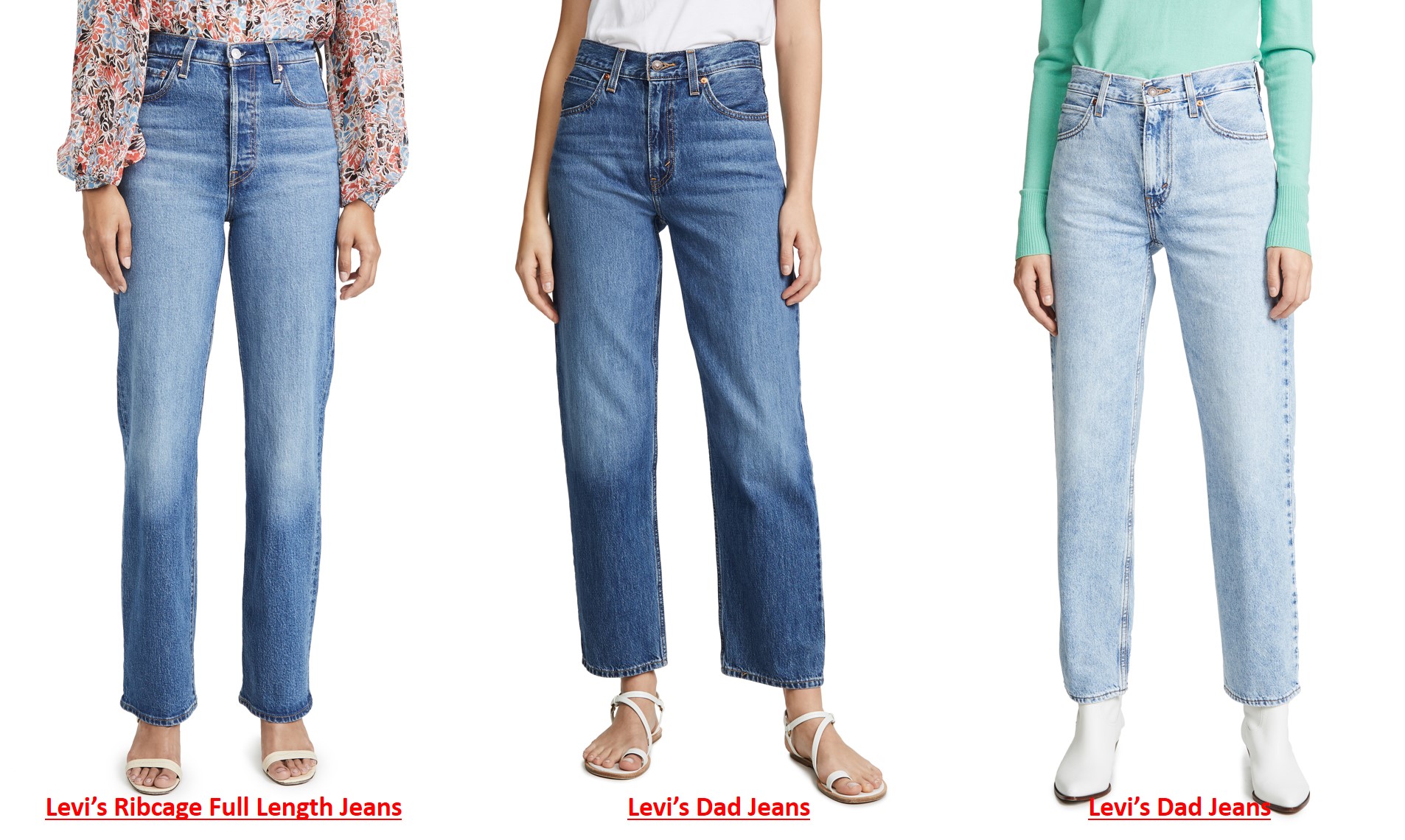 It is that time of the year when brands are going through end of season sales to clear the decks for the next season. Levi's is no exception nearing the end of what was a nearly a month long sale with with discounts at times up to 75% off. What I have observed over the years is that while such sales are taking place, a small number of new styles and washes start popping up on various retailers in advance of general availability on the Levi's website. This season, new offerings on SHOPBOP could infer that Levi's is doubling down on Ultra High Rises and Wider Legs.
Levi's Ribcage – Ultra High Rise Jeans
In my opinion, the Ribcage style is the most significant innovation by Levi's since the Wedgie fit. Levi's is expanding the Ribcage offerings with a new Ribcage Straight Full Length style (just click to purchase).  With an ultra-high rise, a 31″ inseam and a 15.75″ leg opening, this style is well suited for the cooler weather ahead. It is a heavier weight stretch denim with a really nice wash. Out of curiosity, how many of you have tried the Ribcage fit and what do you think of it?
Levi's Dad Jeans
The other new style I noticed was the Dad Jeans. They are available in a light or dark wash. As compared to the Ribcage style, they have a traditional high waist, shorter inseam and slightly narrower leg opening. Both washes are a 100% cotton giving them something of a vintage feel. Either wash can be purchased at SHOPBOP by clicking on Dad Jeans. The darker blue is called Joe Cool, while the lighter wash is named Charlie Boy. Which one do you like the most? These are similar to the classic mom jeans trend that we all know, but with more of an updated fit and looser leg.
In my opinion, both of these styles are an extension of the vintage denim trend highlighted by Lorna's post at the beginning of this year "16 Best Vintage Style Jeans for 2019". Although skinny jeans are here to stay, do you see these having a place in your wardrobe? How will you go about making them fit your personal style?