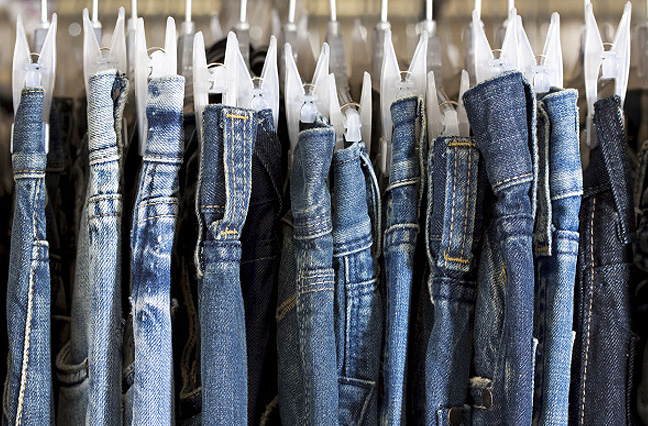 Why Do Designer/Premium Jeans Cost So Much?
I wanted to make a post dedicated to this subject purely because I've been getting a little frustrated lately. I saw a show about the difference in premium and non premium denim on the series The Shoppers Guide To Saving Money on Channel 4, which has also been reported on by a few large media outlets online. I think what was documented in this show was a complete waste of time and completely inaccurate as well, so I wanted to voice my own opinion on denim after having around 10 years experience in the industry and working closely with nearly all the denim brands out there and owning over 400 pairs of jeans myself. I like to think that I'm extremely knowledgeable when it comes to jeans and denim, right down to the tiny details, so my points that I'm going to make come from a vast knowledge and are valid as much as they are important.
So first thing is first, the presenter went to a factory in Turkey to find out how the denim was made from the cotton and also how the denim was then made into jeans. I don't know what brands are made at this factory as it wasn't stated, but the woman who works there said the price difference is irrelevant because all of the jeans were made exactly the same way, so they shouldn't cost more. This was right when the presenter held up a pair of Citizens of Humanity jeans and asked her to guess the price of them, which of course she did not get correct. She labeled them as around £40 when they were around £220+.
I would like to point out that her claim to the jeans all being made the same there and the price being irrelevant is based upon assumption. The show never even went to Los Angeles which is home to premium denim where most of the expensive jeans are made (including Citizens of Humanity, they are not made in Turkey) and they never went to ISKO while they were in Turkey and we know that they are famous for making specialised denim for the premium brands, so to me, this was a completely biased documentary which doesn't have all of the facts and each side of the story. The really expensive jeans from premium denim brands are not even made there, so the claims are so inaccurate.
So why does premium denim cost more? You pay for the quality of the denim as a fabric, the construction of the jean, the wash looking authentic and being hand done and most importantly, fit. High street jeans come in a very limited range of fits, skinny, bootcut and straight leg, with a jegging most recently being introduced, but when it comes to premium denim, the range of what you have to choose from is so vast, it can be overwhelming. You get various rises, various leg lengths and leg openings, different fabric blends, different fits in terms of what's trendy and what's classic and of course, you have that fit which is impeccable. One brand, for example J Brand, will have more than 10 different skinny jeans to choose from in its current collection and each one will be different in various ways, so you are bound to find one that you love and adore.
I know for a fact that most premium denim brands like Paige, FRAME, Citizens of Humanity, J Brand, MOTHER Denim and many more are all trained and experienced when it comes to fit and their styles that they come out with are crafted down to an art form. When you put on a pair of jeans like this from a premium denim brand in Los Angeles or somewhere similar, you will instantly see how the back pockets are designed purely to lift and shape your butt, they are symmetrical, the rise at the front will be specially positioned to be flattering, the back yoke will be crafted to enhance the cut from behind, the stitching and details will be done to a T and everything about them is made with one goal in mind, the perfect fitting jeans. I can 100% agree with this as I have tried jeans from brands on every range of the scale, from under £10 to over £300 and I know the difference. I also find that cheaper jeans will stretch out and get saggy very quickly while more expensive denim lasts longer and keeps its shape, especially if you buy some of the newer styles which have a 4 way blend from DL1961 or Citizens of Humanity, the denim is specifically designed to move and stretch but then go back to its original form, not stretching out or getting baggy.
I will say that I have found three exceptions when it does come to fit on cheaper brands though as it's important to include both sides, that includes American Eagle, Hollister and also the Levi's Curve ID range (if you find your right fit). However, with these fitting quite well on the back pockets and in the legs, like I mentioned above about the fabric stretching out and losing its shape, it does do that very quickly. Sometimes you might be able to find an exception with this, but generally, the premium denim is the best all rounder for jeans fitting well and holding their shape.
Denim as a fabric is fairly cheap to buy, ranging from around £2 and upwards, but the quality comes from the denim that's got a thicker weave and even more so if you purchase selvedge denim, which has the edges finished already or raw denim (read more on it here). With this in mind, the premium denim brands will always choose the expensive and better made denim to make sure their jeans last, and as I mentioned before, they often work with ISKO to create amazing blends of denim fabric which are perfect for the jeans they are creating. After they have chosen their denim though and constructed their jeans (mostly in their factories in LA), it comes down to the washes. You may be able to buy cheaper jeans in stores but the washes always look plain, always look flat and always look cheap to me. There's been very few high street jeans that I actually liked the look of in terms of washes purely because they don't look authentic. If you take a master of their craft like AG Jeans or Diesel for example, their washes are hand done and literally done to perfection. They look authentically broken in, they look like a pair of jeans which have aged over time and you can truly see the difference.
I would like to point out that I am well aware that the prices for premium jeans are hiked up hugely because of the cost of running Western factories and having in house wash houses and factories, so the cost of employees is much more, plus the wholesale to resale prices are increased due to the other stores needing to make a profit (that's where a lot of the price increase comes from as the cost price and wholesale price is much, much lower than the recommended retail price, but a markup like this always happens on everything that's sold to other stores from brands and isn't in house). The designers need to be paid as well and you can pay a higher price for the name, but all in all, it comes down to the fit, the craftsmanship and the authenticity of the washes.
I'm not saying cheaper jeans are bad by any means, if you just want a pair of jeans to hang around in and not worry about an absolutely perfect fit and wash, then they are perfect for that. It truly depends on what you are looking for and how you feel about your jeans, but I definitely wanted to outline why premium jeans cost so much because nobody can seem to give a good answer in these articles or on these TV shows and everyone seems to put them down. It's a question to be asked though, if there's no difference at all and they are just expensive for the name and the sake of it, why would the premium denim industry be increasing every single year and be as successful as it is? Because there is a difference.
So to outline why you pay more, you literally pay for what you get. You are paying more money to make sure and insure that you get a perfectly fitting pair of jeans, a pair that sculpts and lifts your butt, a pair that flatters you in every angle and a pair that looks beautiful with a hand done, authentic looking wash like those from AG Jeans. You are getting a pair of jeans that wont break really fast, a pair that will actually last you years and years (I can vouch for this and if you want recommendations on great jeans, just ask me) and a pair that will be comfortable. Trying to find a perfect fit on jeans that are cheap is near impossible for me, they look terrible on my butt and the fit in the legs is usually bad on me, especially now I compare them to the premium jeans I love from FRAME, Paige, Citizens of Humanity, Diesel and AG Jeans. For the men, the fit is what you pay for too, take Nudie and Diesel for example, they have tonnes of different fits and washes, all designed to make a guys legs and butt look good too.
I got into premium denim when I was around 17 and I honestly can't go back to cheap jeans, not now that I have experienced the difference. Some of you may think this is snobby or vain, but as a person who works in the fashion industry, how you dress and how you look plays a huge role in your work so looking good by having clothes that fit me perfectly, is what I look for and what so many of us look for. If you're not worried, then this article isn't for you, but I'm happy to have outlined what you are actually paying for and why you might choose to pay more in a pair of jeans. Please do leave your opinions as well, I would love to hear your thoughts.
Shop a range of denim at Shopbop.com & Revolve.com
————-
Disclaimer – My point for this article is that the show chose premium denim from Citizens of Humanity rather than designer jeans from the likes of high end fashion week designers that might make their jeans in Turkey, India or China, so I'm referencing premium denim here in this article. I can't vouch for actual designer's jeans as I haven't really worn them, I prefer to go premium, which can also be called designer jeans, because of their price and fit, but not to be mistaken for a pair from a designer fashion house. This post was also written by myself and is my own take on the issue. If you want to be certain, your best bet is to check the label to see the country the jeans were made in. Then you can make your own mind up on the quality.