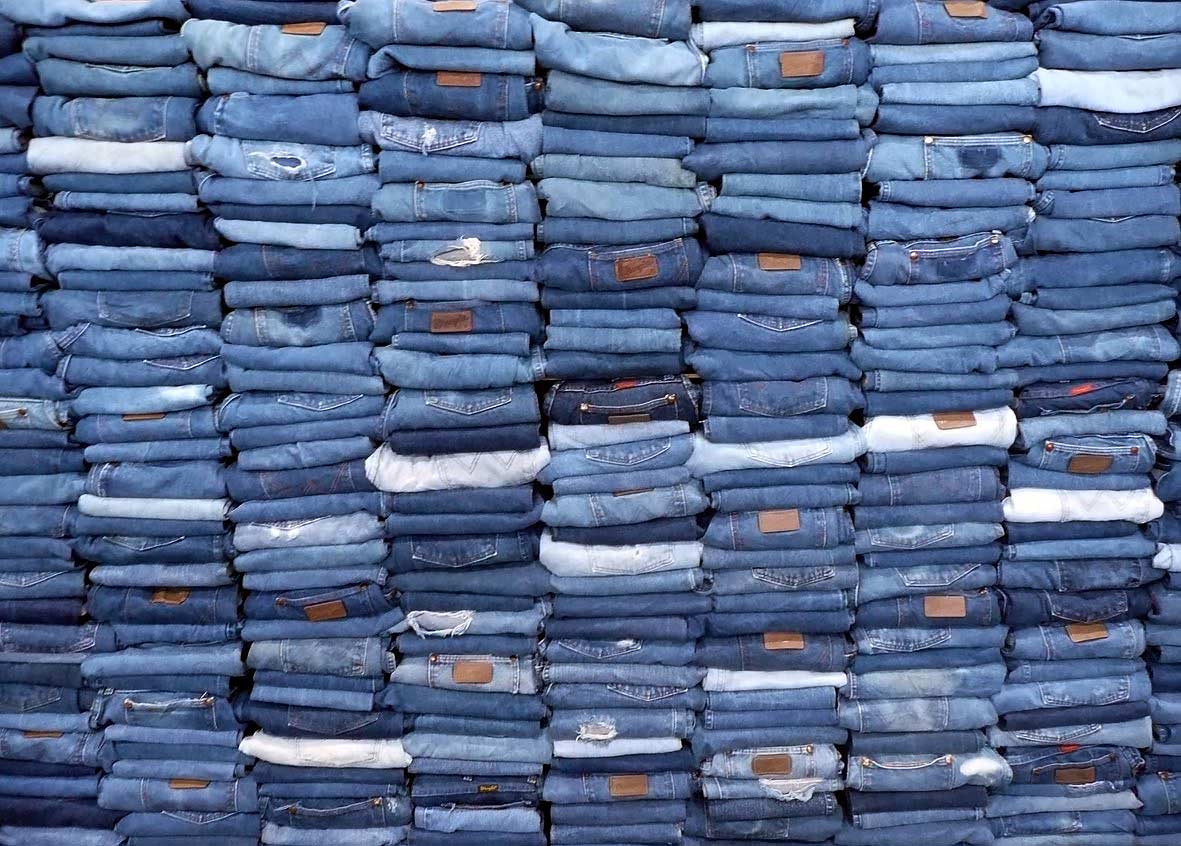 Welcome back for 2017. Good to see you again. Not surprising however as this is a good place to keep up with all things denim. Of course you need to visit often so that you don't miss anything. After all, no one wants to be late to the party when it comes to the next phase of denim, especially if you want to be the trendsetter in your community. Let's face it, that sweet love of denim is in or veins, we have blue blood. It makes you wonder, are we addicted to denim? Perhaps, but how would you know?
20 Reasons You Might Be A Denim Addict:

1. You visit The Jeans Blog several times per day.
2. Celebs in Denim and Denim Reviews are your favourite section of the website.
3. You've gone on a diet to save on groceries so that you have more money to spend on jeans.
4. You can go a year or more without wearing the same pair of jeans twice.
5. New jeans are considered a mandatory expense whereas everything else is discretionary.
6. You've inadvertently bought identical multiple pairs of jeans and not realized it for months (or years) and some of them you've yet to even wear.
7. Or you willingly buy multiple pairs of the same jeans just in case one pair gets ruined.
8. You can pick out 50 shades of black denim.
9. You are on so many brand or retailer notification lists that your email provider now classifies them as SPAM and automatically sends them to the Junk Folder.
10. It's not just jeans, you have denim bags, shorts, jackets, skirts, table cloths, sheets, and shoes.
11. When you're out, you find yourself staring at everyone else in jeans trying to guess the brand.
12. You often daydream about the next pair of jeans you would love to own.
13. When you open your laptop you immediately check the new in jeans on your favourite store.
14. Or you already have tabs for jeans open which stay permanently on your browser.
15. You style all of your outfits around your jeans, those are the most important part of the outfit, right?
16. You can't answer the question 'how many jeans do you own?' because you lost track of the number years ago.
17. Your jeans storage has got so out of hand you end up sleeping with piles of denim around you.
18. You've thrown out your roommate because you need the extra bedroom as storage space for your jeans.
19. Your friends always come to you for advice on denim as you're the 'Jeans Guru'.
20. You remember more fits, cuts, washes, and denim terms than you do your friends birthdays.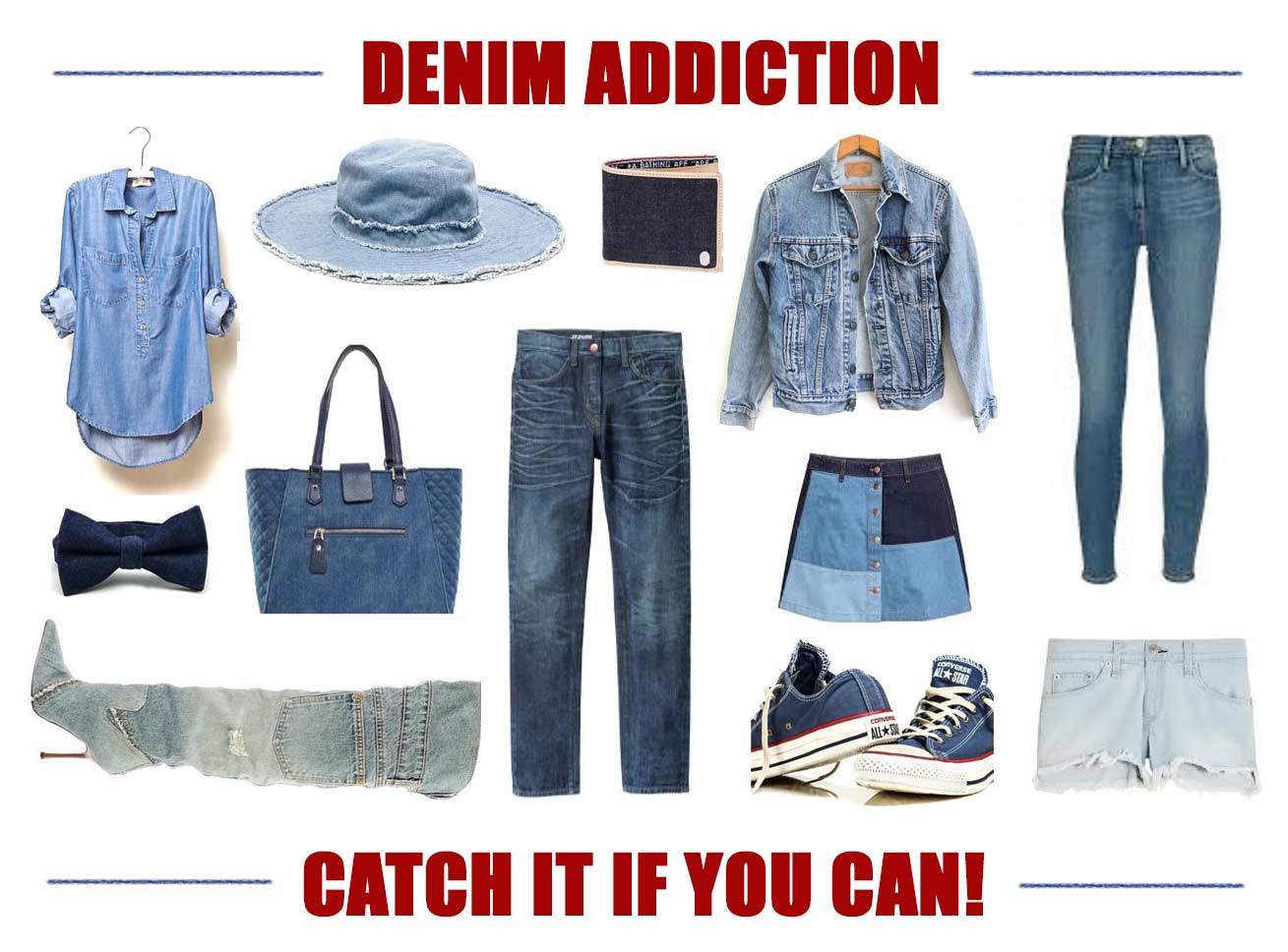 Hi, I'm Tim and I am a denim addict!
If the list fits, I must be an addict. It is hard to say how it started but I believe Levi's were the gateway. From there it went to Calvin Klein before going mainline with 7 for All Mankind. The symptoms are all there. My three identical pairs of black Levis 510 skinny jeans and all washes when the Levis 505 C Jeans were introduced. Fortunately at the time of introduction there were only 5 shades, With respect to 50 shades of black, I may not be able to tell the difference in each one's color, but I do have more than 50 pairs of black jeans from extreme skinny styles to dad jeans. Whatever the number, I continued to add with 4 more pairs of black skinny jeans just over the holidays. As a columnist for The Jeans Blog I should probably start reading all of the notifications that are automatically going to my Junk File. And oh yes, jeans are the largest component of my discretionary spending and I have more jeans than I'll ever wear on a regular basis.
I could go on but space is limited. As with any addiction, there have been enablers. I now recognize that the following articles played such a role in building my addiction Women's Skinny Jeans for Men, Celebrity Men Wear Women's Jeans, and The Different Types of Stretch in Denim. What they did was considerably expand the range of jeans options for my consideration. I ended up buying complementary pairs of regular and soft/stretchy denim for multiple styles. Paige's Transcend fabric (men's styles | women's styles) by itself is addicting. Women's jeans greatly increased the number of skinny styles that I own and wear. If one is to be an addict, IMHO this is a really enjoyable addiction… great styles, comfortable, always something new, and of course the other addicts.
Hi, I'm Lorna and I too am a denim addict!
I'm sure most of you here don't even need me to tell you that I'm a denim addict, I think that comes with the territory and goes without saying, but I'm sure most of you want to know why I am one. You may remember this older article I wrote on my first pair of designer jeans (here) and the journey from then on. If you haven't read it, I definitely think you should as it's all about my addiction. But in short, it started with a pair of Rock & Republic jeans and spiraled out of control when I found a denim forum and started sharing all of my denim love with other enablers.
I lost count at the amount of jeans I own, but a ballpark figure would be somewhere around 400-500 pairs of jeans… Yes, I did really say that many. I fit the criteria of the 20 points above, aside from the room mate option as I've never had one, but I live in piles of denim. I am always guessing the brands of jeans and looking at the fits on people who pass me by (one of these days I will be arrested for butt staring!) and I can never rest until I figure out the jeans on a celebrity. Usually it's so easy as I have all the brands signature details and quirks stored in my denim Filofax (my brain!), but sometimes it's tricky.
I own numerous shades of black jeans, hundreds of blue jeans, prints, and everything else, even denim bags. Even with this many pairs of jeans I will think of new pairs and want more and more. The addiction is out of control, but I somewhat help myself in thinking I'm helping everyone else get the best jeans… yeah, that sounds believable… ha ha. I'm not ashamed of my denim addiction though, I'm more than happy to share it with you as I know we are all in the same blue boat here, plus I owe my relationship with Adam to both of our own denim addictions, after all, it is how we met! Check out my favourite jeans here.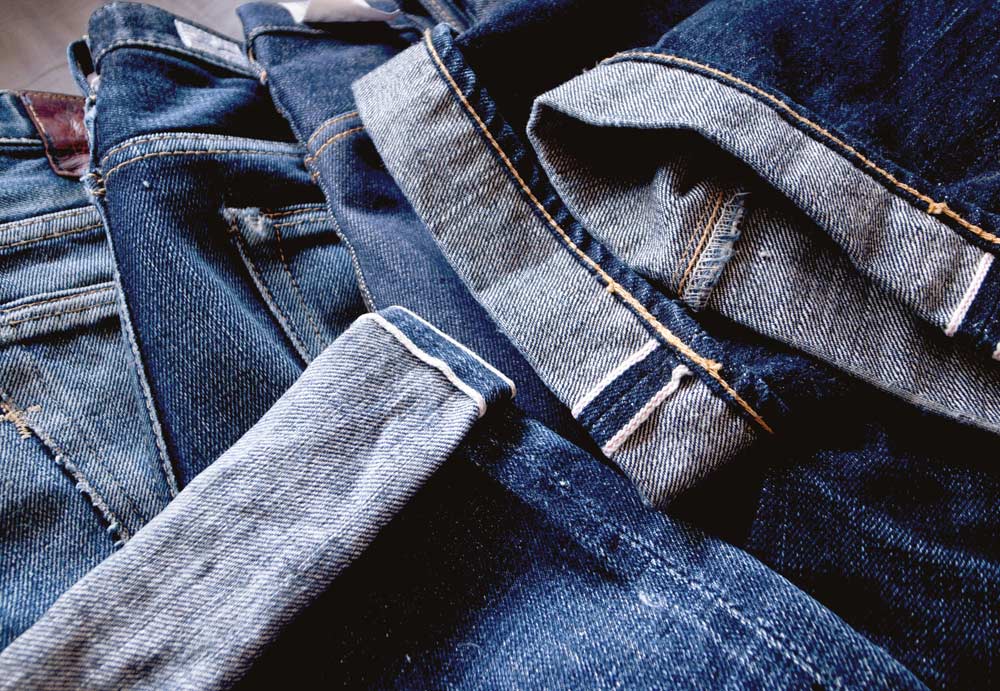 The Jeans Blog's 12 Step Program for Managing Your Denim Addiction
1. Get out of denial and admit it. You are a denim addict.
2. Let the world know. Share your epiphany in the CHAT Forum's "I'm a Denim Addict" thread.
3. Help out other addicts so that they can better fuel their addiction by posting SALES information in the Denim Sales Thread in the SHOPPING Forum.

4. When you need a fix and make a purchase, share it by contributing a review in the appropriate threads within the Men's Denim Forum, Women's Denim Forum, or Women's Jeans for Men Forum.

5. Inspire others to get into premium denim and help them fall in love with jeans.
6. Take a few minutes out of your day just to admire the blue threads up close.
7. Ask questions and give advice to other hopeful denim lovers on their journey to addiction in the forum.
8. Keep track of Celebs in Denim and Denim Reviews here so you're up to date on the newest jeans.
9. Think of more ways to wear denim in your outfits. Double, triple, or even quadruple denim springs to mind.
10. Learn about the different types of stretch in denim and terms used in jeans making, as well as DIY tips on how to stretch your jeans to make them fit etc.
11. Make sure you browse The Jeans Blog Shop as much as possible for the newest and hottest jeans we have chosen to share with you.
12. Find a way to make every denim trend suit you, even if you think it doesn't. It's all about the styling.
Plus, as a bonus, why not get into raw denim? After all you can't be a true denim addict unless you know about raw denim or have at least attempted to give it a go, right? If you have a big story to tell us about your love for denim, then please do get in touch on the contact page as we'd love to hear it! You're welcome to share your addiction in a Denim Tales story that we post here on The Jeans Blog. If you haven't read anyone's stories yet, we have many! From readers to designers and store owners, see how everyone else fell in love with jeans with our Denim Stories section!
Images from Pinterest, Polyvore, Actually.sg, Gary Conkling Life Notes, and H&M