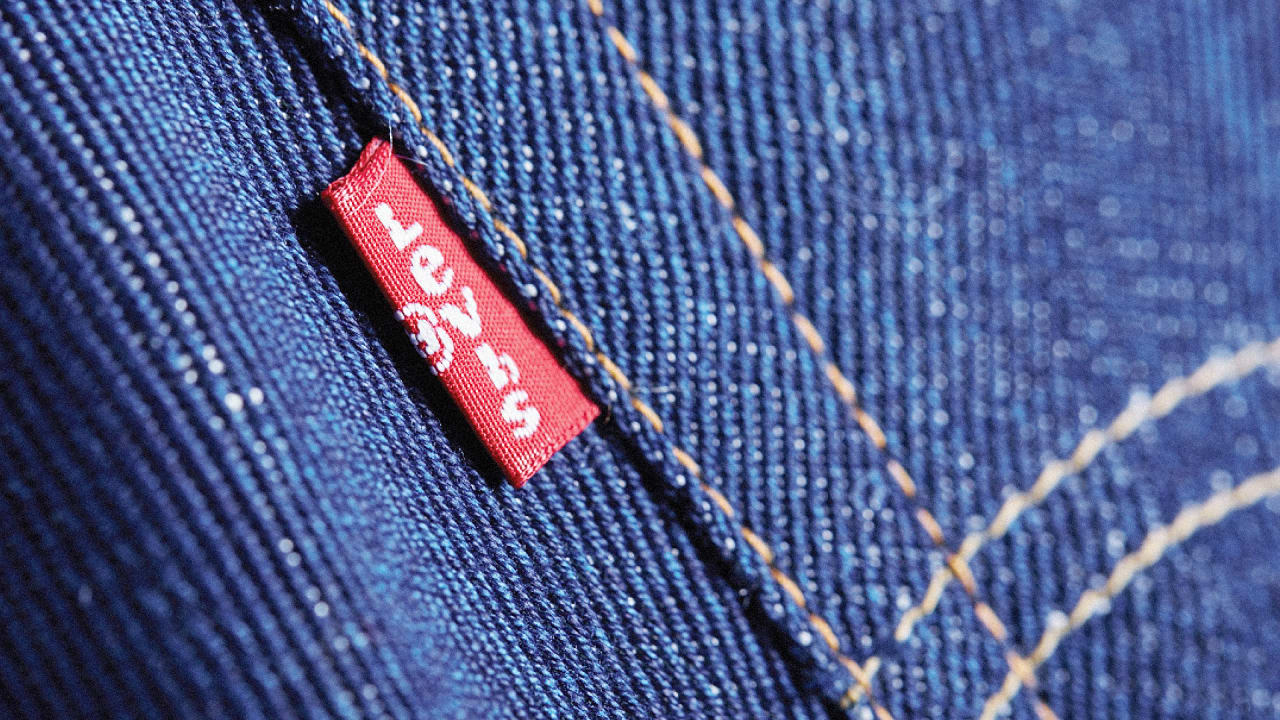 Although only an occasional contributor, I am a diligent reader of The Jeans Blog. One article that caught my eye was Lorna's post (rant?) on "Men Wearing Women's Jeans – Unisex Denim". Lorna even went as far as to say that Levi's are unisex jeans. My first reaction was wow, that's a strong broad statement. However, upon further pondering of the subject along with channeling the spirit of Arthur Guinness, Lorna's article left me with open ended questions and few answers for the multiple issues that were raised.
With respect to breaching societal norms, that will vary from culture to culture and have historically been resolved when trend setters develop mass acceptance. This only happens when individuals overcome their fears and stake out a position of leadership. In this case (men wearing women's jeans) typical fears are:
1) Will the public recognize them as women's jeans and how may they react.
2) Will they fit and do I like how I look when wearing them?
3) Can I openly shop for them without fear of harassment?
When it comes to jeans, my own opinion is that if it fits and you are comfortable with how you look – go for it. Fit is predominately an objective statement whereas "look" is largely subjective dependent on style and personal preferences.
Other questions that arise are:
1) Are women's jeans unisex in that men can wear them?
2) Are men's jeans unisex in that women can wear them?
3) Are jeans in general unisex in that anyone can wear them?
Question three infers the jeans are designed for a merged male/female anatomy & figure. This has been tried most recently in fall 2016 and spring 2017 by Mother, Hudson, and Levi's. At this time, the offerings have been dropped due to lack of market acceptance (which leaves yet another open question – exactly what are Nudie brand jeans?). I did try a pair of Levi's Line-8's unisex slim straight style. It was an okay fit but nothing to write home about.
To answer some of the questions, I focused on do women's jeans fit men and can you openly shop for them. Skinny/ultra-skinny jeans have set a precedent for men wearing women's jeans. As an early adopter of skinny jeans, I've worn women's styles. However, this may have been a unique time in fashion as the brands had yet to introduce similar offerings for men. With the stretchy material used in women's jeans it was easy to get a good fit once you figured out your size. This situation doesn't necessarily hold for slim, straight, or tapered styles which are the styles I've explored for the remainder of this article.

To test Lorna's claim that Levi's are unisex, I took advantage of that hide in plane sight jeans shopping  paradise – Levi's Large Retail Stores where virtually all of their styles are available. The staff is focused on moving product and couldn't care less about who's wearing what style. Their fitting rooms are also unisex to further ease your concerns. If you don't see the style you are interested in, just ask and someone will find it and show you to a fitting room along with timely followup to check on whether additional sizes are needed. Amazing customer service without a hint of judgement.
To answer the question do women's straight, slim, or tapered jeans fit, I stayed away from jeans with a high level of stretch and biased my selections to heavier weight denim and/or 100% cotton. I also restricted my search to what Levi's refers to as their premium/iconic styles. The styles I tried were straight-slim leg (Levi's 501 original fit, Levi's 501 skinny fit, Levi's 505C slim fit) and tapered leg (Levi's 505 Tapered, Levi's Wedgie, Levi's Made & Crafted Slouchy Taper). With the exception of the Wedgie style, they were all 100% cotton. The Wedgie style had 1% elastane. They were all button fly jeans with the exception of the 505C style.
I'll start with some general comments. All of the styles had reasonably deep front pockets which was a pleasant surprise. Once you found your size, all of the styles slouched a bit leaving room for your junk which I attribute to use of a different waist to hip ratio in jeans designed for women. And to top it all off, the same waist size (30) fit across all of the jeans that I tried.
Levi's 501 Original Fit Jeans in "Lonesome Road" (available at Levi's-US & Levi's-UK)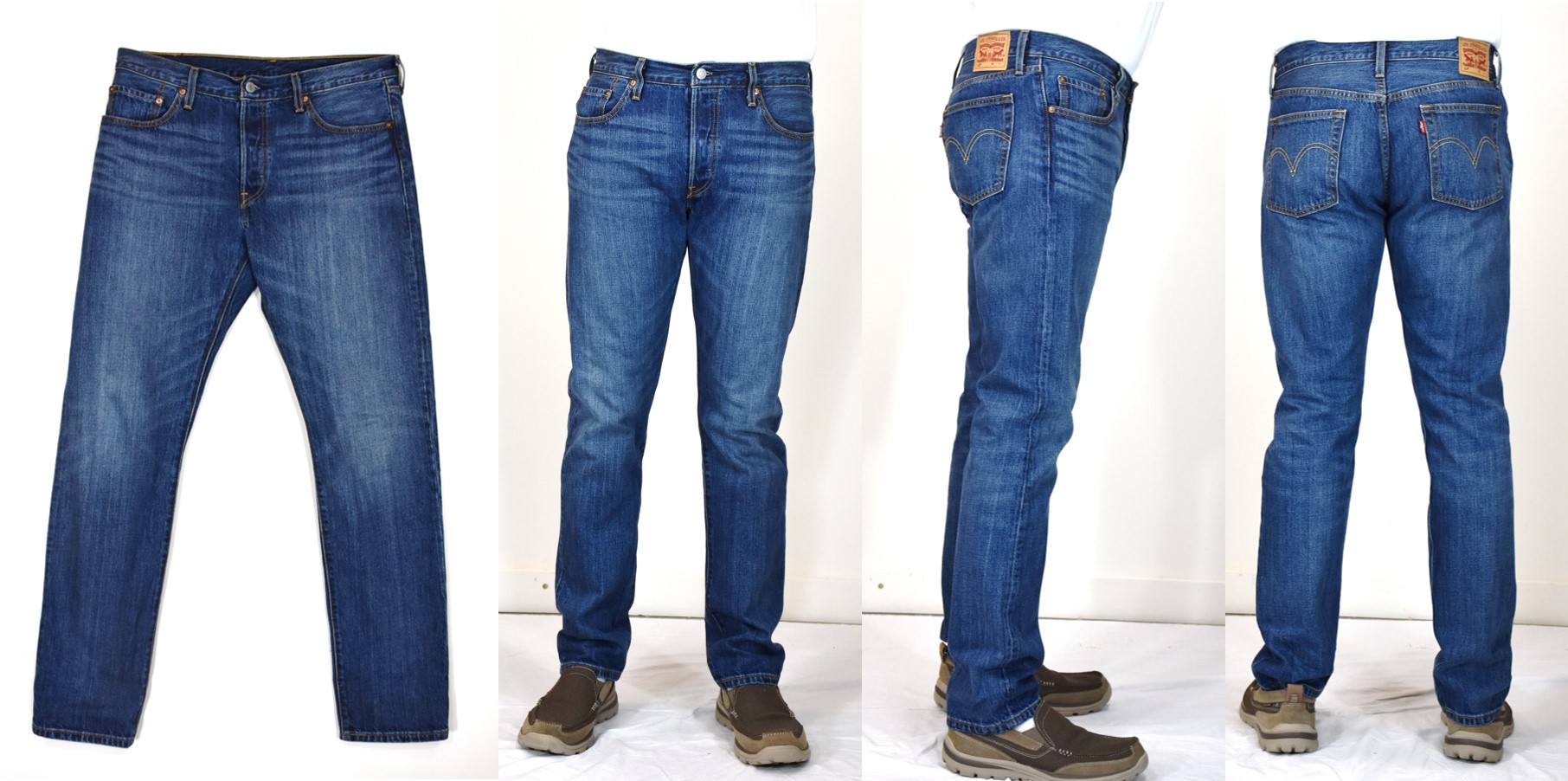 Levi's original fit 501 jeans have a mid-rise fit, straight leg, with an inseam of 30″ or 32″. Comparatively speaking, the leg is slimmer than the corresponding men's style and is more like that of a men's 513 leg. The 100% cotton weave made for a comfortable relaxed fit.
Levi's 501 Skinny Fit Jeans in "Pop Rock" (available Levi's-US, Levi's-UK, Nordstrom, Spring)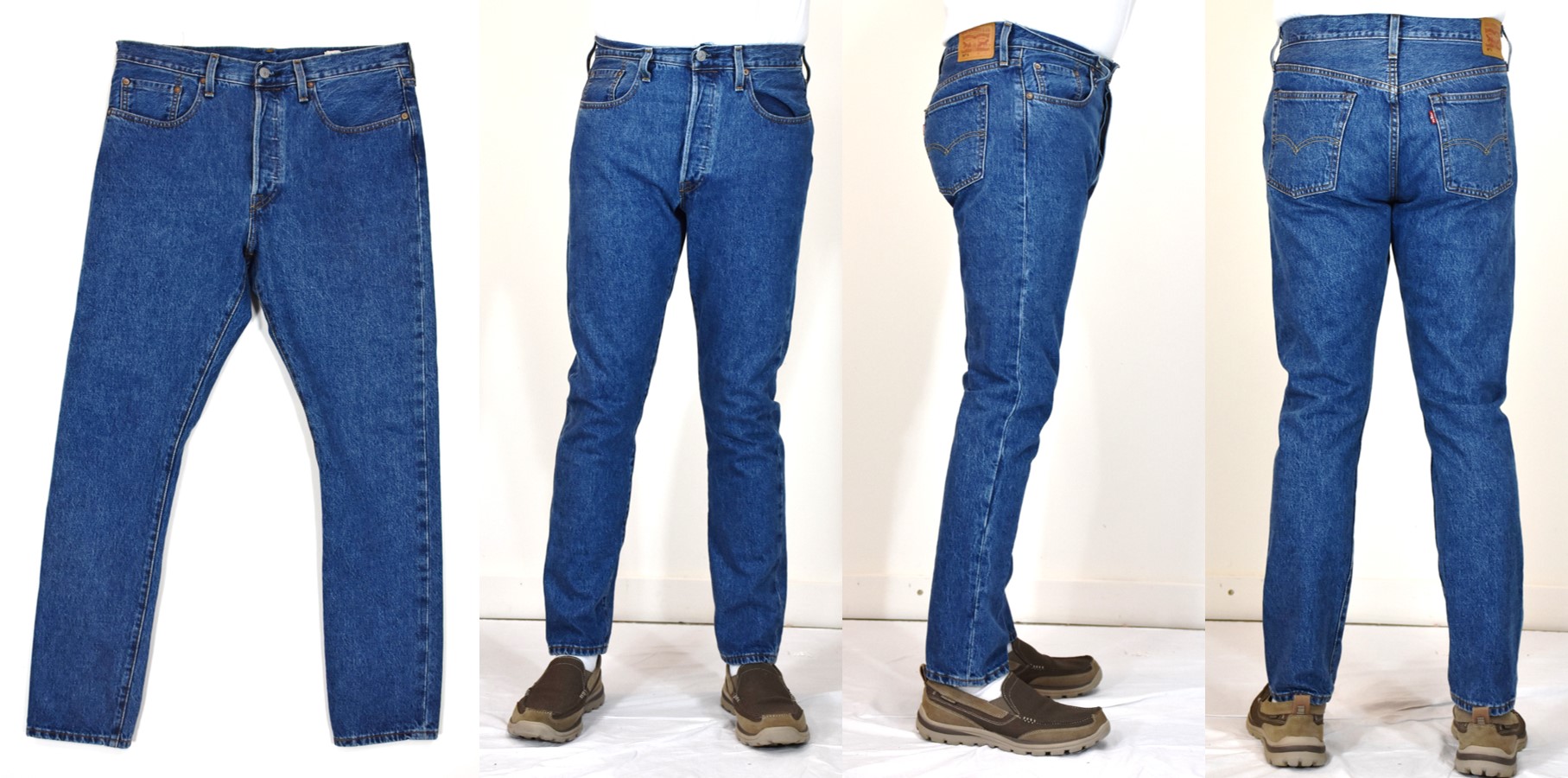 These are mid to high rise jeans with a 30″ inseam. As everyone knows, it is virtually impossible for a 100% cotton jean to be a true skinny jean. As such, these are more like a slim fit cross between the men's 510 and 511 styles. Truthfully, I preferred these over either the 510 or 511 men's styles.
Levi's 505C Slim Fit Jeans in "Heart of Indigo" (available at Levi's-US, Levi's-UK, Zappos)
The 505C is a higher rise slim leg jean. Occasionally Levi's has a men's 505C offering. The primary differences are that the women's leg is slightly slimmer and has a larger variety of washes whereas the men's version has longer inseams. I can see this becoming a jean which is worn on a regular basis for casual occasions.
Levi's 501 Taper Fit Jeans in "Make Some Noise" (available at Levi's-US, Zappos, Levi's-UK)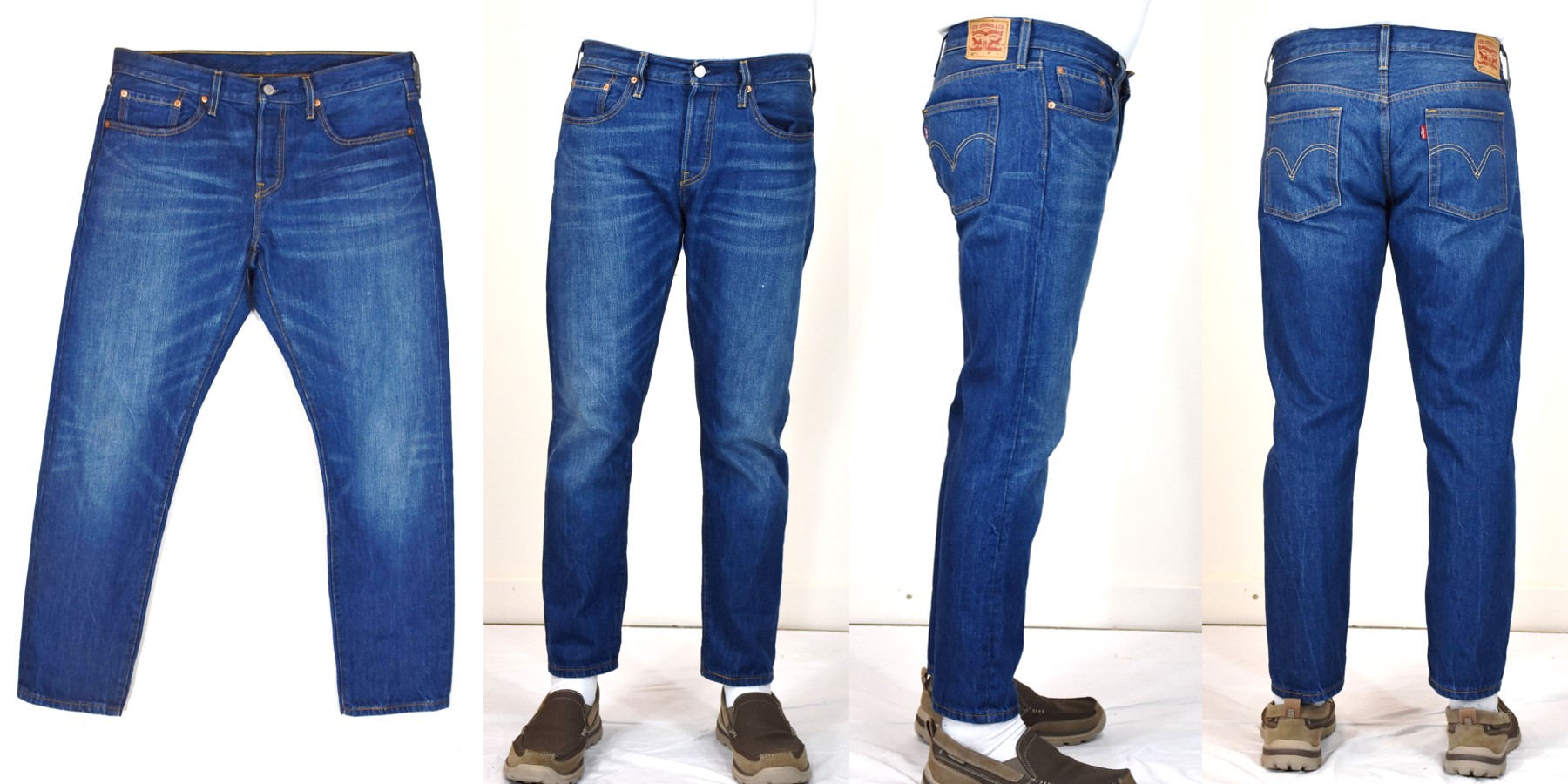 The 501 Taper jean is a mid rise jean with a tailored fit about the waist and hips with a relaxed thigh tapered down to your ankle. It is similar to the men's 501 taper fit jean but is only available in a 28″ inseam. I found this fit to be fairly comfortable and relaxed although a longer inseam would be nice.
Wedgie Jeans in "Something Cheeky" (available at Shopbop and Urban Outfitters)
The Wedgie is a somewhat unique fit. It is a tapered high rise jean that is very much tailored around the waist and the hips. It is the only jean with stretch in this evaluation. It also, only comes in a 28″ inseam. Because of the high rise, it has a bit more slouch than the 501s and 505C that I've tried. Although this fit is very popular among women, there have been concerns expressed about its comfort. Because of the higher level of slouch that I've experienced, it is possible that this fit may be more comfortable for men than women. For men however, longer inseams would be desirable.
Levi's Made & Crafted Slouchy Taper Jeans in "Horizon Blue" (available at Levi's)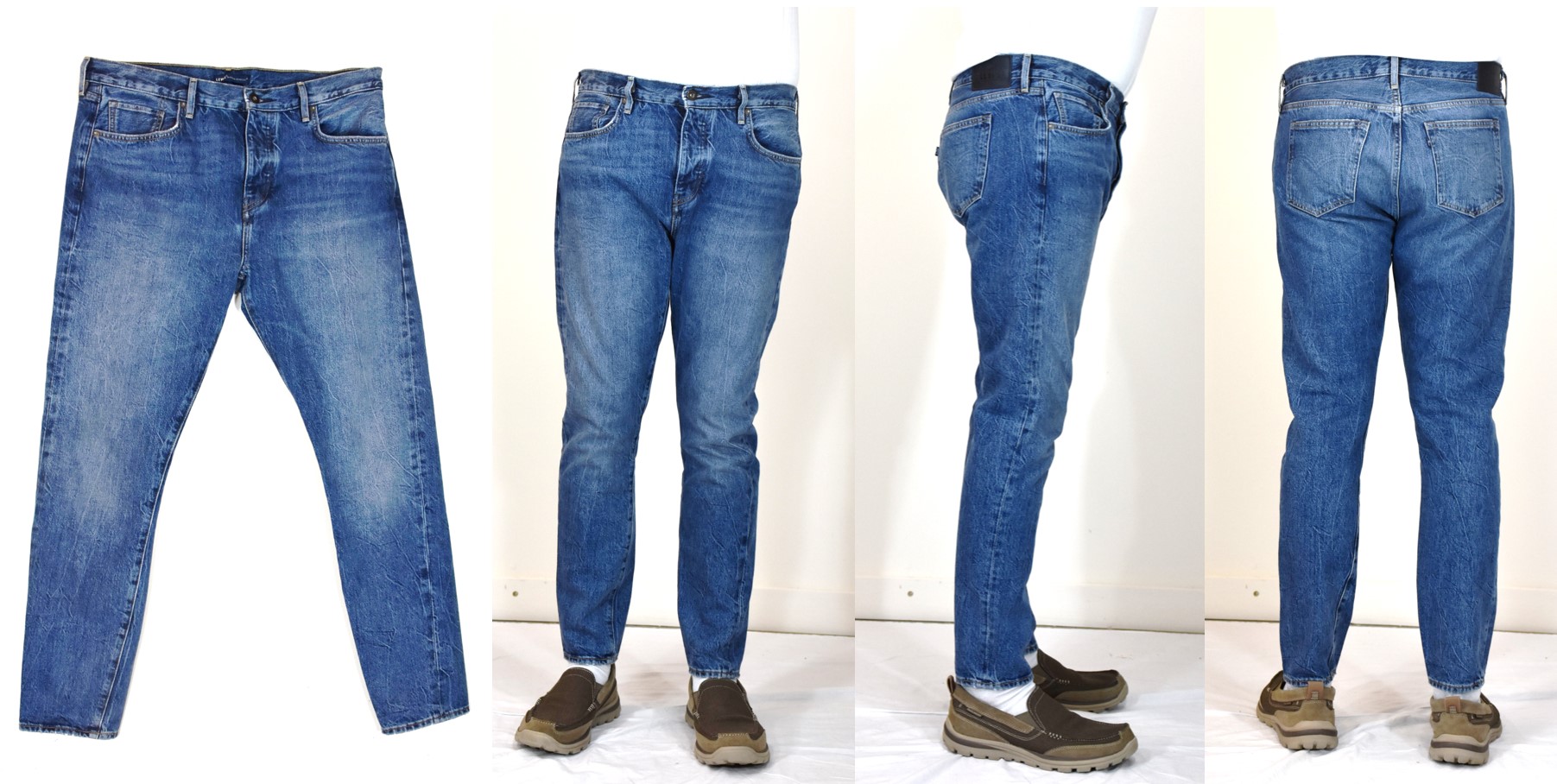 The Slouchy Taper jeans come from Levi's top of the line Made & Crafted collection. For a 100% cotton jean, it is fairly remarkable. Is is relaxed about the waist and hips yet tapers down to an ankle opening size usually seen only on very skinny stretch jeans. Even so, it is very comfortable to wear with no constraint in movement. Of the tapered jeans, this fit had the longest inseam at 29″.
Parting words:
Beyond the unisex evaluation, I may have rekindled a long dormant affection for 100% cotton jeans which I view as a refreshing change from the stretchy tight wrap of the extreme skinny / spray on jeans that are currently popular. In addition, my tendency to avoid button fly jeans was unwarranted now that I've spent some time in them.
In summary, I think it is safe to say that somewhat slim men of moderate height can find good fitting iconic Levi's women's jeans. Shopping for them at a Levi's Retail Store should be free of any harassment. However the motivation to do so is a bit questionable as there isn't the driving function of a style such as skinny jeans not being available at the time for men. Nevertheless, the slight deviations from corresponding men's styles can provide some unique fits as well as provide a broader range of washes for your selection. Are Levi's jeans unisex? It is hard to say without similar feedback from women who wear or have tried the men's styles. Men's styles of interests for women could be the iconic 501 series, the 502, 511, 512, and 513 fits.
Almost forgot – can the public recognize that a man is wearing women's jeans? That, I leave for you to decide. What do you think?