Fashion Squad
5 Leather Styles You Need Now
The biggest question facing the fashion world over the last year or two has been: Is leather the new denim? While leather will never replace denim, leather is taking over the fashion world these days it seems. You can find so many different variations of leather; style, color, wash, they all seem to be gaining steam on the fashion wire and celebrities and bloggers are both eating it up.
Leather gives everyone confidence and an edge that typical cotton, faux leather or denim cannot give. I once read a quote from someone that said, "I put on my pants one leg at a time just like everyone else, except, mine are leather." It is common to associate leather with high society or class and more and more people are trying to put themselves on that level by wearing something leather.
Below you will find 5 different styles of leather pants that typically would be a denim item that you would purchase, plus there's styling options for each variation too. Each of them are so elegant and sexy, plus they will give you the edge you need when going out or dressing them down!
5 Pocket Skinny Leather Pants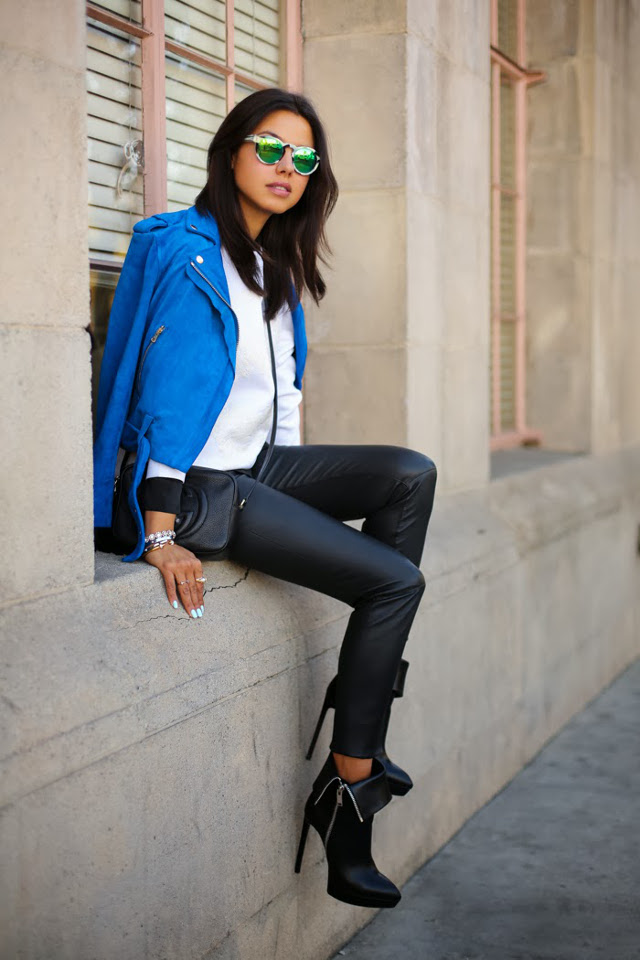 VivaLuxury
Leather Jeans are the item that everyone needs to have in their closet! No, I actually change my mind and need to say, they are the item everyone needs to be wearing! Leather pants are so comfortable and stylish, plus they can be worn with almost all of the pieces you typically would wear with denim. Simply just exchange the leather pants for your jeans and you have yourself a smashingly gorgeous outfit. My absolute favorite way to wear a pair of leather jeans is to pair them with a leather biker jacket and matching high heeled booties! It is such a great edgy look that has become a favorite look for both fashion bloggers and celebrities!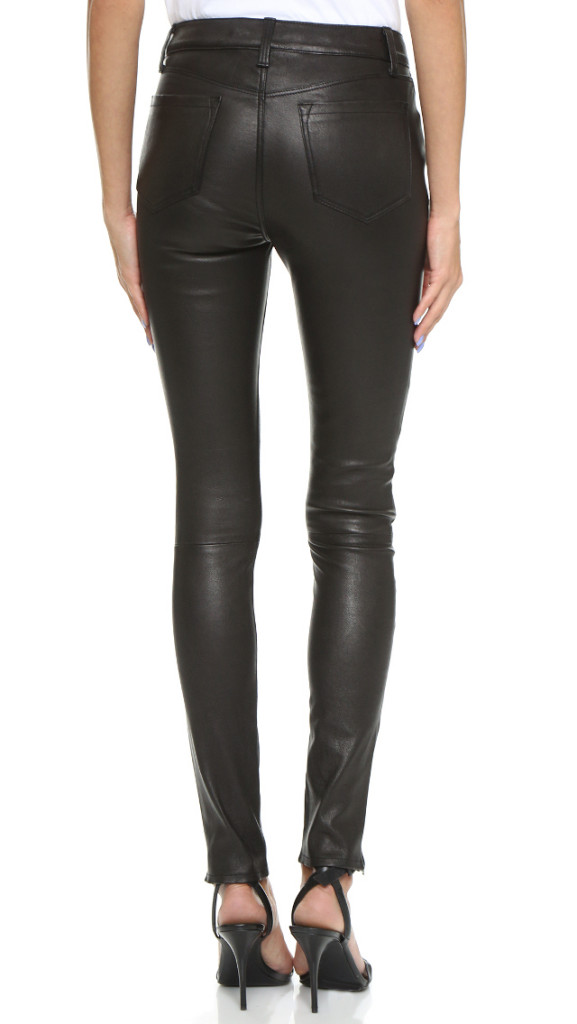 J Brand Maria High Rise Leather Pants
5 Pocket Red Skinny Leather Pants
Lil 'icons
When red leather is worn, it's always met with passers by making faces that may include; shock, amazement or just pure jealously. It is a color that stands out like a sore thumb and for those of us that are bold enough to wear red leather, it makes us feel somewhere in between the devil and cupid. Red leather pants are a great way to show everyone around you that you mean business.
I love to see red leather on two of my most favorite holiday's; Christmas and Valentines Day, and while those are two days where red is generally received with a smile, it is acceptable to wear red leather on a first date, a night out in the city, or anywhere that you want your dominance to be known without having to say a word.
Much like the black leather pants, I think it is great to pair leather with leather, but when going out in red leather, try wearing a black or nude pair of stiletto pumps with a similar color on top so that you don't take away from the red owning the scene.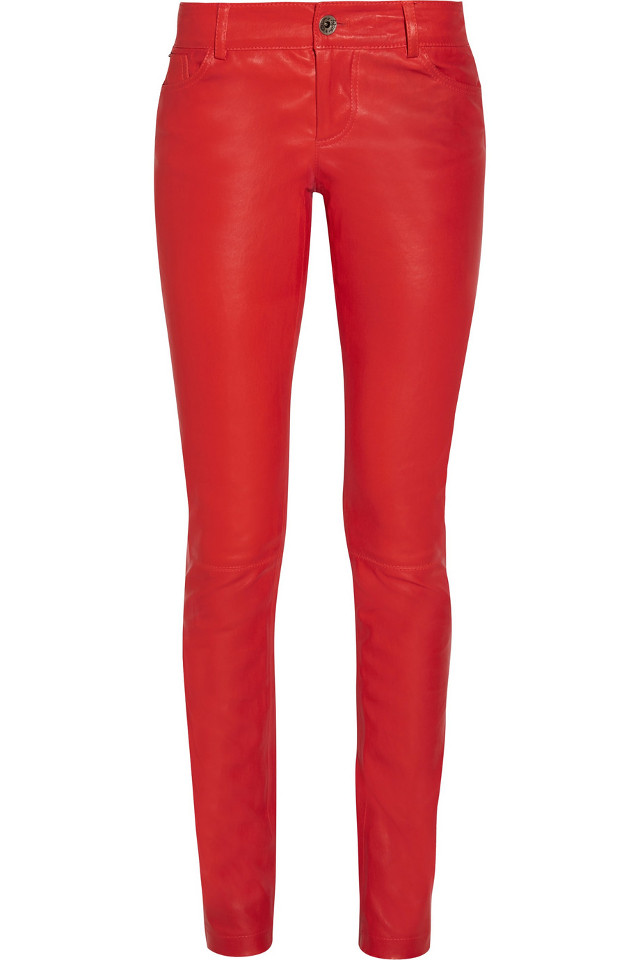 Alice and Olivia Stretch Leather Skinny Pants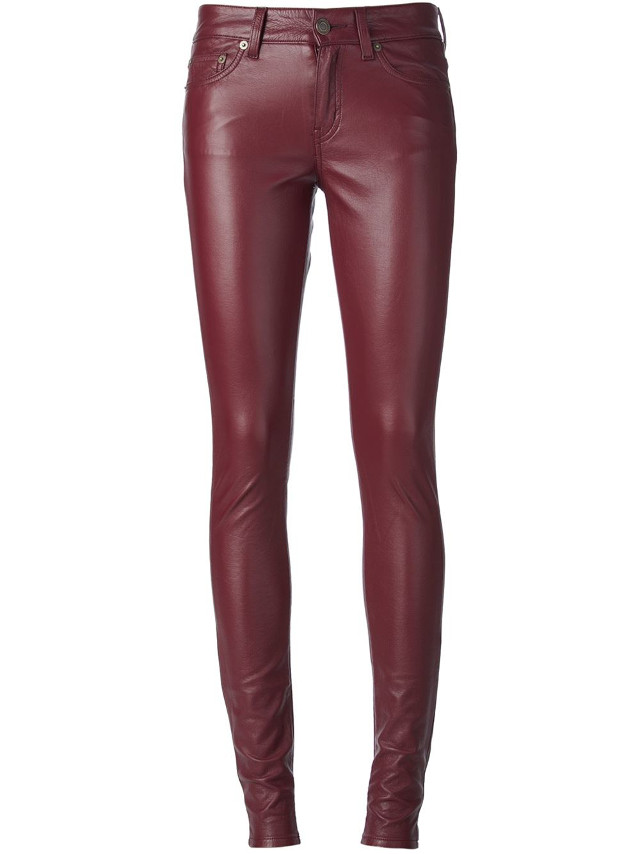 Saint Laurent Eco Leather Skinny Trousers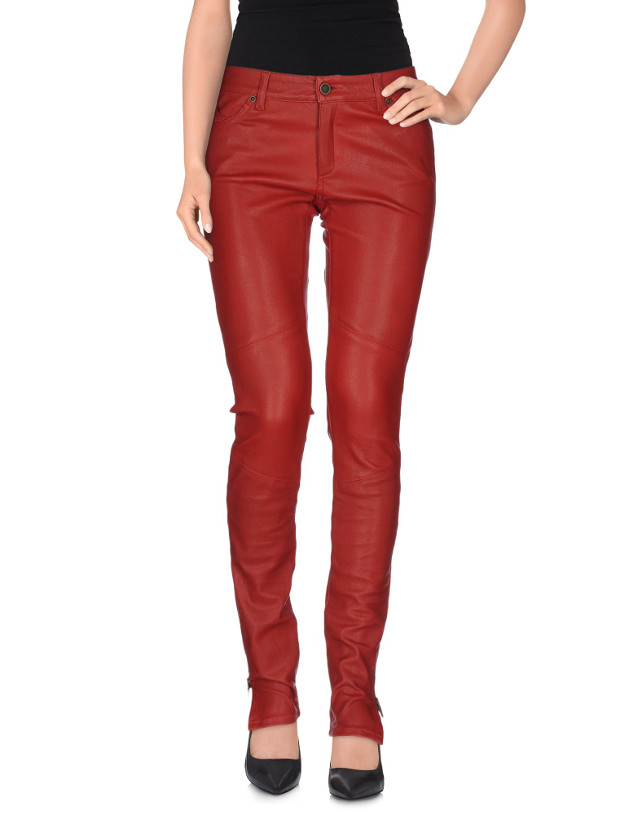 Superfine Casual Leather Pants
Moto Leather Pants
Fashion TNT
When I think about "Moto" or "Biker denim", I always envision many zips, snaps, and quilted aspects of a pair of jeans. Leather fashion has stepped up its game and now has many different options if you want to take the most daring material further while you try to push the envelope on fashion greatness. Sometimes it's not good enough to go out and wear just basic leather or basic denim, you must add something to make you stand out. If not a flashy color like the red leather above, why not add details to your leather pants. When wearing a Moto pair of leather pants, I believe you should create the rest of your outfit based on a theme unrelated to the already "Moto" look.  Instead of wearing biker boots and a biker jacket, go with a nice pair of peep toe heels and a comfy blazer with a t-shirt. This allows for an edgy but sophisticated look.
Anine Bing Stretch Leather Pants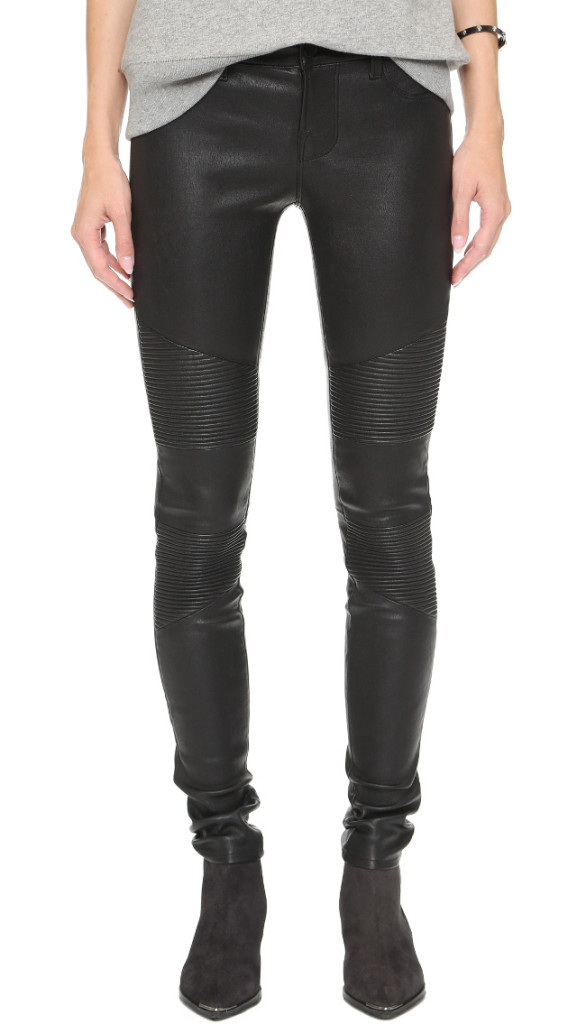 J Brand Tonya Leather Moto Pants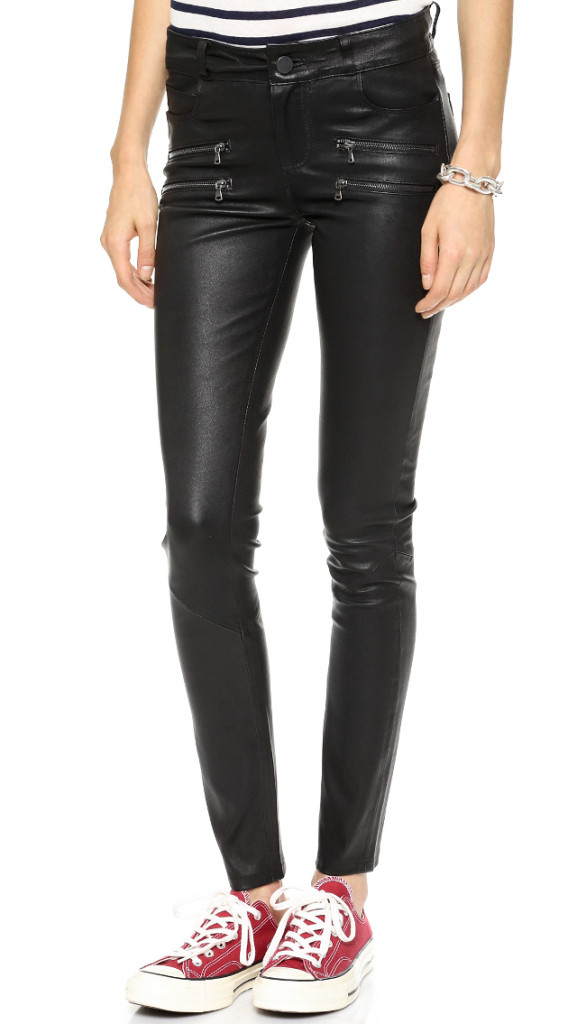 Paige Denim Edgemont Leather Pants
Wide Leg Leather Pants
Style Pantry
Wide Leg jeans are making a big comeback this year, so of course leather was part of the revolution and wide leg leather is really satisfying those looking for a 70's look with a little bad girl vibe. In the 70's, we saw everyone wear wide leg denim, but when looking back at photo's leather was not a very common material. Typically leather is very expensive, lets just say, not too many people were worried about purchasing high class items to wear in the "make love, not war" era. Now, wide leg leather has made its appearance and needs to be in your closet.
When wearing wide leg leather, I suggest that you wear a platform as your heel as it will raise you up and keep the pants from dragging on the ground. Quality leather should be taken care of and the platform will help with this. While I mentioned before to try not to match a biker pair of leather pants with a biker jacket (though i do suggest you pair 5 pocket leather pants with a biker jacket) I think the wide leg look is perfect for a retro style. Try a blouse with with a fancy scarf or maybe a long vest with your wide leg leather pants!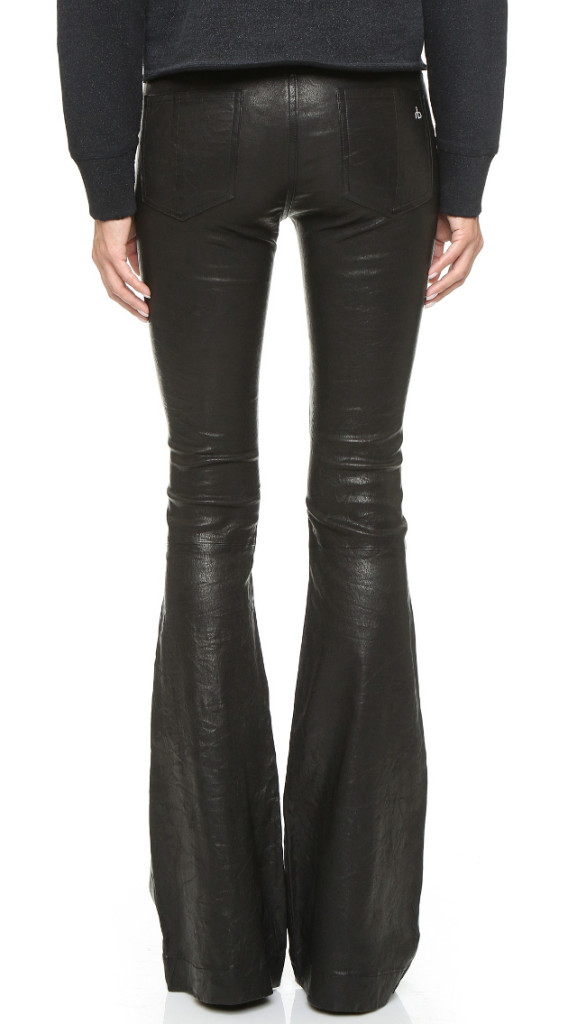 RtA Jackson Leather Flare Pants
Leather Overalls & Jumpsuits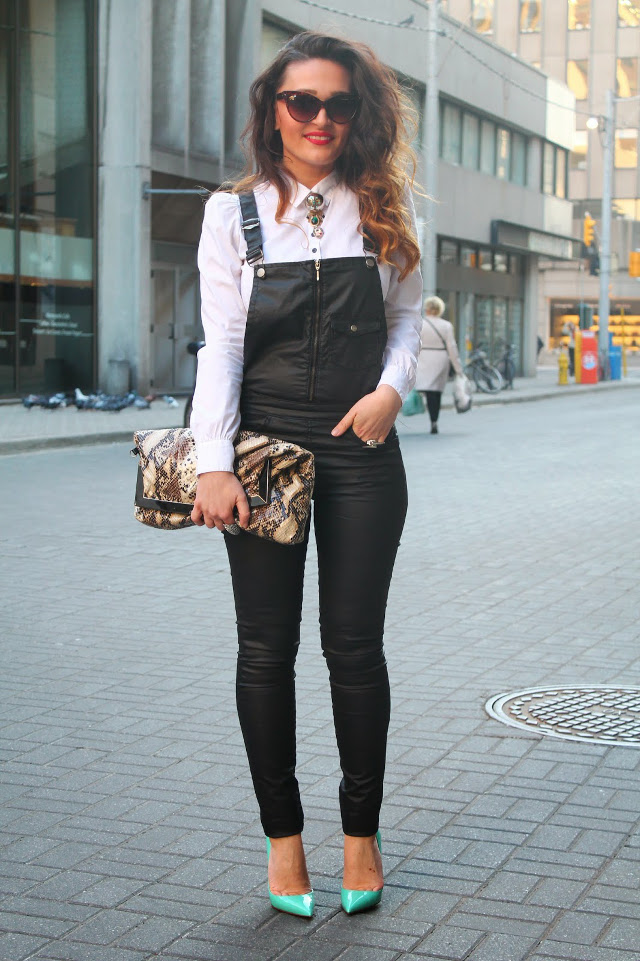 Sasha Doll
When your goal is to wear as much leather as you can, these are the best ways to fulfill the need! I have heard of some people who just love leather so much that they want it on their body from head to toe. Some love the look, others love the smell and some just think that it's sexy and the more they have on, the better they look.
Many celebrities have made this look an eye catcher and the rest of us just look in amazement.  Leather is expensive, so the more you wear, the more you will pay, but trust me, taking the risk in both the fashion and the bank account is worth every penny when stepping inside one of these options. Choose your heels wisely and incorporate the information above about what type of heels to wear with the different openings at the bottom of your leather overalls. Wear something simple on top, again you don't want to over shadow the amazingness of being fully covered in leather!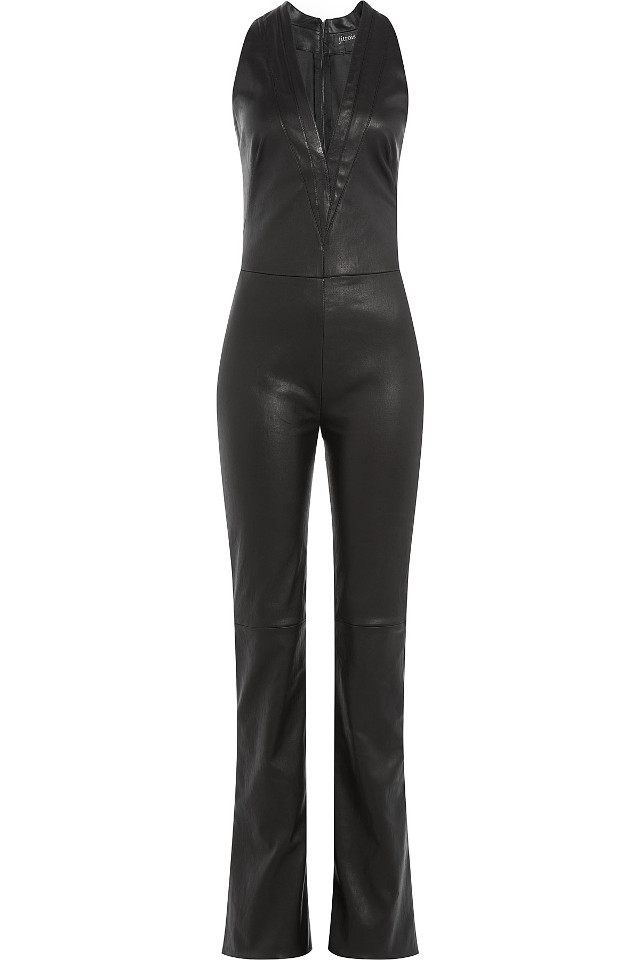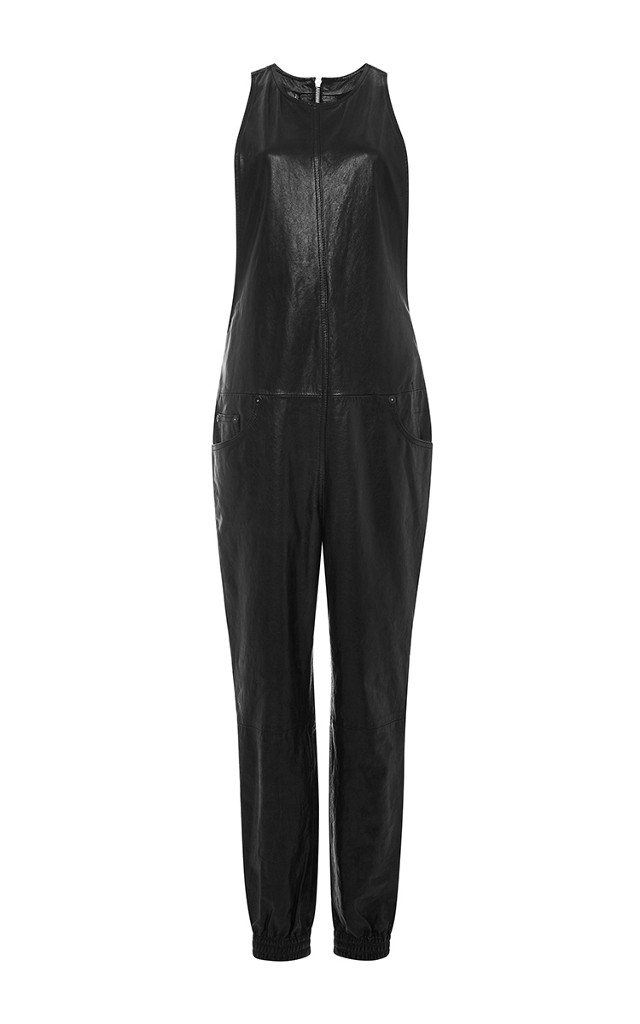 R13 – 5 Pocket Leather Jumpsuit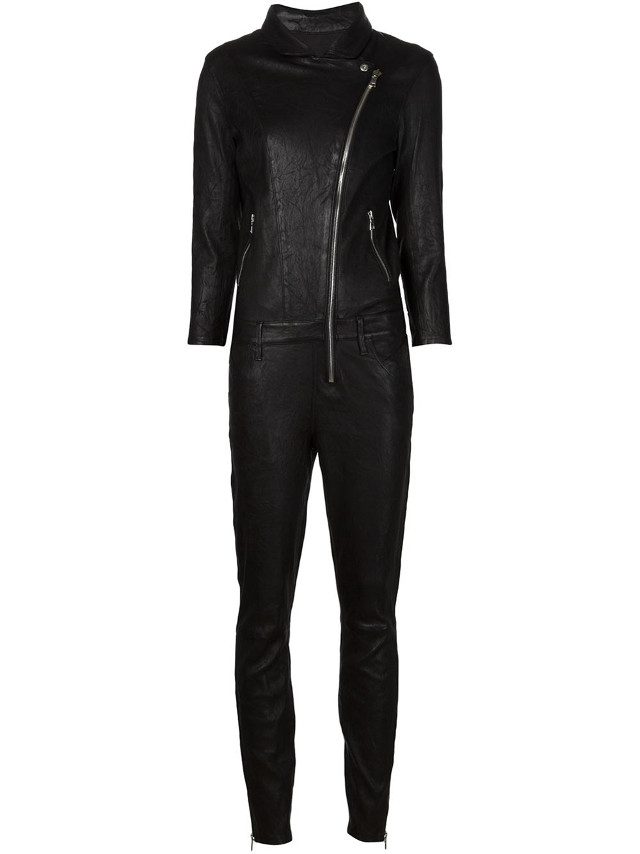 Leather is the New Denim! So don't be scared to find your favorite denim brand and see if they have any leather items that you can scoop up for Christmas!  We all need a wish list filled with fashionable items for our loved ones to spoil us with during the holidays! My last suggestion is to wear your skinny leathers paired with over the knee or thigh high boots! It's a great way to stay warm and look fantastic during boot season!