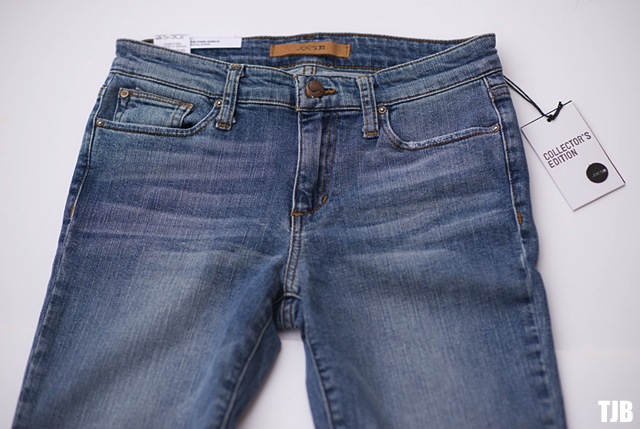 My denim review this week is on the Joe's Jeans Collectors Edition The Finn Ankle Skinny in Shaye. I got these jeans from Revolve Clothing last week and am really excited to be reviewing a brand that I haven't had the opportunity to share much about with you. You might remember a blog post I did on the latest Joe's Jeans styles for Autumn, which I included these jeans in actually, but you can see below my thoughts and feelings on this pair specifically.
The Fit – Starting with the fit of the The Finn Ankle, these feature a 8.5 inch rise, a 27 inch inseam and a 10 inch leg opening which narrows down from a 13 inch knee. This makes these jeans a very cropped, ankle skinny with a mid rise. Since I have shorter legs myself, I'm always opting for cropped skinny jeans purely because they always fit like a normal skinny on me, however with the short inseam on these, you can see below on the modelled photos that they are very cropped. They hit above my ankles so these would make a great Summer jean.
The rise isn't too high or too low for me, it's a good middle height and the legs are nice and skinny right from the hips all the way down to the leg opening. The back pocket placement is really nice too, everything is perfectly symmetrical and the pocket sizing is nice and flattering on the butt. I can't say that I have any complaints with these jeans in terms of fit, my only concern would be that they are quite tight in the waist, so despite them fitting everywhere else, the waist is a bit small so it does give me a muffin top, even in my usual Joe's size of 26.
The Denim – These jeans are made up of a blend of 95% cotton, 4% polyester and 1% elastane, so I was actually quite surprised to see that they aren't all that stretchy. They remind me of my old Current/Elliott jeans actually in terms of a not too stretchy fabric. I'm very much used to super stretch denim now and being able to move quite freely and though I can move in these just fine due to the fabric being a lighter weight and quite thin, they are definitely not a super stretch jean or a legging style jean. These will be great for those of you who are wanting a more classic denim feel when it comes to your jeans.
The Wash – They Shaye wash is one of Joe's classics and one of their icons, so I'm not surprised that they re-released it in the Collectors Edition. It's a nice mid to light blue with whiskering around the lap area, subtle fading on the thighs and butt and 2 little slashes at each knee. These are only very small and don't feature any distressing, so they only open up when you bend your knees, but I think they are designed this way because they will open and tear more with wear, letting you create your own rips at the knees that look authentic. Since these are cropped enough, the knee slashes do hit my knees and that's a bonus! I would say that this is a wash that will go with almost everything, especially lighter colours and since it's quite subtle, you can dress it up as well as down, so the Shaye seems pretty versatile.
These also feature frayed and shredded hems, which you can see in the photos. I haven't seen them done this way before actually, I'm usually used to them just chopped off and cut or really frayed like with my 7 For All Mankind jeans, so this is an interesting take which blends both ideas together. I think the frays will come away more and rip up a lot when you wear them, so it definitely makes the jeans unique and it's actually my favourite part about them! You can still see the hem stitching line with the fraying below, so it's not like these have that chopped feeling, more like a little rubbing and wear on the ends of the hems.
The Details – In terms of the details, the Joe's button in copper and brown stitching blend really nicely together with the hardware and the leather patch. It's a good colour match actually! The subtle, yet classic Joe's stitching on each back pocket is not offensive at all and helps you know the jeans are by the brand without overpowering anything. Again, the frayed hem detailing is really unique as it's done this way and I can't get enough of it, but other than that, they don't really have too many other details as they are quite subtle.
Overall Opinion – My overall opinion of these jeans is that I do like them, especially the wash as I love the fraying, the knee slashes and the back pocket placement, but in terms of the denim not being as stretchy as I would like and them fitting quite tight in my waist, I can't say that they are one of my favourite pairs of jeans that I own. They are nice and they make for a great pair of mid blue, distressed jeans if you want something subtle and good on the back pockets, I'm not denying that at all, but I can't mark them as my favourite or in my top 10 favourites. I hope that helps! If you love the look of them though, which I'm sure you probably might do, you can buy these jeans online at Revolve Clothing for $179.