The 1st of September has come and gone, meaning only one thing, Summer is almost over and Autumn is creeping up to our doors. I know people are often saddened that Summer just doesn't last long enough, but I always welcome Autumn with open arms as it's my favourite season of the year. I usually end up spending most of my money on new coats, jackets and boots and of course on new denim. There's just something about the crisp air and the golden hue of the leaves that makes me excited! I think Fall fashion is the best!
Since this is of course a denim blog, and a newer one at that (which I am very happy to know you are all loving!), it would only be right to include some of the hottest denim trends that you have to try out for Autumn 2014! Some of these are fantastic and quirky, while the others are classics that you can never go wrong with for Autumn, no matter what the year is. So, take a look and see what denim trends everyone will be wearing for Fall 2014!
The Trends
So these are the fun pieces that so many denim lovers and fashion enthusiasts will be sporting this coming season. You may recognise some of them as Summer trends, but as they have been such a huge hit, they have transitioned over into Fall! You just have to style them differently.
Dungarees/Overalls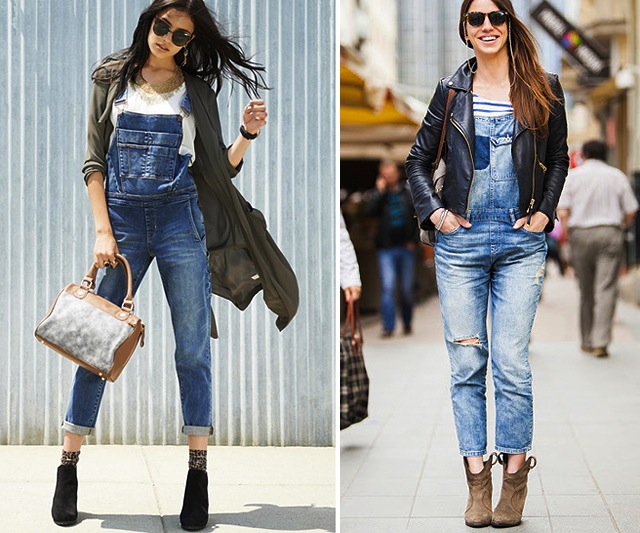 Dungarees or overalls have been in fashion for a couple of seasons now, originally making their debut last Autumn, but really kicked off during the Summer when everyone started to wear them. Dungarees often give a nod back to the 90's and it puts some people off of wearing them, however if you are unsure on how to wear denim overalls for Autumn, then you should definitely check out my previous post with styling options! It's definitely a trend you need to be on board with!
Patchwork Jeans
Patchwork jeans are also making a comeback! Again, this is a trend that was popular as a child and you can find some really inventive pieces out there, but the trend I am talking about is denim with different shades of denim on top. Nothing too outlandish, just simple, clean and elegant. You can find pieces like this from Citizens of Humanity, DSquared2, Paige Denim and more! I know some of the patchwork styles coming out for Fall are really cool, Paige has released a few metallic styles! How will you style yours?
Vintage Jeans
Vintage denim has been increasing in popularity for a couple of years now, mostly in the form of vintage Levi's denim shorts which everyone is loving and wearing, thanks to Urban Renewal, but it's being taken a step further for the cooler months and the trend of vintage Levi's 501 jeans is hitting it big again! There is a new brand out called RE/DUN (more on those soon) and they take old Levi's jeans and modify them to suit today's styling, so if you own a pair of vintage Levi's 501 jeans, you will definitely be on trend!
Denim Pencil Skirts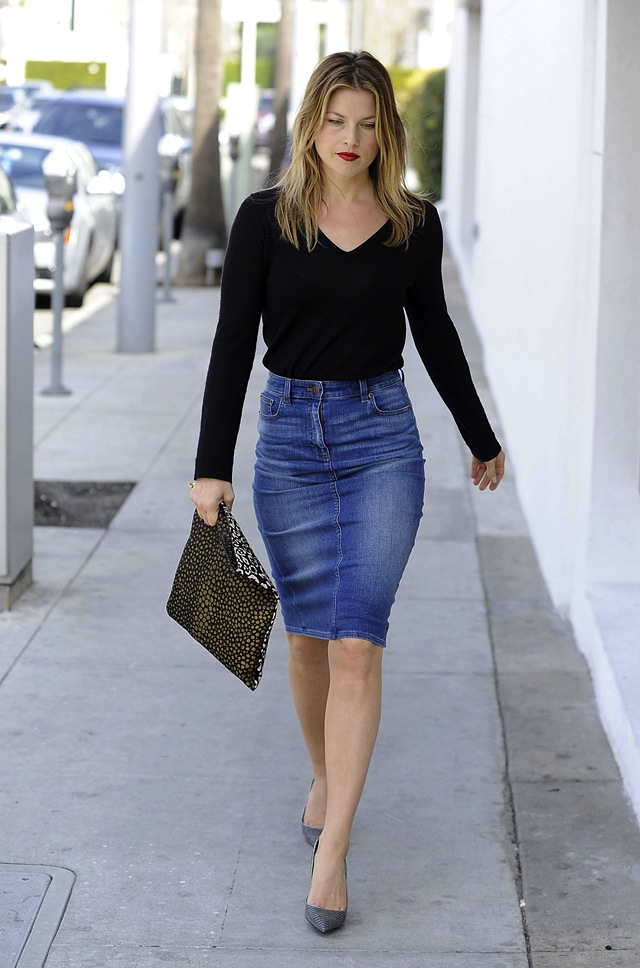 Again, just like the Summer trend, denim pencil skirts are making their way over into Autumn too! If you thought they were just for the warmer weather then you will be pleased to know that you can also sport the trend in the colder months too. Brands like Hudson and AG are coming out with dark wash styles in black and indigo, perfect for that darker colour palette that Fall is known for! Adding in aesthetics like zippers and buttons, this is a trend that will let you wear denim even on those glamorous nights out!
Moto Jeans
Oh the beloved moto jeans! They hit it big for a while, then they take a back seat, they come back, then go away. Moto jeans are a trend that is always revolving and being reinvented, constantly. Some will have ribbing, others will have quilting, some might have knee stitching all around while others only have it on the front. Whatever style you choose, and whether or not you go for denim or leather, moto jeans are a trend that always sticks around for this season! You can't go wrong with them as they make a statement on their own! Some of the best moto styles I have tried belong to James Jeans and BLANK NYC!
The Classics
Now moving onto the classics! These are styles that will be popular for Autumn no matter the year. You can wear these year in and year out and still look on trend! These types of jeans will never go out of fashion as you can't get more classic than this in my opinion!
Skinny Jeans
So first of all, it's none other than the skinny jean! You can't get more classic than that can you? The best thing about skinny jeans for Fall is the fact that you need to choose a darker variety of washes. Think mid to dark blue, black, brown, grey, burnt reds and oranges or even mustards! All of these are fantastic options and you will never go wrong!
Someone mentioned to me that they read somewhere that skinny jeans will be going out of fashion because people are buying boyfriend jeans and jog/sweat pant jeans at the moment, but don't worry. I know in my heart that skinnies are a staple and wont go anywhere! The only reason the sales are down is because it's Summertime and people do favour super stretch and loose jeans!
I wrote a post a while back on the must have skinny jeans for every occasion, so it's definitely worth checking that out if you are in need of new jeans! Some of the best that I recommend are Frame Denim, Paige Denim, AG Jeans, James Jeans and Citizens of Humanity!
Burgundy Jeans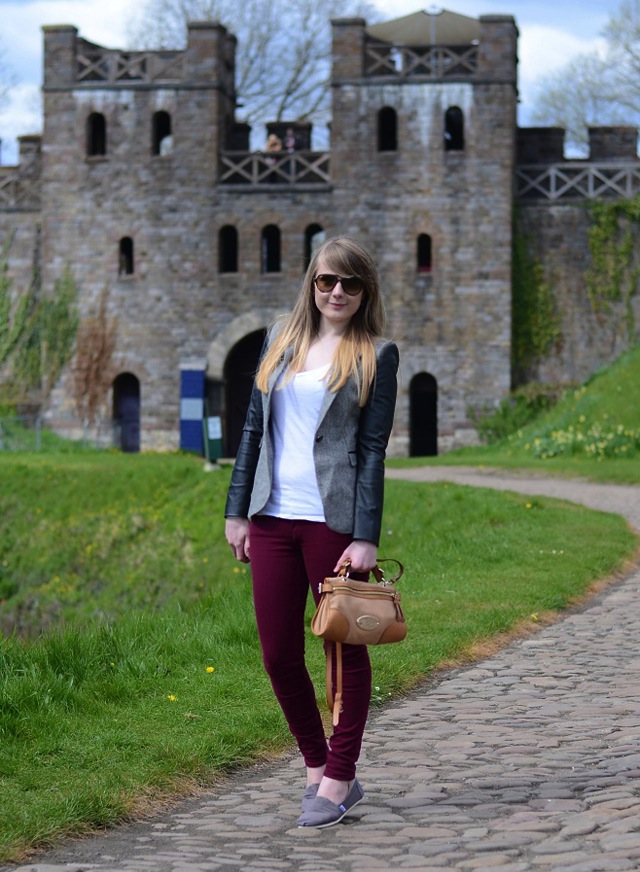 Like I mentioned above, you need to opt for a darker colour palette for Autumn, but the most popular shade that always makes its way to the boutiques is burgundy. It comes in coated or in plain denim and you can get more of the brown undertones or the purple undertones. My absolute favourite burgundy jeans that I live in are my Koral skinny jeans in Merlot. The colour of those is incredible! I even bought another pair in another size so I can make sure I can wear them at any point of the year if my weight fluctuates! I got them last year so they are now in the sale on ASOS for only £35! Buy them here.
Corduroy/Velvet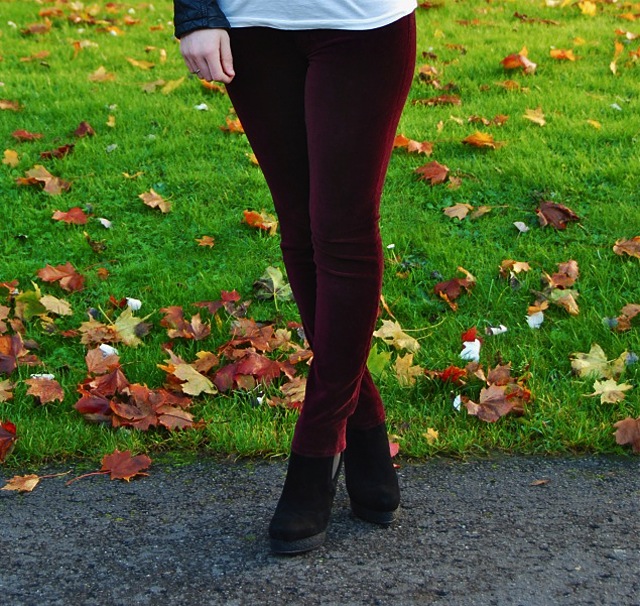 How can you ever say no to corduroy or velvet? It's such a popular fabric choice for Autumn and it's been in trend for decades! Whenever you look at corduroy or velvet, there's something about the texture and depth of it that reminds me so much of the colder seasons. It's always got a richness to it that just looks beautiful. I have a pair of burgundy velvet skinny jeans from J Brand actually (above) that I am in love with! They are perfect with black leather jackets and boots! I recommend the shades of black, brown, burgundy and mustard for corduroy and burgundy, black, plum and navy for velvet.
Dark Skinny Boyfriend Jeans
Just like boyfriend jeans are incredibly popular for the Summer, in light blues with distressing, you can definitely transition the trend into Autumn too, you just need to go for a darker wash! Think about dark indigo blues, blacks and greys, these are the perfect shades for Fall. I try to avoid distressing for the colder months purely because it makes my legs cold, but some of my favourite cuts are the Diesel Fayza, the Current/Elliott boyfriend jean and a Levi's skinny boyfriend jean. I've chosen the skinny boyfriend jeans as my favourite cuts because they don't swamp or overwhelm a smaller frame. Especially in Autumn when you need to layer on sweaters and jackets, the baggy pairs can really drown you out, so go for a skinny boyfriend.
Distressed Black Jeans
Black jeans have always been a classic, especially at the end and the beginning of the year. They just go with everything and you really can't go wrong with a pair of black jeans. Unlike what I said above about the boyfriend jeans though, distressing is key this Autumn for black jeans! Slashes, rips and holes are becoming increasingly popular on black jeans and they really liven up a classic pair for Fall. It adds a bit of life and character to an otherwise plain pair of jeans! My favourite black skinnies with distressing are Frame Denim and Paige Denim. Both have some fantastic styles! Or, if you fancy some DIY, the Citizens of Humanity Rocket in Axel (like mine above) are perfect for distressing yourself.
So these are the top 10 denim trends for Autumn 2014, you can buy these styles online at Shopbop, ASOS, Revolve and Singer22! Happy shopping! What trends will you be trying?