In my former life, I was in Events and Nightclub Management, a far cry from what I do today. However if I was to look for the earliest photo of myself wearing quality denim, it would be from way back in the early nineties. This is thanks to my dad, who luckily fell into a Fabric Operations Management job shortly after a university career spent partying hard and studying just enough to get by. The samples my siblings and I are seen in in our early childhood photos would today be regarded as designer vintage and there's simply no way we could have known how cool we looked back then.
The end of my glittering Events career came in the form of a job offer from my dad. He needed someone to handle one of his sales accounts and knew I was coming to the end of a contract. I took the job as a means to move from the North to London and that's where my real love affair with denim began.
Not only was I new to the Big City but I was thrust into the demanding world of fashion supply and at the same time learning all sorts about working for myself, working from home, scouting out trends and paying attention to people I had never bothered to consider before, being so rough and ready in my own style: Fashion People. From visiting high-ceilinged, glittering buying offices and small, top-floor start-up brands and everything in between, to travelling solo for trade fairs in Amsterdam, Paris and Barcelona (fear of flying be damned), my world changed instantly and I was enthralled by the full extent of the city's – and everybody else's – obsession with denim.
It wasn't enough to sell. I wanted to know absolutely everything from start to finish – how was the cotton harvested? How many mechanical processes were needed to turn fibres into garments? How were production floors laid out and what on earth was sandblasting? I suddenly felt like I had lived my previous two decades in utter ignorance (albeit in good jeans) as I ploughed through pages and pages of information, watched YouTube demonstrations until my eyes were half shut and asked my father ten or so thousand questions that he, of course, answered with authority and fervour. A shopping trip with a friend was no longer simply that; it was now my chance to pour over the latest styles and decode them – fabric, trims, finishing, everything – like some kind of psychic detective unravelling a murder scene piece by piece, process by process. I could be found in the denim corner of any store we entered, hands shoved down jean legs searching for tags to figure out places of origin and see if I had managed to guess the composition of each garment correctly (usually, yes!).
A while into the job I began to notice that my spare moments were spent doodling not letters and words as I had done whenever boredom struck at university but garment designs, shapes, silhouettes and tiny details right down to individual threads trailing from frayed hems. Yearning for a more creative role in my beloved denim world I moved into trend research and consultation. It is the best move I could have made and, I feel, the beginning of a fascinating and passionate career for me, something I did not see myself consciously deciding upon until around the age of forty (after trying "a bit of everything" came to an end and I'd have to kick myself up the jacksie and settle into something solid and specific).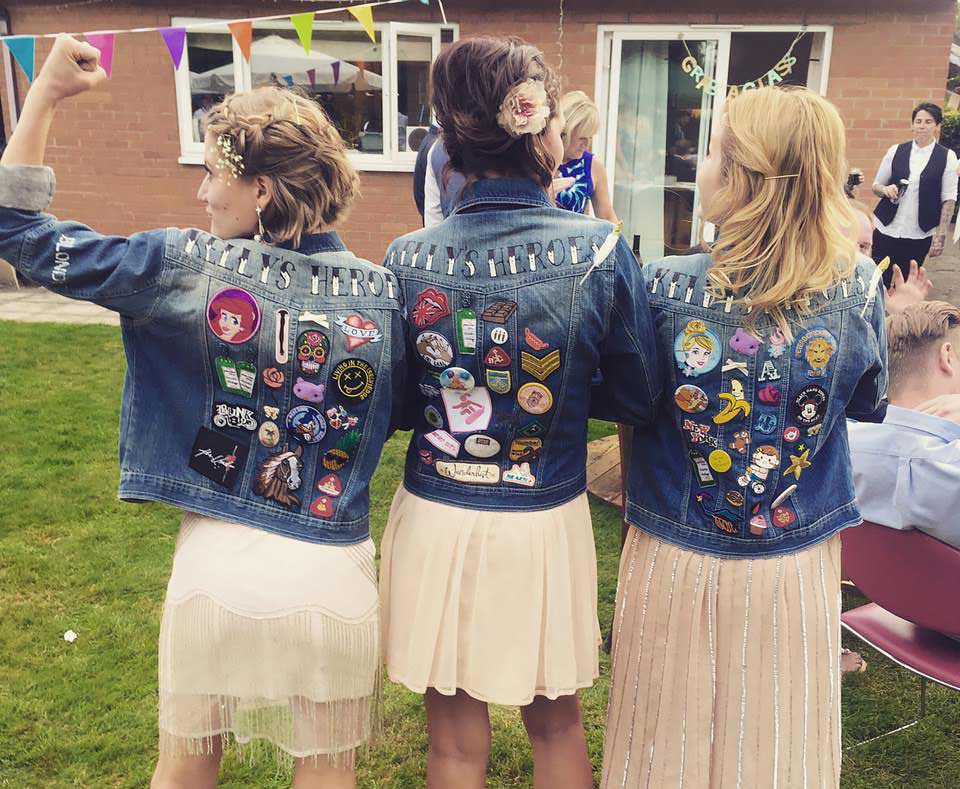 Today I am rarely dressed in anything other than my favourite pair of Scandi skinnys or high-waisted straights that I found in a chance sale on Carnaby Street when I should have been elsewhere. The treasure hunting aspect of a denim life is something I live for – you never know when your perfect pair of jeans is hiding in the sales rack, in a store you weren't planning to visit, at the end of the month when you really can't afford anything other than food…but of course will buy them anyway. Similarly, to see somebody wearing the hell out of a particular pair you recommended to them that they then purchased and can't take off, produces a brilliant mix of undeniable pride and pleasure.
The exception came when I was pregnant; I was barely showing at all for two thirds of the pregnancy and then all of a sudden was the size of a house and deep into the "nothing fits!" phase that lasts well into postpartum life. Maternity jeans are stylish these days but I can not say they are as comfortable as a super-elasticated waist paired with harem legs or an outrageously stretchy pair of leggings, complete with oversized tee and pained expression (I was not a "glowy" pregnant lady). My glorious return into my favourite skinny jeans (which are a perfect fit on me and nobody else) is still something I look back on fondly; new motherhood requires so much sacrifice that to see your legs swathed in gorgeous denim, symbolic of your glory days as a London-savvy quasi-hipster who jumped on and off several buses, tubes and pavements a day with ease, is truly a special moment. It was my first "I'm me again" moment as a new mum. I then spent the summer in my Levi's cut-offs and felt fantastic, despite having barely recovered from my child's entrance into the world. Occasionally, ever so briefly, nothing matters beyond how great you feel in your favourite pair of denim shorts.
Denim can do that to you and that's what I love about it. You can transform from one best version of yourself to another at the change of a garment.
For my recent wedding I had seven bridesmaids from four corners of the globe. Rather than sit and plan our wedding (it'll happen, right?) I spent four months creating personalised Trucker jackets for each of them, affixing embroidered patches and pin badges that signified many of the good times I had had with each of them over the years I'd known and loved them. "KELLY'S HEROES" was emblazoned across the top in shiny fabric paint using a saloon-style font and a white, gold-dipped feather served as the sparkling cherry atop the ruggedly beautiful cake. They were my pride and joy and to see my seven favourite women posing together shouting "We're in a gang!" in between gushing over how happy they were for me in all my laid-back bridal glory truly made my day – and some fantastic photos.
The most common theme when we've received presents for our baby girl has been denim. She has an entire wardrobe of high street and designer label pieces at less than a year old and despite promising myself and my bump that I would not be one of those mothers who dresses their child up like a doll, I can not deny the pleasure I find in wriggling her chubby little legs into a nice pair of baby jeans and adding a complementary western jacket. She's adorable as it is but in double denim she is irresistible. I look forward to the day when she asks me what a right hand twill is or how to style her favourite pair of vintage hand-me-downs with whatever is cool in seventeen years' time.
These days I am still working with my ever-cool Denim Dad, now supplying effortfully-crafted reports and presentations on upcoming trends the denim world has to look forward to as well as assisting our newest recruit – my husband – in sales and operations.
Indigo truly runs through my veins, and to be known in our circle of friends as denim aficionados is a badge we wear with honour. From the moment I found my dad's 30 year old (six years older than I was) Levi's jacket in the loft of the family home to when I opened the first of many pink-parcelled packages containing ridiculously tiny jeans for my impending arrival, denim has seen me through the good and the bad and will remain a constant in my life for all time. I may already have a good twenty pairs of "perfect fits" but that won't stop me bringing home more in the years to come. My philosophy is this: they fit you that well for a reason, and that reason is that they were made for you. Take them home!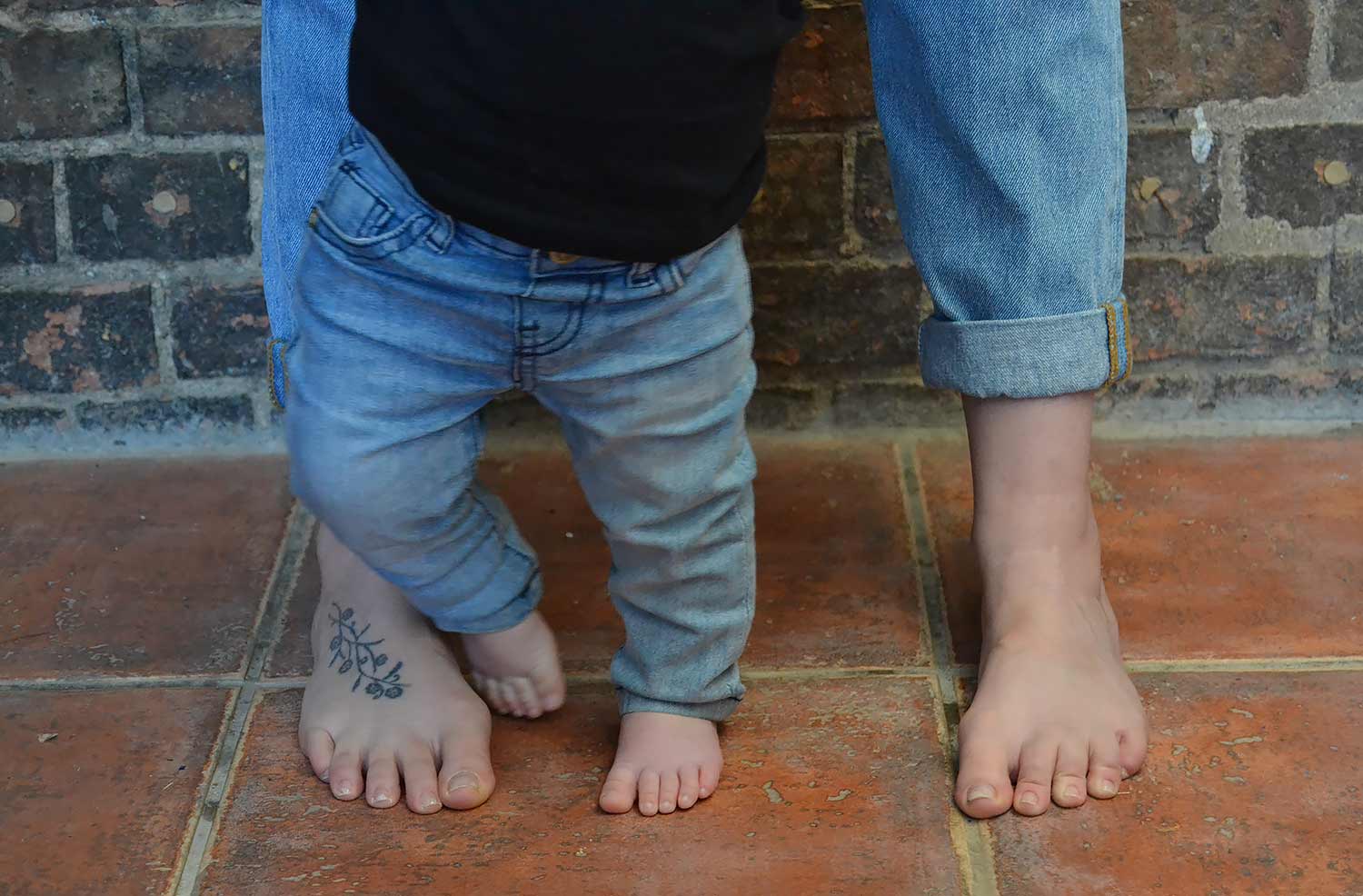 A huge thank you to Kelly Parsons for sharing her denim story with us here at The Jeans Blog. It's always lovely to see other people who are just as passionate about denim and jeans as I am myself. It sounds like an amazing history with denim which will carry on for generations. Please do get in touch and share your story with us too if you are obsessed with jeans and have a favourite pair of your own! We would absolutely love to hear how your relationship with jeans started and why you love them so much!