Distressing Your Jeans May Extend Their Usage
Self-customization of rarely used older jeans may give you the pair of distressed jeans that is just right for you!
As followers and/or proponents of "The Jeans Blog", we most likely share a number of characteristics. We are devoted fans of denim jeans and they are a big part of our everyday and occasion wear. We have made a substantial investment in our jeans spanning multiple styles and years. We are hesitant to part with a pair as we all know that in the near future, that pair will be perfect for a social event that we hadn't anticipated. We probably purchase more pairs than we need (do I hear the brands and retailers cheering in the background?). Storage space can become a problem creating piles of jeans that are collecting dust as they will never see sufficient use to be worn out from their intended purpose. Do you remember our 'are you a denim addict?' post?
So what do we do with those old jeans? No need to stress out as the distressed jeans trend may offer us an opportunity to re-purpose them. Distressed jeans are ideally a representation of your persona or the persona you would like to present to the world. But what is right for you isn't easy to answer as highlighted by Lorna's article on How Do You Prefer Your Jeans Distressed. Self-customization and distressing of old jeans may allow you to make a statement that is unique and  fashionable versus the cookie cutter approach found in off the shelf retail offerings.
Naturally distressed jeans are created as you go about daily life. If you lead a labor intensive life your jeans will fade (see these 18 month old raw Lee jeans), suffer abrasions, cut, tear, fray, and pick up stains and coatings. The distressed 100% cotton jeans pictured at the start of this article are the result of 2+ months of intensive work in the building trades (note – these jeans have since been repurposed as a casual jean that looks great with a dress shirt and combat boots). Nice, but most of us will never be in such work. Not to worry, anyone can realize such a look by using scissors, utility knifes, sanding blocks, wire brushes, stains and paint. For the impatient, there are power tools beyond the scope of this article that further speed up the process.
How To Distress Your Jeans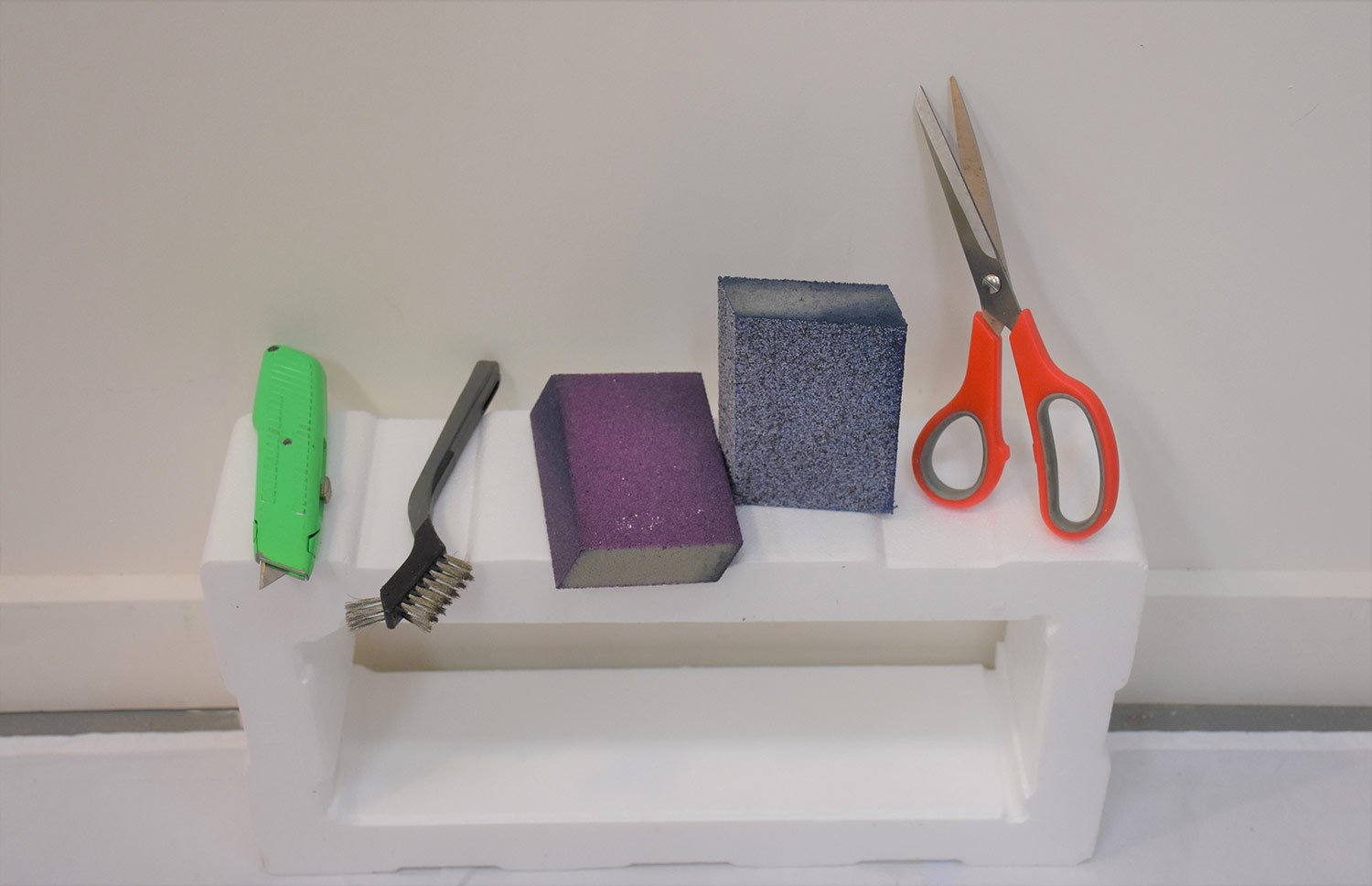 Scissors and utility knifes cut. Sanding blocks erode. Wire brushes fray. Stains and paint add color.  But before you start work – plan out where you want the tears, frays, fade patterns and discolorations to give you the look you are hoping to achieve. In most cases, you will want the denim to be as taut as possible while you work on it. The following pair of 99% cotton denim jeans was distressed in less than 15 minutes. The scissors were used to cut off the hem and subsequently frayed with the wire brush. The sanding blocks were used to create faded wear areas. The edge of a sanding block was used to score a line which was subsequently pulled apart creating a tear. The utility knife can be used to create a clean cut or a tear in the scored area. Use the wire brush if fraying is desired. Note that when fraying, if you want the warp threads to remain use the wire brush to pull the weft threads out on the inside of the pant leg and vice versa if you desire weft threads to remain.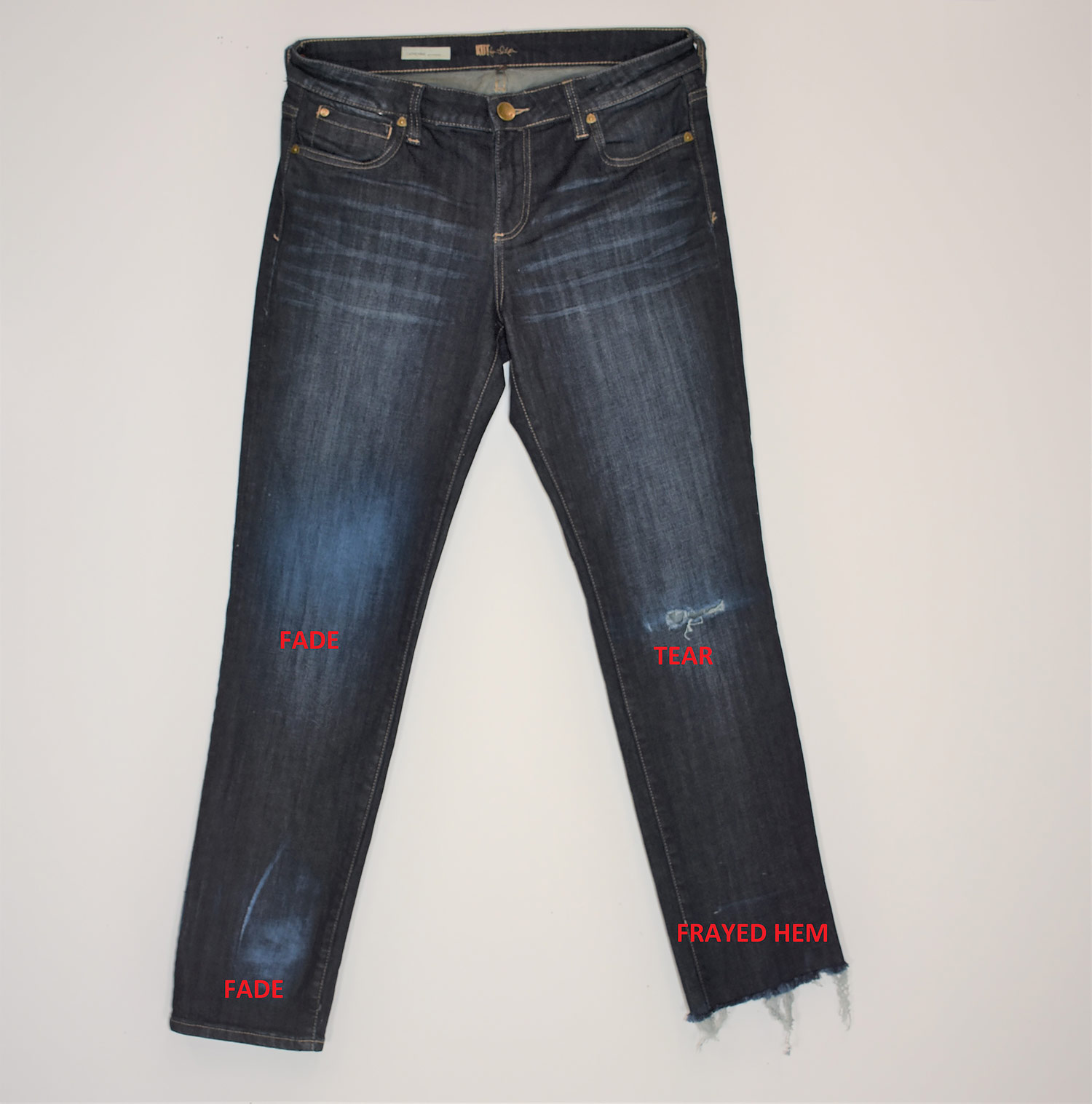 You can further customize by the way of paint, stain, or baking soda paste. For the paint and stains it is easy to mess up. If you try it I'd recommend starting with droplets that you either push into the denim or slightly wipe with a soft cotton cloth. Baking soda paste may be used with a sanding block when creating fade spots.
Is customization and distressing of jeans something that you find interesting and would like to pursue further? For those of you who have tried it, would you be willing to share your technique and results with the rest of us? We look forward to whatever you are thinking. Please respond in the comment section for this post.