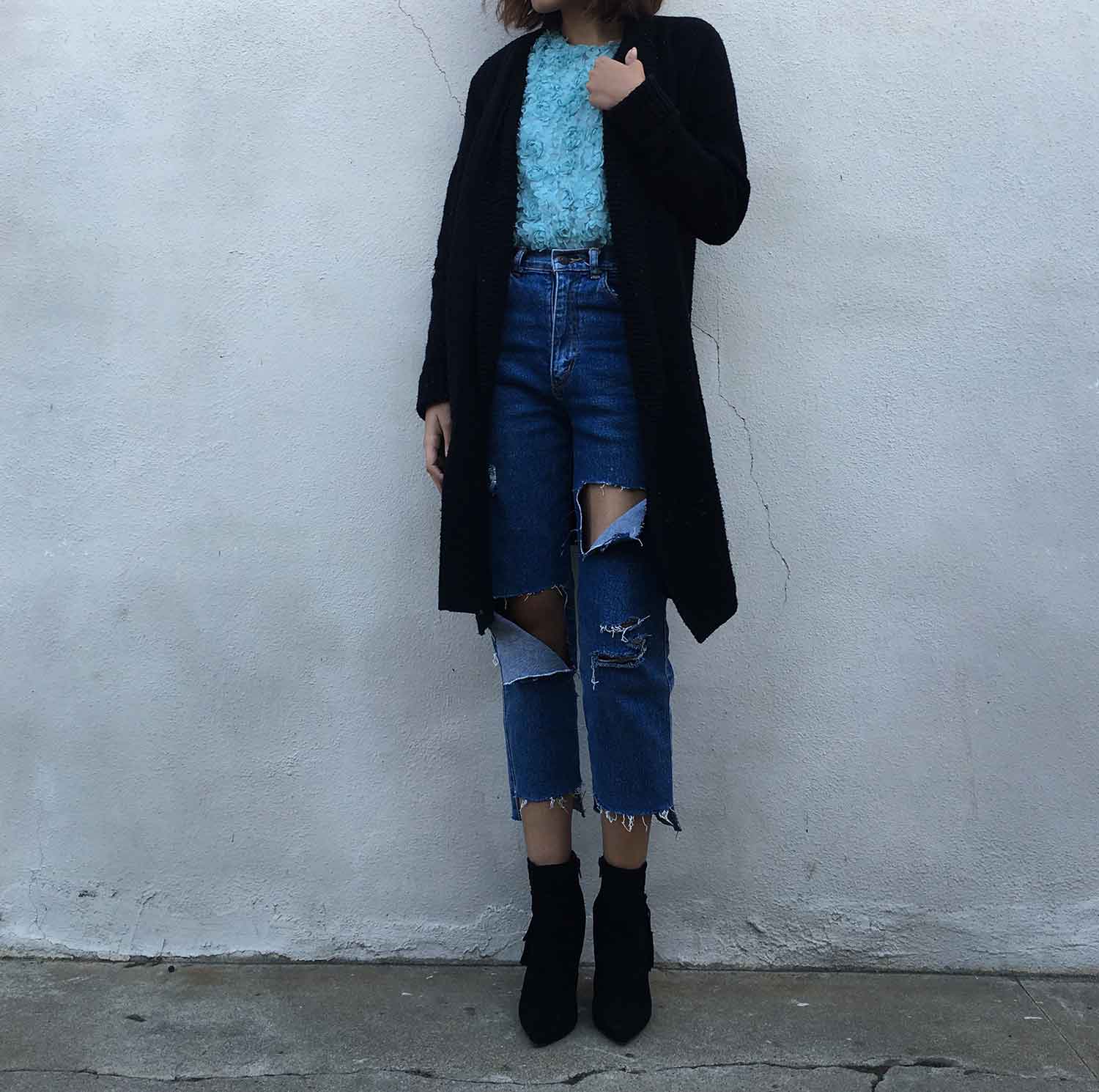 This is our 4th guest written article from a writer who loves The Jeans Blog and adores denim. This contributed article is by Chrissy Baclagan, giving you DIY tips on how to distress and create semi cut out panels on your jeans. We hope you enjoy it and look forward to more guest written articles from fellow denim addicts, such as yourself. Lorna.
"Distressed jeans will never go out of style…"
Ever since I was a young child, I've always been distressing my denim for as long as I could remember. Even today, I prefer starting my own DIY creations rather than spending extra bucks for holes I can easily do on my own. I'm going to share with you my denim DIY where I distressed and added semi cut out panels to my jeans. Check it out below and let me know how you get on doing it to yours!
Materials:
1 pair of denim jeans (or two)
A ruler (not shown)
Scissors
A sharp blade (not shown; a better option would be sandpaper)
Tweezers (not shown)
A pen or marker (not shown)
Book or magazine (not shown)
The jeans I've chosen are these lovely vintage mom jeans that literally came straight out of my mother's closet when she was around my age. As they were a tad bit long, I hemmed 7 inches off the bottom first. With the help of a ruler, I was able to cut in a straight line, more or less, before deciding to cut off an extra 2 inches off the front side to create an uneven hem.
Next, using the blade, I used the sharper side and slid it across the edges in order to loosen the surrounding denim threads apart, creating that frayed denim look. Preferably, it's much better if you use sandpaper as this loosens the threads in a better way, but seeing as I have none, a pocket knife will work nicely (just don't cut yourself!).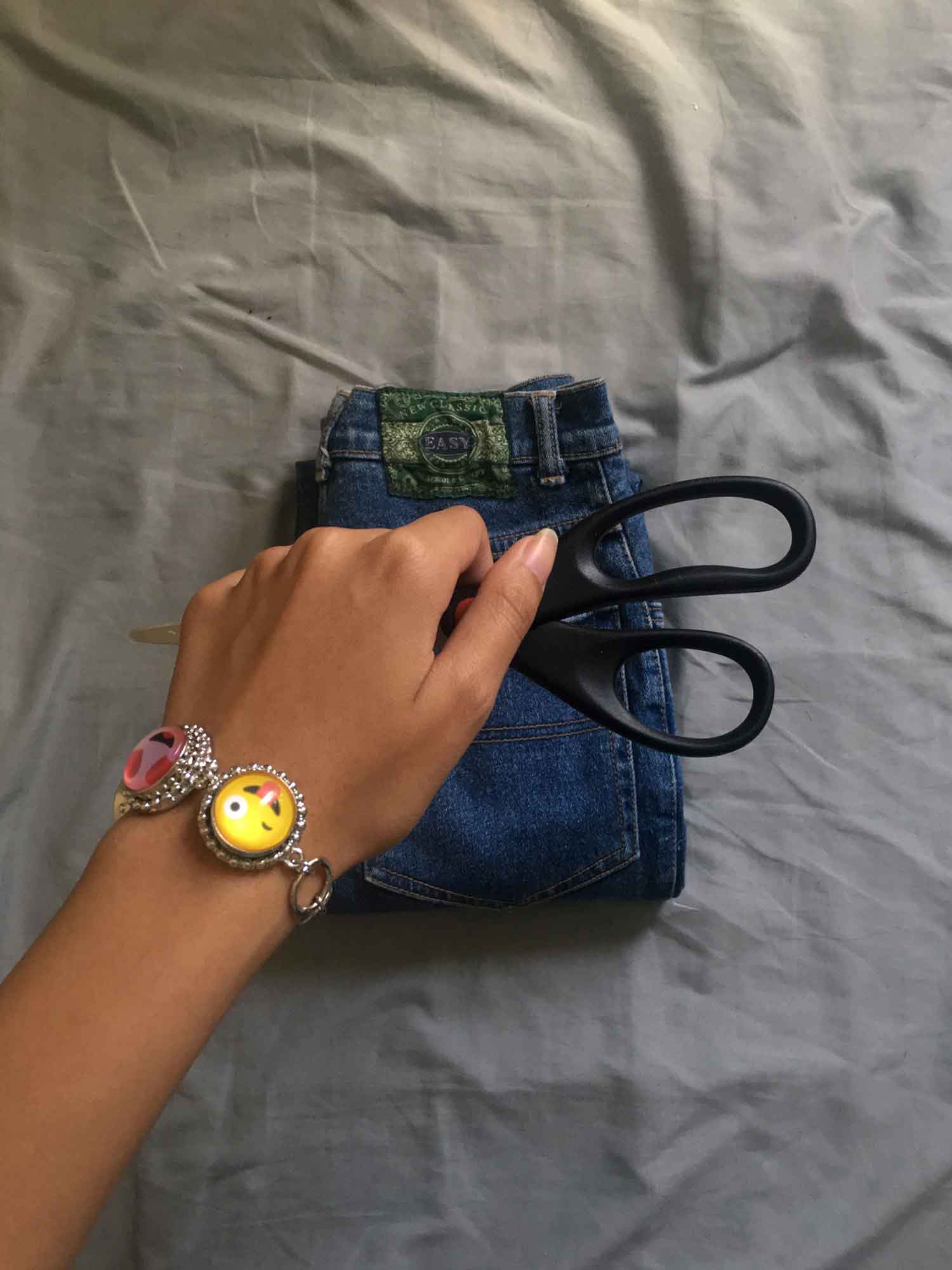 Afterwards, I wanted my jeans to be more hole-y (get it, hole-y). Prior to cutting, I placed a book inside the jeans legs because this prevents me from accidentally cutting through the other side of my pants, which I didn't want. Going back to the same pen technique, I made small dash marks where I wanted my cuts to be. Doing this allows you to make straighter rips as it shows you exactly where to cut.
Grabbing my knife, I began slicing until I was able to cut through the denim. I did regular slits for the distressed knees. Then, like before, I used my knife or sandpaper to distress the areas I wanted to appear worn and used. If you want to take it a step further, I recommend using your tweezers and pull out the blue strands, leaving behind the white. In doing so, you end up with a high-end looking pair of jeans.
And ta-da! You just distressed your very own pair of pants! Remember, you can also do this to other denim products such as skirts and jackets, not just jeans.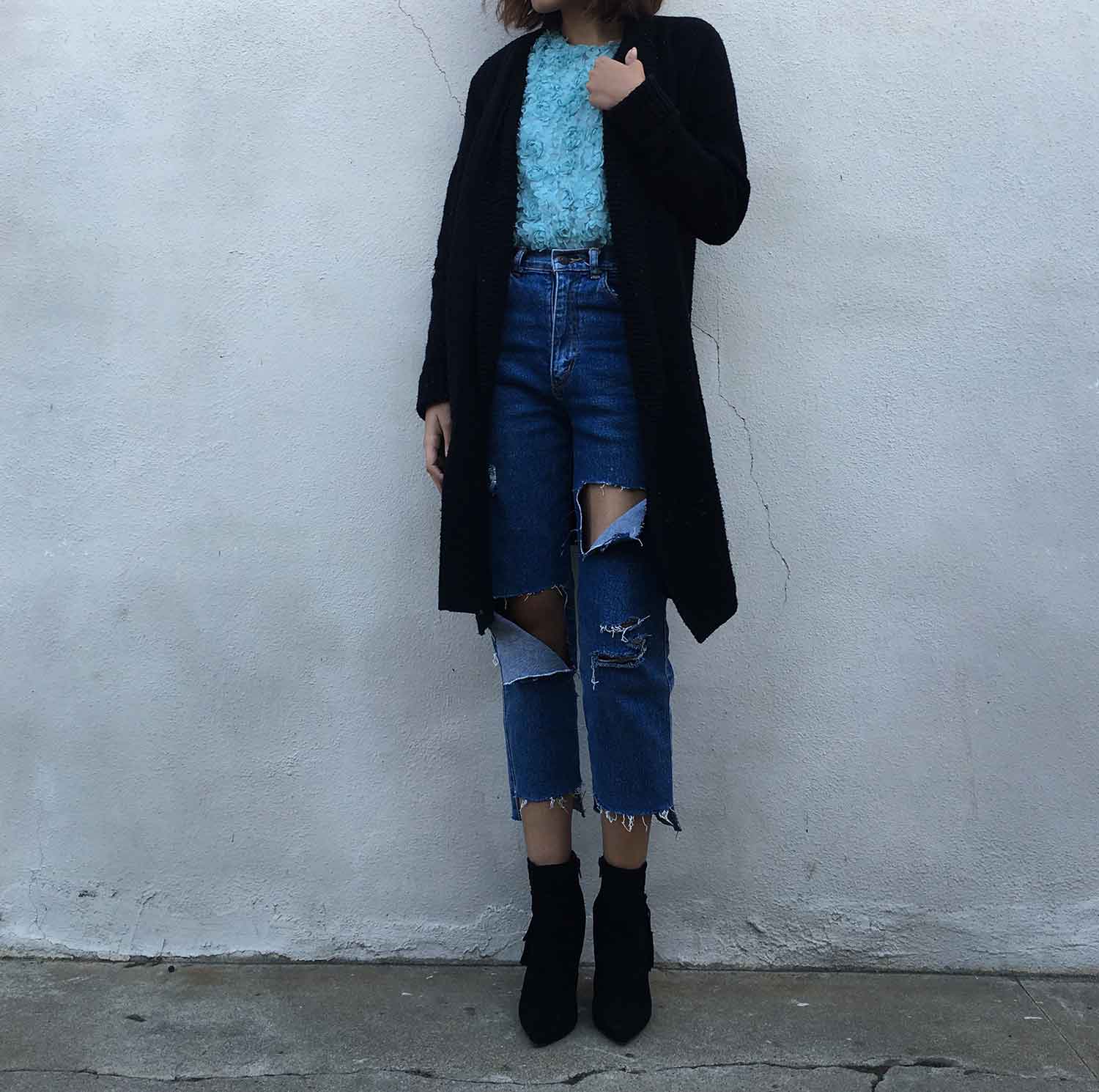 Jeans: Easy | Top: Lauren Conrad | Coat: Banana Republic | Booties: Charlotte Russe
BONUS: semi cut-out panels: I was inspired by Aimee Song's denim which you can see here, and I was enthralled with the idea of having much bigger holes. I noticed that they were pretty much in the shape of a square/rectangle with one corner flapping down. What I did to achieve this is marking my desired line with my handy pen once more before placing a book underneath, then, with my blade, I sliced it horizontally. Next, I used scissors to cut vertically on one corner, creating a semi panel opening of sorts. Be sure you know which corner you'll be cutting from, however. Depending on which side, the flap will go the other way. In this case, I opted for both as I created two opposing cut-outs on both legs.
Author Bio: Chrissy Baclagan is a fashion blogger and lover of DIY at her blog The Chrissy Collective (which you can also follow on Facebook, Twitter, Instagram, and Pintrest) if you would like to keep up with her. She's based in San Diego and has been travelling from a young age, being exposed to the diversity and influences of worldwide fashion, resulting in her eclectic style.