We have something very special and exciting to share with you here on The Jeans Blog! A first, exclusive look at a denim wedding! Ian Berry, the talented artist known as Denimu (read an interview with him here) got married very recently to Åsa Larsson and the wedding was filled with denim. Not only did he have a full denim suit, but there were denim accessories and decorations too. To someone who loves denim as much as I personally do, this was a wedding dream come true! I'm personally very happy to share the story of their denim wedding with you and I wish them both all the happiness in the world! Read the full story below!
We have all now been to many weddings. While they are lovely days, sometimes they can become a little samey, or even worse, trying to out do the last one attended. It is always nice to have an element of the couple in the wedding rather than purely to make it look like something out of a magazine and too prim for the guests to relax. Sometimes however, by doing that and creating something original it can just be like a wedding worthy of a glossy magazine. That is what Brit Ian Berry and Swede Åsa Larsson did. Ian is a well known artist who works with denim as his medium, so to them it only seemed logical to have the theme of the wedding as denim. And no, not the Justin Timberlake and Britney Spears Canadian Tuxedo tragedy, but a rather stylish 'hint of' rather than led by.
Huddersfield born Ian wed his Swedish fiance in Haslov near Landskrona, in the south of Sweden. And when you think of Sweden, don't think of snow and Elk, the weather was in the 30's. Ian wore a tailor made three piece dark denim suit, (the jacket came off quite early due to the heat) along with a light blue denim tie which matched his eight groomsmen, a handmade denim pocket square and specially created jeans cuff links. If that wasn't enough, they were even seen sporting the special denim Ray Ban wayfarers that Ian had worked with the famous sunglasses brand on, which were handy to have on one of the hottest days of the year.
The bride, perhaps in fear of the Britney history, shied away from a denim dress, even though a well known brand had offered her one. And instead went for a beautiful lace, figure hugging dress. Not to dismiss the denim completely, she had denim heels on, as well as her bouquet featuring elements of denim.
The guests were asked to wear a hint of denim, with it still being a formal affair. Bring out the denim ties and bow ties, denim shoes, jackets, flowers, handbags and not one pair of actual jeans in sight. The driver of the 1934 Rolls Royce was sporting a vintage Lee Denim Union Made USA Railroad Conductor cap. Creativity stakes were high and some of the girls wore torn jean strips in their hair to denim style nail polish as well as an array of denim themed shoes.
While the indigo could have taken over or even become a gimmick, it was there to complement the white and lace, and not to turn into a sea of blue. Denim ribbons were wrapped around the chairs along with the lace, flower jars wrapped with a denim and lace band, with seasonal Swedish Snow-in-the-mountain flowers in. Each person's place name was lasered into denim and they even had a specially designed leather patch to celebrate their day.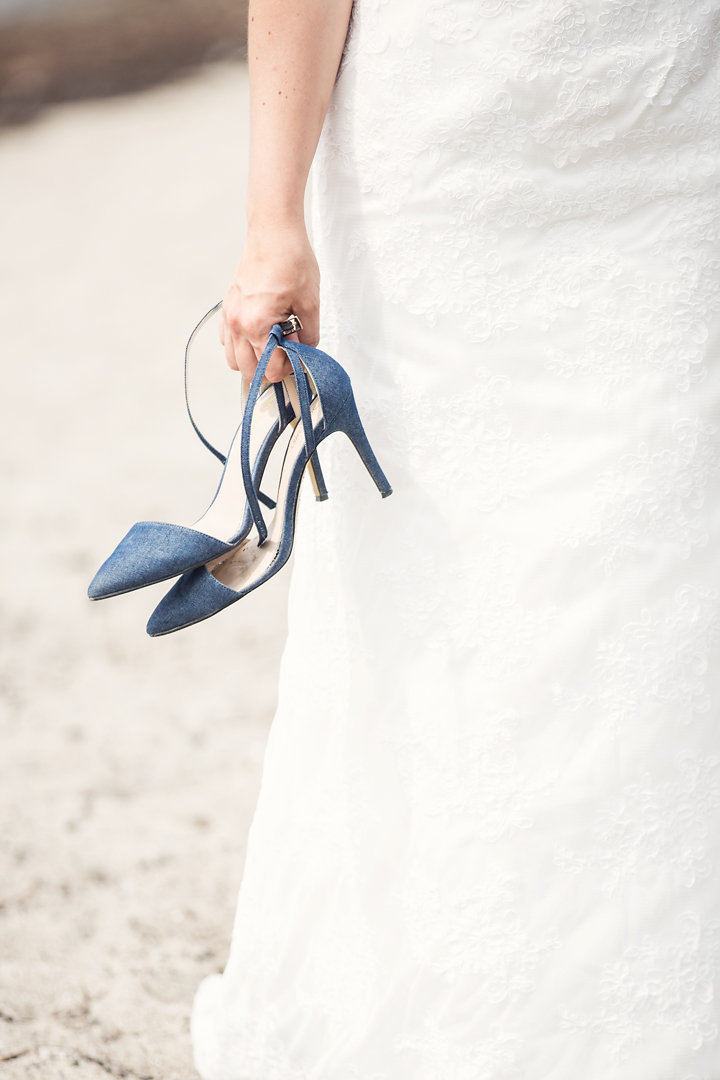 Guests flew in from all over the world, Greece, Australia, Hong Kong, Turkey, Norway, Germany, Holland, Denmark and of course from all over the United Kingdom to descend on the idyllic Swedish location, to the venue that had sweeping views over the Swedish countryside, across the Öresund sea and to Denmark and Copenhagen. With another party planned when they return to London, the wedding was reserved for their closest family and friends, but guests did include up and coming Norwegian fashion designer Jens Ingebretsen who launches the brand Sons of Christiania as well as Swedish swimming Olympian Gabriella Fagundez.
Ian, who has been commissioned to do many portraits of icons of the world, including legends Ayrton Senna, Armani, Lapo Elkann, Debbie Harry and Giselle avoided making a picture for the day, saying it was about them, not his work. However, while they may not have had denim rings, the bride was given a bead-set Diamond Tiffany wedding band to complement the Tiffany Setting ring she had.
'I think everyone would expect me to get something creative, a unique ring commissioned, but we have had a history with Tiffany, ever since I bought her a fake necklace in Bangkok many years ago, I then saved up to get her the real one when we went to New York. So it does have a connection with us.' Said Ian.
The foreign guests were amazed by the Swedish traditions in the wedding, especially those that were held in the beautiful converted barn building during the three course meal. Anybody can have a speech, and they did, and the event was compared by the multi lingual toastmasters who could have easily walked from a Eurovision stage. At a Swedish wedding they sing snaps songs that end with downing a shot as well as the rules of when the bride or groom go to the bathroom, the males or the females all get up and all kiss the bride or groom. A clinking of the glass means the couple have to stand on the chair and kiss, and the stamping of the feet mean they have to kiss under the table. This novelty was not lost on the Brits, who found it fun to keep doing it.
As a wedding gift, he had made the engagement ring out of the shades of cut up jeans, and placed it in a Tiffany style window. Adding elements to your wedding in a DIY way can add a personal touch to any wedding, creating a fun and involving way for the bride and groom and their guests.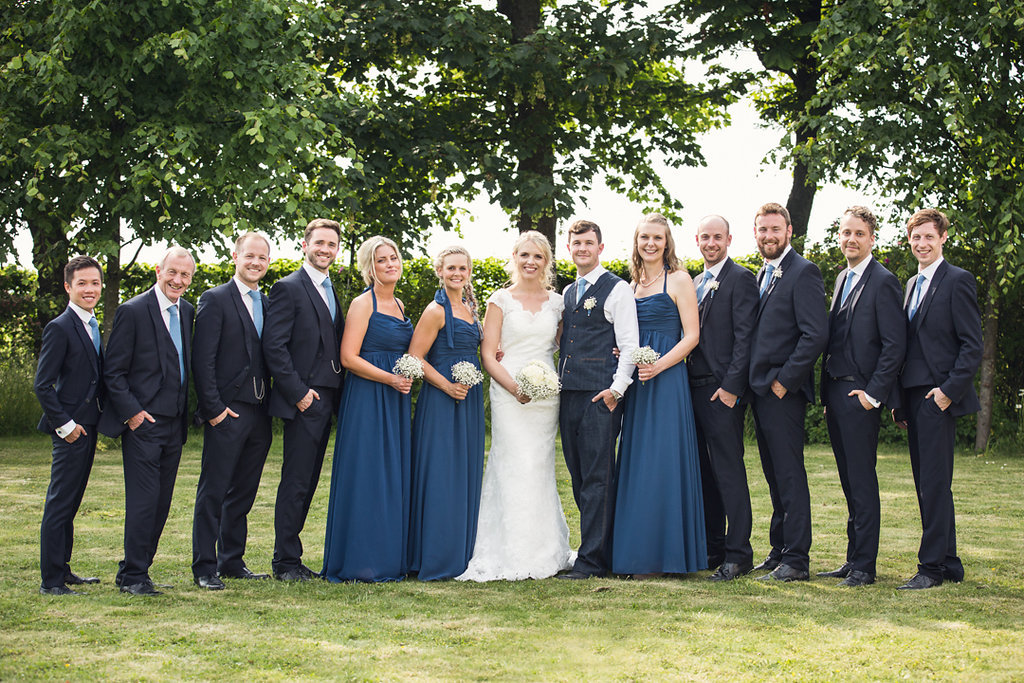 Images courtesy of Fredrik Ahlbäck and Mathilda Andersson.