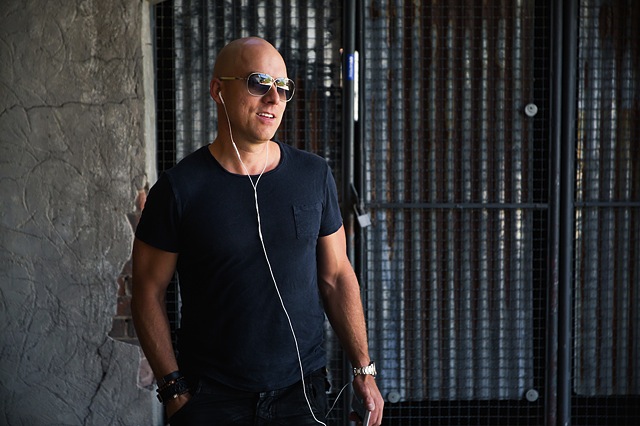 The Jeans Blog is excited to share with you an exclusive interview with premium denim brand, DIEGO MILANO. We caught up with the brand to find out more about the inspirations, the history, the fabrics, what their best sellers are and more! You can read the interview below and you can also check out a bio on the three important people behind the brand, so you can really get to know them! Let us know what you think of DIEGO MILANO and if you have tried out the brand yet! You can also read a review on their jeans here.
The Jeans Blog – What was the one moment that inspired you to create Diego Milano?
Diego Milano – Diego Milano was started when our founder Chris, was trying to find a cool pair of jeans. He got really frustrated with the selection of jeans there were in the luxury denim market and was tired of spending his money on average looking denim. He then met our concept designer, and decided he should fill the void he saw in the denim market and create something new and exciting! His vision was to create a denim brand that combined never-before-seen designs, the best materials on the market, flattering fits, and premium coated washes; all while keeping the brand domestically manufacturing.
TJB – What made you want to choose such great quality fabrics?
DM – We knew that if we were going to create a product that deserved the title of "Luxury Denim" it had to live up to that luxury standard. If we were going to create a pair of jeans that would match our standards we would have to use the best quality components available!
TJB – Diego Milano is quite unique in design, where did you get the inspiration from?
DM – Our inspirations come from Chris's background. From his various travels, his music, and his life. We take inspiration from architecture, nature, music, art, anything that speaks mood and emotion.
TJB – The styles have a rock style edge to me, who is your usual type of customer?
DM – We are a very music inspired brand! Chris is the lead guitarist of the band Prehab, so a rock n roll edge comes naturally to us. Our usual customer is confident in their style and like to take risks while making a statement with their clothing.
TJB – What has been your best seller so far?
DM – For women's, Number 018 from our S/S collection has been very popular, we are actually almost completely sold out. And for our mens, Number 030 from the S/S collection as well has gotten lots of interest! We try and stay away from doing the typical indigo color jeans are known for and it seems to really excite people!
TJB – Which design is your absolute favourite?
DM – Personally I love our patchwork and our bell bottoms. Our patchwork pairs have 70+ pattern pieces to put together which just show off how much craftsmanship and care are put into them. But our bell bottoms have this amazing vintage throwback feel and look SO incredible with a pair of platforms!
TJB – What makes you so passionate about denim?
DM – Denim is such a amazing textile! Its history, its versatility, its durability! It's more complicated than what people give it credit for and I'm obsessed with our concept of changing the way the world views denim! Yes it's a great utilitarian type of fabric but there is so much more room for creativity and flare (and I don't been boot cut 😉 )
TJB – Fun questions, how many pairs of jeans do you personally own?
DM – Ha ha, I currently own 12 pairs of jeans, but the fall collection hasn't come in yet. 😉
TJB – What can we expect to see in the coming months and next season?
DM – You can expect to see our name pop up in several stores across the country over the next few months! Plus with our upcoming A/W 2015 collection you'll see rich tones of rust and teal and perfect staple colors like stone and slate.
TJB – Do you plan to incorporate any minimal/plain designs to the collection?
DM – Minimal and plain are not words that we use often at the DM office. We are defining our own style of denim and while in the future you will see several different designs I'm sure we will re-define "simple" as well.
TJB – Thank you! 
Chris Kay is the Founder and Creative Director of Diego Milano. Aside from being the creative force that began Diego Milano, he is a Musician, an Entrepreneur, an Investor, a Philanthropist, and a father of 2 amazing kids (DIEGO MILANO is named after his son, Diego). His love for anything creative is what brought him to start DM; while traveling to such places as Milan, Paris, and New York City on a regular basis, Chris began to fall in love with fashion and the eclectic people that make up the industry. His passion for denim blossomed as he realized there was nothing exciting going on in the denim market and he wanted to change that!
Linda Thitavong is the Concept Designer for Diego Milano. Living in Brooklyn, NY, Linda takes her love of art, travel, and dance to the drawing table, literally! Her background in fashion has taken her all over the world embracing unique cultural styling and details from the local architecture, art, and music. Studying in both NY and London, Linda's design technique works well with Diego Milano's different approach to the denim industry, helping DM keep their distinctively diverse and daring signature style.
Amelia Walsh is the President of Diego Milano. Headquartered in Scottsdale, AZ at the factory and showroom of DM, she leads the team throughout the design and development process for the collection. With a background in all things fashion and an eduction in fashion design and business, Amelia has helped DM establish their roots in the valley of the sun. Her editing eye and keen sense of marketing helps drive Diego Milano's vision as a disruptive denim force to be reckoned with.
DIEGO MILANO Autumn Winter 2015 Look Book Shots