The 3 Best Black Skinny Jeans
When it comes to black skinny jeans, I've tested out so many different pairs over the years. I've probably had around 30 different versions, and I've always got those pairs that I keep reaching for and going back to, so I thought I would do a blog post with a spotlight on my 3 favourite pairs of black skinny jeans. This isn't endorsed by anyone, these are my own opinions based on all of the jeans I have been through and what I've found to be the best for me, so check them out below! Two pairs were a gift, but that has no impact on my opinions in this blog post.
L'AGENCE Margot Skinny Jeans in Graphite
I've mentioned this pair of jeans so many times! If you follow my personal style blog, or follow me on Instagram (@LornaRaindrops) then you will know that I pretty much live in this pair. I reach for them almost everyday, depending on my outfit, and cannot get enough of them. I've actually worn them so much that the butt area is starting to pull a bit and wear in, so I'm going to be picking up a new pair soon. For me to wear a pair of jeans that much, and for them to show wear, definitely means they're a favourite. I would say they are probably my most worn pair of jeans in my collection.
They are super comfortable with a 9.75″ rise, a 26.5″ inseam, and a 9.5″ leg opening. They're literally the perfect cut for me and my body shape, as well as my shorter legs as they're designed to fit cropped, but they're basically full length on me. Most cropped jeans have a wider leg opening, which bothers me as when you're wearing them as full length, they're not super skinny, so the fact that these are cropped and tight all the way to the ankle is a huge bonus. The wash is a faded black, so it's very casual, but also incredibly versatile as it pairs well with lighter colours. If you love lightweight, stretchy, comfortable, flattering jeans, these are for you! They're my number 1! You can read my full review on the L'AGENCE Margot in Graphite by clicking here.
Buy these L'AGENCE Jeans here at Shopbop.com
Citizens of Humanity Rocket Skinny Jeans in All Black
As you probably know as well, before I tried out L'AGENCE, I was living in Citizens of Humanity and the Rocket were my favourite cut of jeans. I've had a black pair of their Rocket's for years, but I also got a cropped pair (which you can see above) and they're incredible! They're jet black, so perfect for dressing up, coming with a 9.75″ rise, a 26.5″ inseam, and a 11″ leg opening. These also come in full length like I mentioned, with a 29.5″ inseam, and a 8.75″ leg opening, so they're super skinny. This particular All Black wash is one of the comfiest they make as it's super stretchy, like a thicker legging, and so easy to wear all day without being restricted. I lived in them for a while. I love that there's two length options too, but my only small downfall was the leg opening being a little wider at 11″ on the cropped version, but other than that, they're perfect jeans and I recommend them to anyone!
Buy these COH Jeans in cropped here & full length here!
PAIGE Margot Skinny Jeans in Black Shadow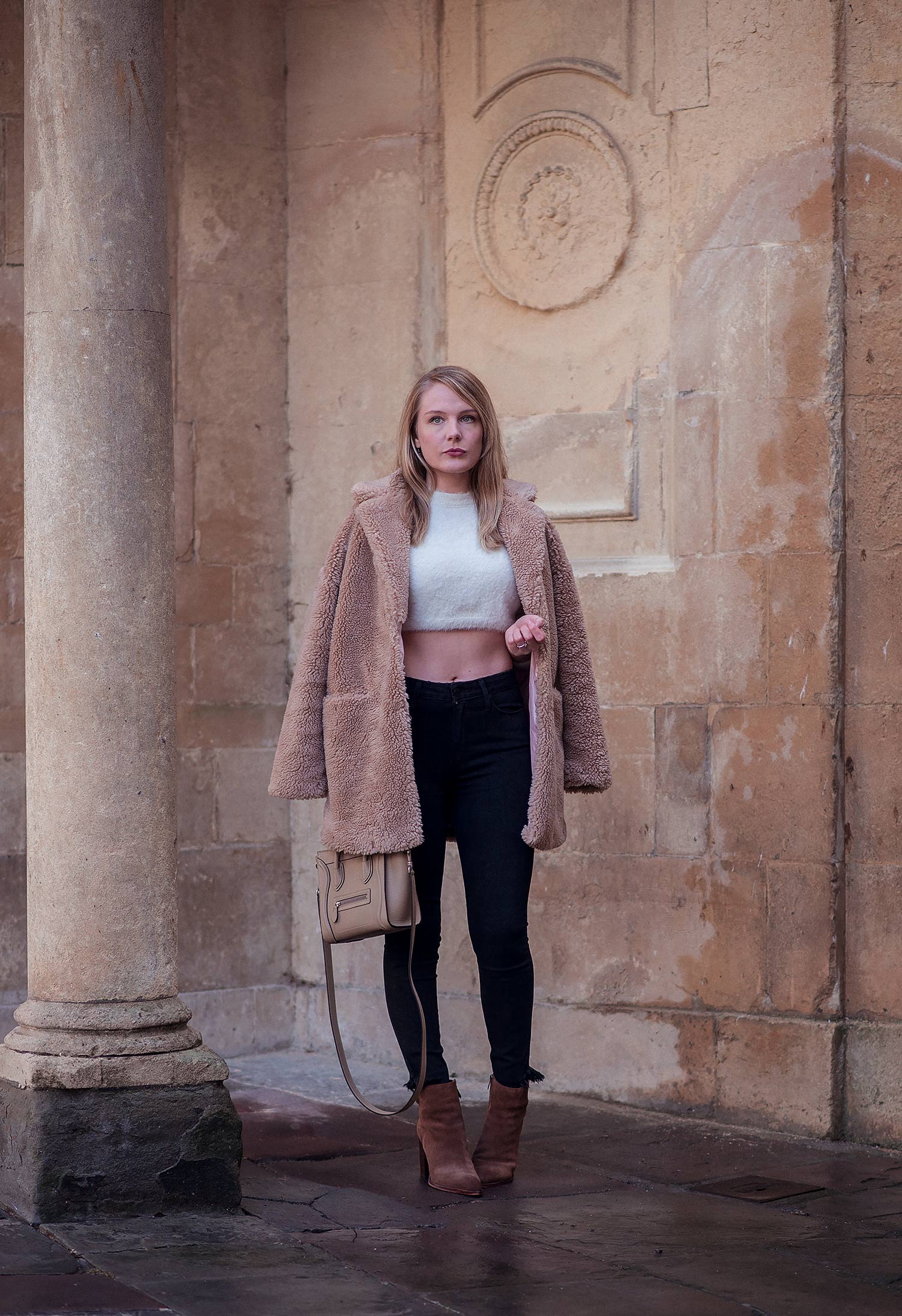 And in the third spot on my list is the PAIGE Margot! I have two pairs of these, this pair above with the frayed hem, and also a pair with a normal hem, and they're amazing. I love the fit on these because they have a 11″ rise, which is extremely flattering and comfortable, sitting just a touch below my belly button. These come in two lengths again, mine being the cropped version that come with a 26″ inseam with a 10″ leg opening, while the longer pair has a 30″ inseam and a 10″ leg opening. So this depends on your height and how long you like your jeans! They're super comfortable though and the wash is very dark, with an ever so slight fade to it, so they're not pitch black, but close to it. I couldn't get enough of these jeans either when I was wearing them all the time. I recommend them to you if you're a PAIGE fan!
Buy these PAIGE Margot Jeans cropped here & long here!
Now like I said, this is in order, but honestly I love all three pairs of these jeans, so I recommend them all to you if you're looking for a black pair of skinny jeans. Each of them have superior comfort, a flattering fit, and versatility, it just depends what sort of wash you'd like. L'AGENCE is a washed, grey black, while Citizens is a very dark, jet black, and PAIGE is dark, with a slight fade. I'm interested to know though, what are your favourite black skinny jeans?
*This post contains affiliate links to help keep this blog running.