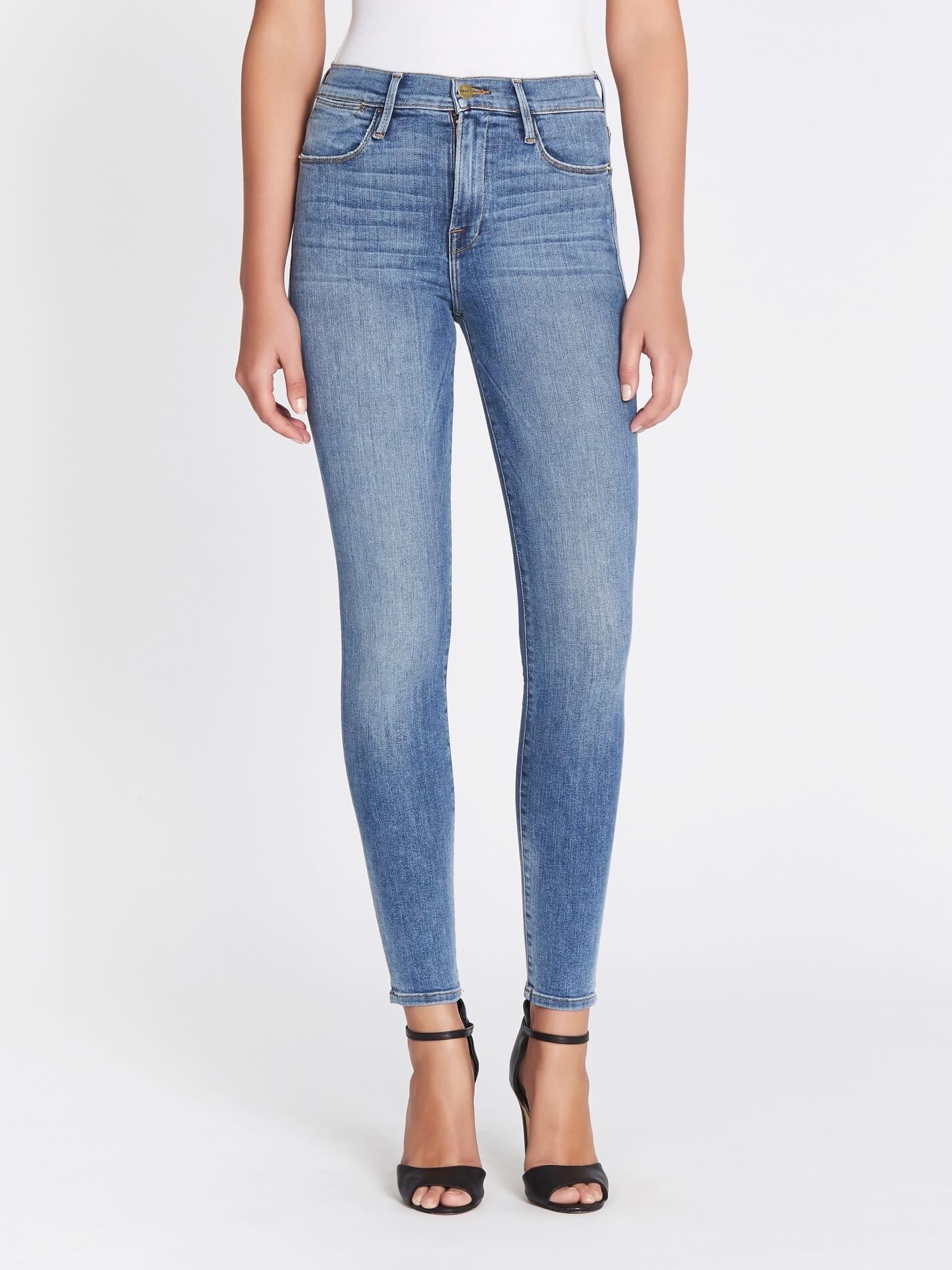 It's no secret that I've loved FRAME Denim for years. When the brand first launched back in 2012, I was intrigued and fell in love with their minimalism and fits, combined with authentic looking washes. I've done reviews on their jeans before, here, here and here, as well as back on DenimBlog when I used to run the site, so I thought I would do a little spotlight on them.
FRAME Jeans are known for combining a very elegant and simple approach to their cuts with flattering attributes and washes that are modern, yet still classic, so you can't really go wrong with them. Their back pockets and stitching details are somewhat similar to J Brand in a way, but quite different at the same time. I like the way the back pockets are more shapely on my butt though compared to other brands as they position them a lot lower down.
If there's a few styles I would definitely recommend to you, first up would be the Le Skinny as it's their signature fit with a mid rise and skinny leg, coming in all the best washes and is the one that's favoured by all the celebs. Next up would be the Le High Skinny as it's similar, but with a higher rise, which most of us love! Then lastly, it would be the Le Crop Mini Boot as it's a cropped bootcut that's incredibly flattering and beautiful. If you love raw and distressed hems though, you're in luck as I've chosen the skinny styles that have that feature – so you're right on trend. I even have one of their denim skirts which I can't wait to wear this summer (if the weather warms up). You might also remember when the Hadid sisters were sporting the famous Le Mix pair too.
For those of you not familiar with the brand, I honestly recommend it as one of my top brands along with Citizens of Humanity, AG and MOTHER, so if you are apprehensive about diving into something new, it might be worth waiting for a FRAME Denim sale so you can pick something up cheaper, or of course try them in store, but if you are a fan of J Brand, I can guarantee you will love FRAME too. There's so many similarities, yet so many differences, and I haven't met anyone so far who didn't like the brand, especially as they're so flattering and comfortable.
I've rounded up 6 of my favourite, clean and classic FRAME denim pieces here (4 jeans and 2 tops/jackets) that I think will be great for Spring, and because I've opted for various different styles and washes here, I think they will suit anyone, so you don't have to worry about not liking something. I chose these pieces from FRAME Denim online at Order of Style as they have a great selection of the classic, everyday pieces. It's an Australian retailer, but delivers internationally, so it's worth checking out. I've got you covered if you're after a light blue, a mid blue, or a darker blue, there's also a black pair with a fringe hem, a distressed black denim jacket, and a blue denim shirt. You can either rock out your double denim or go for something more simple.
How many of you are fans of the brand as well? What's your favourite style from them?