With the flowers blooming and the blossom on the trees, it can only mean one thing. Spring is teetering on our doorsteps. What does that mean? It's time to get your denim wardrobe in order of course and get some Spring jeans which will be perfect for the new season. I've teamed up with Simons to bring you 6 classic pairs of jeans that are ideal for Spring 2016. Not only do they have lighter washes, but the fits are ideal for the current trends of the moment too. So check out these 6 perfect and classic jeans for Spring 2016!
First up (above) I chose a pair of jogger jeans which I know are a trend that everyone loves, even if they don't want to admit it. The comfort level in a sweat pant/jeans hybrid is amazing. Not only are they extremely stretchy and easy wearing, but they are ideal for the warmer weather as they aren't too thick, tight or sticky. These are great for running errands with sneakers and a t-shirt!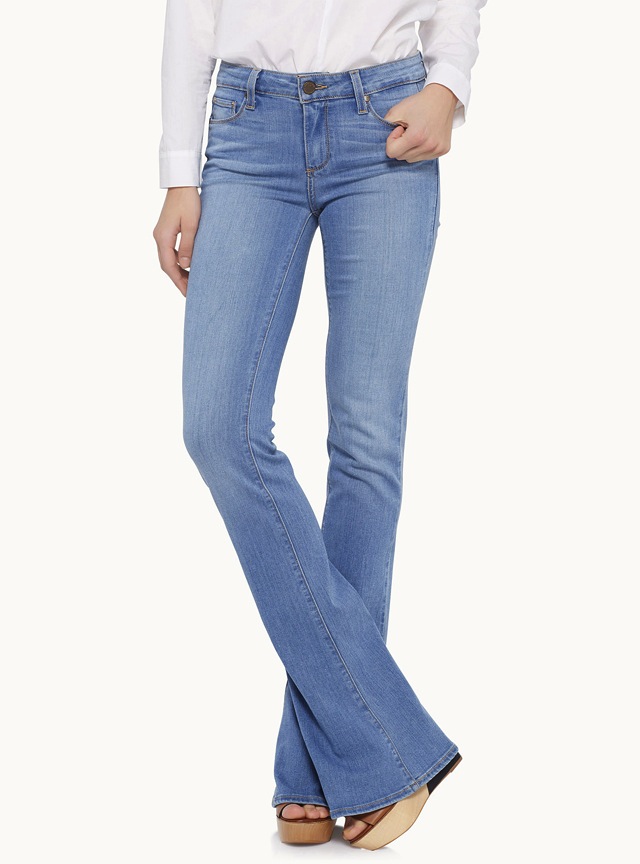 Next up is a pair of Paige Lou Lou flares in a light blue. I've got the Lou Lou and they are one of the best skinny fitting flares as they are slim all the way to the knees, giving them a much more flattering fit. I can just imagine these with a floaty shirt and some wedge sandals, much like Cindy Crawford or Sofia Vergara would wear. It doesn't get more Spring appropriate than that!
A classic pair of Levi's skinny jeans has been the ultimate must have denim since the 80's, so how could I not include a pair in a mid to light wash for Spring? I don't need to do much explaining about these since everyone loves Levi's, but how cute would these be with t-shirts and flats or dressed up with blazers and heels?
GUESS Distressed Knee Power Skinny Jeans
Not everyone loves light blue for the warmer weather so of course I will include something dark in the form of washed black. What makes these more suitable for the season though? The ripped knees. Distressing always has a Spring and Summer vibe to it, no matter the wash of the jeans, so I think these are ideal for those of you who love darker shades.
Cheap Monday Mid Spray Go Blue Jeans
For the younger readers or for those of you who love something more quirky and unique, why not try patchwork? It's a trend that crops up every now and then and these are a perfect, subtle take on it. I think the darker patches against the mid blue wash are really creative. Since these are skinny jeans as well, it's not too over the top.
YOGA Jeans Indigo Ankle Zip Skinny Jeans
Finally, I've chosen something classic for the evenings. You might be headed out to dinner or a night out with the girls and you need a pair of jeans that are smart, comfortable and stylish. Yoga Jeans are really stretchy and soft, so they make an ideal choice if you plan on being in them for a long time. This dark indigo will match well with smart blouses, blazers and heels.