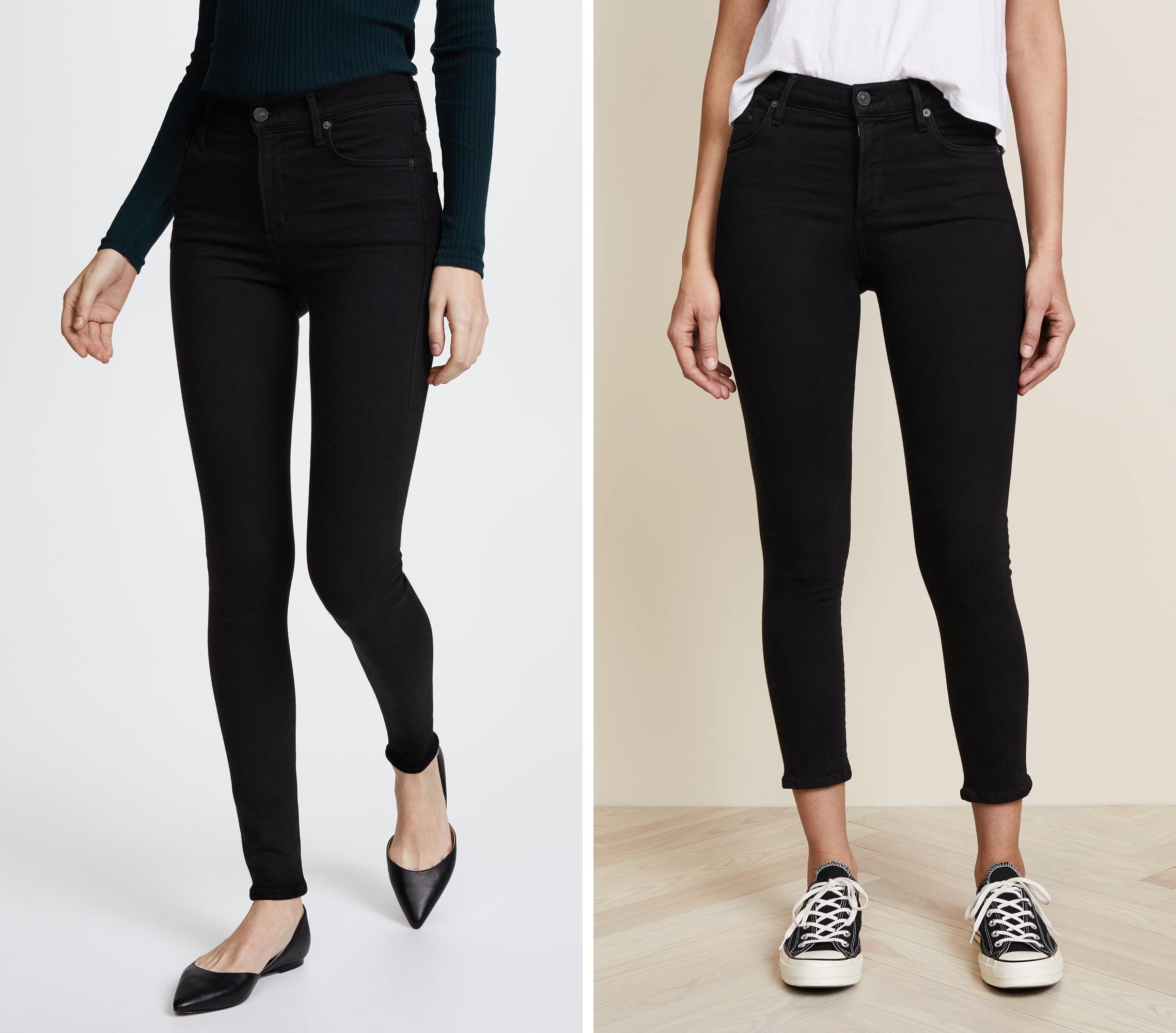 Citizens of Humanity Rocket Skinny Jeans in All Black
So I was in the market for a new pair of pitch black (as dark as possible) high rise skinny jeans that were comfortable, easy wearing, stretchy, versatile, and fitted to perfection. That's not an easy task (I'm well aware) and since I no longer fit my old Citizens of Humanity Rocket Jeans in Axel as I'm not a 26 anymore (joys of health issues and age), I've been missing out considering I lived in them.
Of course I have my GRLFRND Candice Skinny Jeans in Love Hangover, which I can't recommend enough, but they have ripped knees and a washed black wash, so they weren't that smart pair I needed. I do also own the James Jeans Maternity Twiggy in Black, which are a pitch black and very comfortable, but those are for the days I am having stomach issues and can't fit my normal jeans, plus you can't wear a belt with them.
You'd think given my extensive jeans collection, I wouldn't be lacking in the pure black, classic skinny department, but since I am unable to wear most my jeans now, I am. I knew what I had to do was find the next best thing as the Rocket in Axel was discontinued a while ago, so the first place I looked was Citizens of Humanity for their replacement to the Axel. That's when I came across the All Black wash and it's gorgeous! I knew it came in the normal full length Rocket, but it recently came out in the Rocket Crop and I purchased it last week since I'm only 5ft 4 and have a short inseam.
I will be doing a review of them soon, but I have to tell you all in advance, these are the best, most perfect pair of pitch black skinny jeans with a high rise you will find! They are part of the Sculpt Collection so they hug your body, contour it, and don't bag out, but the amount of stretch is amazing and the comfort level is second to none, plus the rise and inseam is ideal. A lot of black washes have some fading on them and can be hard to dress up in a smart way, but these are completely pitch black and so chic, they have quickly become my new staples!
The normal length Rocket has a 9.5″ rise, a leg opening of 8.75″ and an inseam of 29.5″, while the Rocket Crop comes with a 9.75″ rise, a leg opening of 11″ and an inseam of 26.5″. There's a 3″ difference on the inseams and that's what really makes the difference for me as the Rocket Crop hit me at just above the ankles – perfect. They're made from a fabric blend of 43% cotton, 40% rayon, 15% polyester and 2% polyurethane, so you just know with the rayon content that they're soft. I will say that they do run quite tight and small though. I'm between a 27/28 in Citizens of Humanity and these I took in a size 28 as I wanted them to be comfy as they don't stretch out, but they're very snug. Still comfortable, but snug, so if you are between sizes, order both and see what suits you.
Anyway, a review will be coming soon so you can see how they fit me, but if you want a perfect all black high rise skinny jean, even if you're petite or have a regular inseam, don't miss out on these! I can't recommend them enough. I don't usually do mini reviews and recommendations like this without my own photos, but I had to share with you before they sell out. They're a must have! If you do prefer more of a rigid, stiffer denim, these wont be for you, but if you love stretch and comfort that you can wear all day – they're perfect. Have you tried them?
Buy The Rocket Full Length Here   |   Buy The Rocket Crop Here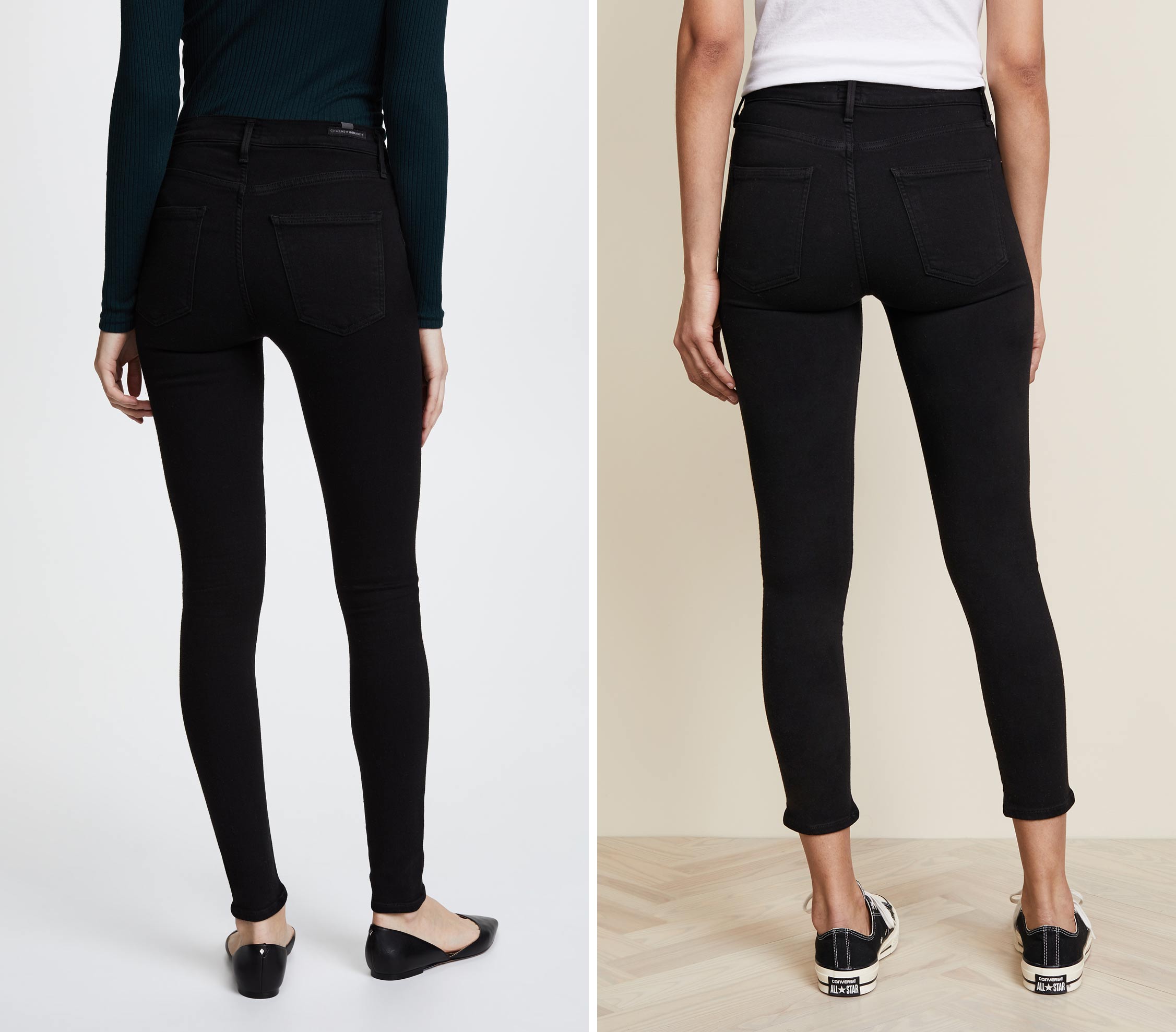 This blog post is not sponsored in any way – The recommendation is my own.