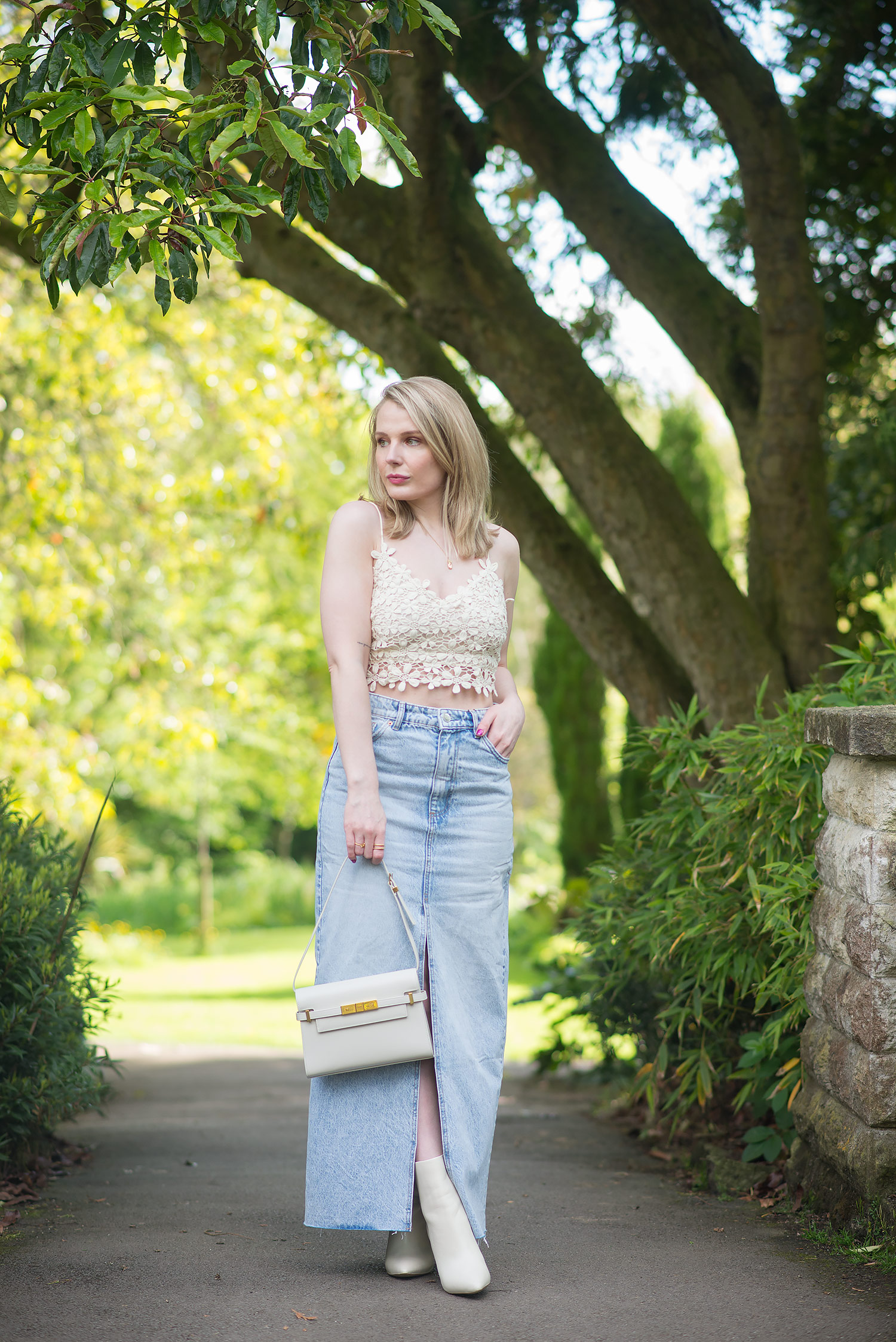 Stradivarius Vintage Denim Maxi Skirt Review
I'm back with a brand new denim review for you, and this time it's on something entirely different! This is the Stradivarius Vintage Denim Maxi Skirt! I haven't ever reviewed anything from the Stradivarius clothing company before, but as I'm absolutely loving the denim maxi and midi skirt trend (I'm living in them!) I ended up buying a few from this company as they had the most flattering designs at affordable prices. So, lets get to this review!
The Design – The design of this denim maxi skirt is so pretty! Maxi skirts can be entirely too wide and overwhelming, or just unflattering, but this is a maxi denim skirt that is none of those things. It's slim all the way to the hem with a split up the front to elongate the legs and make it more feminine and flattering. The rise is a perfect high rise, and the back pockets are small which is flattering. It also features a raw hem which I think is a really cute addition! It's a standard 5 pocket design like jeans, with a zip fly.
The Sizing & Fabric – I took a UK 10 in this, which is a US 6, and it fits well. It's 100% cotton so it doesn't really have any stretch to it at all, but as the fabric is thin, it's pretty comfortable to wear. For reference, I wear a 27 in most premium denim brands, and I wear a 25/26 in Madewell. I'm 5ft 4 and with flats, this denim maxi skirt hits the floor and drags, so if you're around my height or shorter, you definitely need to get it hemmed or wear it with heels. This skirt comes in UK sizes 4-16, so there's a wide range for almost everyone!
The Wash & Price – There isn't a specific name for this denim wash like other premium brands tend to create, so it's just literally a light blue with some faded whiskering on the lap and fading down the front and back. For a cheap piece (it's only £35.99) I would say this wash is actually really good! I really like it as it's summery and wearable without looking fake and overdone. It actually looks authentic for the most part. You can't really go wrong for a price as low as this!
My Overall Opinion – For £35.99, you cannot go wrong! If the maxi denim skirt trend is something you want to try, I 100% recommend this one if you're taller than 5ft 5. However, if you're shorter and need a shorter length, opt for one of their midi denim skirts here (I own these too). The wash is lovely, there's an array of sizes, and it's really easy to wear. I have no complaints other than it's a bit long for me with flats. What are your thoughts on it?
Click here to buy this denim skirt online for £35.99