Life After Death Denim Truth Skinny Jeans in Zest Review
It's been a little while since I shared a denim review with you, but I'm excited to break that hiatus with something new! Do you remember when we introduced you to Life After Death Denim? We did an interview with Mary Bruno, the founder and designer of the brand, so if you missed it, you definitely have to check that article out! To explain a little bit about her brand in short though, Life After Death Denim is a new company founded out of the USA and it's completely Eco-friendly! This includes recycled fabrics, no chemicals, 85% less water wastage… so it's a brand that's doing good as well as looks and feels good! If you think recycled/eco-friendly jeans can't be nice or that the fabric must feel like cardboard, I can put your might at rest right now and say they are super smooth and soft – you wouldn't have any clue! This is why I'm happy to share this review with you and talk about something a little different for a change! So, lets get to it!
The Fit – The cut of these jeans is called Truth and they're a high rise skinny jean. Featuring an 10.5″ front rise, a 15″ back rise, with an inseam of 28″ and a leg opening of 12″, you can see they're an ideal fit for being flattering. The rise is absolutely perfect as you can see on my photos, it comes up to a great height and it hides any muffin top! Being short though, I've had to crop these jeans a bit as you all know I struggle to find short enough inseams for me. My regular inseam to hit my ankles is around 26″, but these come up at 28″, so if you're not short like me, they will be perfect! With a wider leg opening of 12″, I think they're designed to fit a bit cropped on the calf, but I'm usually used to something around 10″ for an extra slim fit.
The back pockets (the first place I always look on jeans) are wonderful too. They can always be hit or miss as sometimes they're too small, too big, placed too high etc, but Life After Death Denim have got it just right. As you can see, they're slightly angled to follow the curve of the butt and they're plain, which enhances it. Overall, I'm quite pleased with the fit and back pockets, it's just the length, but that's something I always have to contend with.
The Size – I took these Truth Skinny Jeans in a size 28 as I wasn't sure with a new brand whether to opt for a 27/28. I think I could have fit a 27 as well, but they would have been quite tight as the 28 is just right. I liken the sizing to MOTHER actually or J Brand, so if you know your size in either of those two brands, you should be about the same in Life After Death Denim.
The Fabric/Wash – Now this is the good part! These jeans are made from a blend of imported Italian sustainable fabric, which contains: 47% MicroModal, 46% Cotton, 5% EME and 2% Lycra. It's an ultra-soft denim with a smooth stretch to it. The Zest wash is made with a chemical-free wash and 85% less water than traditional denim washes, making them even better. I have to say that even normal premium denim jeans are not this soft and smooth when you rub them! I've noticed just how soft they are as I keep rubbing my hands on the fabric on the front of the thighs – it's silky!
The denim itself is really thin and lightweight, with a really good amount of stretch to it. You can always tell the stretch amount by the creases/wrinkles on the worn photos. They're incredibly comfortable and so easy to wear, moulding to your body, so I haven't been uncomfortable once while wearing them – always a good sign. The Zest blue is a pretty mid to light blue with fading and whiskering around the lap and thighs, as well as honeycombs on the backs of the knees. It's very nicely done and actually reminds me a bit of my Hudson Barbara in Hideaway (which I've lived in for 2 years).
The Details – As these jeans are quite minimal, the only details I can point out belong to the button, which is engraved, the flower embroidery on the coin pocket, and the LIFE back patch on the top right. The pockets are plain as I mentioned (how I like them) and there's no garish branding anywhere. They come with a metal hang tag as well, which is made from recycled metal.
Overall Opinion – As these jeans are $285 and made in Los Angeles, California, they are on par with all of the other premium denim brands out there, however they have a difference. The fact that Life After Death Denim is doing its bit for the environment and leading the way for the future of the denim industry speaks volumes to me. It's great to have a wonderful ethos to a brand, but if your product doesn't live up to the expectation, it's no good. I can safely say that these Truth High Rise Skinny Jeans in Zest are wonderful. I like the fit (just need a shorter length for myself and a narrower leg opening), I love the fabric as it's so soft and stretchy, and the wash is really versatile and summer ready. I can't really say I have any faults with them at all as my leg length is nothing to do with a brand. So, if you're ready to try something new and want to opt for denim that's environmentally friendly, I definitely recommend this exact pair! You can currently get 30% off with an email signup as well at the moment until the 31st May. What do you think of these jeans?
Buy these Truth Skinny Jeans at Lifeafterdeathdenim.com for $285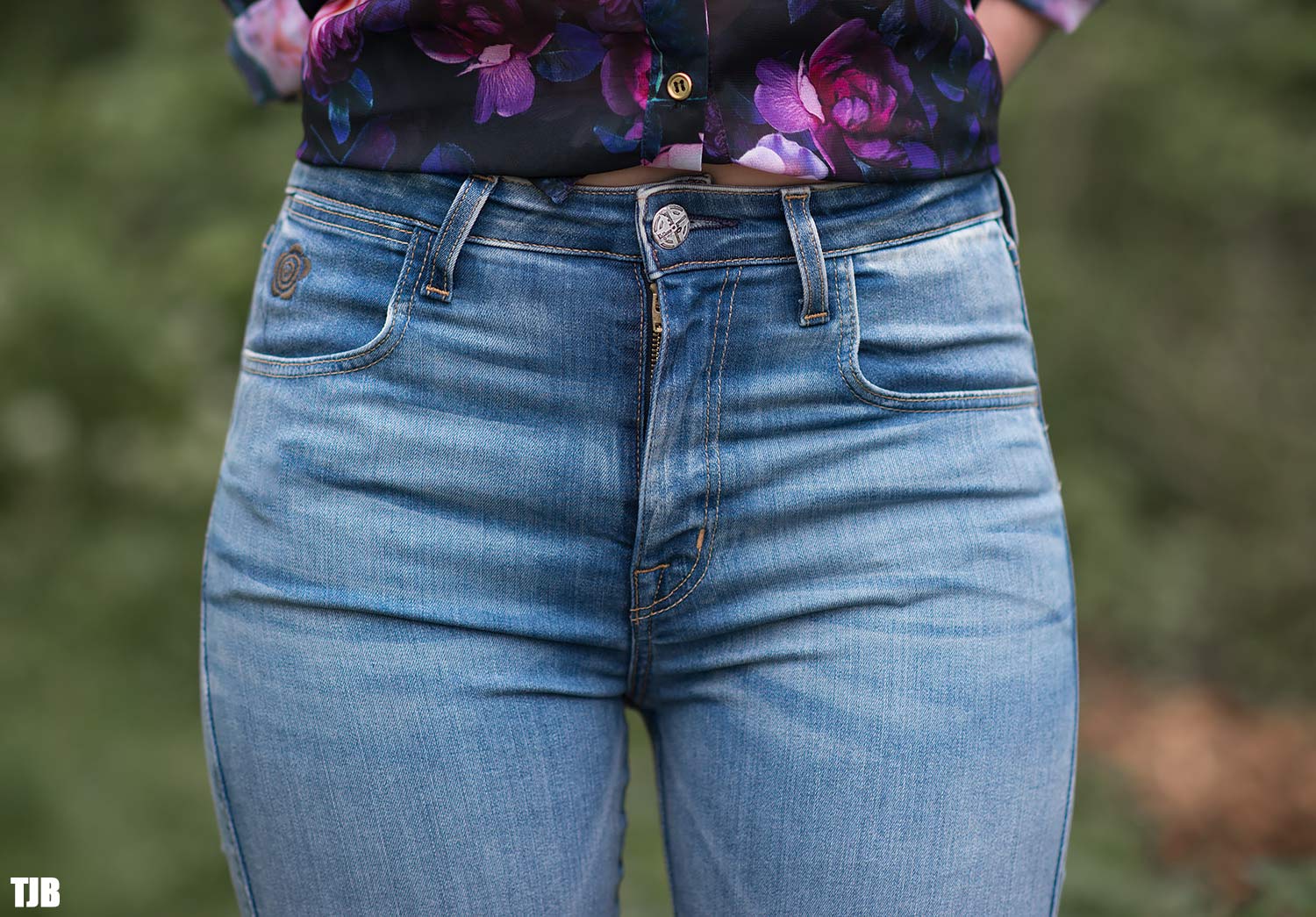 Here are the jeans modelled on the website fit model in size 25 so you can see a full length fit.
– Jeans courtesy of Life After Death Denim / Opinion all my own.