Life After Death Denim – The hot, Eco-friendly jeans brand
There's a new premium denim brand on the market and it's different to what we usually share! Life After Death Denim is a new company founded out of the USA and it's completely Eco-friendly! Think recycled fabrics, no chemicals, 85% less water wastage… and the best thing? The designs are hot, on trend and you couldn't tell them apart from our regular denim brands that we love, so you can put that voice that says "recycled denim isn't as nice" to the back of your mind! As it's Earth Month right now, what better time to start doing your part for the planet. We caught up with Mary Bruno to find out more about the brand and how it works. Check out the interview below!
Click here to shop Life After Death Denim – Plus get 30% off this month with their email signup.
The Jeans Blog – So tell us about Life After Death Denim!
Mary – Life After Death Denim manufacturers premium denim and clothing made using fabrics woven with recycled yarns. We have cut up vintage and recycled camouflage jackets to create our labels. We up cycle things like used army tents and turn them into jackets. Based in Los Angeles and manufactured solely in the United States, we wash and process our denim utilizing the most environmentally friendly methods available. Water consumption is reduced by 85% on average. NO bleach, NO stones, NO enzymes, NO resins. Our denim washes are entirely chemical free.
Each Life After Death Denim garment is truly unique for color and placement – no two items are the same. We search the globe for fabric mills that have invested in recycled and sustainable fabrics utilizing recycled yarns and sustainable fibers such as hemp. Our hardware is made of scrap tin from motor oil cans – yielding an eclectic mix of colors, graphics and verbiage. Our interior labeling, zipper tape and pocketing are all made with recycled elements. We have reworked packaging and shipping of products We choose methods that are based solely on what is best for the environment, not what is easiest or less costly. We consider what is best for the environment when we make every single decision.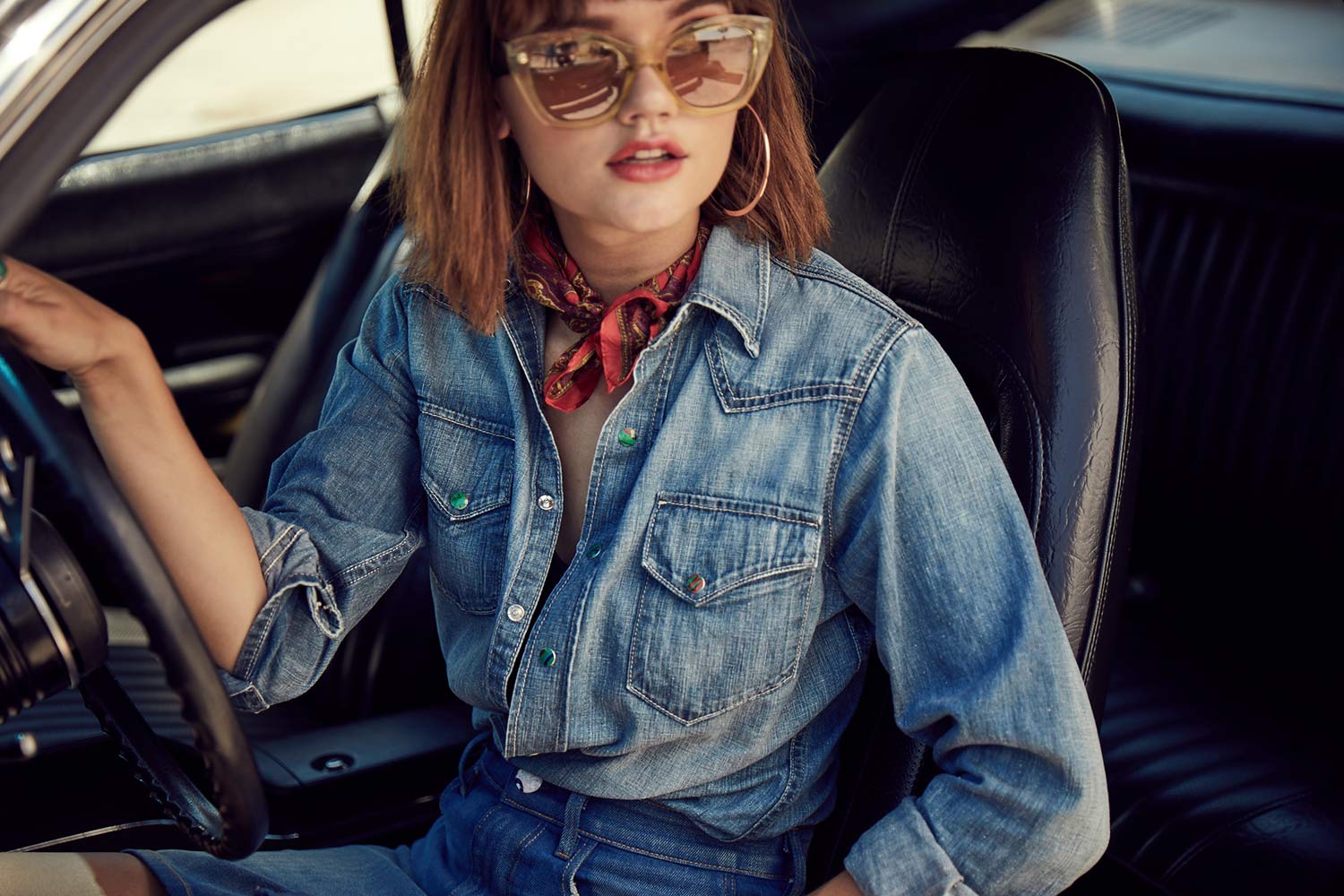 What inspired you to create the brand?
On more occasions than I can recall, I sat in an audience with other designers listening to panel discussions about sustainability. The conversation about sustainability in manufacturing has been talked about my entire 25 year career. As someone who designed for big American brands, I remember thinking that it's nearly impossible for brands to communicate sustainability to their consumers. They already have so many brand messages that they are trying to talk to their consumers about. I truly believed that in order for sustainability to become important , it needed to be baked into the DNA of a brand. Denim is an iconic American tradition but the manufacturing of denim continues to waste natural resources and damage our environment. I believed there was a way to make denim differently and wanted to give it a shot.
What a great idea! What's your own personal history with denim?
I bought my first pair of Levi's at 17 and was fascinated with the process of trying to antique and wear down denim. I spent the past 25 years designing for some of the most iconic American brands – Levi Strauss, Ralph Lauren, Earl Jean, RRL and J Brand. I have designed men's, women's and children's denim. I have developed denim all over the world in more than 15 countries. I have designed denim that sells for $25 – $2500. Pants, tops, jacket, skirts, dresses, you name it. I have tried it. I have approached it from every angle. I guess I was in search of a new way to approach denim.
Wow, now that's a history! What sets you apart from the other brands on the market?
Life After Death Denim has made a 100% commitment to sustainability. Every choice we make puts that priority first. It's about our priorities over profits. Our fabric, our washing, how we ship our garments, how we package them, where the buttons come from, where the zippers come from, where the pocketing comes from, how those components get to us, what the labels are made of, what method of transportation was used to get it here, every detail is thought about. Sometimes it may take us a little longer or cost a little more, but we know why we are doing it. We believe in it. Making the right choice is part of our DNA.
You have a very green brand on your hands, what was the process like getting all of that perfected?
It initially started as a passion project for me. Something to work on between jobs. California was in the midst of severe drought and denim washing uses thousands of gallons of water to wash the fabric, so I wanted to challenge myself to see "could denim be made without any chemicals and a lot less water?". Fabric mills had been showing fabrics made with recycled yarns for years but brands couldn't afford the more expensive fabrics and retailers didn't believe their customers would pay more for sustainability. "Could I create a denim line using only fabrics woven with recycled yarns?"
I went to the best denim mills in the world and they all had recycled fabrics. It only took me a few tries to get a 100% chemical free washes that I liked. Sadly the first laundry I developed the processes with, was sold so I started again. Then the second laundry I developed chemical free washes with changed their business model and they no longer were working with new brands. So I started again. The good news is, I know the process translates to many different laundries.
It sounds like you never gave up. Was it easier or harder than you thought being so Eco-friendly?
We chose doing what's best for the environment as a guiding principle and the rest fell into place. We started out with a brand mission statement from the very beginning. Life After Death Denim aspires to pioneer environmentally appropriate denim development for the next generation of denim brands. We will use our knowledge, creativity and only the most modern and environmentally safe methods in manufacturing to create authentic vintage denim looks for women and men.
It was so simple. Starting a brand, establishing a corporation, securing funding, establishing trade marks etc. those things were difficult. Making sustainable denim, was easy. The hardest part was selling a beautiful old convertible sports-car and replacing it with an electric hybrid. I knew I needed to walk the walk if I was going to talk the talk. I hated selling my car but I knew I needed to. It still breaks my heart a little every day but I knew it was the right thing to do.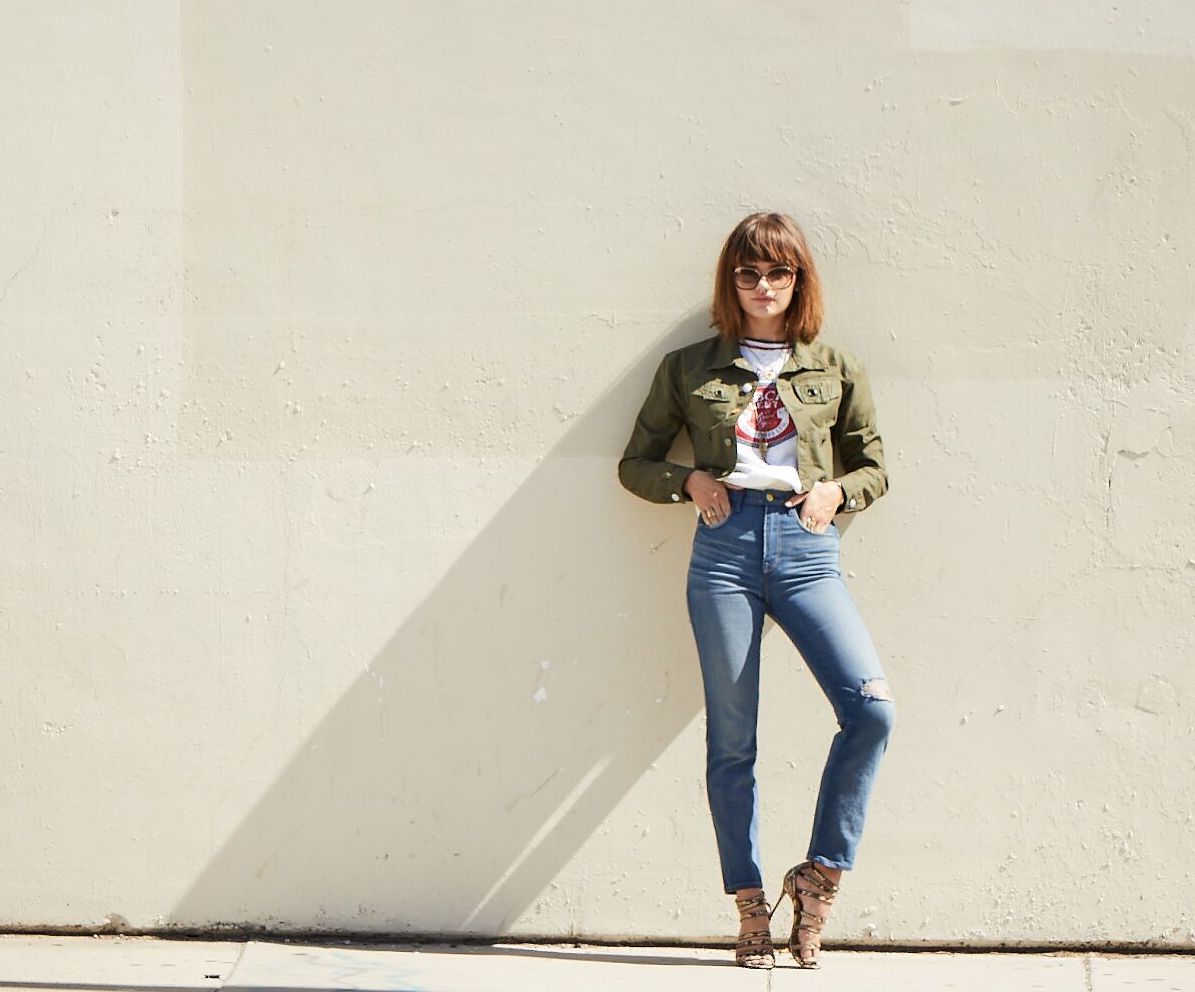 Where do you source your materials from? Has being Eco-friendly impacted any of your original ideas?
Our denim fabrics come from Italy, Turkey and China. Our knits and fleece come from the USA. I picked the best ones on the market at the time. The biggest challenge is getting things to feel soft. That is an area where I have had to adjust my expectations a little.
As you said, so much water is wasted during denim manufacturing and a lot of chemicals are used, do you think that the industry will follow in your footsteps?
It is crazy how much water and chemicals are used to wash denim. The industry is really trying but a lot of it comes down to cost. Brands don't think retailers will pay for it and retailers don't think consumers will pay for it. I don't believe that's true. I think consumers are very smart and very aware. I think that for the most part, consumers really have no idea what the true cost of making great denim is. They don't know that it can take 1500 gallons of water to wash one pair of jeans. I think there are a lot of consumers out there that would pay $50 more for something knowing it's made with recycled elements, washed without stones or the use of any chemicals whatsoever. The fact that 85 – 95% less water is used to process our denim is huge. A small brand like ours won't move the needle that much but when bigger brands start seeing that it can be done, I believe they will commit too. A lot of them have made commitments but their business model is way more complex.
What's your favourite jean you have designed so far? I love the skinny in Zest!
LOL, funny you should mention that, "it's been our best seller" We keep getting re-orders on it. I have been designing denim for quite some time and my personal collection is quite robust. I am usually looking for new fits and washes. I love the Chop Boot in Principle black. All of our jeans are very high rise and are made for women with curves. We also have a large size offering from size 2-20. We have had a lot of customers who are size 12, 14, 16 who can't find premium jeans to fit saying "finally, thank you!"
That's great you offer such diversity! Who would be your ideal customer?
A woman who understands her buying power. A woman who wants to support brands that support her beliefs. A woman who thinks about the impact on the environment when she makes her buying choices. Our women are a little tough, a little sexy but with a cool California girl vibe.
What do you envision for the future of Life After Death Denim? Will there be a men's collection?
Yes we will add men's. We started with denim but we intend to expand to other product categories such as bags, shoes, jewelry and eventually home. We have a lot of ideas for up-cycling vintage and dead-stock items for the home. We want to do it right and stay in touch with our guiding principles. We want to continue to make in the USA because we need to keep a close eye on our products so we know we are giving consumers what we promised. Los Angeles is a mecca for denim brands. Most of the best premium brands come out of LA. All the expertise in denim is within 10 miles of us.
Thank you so much, Mary! I'm sure everyone will love Life After Death denim!
Click here to find out more about Life After Death Denim
A lovely collaboration with Life After Death Denim.