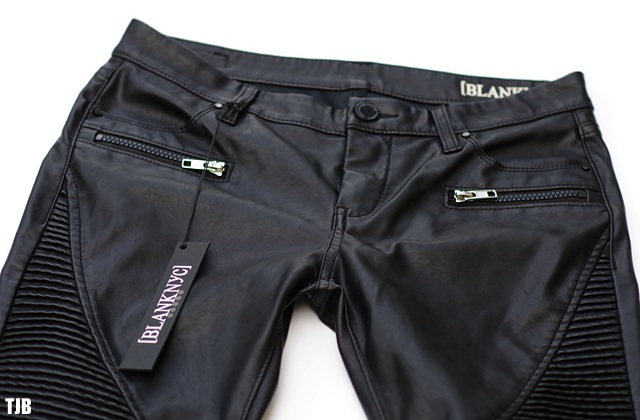 For my very first denim review here on The Jeans Blog, I wanted to do something different. I chose to talk about the BLANK NYC Vegan Leather Moto Jeans in Daddy Soda as leather style jeans are still incredibly popular, but these are a way that you can get that amazing look without breaking the bank as well as being animal friendly, two very important factors to me!
A lot of the leather pants on the denim market today are made with lambs leather, but for those of you who are vegetarian or don't want to wear real leather in a pant, these are the perfect option. BLANK NYC are known for their famous vegan leather material and it's almost just like the real thing. The feeling of the fabric is very soft, slightly stretchy and comfortable, just like normal leather, but the only difference I would say that you can notice if you are looking for it, is that the vegan leather feels slightly more plastic, for obvious reasons. In terms of appearance though, it's absolutely gorgeous! If you were just looking at these on someone else, or hanging up for that matter (like in these photos), then you wouldn't be able to tell that they weren't real leather unless you had an expertly trained eye.
Moving onto the details, these moto jeans are absolutely incredible! They feel like they should cost a fortune with all of the aesthetics and effort that's gone into them, I was so shocked that they only cost $106 or £65, depending on which currency you use. The hip zippers are positioned really nicely so they look flattering, not giving off any unwanted angles, and the ankle zippers are absolutely perfect. If you want to cuff these up a little bit, you can just unzip them and do so, or you can zip them closed and have them super skinny.
Now the actual moto detailing down the front of the legs is so cool, it feels like it's modelled directly off of a real pair of motorcycle pants. The ribbing details on the thighs down to the knees are intricately done, you can actually run your fingers over the folded ridges, while the seams around the knees are also great. They have a different tone of leather (almost suede like) just above them, to replicate the reinforced knee areas and they actually fit on the knees for me which is a huge bonus since so many moto style pants end up too long and sitting below my knees. Some of the details on the calves actually carry on around to the back of the jeans too, so they definitely didn't skimp on the details here.
I would love for these BLANK NYC Vegan Leather Moto jeans to have actual back pockets, purely because I find them more flattering on the butt, but considering they are modelled off of real moto pants, I understand why they don't. The left pocket has a few studs across the top of it, just adding a bit more extra detail and the black colour is really dark and deep.
I did take these in a size 27 and my usual premium denim size is a 26/27. They fit perfectly fine, slightly loose actually which surprised me as I know BLANK NYC tend to run a little bit smaller, but these fit fine! The only reason why I'm not wearing these for the photos is purely because the weather is too hot, it's excruciatingly warm and we don't have air con over here in England (well, in the houses anyway), so I have been living in shorts and skirts at the moment. As soon as it cools down though, I will definitely model them!
Anyway, what do you think of these moto jeans? Do you own any of the BLANK NYC vegan leather pants at all? I would love to know your thoughts! You can see all of the detailed photos of these in this post, including close ups of everything, as well as full length. You can also purchase these for the incredible price of $106 on Shopbop.com and I do definitely recommend them to you! I can't really find any faults with them except for the lack of back pockets, but that's not really a flaw. They fit really well, have amazing details, are animal friendly and look like leather, all for that cheaper price tag. You can't really go wrong with these if you are looking for that perfect, authentic looking leather moto jean!
See my modelled photos of these vegan leather jeans by clicking here.