The gorgeous Rosie Huntington-Whiteley posed for photos at the Paige Denim x Selfridges shop launch in London, England last Thursday. I was personally in attendance and got to see her, so I know exactly what she was wearing, making this outfit easy to identify! Rosie is the new face of the brand, so I'm sure we will frequently be seeing her out in Paige jeans!
Rosie looked beautiful in her Paige Denim Indio Skinny Jeans in Blue Galaxy Coated from the new Paige Fall 2014 Look Book. She paired the jeans with a Paige Denim Gracelyn Tee and a pair of Christian Louboutin Athena Alta Heels. For her accessories, she layered on some Anito Ko Rose Gold Diamond Bracelets and chose her Balmain Gold Chain Necklace to finish it off.
As Rosie looks so perfect in her Paige Denim outfit, I thought it would be nice to do a get the look and a copy the look collage so you can dress like her too! Like with all of my celebrity inspired get the look posts, I use the same jeans for both the expensive and budget outfits. Which of the two outfits would you go for? And what do you think of the Paige Denim Indio Skinny Jeans in Blue Galaxy Coated? I think they are beautiful and having seen them in person, they look even better! The Indio fit is really flattering and unique too, I love it! This is one thing that I love about owning a denim blog, there's so much denim to talk about daily!
Get The Look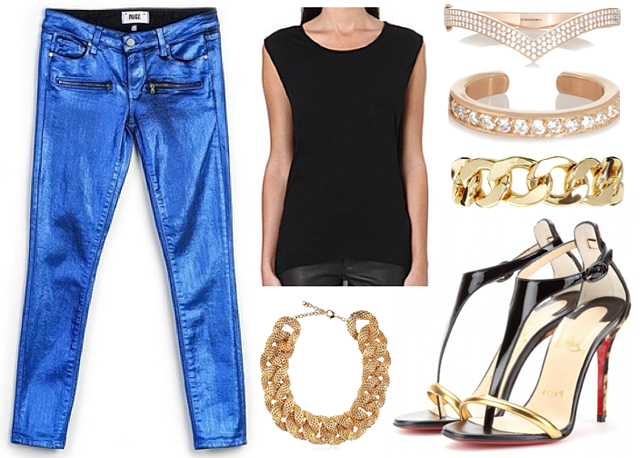 Jeans | Top | Shoes | Necklace | Bracelet | Bracelet | Bracelet
Copy The Look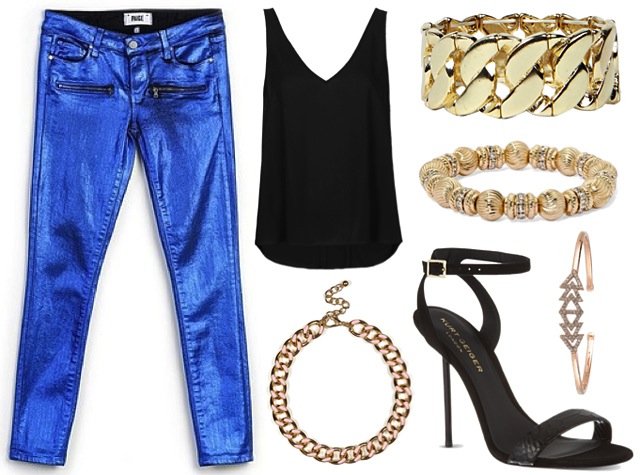 Jeans | Top | Shoes | Necklace | Bracelet | Bracelet | Bracelet
Image Credit: PAIGE Denim