Mavi Fall/Winter 2023 Men's LOOK BOOK
We just saw the women's Fall Winter 2023 Mavi Look Book, and here is the men's Fall Winter 2023 Mavi Look Book! On the men's side, Mavi has also debuted two new lines under the All Blue umbrella: Organic Selvedge and Pro Dark Tech.
The vintage-inspired mid-weight selvedge fabric is designed with the minimal stretch of a true classic and made comfortable in breathable organic cotton. This fabric is tightly woven for a premium, structured fit while it has the soft texture of traditional denim. This iconic organic denim is offered in a matching jacket and jeans, the Loran and Marcus.
Pro Dark Tech is a brand new fabrication for Mavi which is uniquely designed to be nearly fade proof, sustaining its vibrancy and stretch over time. How amazing is that? This fabric is engineered with modern elastane and recycled fibers, giving it superior flexibility and sustainability. The denim fibers resist shrinking and fading for a comfortable fit that maintains a long-lasting shape and a classic colour.
Pro Dark Tech is available in the Jake and Steve silhouettes. We have featured some of the highlighted pieces from the Mavi FW23 collection below, and of course you can see the full set of looks in the gallery at the bottom of this post as well.  Again, I am really happy that Mavi is taking a much more sustainable approach!
Buy the men's Mavi FW23 collection by clicking here:
Style highlights in the FW23 men's collection include plaid and feather tweed styles. The popular Jake style is now available as a navy plaid and light grey plaid trouser for fall. Sleek and sophisticated, Mavi's Plaids have a subtle pattern and are constructed from a soft and smooth fabrication that has just enough stretch for maximum comfort. The soft midweight feather tweed is available in the Jeff and Johnny chino silhouettes and is designed to hold its shape wear after wear, with a textured appearance that creates a flawless drape.
Mavi also introduces Coated Athletic Denim, the brand's knit fabric now designed with a dry wax ink comfort coating that is flexible and soft to the touch. The fabrication is featured in the Jake silhouette and new Parker tailored button-down for a twist on the denim tuxedo.
Like the women's collection, the men's line also features fall-appropriate cord bottoms in autumnal colors. One of those, the Marcus Evergreen Cord, also comes with a matching Stefan shirt jacket to make it a matching men's set.
The men's collection also introduces Luxe Twill, a mid-weight, maximum stretch premium fabric coveted for its comfortable fit. It's constructed with breathable, soft-brushed cotton and sustainable TENCEL™ lyocell for a refined texture with a smooth hand feel and flattering drape. Luxe Twill debuts in signature Mavi styles, as well as the newest Chino fit Milton.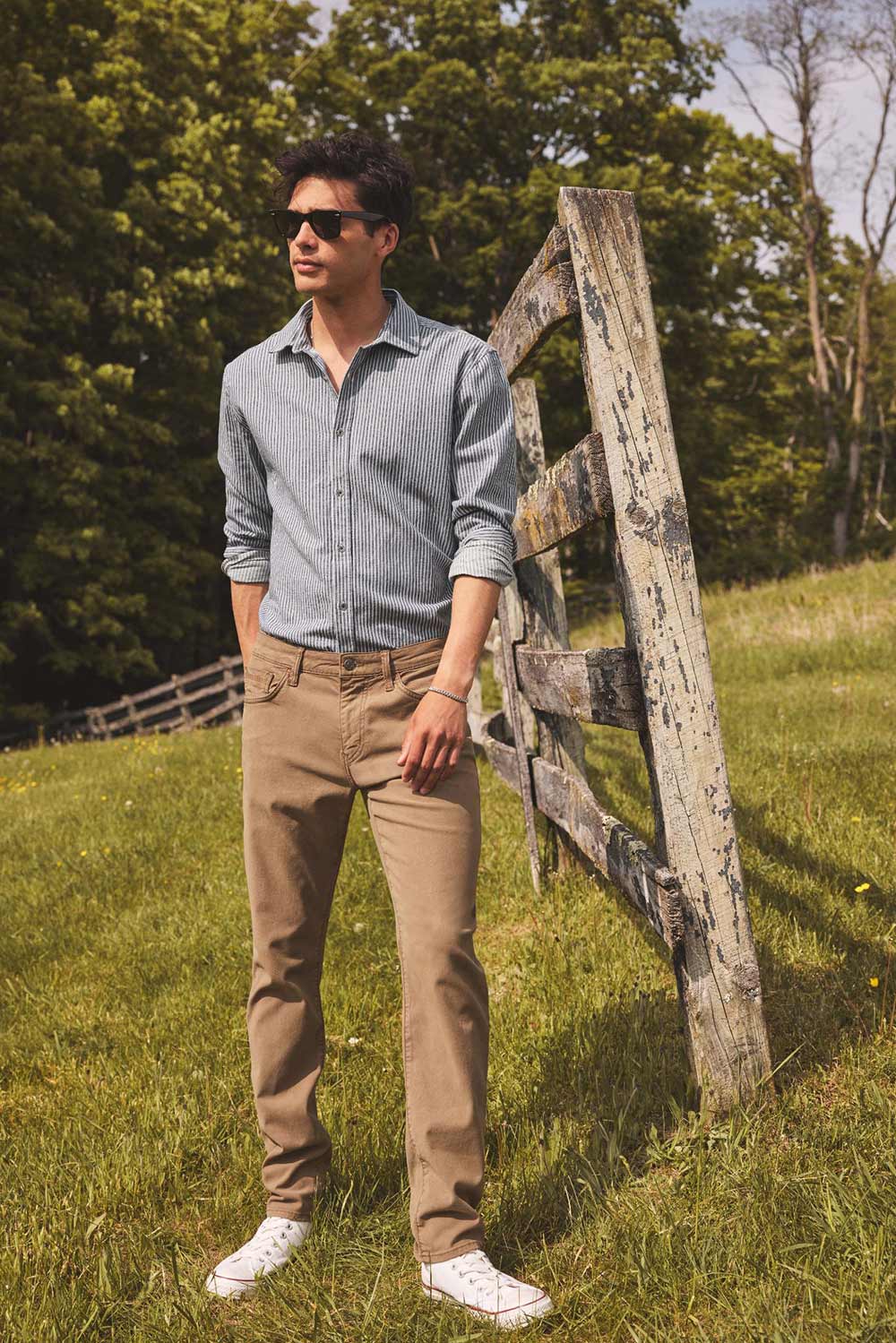 The men's FW23 Sportswear collection brings a large range of tops to Mavi, including classic crewnecks and lightweight breathable button downs to fresh flannels and pique shirts. Mavi continues to elevate its top offerings to create the perfect pairings.