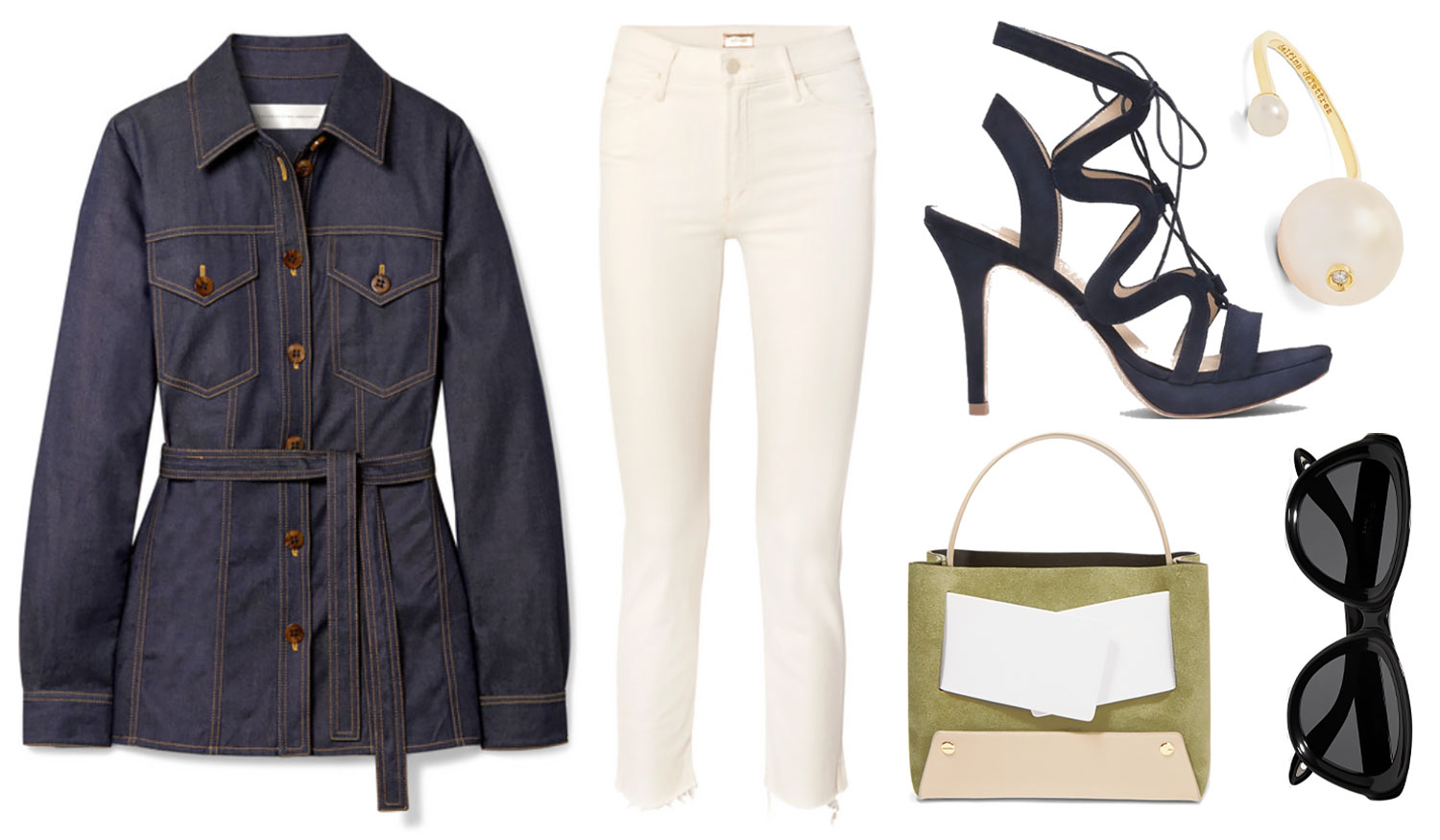 Autumn will soon be upon us, and Fashion Week starts in just over a month, so I thought it might be a good idea to put together an outfit inspired by Victoria Beckham, suitable for the cooler seasons. She's a fashion icon as we all know, and this look here that I chose reminds me of something she would wear when you catch her outside one of her runway shows. Plus, I can't deny that after this long and intense Summer, I am craving some more layered options!
I started out with this Victoria Beckham Belted Denim Shirt as it's one of her own creations. I think the indigo denim keeps it looking really chic and it's a great take on a smart denim jacket. The belted middle will really help accentuate the waist and show off the figure as a lot of denim shirts are oversized and bulky. To keep it chic, I went with these MOTHER The Rascal Cropped Jeans in Cream as I love the combination of them with indigo blue, I think it's a winner! It reminds me of a royal look and that's always good! As I chose a more straighter fit, coupled with a raw hem, that's what makes it more fashionable instead of too stuffy.
Now for the accessories, I opted for this Yuzefi Dinky Bag in Green as I think it's the ideal counterpart to tie the top and jeans together. It's casual, but smart, and something that Victoria would opt for in terms of design from what I have seen. I then went with a pair of Givenchy Sunglasses, as lets face it, when do we ever catch her without a pair? Then chose a Delfina Delettrez Ring as it's gold and pearl, to really add some classic qualities to the outfit.
Lastly, coming to the shoes, I went with a pair of Sargossa Chic Stilettos in Navy, as they really complement the indigo denim jacket, making two great boarders for the cream jeans to sit between. I think a fancy, detailed pair of strappy sandals are always a winner with a look like this. They help tone it down just enough to keep it day time appropriate, whereas a pump makes it more suited to the evening, a boot is too heavy, and a flat throws the proportions off. Plus, since Sargossa are known for comfort, I am sure someone like Victoria Beckham would welcome that with open arms given the complaints she's made about her feet in the past.
So, what do you think of this outfit here? Do you like it?