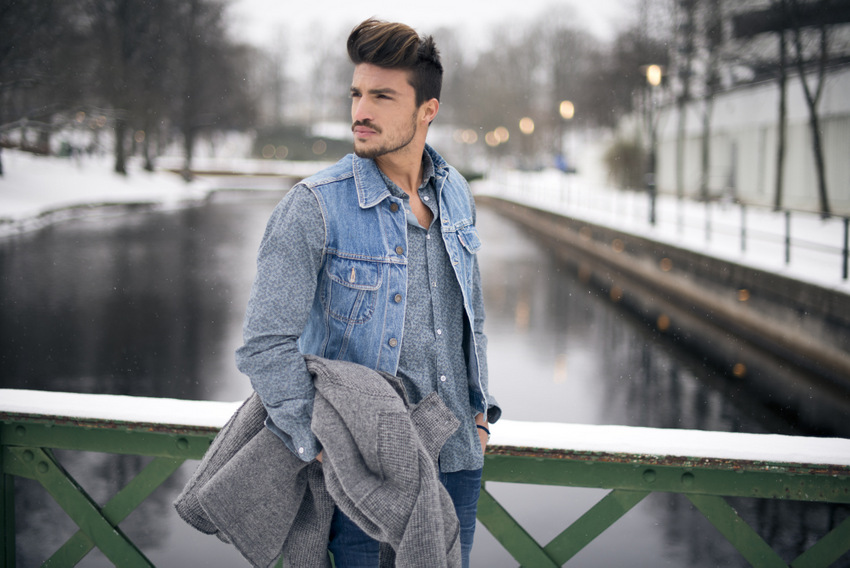 "Not a chill to the winter but a nip to the air" but in no time we'll be singing "baby it's cold outside". And yes, for our followers in the northern hemisphere there will be frost in the valley, snow lines on the mountain, blizzards on the plains and whirlwinds of frigid rain and sleet in the canyon of heroes. Winter is coming and once again we are thrust into that existential conundrum of practicality versus style. Things are about to change. There will be casualties. Are you ready?
As we venture out in the cold rain and snow, practicality is hard to ignore. When the primary interest is keeping warm and dry, style be damned. In the 21st century, this occurs when you are outside for an extended time, not mad dashes from the taxi to a club, from your apartment to the preheated auto, or from the subway station to your place of employment. You are outside because either you enjoy winter activities or your employer requires it. For survival tips, look to those whose work is outside – construction workers, service providers, and the neighborhood community cop to name a few. Standard attire is a heavy coat, multiple layers and wind/precipitation resistance. You get the idea, bundle up and try not to freeze. Hats and scarves are key here too – trapping in as much of your own body heat as possible to stay warm.
Wear Fleece Lined Jeans
When it comes to jeans, there is a little known cold weather secret – FLANNEL or FLEECE LINING! If you look, you are unlikely to find these at the premium outlets we frequent in homage to style. Think outdoor sporting good retailers. Brand names such as LLBean, Eddie Bauer, Carhartt, or Cabela come to mind. By checking any of the prior links, you will see that style is a casualty left by the side of the road suffering from frostbite. Outdoor December and January American football games have given me a soft spot for jeans of this type.
For just getting out and about around town, is it necessary to put stylish jeans into hibernation? In most cases no, but there are exceptions. If your primary concern is near freezing temperatures with cold rain, nothing to worry about…worse case get yourself a rain resistant trench coat and a pair of wellies.
Choose The Right Fabric & Fit
However, once we go below freezing the style options are greatly reduced. The first to go are skinny jeans. Their insulation properties are nil due to their lower weight fabric and lack of a significant air gap between the pant leg and your leg. If you are just dashing from a taxi to club you are fine. However, unless tall boots with knee length parkas come into style, you won't want to venture outside for very long with skinny jeans.
The keys to the insulating R factor are the weight of jeans' fabric and the air gap with your leg. As such, the next casualty of winter is super soft stretchy fabrics such as Paige's Transcend. Use of such fabrics can be extended if you go for a straight to relaxed leg style such as 7 For All Mankind's Slimmy, Paige's Federal, Levi's 505c, AG's Matchbox, and J Brand's Tyler to name a few styles.
Wear A Thermal Layer Under Your Jeans
If that isn't sufficient you can always add a thermal base layer beneath the jeans. If there is sufficient space, such a base layer can be used to extend the use of skinnier cut's such as Paige's Lennox, 7 For All Mankind's Paxtyn, AG's Dylan, and so on. If you need to pick up a pair, representative offerings for each of these styles can be found at East Dane or some of the other retailers listed on The Jeans Blog or The Jeans Shop. Of course, once you come up with the right pair of jeans you still need to layer with a substantial coat and a good pair of boots. As the following images show, cold weather and snow won't prevent you from looking your best.
As we are now in December. Our intent is for this article to be a timely publication . We really appreciate your feedback. Does winter result in a different selection of jeans on your part? How do you set your overall style to face all that winter has to offer? Should there be a thread in the Men's Denim Forum on this topic? Thank you and stay toasty.
Image Credit: Instagram, Pinterest, Mdvstyle.com and lolpill.com.