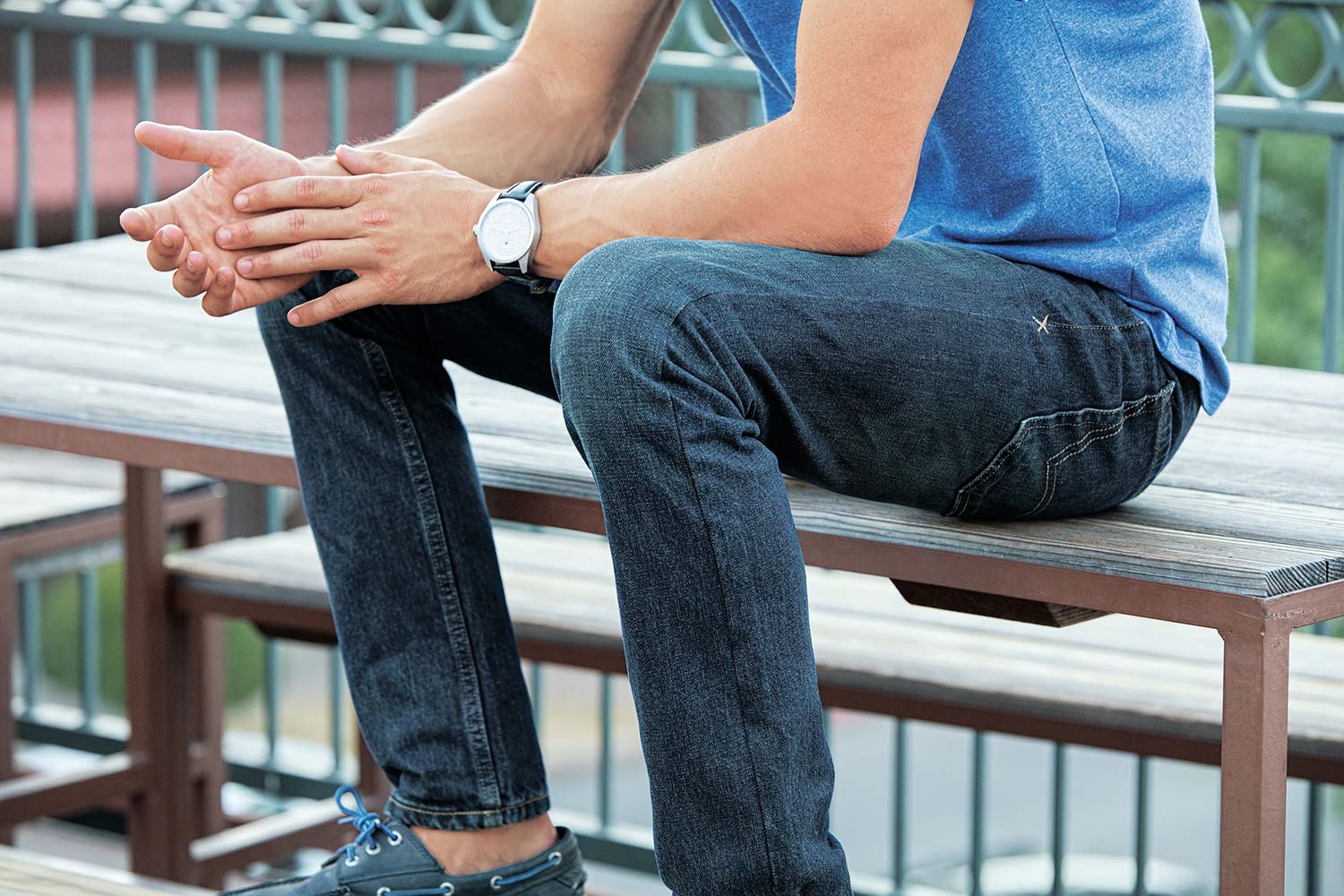 The Jeans Blog has collaborated with well known global brand, Dickies, to share with you something you might not expect. Everyone knows Dickies, it's one of the leading workwear brands since its launch in 1922, known to everyone who is looking for durable, hard wearing clothing. We wanted to show you that their clothes can also be fashionable though, especially their jeans. Dickies has some great, affordable denim and it's not just for those of you who are going hiking or looking for some workwear denim. You can take their jeans to the streets as well, guys! They definitely have some modern fits. I've personal chosen to show you how you can style 3 pairs of jeans like the Dickies jeans below, in great ways. Which look is your favourite?
Regular Straight
Dickies X-Series Regular Fit Straight Leg Jeans are one of the most classic. With a raw, ink wash, and a heavy weight denim, these jeans can definitely be dressed up. They are great for guys who want an effortless style, and for guys who don't want to stray too far from the norm. If you're quite skinny, these jeans will feel heavy as they're a heavyweight denim at 13oz, but for bigger guys, they should be comfortable and polished.
I've gone for a lumberjack inspired outfit above to show you how jeans like this can be fashionable, but it's got a modern and young twist to it. I chose to style them with a plaid shirt, an aviator jacket, some low top sneakers, and some masculine accessories. This type of outfit is great for the day time when you need something casual for running errands. The best thing about a raw wash denim like this though is that it will literally go with anything, so there's more stylish outfits than this to be had.
Slim Taper
Dickies X-Series Flex Slim Fit Tapered Leg Jeans in Stonwashed Black are another great option. Instead of your regular denim, trying something which has more of a chino pant inspiration behind it might be something you like the idea of. With jeans like this, they can be dressed up or down, depending on your mood, but they are suited to guys with thinner, less muscular legs, and who are looking for a more modern fit. That means they're definitely on trend.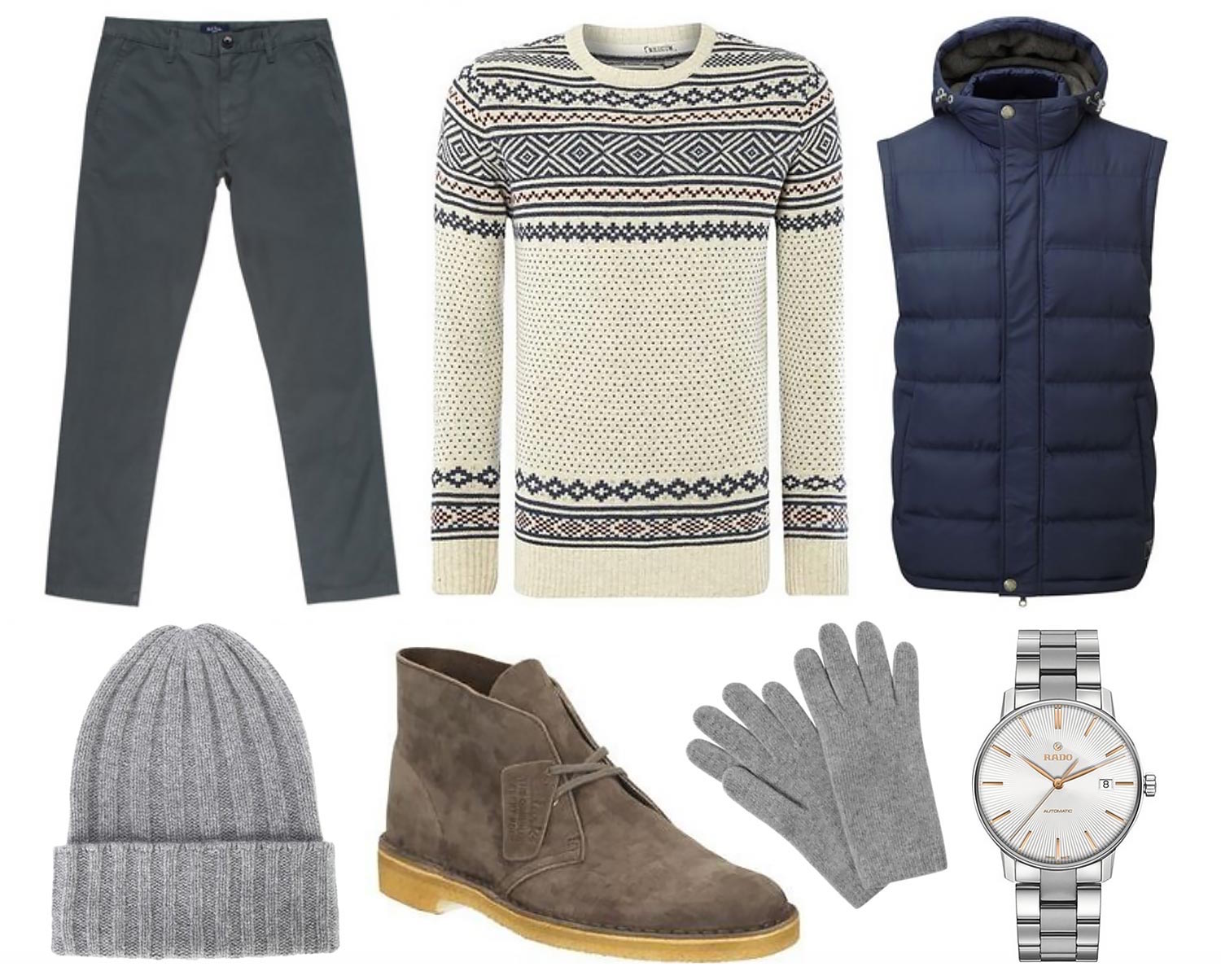 I chose to style pants like this with a fairisle sweater, a navy gilet/vest, some desert boots, and some neutral accessories to keep it casual. This type of outfit is perfect for the cold nights during the festive season, but at the same time it's great for being outdoors as it has a carefree, but practical nature to it. I think it's great! You can wear these jeans with dress shoes and a shirt if you want to keep things smart, but I'm showing you how you can dress these affordable jeans down, in a fashionable way.
Slim Straight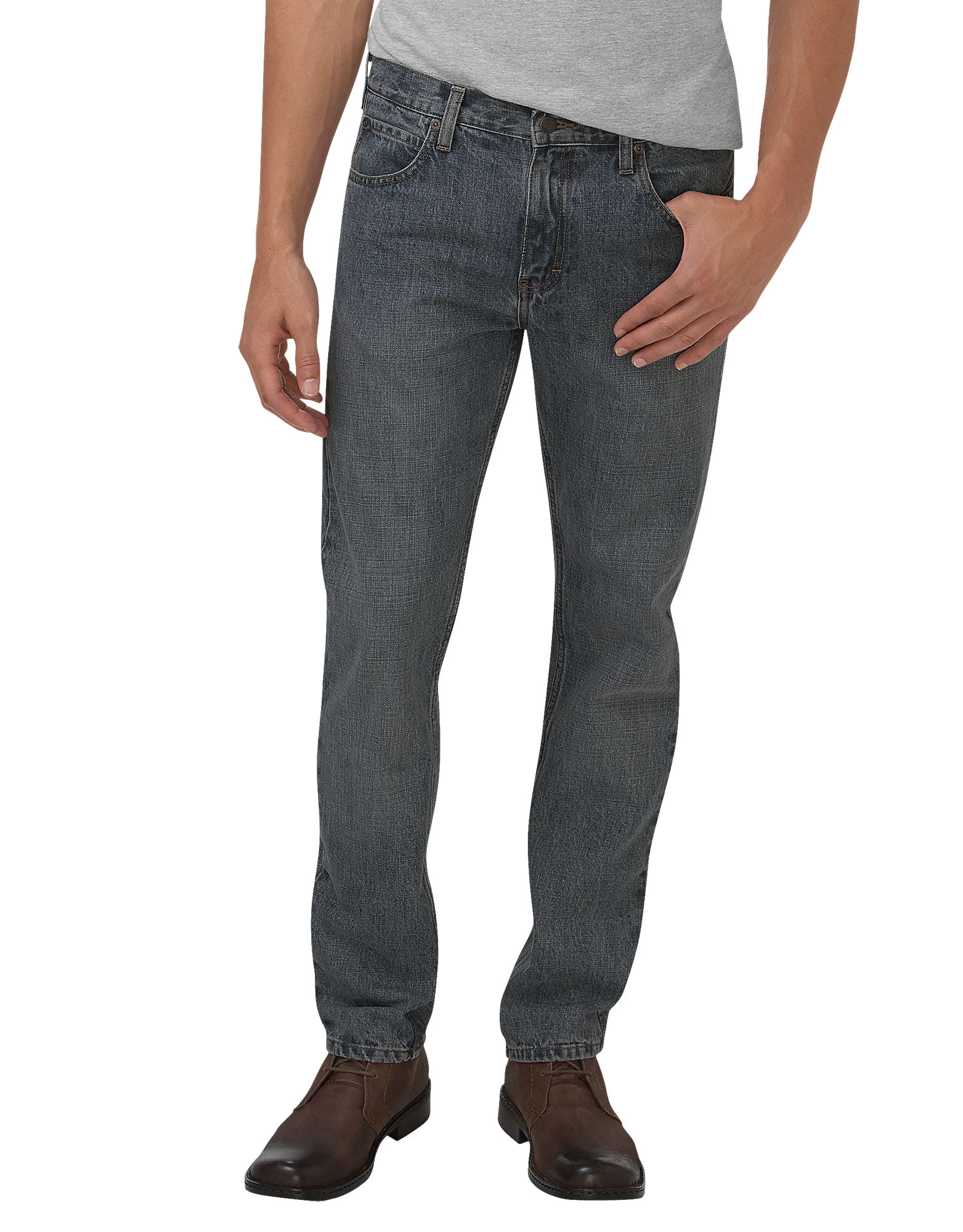 Lastly, we have the Dickies X-Series Slim Fit Straight Leg Jeans and these are your average pair of jeans, with a fantastic price. These jeans are suited to guys with an average build, so both thin and muscular men can rock this style. They are slimmer than a traditional, regular style jean, but provide you with comfort and a more modern look. They're your everyday jeans which working men would definitely own in their closet, but that doesn't mean they are just for work.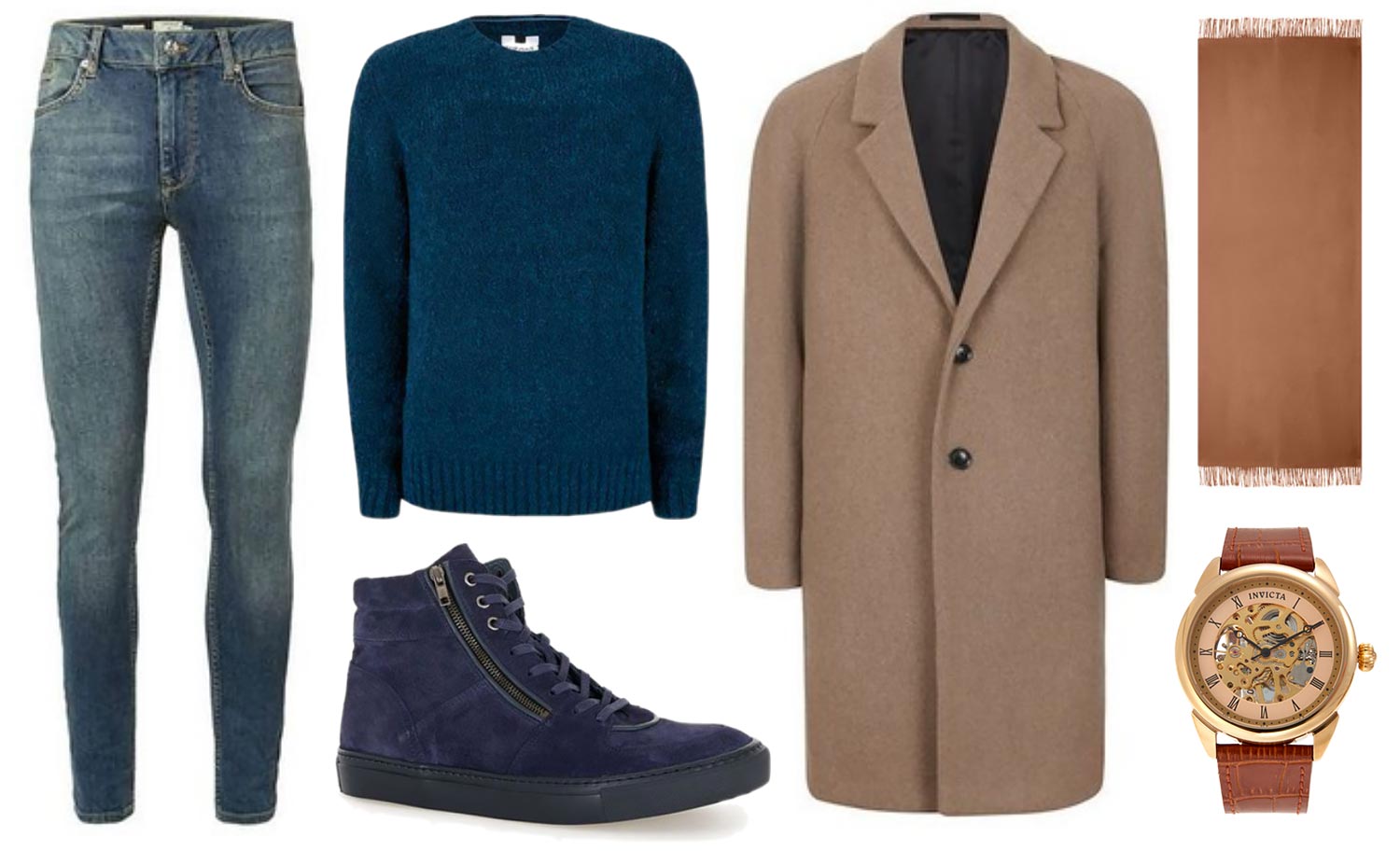 I've chosen a similar wash pair of jeans to show you how you can dress them up. Above, I styled together a light brown coat, a navy sweater, some navy high tops, and some brown accessories to go with the jeans. This outfit is very reminiscent of the popular street style stars on Instagram and it shows how easy it is to make a regular pair of jeans, fashionable. Since they have a slimmer fit, they're easier to dress up with fitted pieces, creating a look you didn't think was possible with workwear jeans.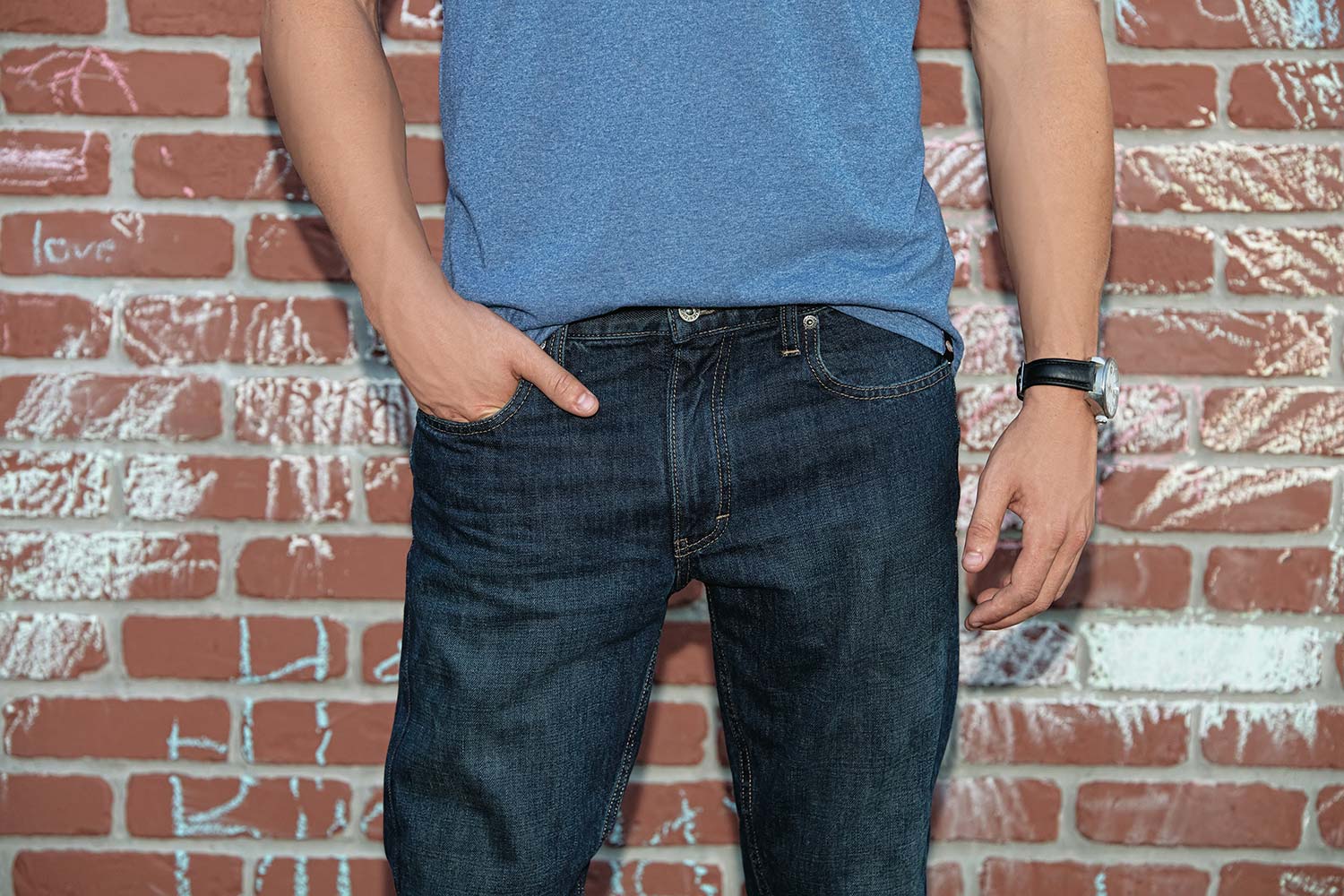 – So guys, what do you think of Dickies jeans? Have they changed your mind that they can be fashionable as well as practical? It really is all in the styling. Which look do you like the most? And let us know your thoughts on Dickies jeans! We'd love to hear them!