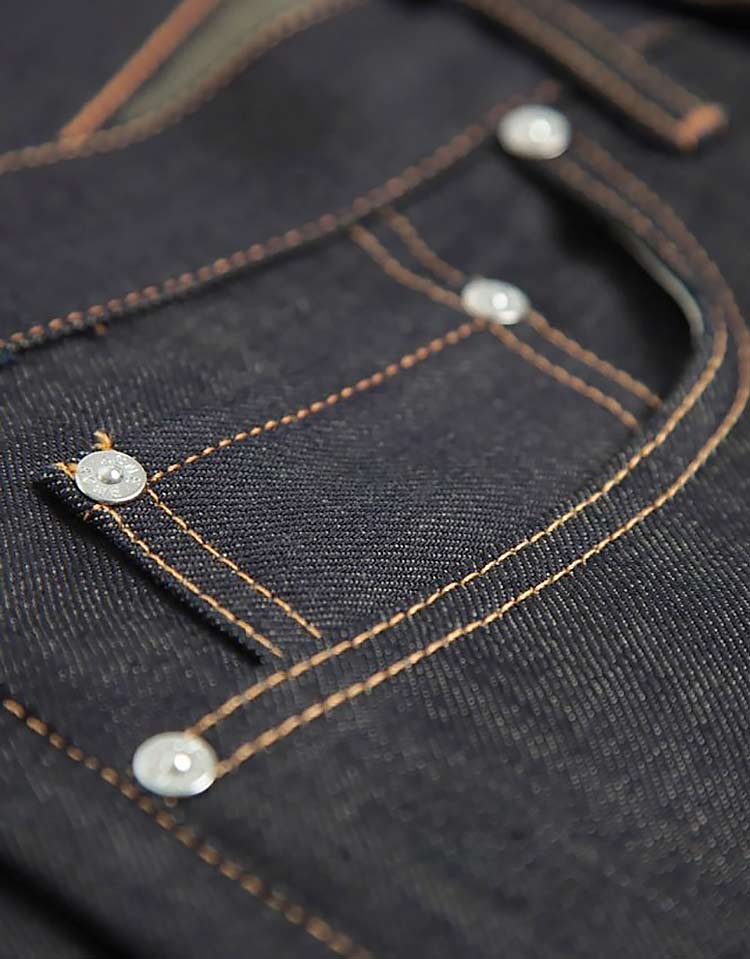 Raw Denim 101 – Everything you need to know about Dry Jeans!
What is raw denim? And what's so special about it? These are two questions that I get asked quite regularly, so I thought it would be a nice idea to dedicate an entire post to raw denim here on The Jeans Blog, explaining exactly what it is, how you wear it, how to wash it, what to expect and more! I've also included some little interviews with a few raw jeans enthusiasts, so you can really get an understanding as to why so many people love it! You may think that it's only favoured by men, which in truth it is mostly, however there are quite a few out there who love raw denim for women and there are certain brands which women love, myself included! So without any more of an introduction, lets get to it!
What is raw denim?
It's exactly what it says, it's denim in its raw form. This means that the jeans are not washed or treated when they are made, leaving that gorgeous raw indigo colour intact. Raw jeans often come in a selvedge denim as they are quite expensive and incredibly well made. They will most likely be in a rigid 100% cotton blend too, at their purest. You can of course get raw jeans with stretch in them, like my Nudie's that I own, but the majority will be rigid and of a thicker weight, around 12-14oz. During the dyeing process of the jeans, the natural cotton warp yarn is dipped into a lot of indigo dye baths, gradually turning it into a deep blue colour. As indigo dye can't be completely fixed onto the cotton fibres, the colour will bleed and fade as long as the denim is worn due to movement.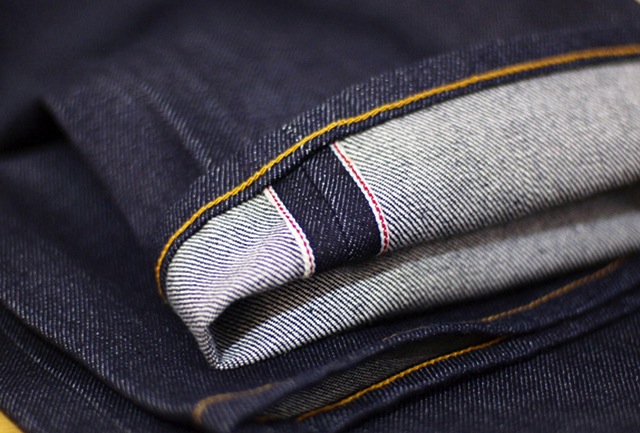 What makes raw denim so good?
The simple answer to this in short is 'it's unique' and it gives you the opportunity to break in your own pair of jeans and create a wash which is completely unique to you (jut check out how gorgeous these worn in raw jeans are by clicking here). That's what is so amazing about it! I've always said that raw denim to a jeans lover is like a blank canvas to an artist, it literally is a starting point for you to create your art with, the only difference being that you don't paint them, you create your story and beauty by wearing them day in, day out.
Letting the jeans mould to your body and fade over time, leaving behind some beautiful whiskering, honeycombs and fading. You create your own personal wash that ends up telling a story, a story of your life and how you go about your daily activities. It's amazing to think that all of this shows through in your raw jeans! They may not be something amazing from the off or a pair of jeans that you might get excited about because they are not beautiful to look at, but the anticipation of wondering how they might turn out is what makes these so special! It's like a new relationship forms with you and your jeans, a bond that becomes stronger every day and an attachment.
Are raw jeans dirty and full of germs?
You may actually think that raw jeans are disgusting because you have heard that you aren't allowed to wash them, and while the latter is true about the washing (for periods of time), the before is not. I don't find raw denim disgusting in any way, just because you wear them a lot, doesn't mean that the bacteria in them is growing and growing. There was a scientific study put in place actually (I remember reading it) where a pair of normal jeans that had been worn for a little while were tested for bacteria levels and they were almost identical to a pair of raw jeans that hadn't been washed in a few months. There seems to be a cut off point on what develops and when I say bacteria, you have to remember that all this is your own skin and particles. It's not germs in the sense that are damaging and bad, it's part of your own body bacteria which is harmless. They might start to smell a bit strange after a while, but as long as you keep yourself clean when you wear them and air them out, remove dirt with a cloth etc, they will be fine.
How do you wear, wash, and care for raw denim?
Ok, so as mentioned above, the general rule of thumb with new raw jeans is not washing them. You want to wear them as much as you possibly can before you put them in for their first wash. Nudie recommends that you wait up to 6 months before you wash them, so that is a good guideline to go by if you are wearing them often. If you aren't wearing them as religiously, then it's easier to go by wears. I would probably think about washing my jeans after about 100-150 wears or so. You need to wear them as much as you possibly can so that the creases really set in and mould to your body and you must do this before washing them. Once you wash them, the indigo fades a bit and leaves behind some beautiful fading.
If you don't want to wash your jeans, you can definitely soak them instead! Sometimes people decide their jeans are getting a bit sticky or dirty but they aren't ready to wash them properly, so why not lay them in a bath tub of warm water just to loosen up any dirt and particles. Soaks are like half washes and they are really helpful in the aging process of your raw jeans.
Caring for your raw denim (also see this post) is super easy, since you don't need to wash them that often, all you need to do is wear them and the harder you wear them, the better they will look! The more you wear them, the better they will look etc. Just treat them like any pair of jeans and make sure you keep wearing them as often as you can to really set those creases and fades in! It's such an exciting process watching them change over the weeks and months.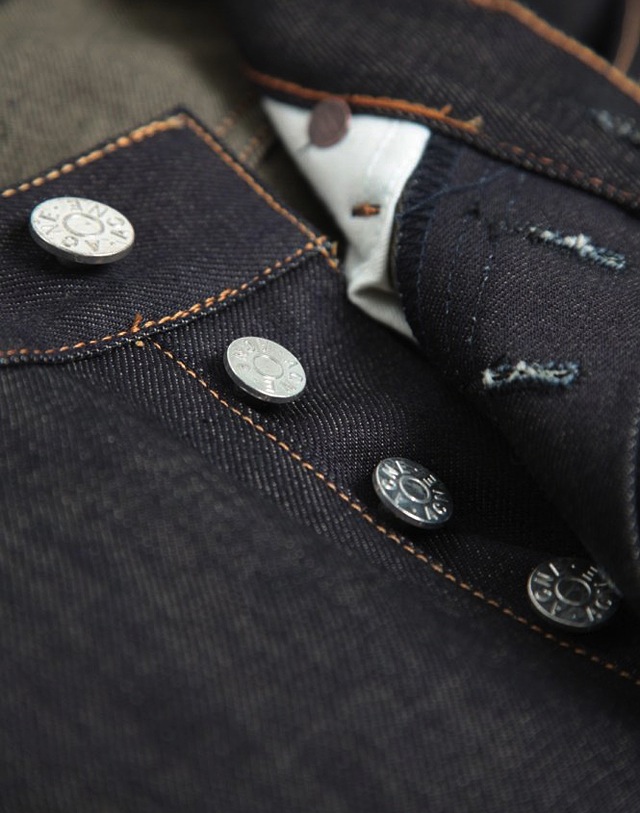 How do you get the right fit?
The most important thing about raw denim is the fit. You want to make sure that your raw jeans are incredibly tight to begin with, so tight that you struggle to button them up and they are uncomfortable. This may not sound appealing, but what happens with raw denim is that it stretches, and when I say stretches, I mean a lot! With all of the wearing and the fact that the denim is not washed or pre-shrunk from water before hand, there will be a lot of stretching going on. This means up to 1-2 sizes, depending on the jeans you are wearing. This is why it's so important to make sure they are as tight as they possibly can be when you first get them as they mould and fit to your body overtime.
It can be quite difficult getting a pair of 14oz rigid jeans that tight and it makes it hard walking up the stairs or sitting down, but if you can endure that for a little while at the beginning, you will be good to go for the coming months! I had a pair of Sling & Stones raw jeans that fitted me only slightly tight in the beginning and by the time I was about 4 months in, they were falling off of me and too baggy so unfortunately I had to retire them. I learned my lesson that way and now make sure that I am sucked into a pair that are super tight! Like my Nudie Tight Long John's. These also have stretch in them and that's what helps them stay fitted on me as well, even though they have stretched out a size.
What raw denim brands do you recommend?
There are many pairs of raw or dry jeans (whichever you choose to call them) out there that loads of people love and would recommend, from Nudie Jeans, Dior Homme, Acne and A.P.C to Lee Jeans, Samurai, G-Star Raw and more, so just click the brand names to buy. I will also be doing a post on some of the best raw denim for men, which brands and more, but in the meantime, please do check out my raw denim for women post by clicking here. Some are unisex too!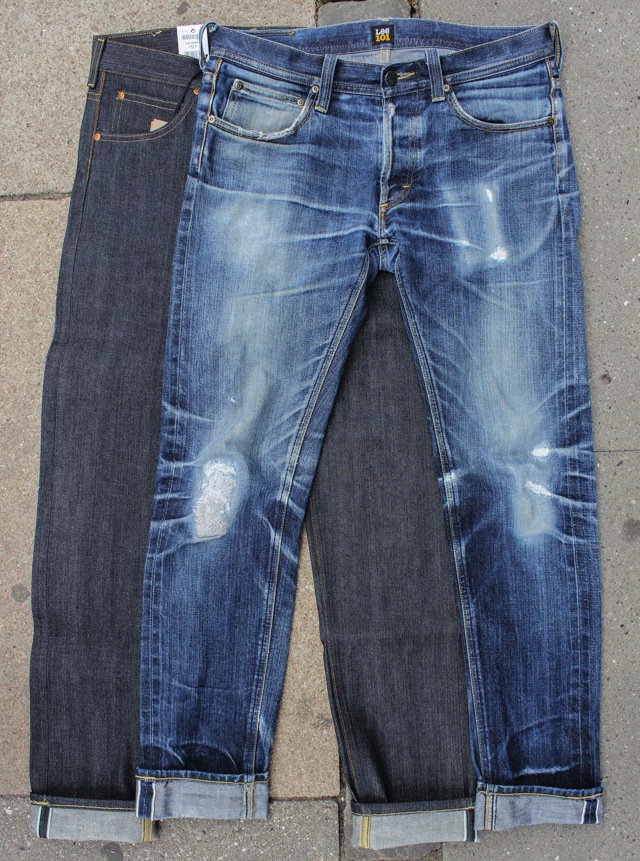 So why do denim enthusiasts love raw denim so much? I took the time to contact a few of them and find out what makes them tick when it comes to beautiful new dry denim!
Kev Richard stated – "I fell in love with raw denim for its dark hues and custom fit. Sure it starts a bit crunchy at the start, but after a few wears it bends and moves more with your body. It's my go to work jean as it doesn't tend to hang or grip and helps me portray a casual yet professional look. My oldest raw jeans are about 1 – 1.5 years old."
Matt Gauthier mentioned – "I like the fact that with raw denim I feel like I played a part in making them the way they are. I was the one who caused the fades or whiskers and so they feel more like mine. I look at them almost like personalized jeans. Plus, once they get broken in, nothing's more comfortable. The first two pictures below are actually a pair of J. Crew raw jeans that are a little over a year old and were washed once after 6 months. I also have a pair of Raleigh Denim that's around two years old and has probably been washed between half a dozen and 10 times."
I also asked Matt why he likes it more than normal pre-washed denim – "Honestly, from day one washed jeans are more comfortable. But, I like being able to throw on my raw jeans without even thinking. I like them both differently, I don't really look at it as one or the other. One pair I've had for probably 2 years or so. They've been washed and they're faded and slowly falling apart. I have another pair that's just over a year old with some great lines which I've washed once, and a pair that's 8 months old now that I've broken in, but kept looking close to brand new and have never been washed."
I got to chat with the well known Nick Coe of Rawr Denim about his love for raw denim too. This one is a little different as I got to do a mini interview with the raw denim expert himself!
TJB – What makes you love raw denim more than pre-washed denim?
Nick – For starters, I really like the look and feel of dark, crisp indigo jeans. I know many people prefer the pre-worn aesthetic and find the stiff texture of raw denim uncomfortable, these are actually a couple big draws for me. This of course won't always be the case as raw denim is meant to "evolve" and fade with greater wear. While I love the natural, authentic state of raw denim, I do have an affinity for the personalization of the garment and how it's like an individualized canvass.
From a practical perspective too, you can't deny the value and environmental benefits of raw denim. Compared to its pre-washed counterpart, it simply offers better value in terms of number of wears for amount paid, in which a solid pair of raw denim can net you 1000+ wears. Given raw denim undergoes very little wear treatment and isn't typically washed as frequently during wear, less water is consumed, leading to a less harmful effect on the environment.
TJB – How many pairs do you personally own and what's your favourite?
Nick – I have seven pairs of raw denim and it's honestly tough to say which is my favourite. I love a few pairs for how they've worn and faded after years of heavy wear, but since I really like the feel of fresh, crisper raw denim, I also really like my newer pairs.
TJB – Do you have a photo of your best pair?
Nick – Yes, you can check out my pair that are just over 3 years old just below (and see more photos in this link on Rawr Denim)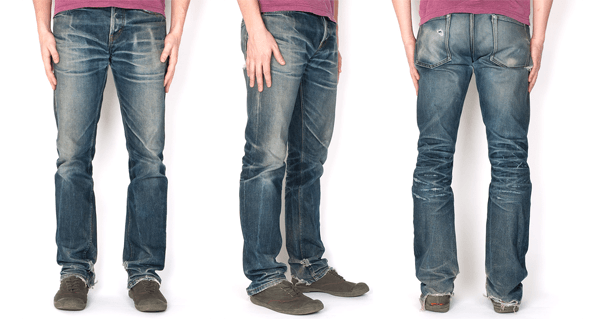 And finally, I spoke with another dry denim lover, David Flent. He stated "Raw denim is different. You start fresh. You are the architect. Or even better, you become the artist when it comes to these jeans. My oldest pair is just over two years old now. Not old compared to most raw denim wearers, but give it time. They are Levi's shrink to fit 501s selvedge denim. Not just regular shrink to fit 501s. These are different, marked with XX on rear patch. The way raw denim looks after a few months is very unique. You just can't duplicate it with pre-washed jeans."
– So, that just about rounds up this guide post and everything you need to know about it. I definitely recommend trying a pair if you love jeans in general. There's nothing like it. It's such a unique relationship to have with your jeans. If you do have any questions about raw denim and I haven't covered it above, or you need me to elaborate a bit more, you are more than welcome to leave a comment below and I will get back to you! I hope you enjoyed this post!