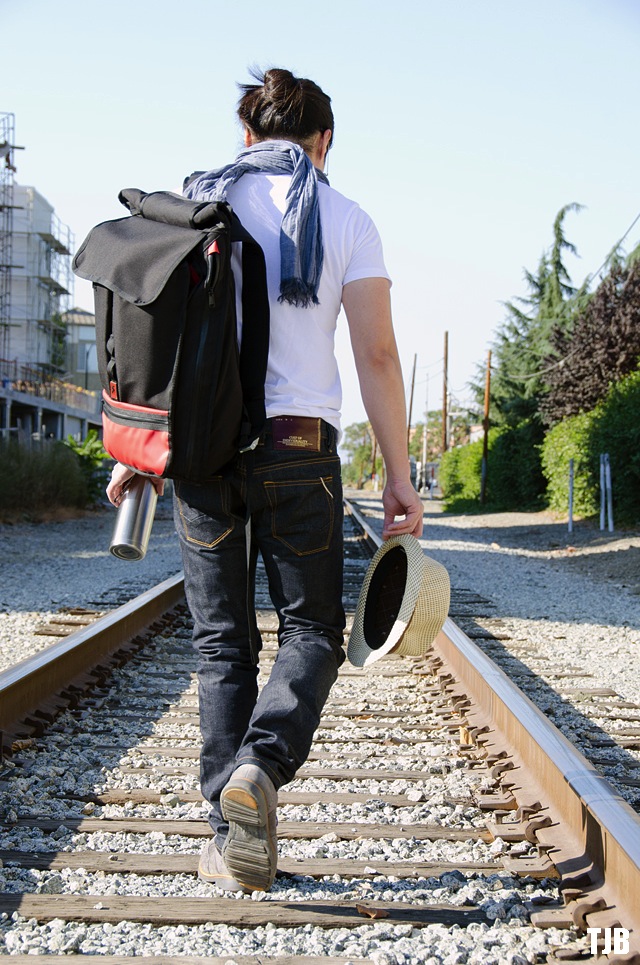 When I put on my favorite pair of jeans, it rekindles feelings of being in a relationship. Some last longer than others, but there's always a story behind every one.
At the beginning, it's all about the chase. You know, like that moment when she catches your attention and seduces you with her eyes. Mesmerized, you watch as she sips her drink by the bar and wonder, who is she? Magically, the music in the air becomes your soundtrack and everyone around you fades into wallpaper.
Nothing makes my heart skip like rock 'n' roll, so it's fitting that these new jeans from Cult of Individuality are named Rocker Slim. We'd only just met, and like the girl, those butterflies of infatuation come rushing through. It was only a matter of time before I take these jeans home and run my fingers along every seam!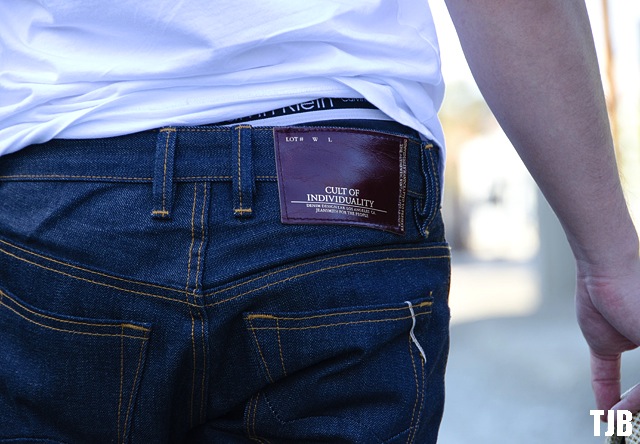 I anxiously unbuttoned them to see what's waiting inside. The contrast orange stitching, logo embossed donut button, and red accents immediately caught my eye. There's a playful rising sun label by the waistline leaving little doubt that these are made from premium Japanese raw denim. Even the lining that holds the pockets together have a unique blue checkered pattern that reminds me of vintage pocket squares.
Talk about making a good first impression, I couldn't wait to try them on. The fit was slim, so I slowly eased my way into them. Handcrafted in Los Angeles, 100% cotton, and mid-weight heavy around 12-16 oz. I love how they felt. They're rigid and snug in all the right places, yet forgivingly comfortable with every movement. As I continued to examine every detail, the biggest surprise was discovering the double reinforced belt loop. The design is so well executed that it's easy to overlook until I ran my hands around the outer seams for a second time.
We have been inseparable since, and I often catch myself daydreaming about the future ahead. For the next few nights, they sat on my dresser by the window as I admired their classic silhouette. The dark indigo hue really comes to life when it catches the afternoon light, seemingly begging to go outside to play in the sun. I can only imagine how they'll age as I wear them more in the coming months. Every characteristic, whiskering, and worn-in imprint will have a personal story, to commemorate events that transpire with our time together.
"Jeans should seduce and inspire you to create a beautiful YOU," says Ron Poisson, Cult of Individuality creative director, and founder.
Since Cult of Individuality's inception, their focus has always been about embracing the dreamer, one's uniqueness, your society of one. To celebrate this movement, they want to showcase your style and unique design by introducing a raw denim challenge this fall, something they call "Future Vintage Project."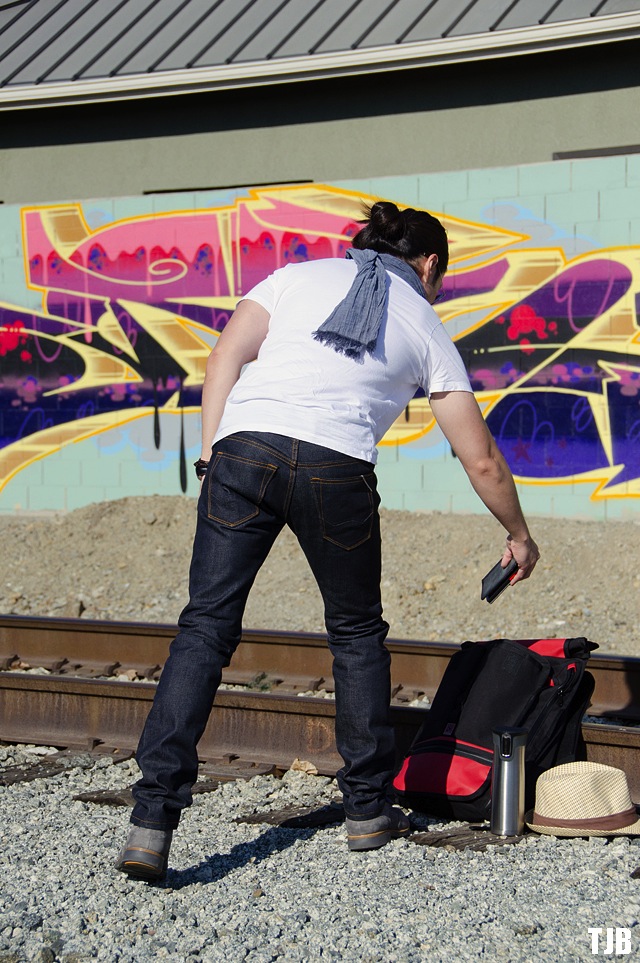 Breaking in raw denim is a personal commitment. Sometimes it takes years of unwashed wear to put them through their paces, just to achieve that one of a kind vintage look and feel.
I'm excited to take part in this challenge and share my journey here on The Jeans Blog and social media. With a heavy travel schedule ahead, I plan to spend a lot of time getting to know my Cult's. Soon there will be a road trip, a brief homecoming of sorts, and back to LA where they're made before reaching my next destination. Then there will be hotels, cafés, airports and everything in between, I'll be on a plane to a city after next.
Our soundtrack is still playing in my head. With all this time together, perhaps I should also consider changing my status to "In a relationship?"
You can follow my #CultFutureVintage journey and relationship status on my Twitter and Instagram accounts: @mobileauthor