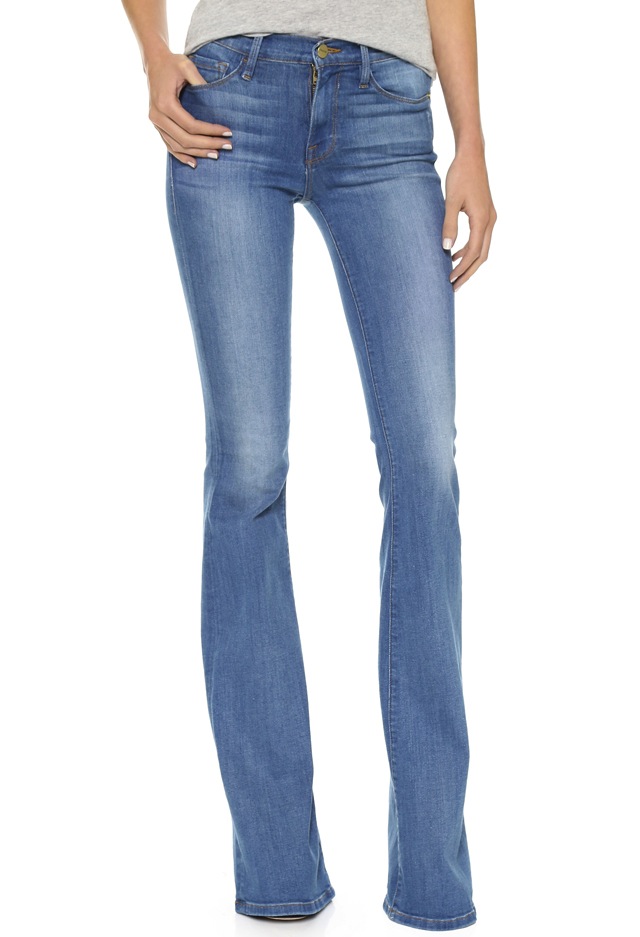 Just like us ladies who have trouble finding jeans for shorter legs, those who are blessed with long legs can have trouble finding the perfect length jeans too. I know quite a few women have contacted me in the past and asked what I can recommend for longer length denim, but other than specific brands like Long Tall Sally, I do struggle when it comes to premium denim suggestions.
Gone are the days when you had Rock & Republic giving you 38 inch inseams and the cropped styles are now in, however, long legged supermodel Karlie Kloss did a collaboration collection with Frame Denim and it's perfect for tall women! Since she always had trouble finding jeans to fit her legs, she created a 36″ inseam and longer collection of jeans and most recently she added flares to the mix!
Frame now have a 38″ inseam flared jean! It's made from a mix of Cotton/Polyester/Lycra and of course features everything we already love about Frame Denim! Coming with a 9 inch rise, a leg opening of 21.75 inches and of course, that inseam with 38.25 inches of length! How perfect is that for you taller ladies who want to wear heels with your flares? The wash is called Linden and it's a really nice, vintage and faded wash which is perfect for the summer weather! I can see these teamed with a flowy white shirt and some wedges! How would you style them? Buy these jeans at Shopbop.com for $239 and you can buy the skinnies here too.