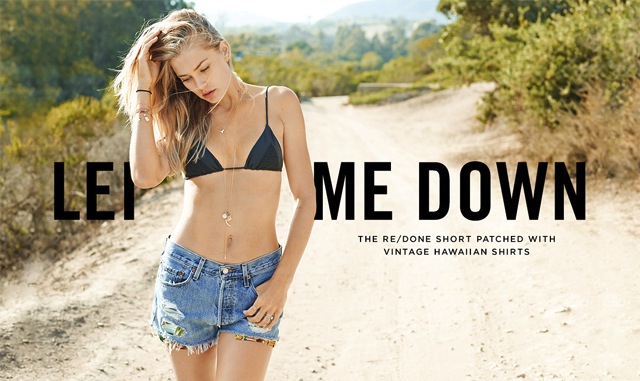 Denim shorts are obviously a must have when it comes to the warmer weather, but who says they always have to be plain? Vintage denim shorts are always on trend and one of my favourite brands, RE/DONE, has created their new Hawaiian Collection.
To create the Hawaiian Collection, RE/DONE took their classic, vintage denim, boxy fit short and repaired the holes with cut up vintage Hawaiian shirts sourced from the same 'rag houses' as their jeans. Some of the shorts have had their holes repaired with the shirts, while others have had their pockets patched with the shirts. The shirts range in age from the 1950's through the 1990's. They were all made in the USA, with most originating in the Hawaiian Islands. The colourful shirts feature a range of motifs including indigenous Hawaiian plants, such as the Hibiscus flower, to the classic Hula prints. How cool is that?
You can see some of the designs here and I think they are extremely inspirational and beautiful. For the campaign shots, photographer David Mushegain shot model/designer Tori Praver in the collection. Tori is the ultimate Hawaiian beach girl, being raised in Maui, she's an avid surfer, and of course has her own swimwear line. If anyone knows what is like to live for the beach, it's Tori. She embodies the Hawaiian spirit! So, what do you think of the new Hawaiian collection from RE/DONE? You can shop the shorts exclusively on their website and you can read an interview with them about their jeans here.