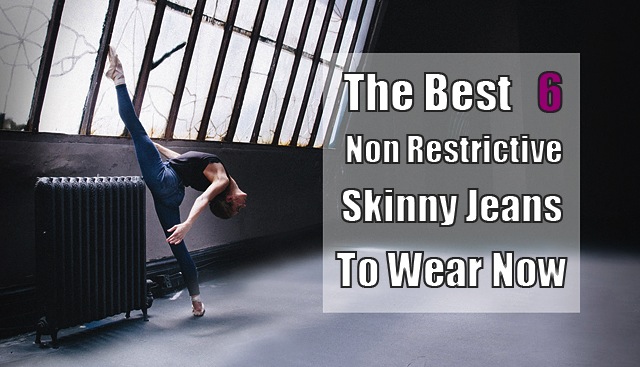 Despite the recent stories and headlines on skinny jeans being really dangerous to your health, they are not as bad as everyone is making out. The 35 year old woman in Australia who had to be cut out of her skinny jeans after spending hours bending and squatting down while packing things up got hospitalized after experiencing muscle damage, swelling, and nerve blockages in her legs from wearing tight jeans, was very lucky not to have permanent damage and it was extremely unfortunate that it happened, but it doesn't apply to everyone.
I don't want loads of you out there thinking that you can no longer wear your favourite skinny jeans anymore because that's definitely not true. You can wear them safely everyday without any problems, it's just down to the jeans you pick and how well they fit. If you think about it, for how many years have people been wearing really tight skinny jeans and only now is a story cropping up here and there, despite the millions of people wearing them on a daily basis? Please don't worry. I just want to reassure you that you can still wear them!
Granted I am no medical expert, but the reason the lady suffered these problems was because she was in a squatting position for long periods of time. This is an unnatural position to be in anyway, especially for hours, but she had tight material around her legs while doing this so it caused the blood circulation to lessen and cause damage. I'm going to guess the jeans didn't have much stretch in them which was why they were restricting. The same thing could have happened with a tight pair of leather pants or even a pair of form fitting pants with no stretch. Restriction is restriction, no matter how you come across it.
If your jeans feel tight and painful when you bend down, I would recommend that you either go up a size, or choose a pair with a higher amount of stretch in them. I personally live in the extremely stretchy jeans, the cross between a jegging and a jean, much like the 7 For All Mankind Gummy or Second Skin denim, the Paige Transcend fabric or classic Verdugo style, the Citizens of Humanity Rocket in Axel, Koral Los Angeles Skinnies, AG The Legging Jeans, James Jeans Twiggy Leggings, Rag & Bone The Legging Jeans etc and I couldn't feel more free. These jeans are made with such a high amount of stretch that you can squat, bend, stretch and even do yoga in a lot of them without any restrictions. It all comes down to the jeans that you choose and how you wear them!
I definitely don't recommend rigid or 100% cotton skinny jeans, I've personally never liked them as they are extremely uncomfortable to sit down in and walk up stairs in, so be extremely careful with the rigid pairs if you want to wear them. Don't sit or bend down in them too much and don't squat in them. If you do need to move house, pack boxes, bend down a lot etc then choose a jegging or high stretch jean or opt for something like a boyfriend jean or sweat pant instead. There are plenty of safe ways to wear skinny jeans and look amazing all while not damaging your legs or health. If anything, the unfortunate accident that happened to the woman (I'm glad she's ok) has brought to light how useful super stretchy jeans can be.
Below are some of the most stretchiest and comfiest skinny jeans that I can recommend to you out there, they don't feel restrictive at all and you can do yoga or dance in them if you wanted to. I just don't recommend that anyone squats or stays in an unnatural position for long periods of time anyway, no matter what you are wearing. Happy (and safe!) shopping everyone!