How To Find The Perfect Boyfriend Jeans
Boyfriend jeans are a style that we all love and adore deep down, but finding the right pair for your body shape can be a task on its own. Some pairs of boyfriend jeans can really overwhelm you and swamp your body, while others are not flattering on the butt, look too sloppy or not very nice. The key to getting the perfect pair of boyfriend jeans that flatter and suit you is in choosing the right cut. I've listed some tips and tricks for you to remember when searching for the right pair. It also varies during the seasons too, so make sure you read my tips on how to wear them in Summer and Winter as well.
Getting The Right Fit For your Body Shape
Boyfriend Jeans for Petite Ladies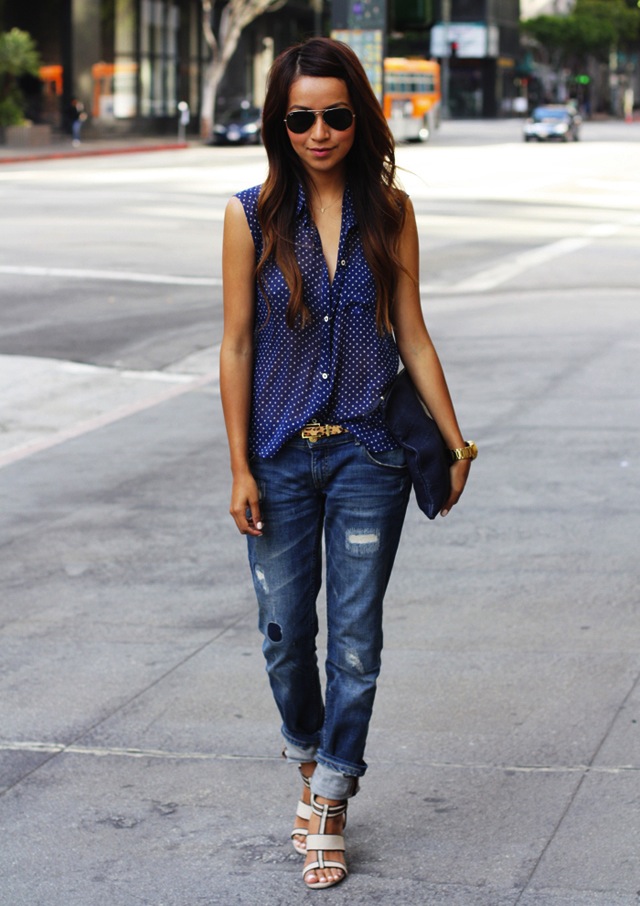 My suggestion for you ladies out there who are on the petite side, or quite small, is going for a slim fitting, skinny or tapered leg boyfriend jean. I know from experience that if you try wearing a really baggy and oversized pair that doesn't have a tapered ankle, it's going to end up looking like a sack and drowning your frame. That's when it becomes the tale of the jeans wearing you and not you wearing the jeans. As you are quite small, you want to wear a lot less material, but still have the slouchy fit you require from a boyfriend jean. A skinny or tapered leg boyfriend will do that for you. They will still show the silhouette of your legs, but they will have a slouch which is perfect for easy wearing. I would also try to avoid awkwardly cropped boyfriend jeans as they can really make you look shorter.
My suggestions are: Citizens of Humanity Corey, Levi's Skinny Boyfriend, Paige Denim Jimmy Jimmy Skinny, Diesel Fayza and G-Star Arc Skinny Boyfriend.
Boyfriend Jeans for Tall Ladies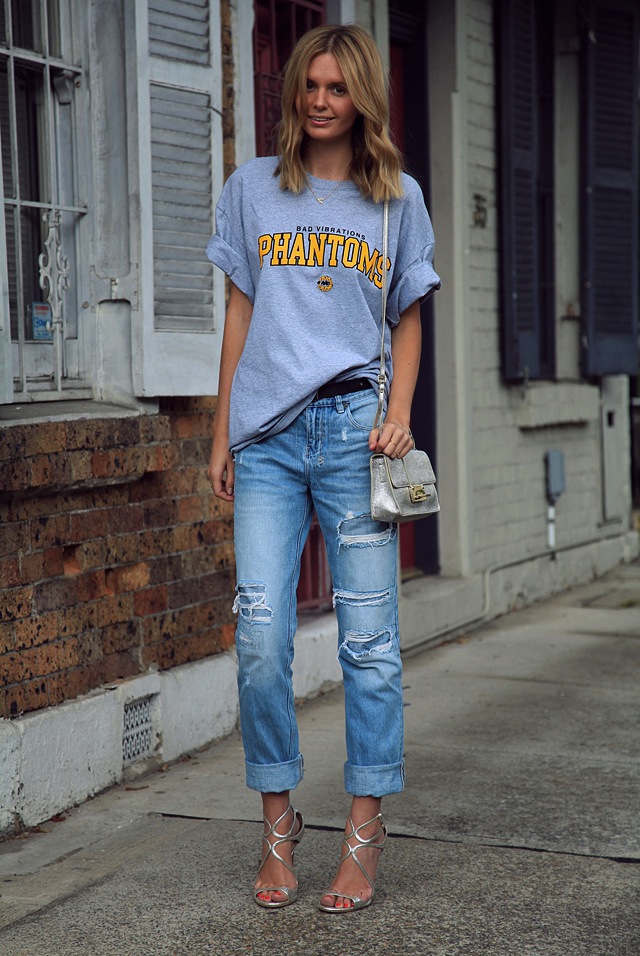 If you are blessed with being tall, you are lucky and can get away with wearing most boyfriend jeans shapes. You are able to wear the baggy pairs without them overwhelming your frame and you can also opt for the slimmer fitting pairs too, even though they wont feel as much like a boyfriend jean. I think my favourite boyfriend jeans on taller women are the baggy kind. There's something about them being low slung on the hips with a tight t-shirt that gives that model off duty vibe that a lot of women love. Don't forget that you can also rock the cropped boyfriend jeans like nobody else! They wont make your legs look shorter and they will look amazing during the Summer months!
My suggestions are: AG Jeans Ex-Boyfriend Jeans, One Teaspoon Boyfriend Jeans, Rag & Bone The Boyfriend Jean, Current/Elliott The Boyfriend and Levi's 501.
Boyfriend Jeans for Curvy Ladies
If you are blessed with curves and fall under the pear, apple or hourglass shape, my theory is that you should opt for the slimmer fitting boyfriend jeans, just like the petite ladies. If you choose baggy boyfriend jeans, you are only going to add a lot of extra fabric to your look which can have a negative effect on your appearance, often making you look larger than you are. Choosing something slim with a little slouch and a tapered or skinny leg is definitely a great option as it wont hide your silhouette or add any unwanted pounds. This goes for the taller ladies too, if you are on the curve side, I do recommend finding a slimmer fit.
Boyfriend Jeans for Slimmer Ladies
If you are more on the boyish side and have a very slim figure, you can get away with the baggy boyfriend jeans if you are tall, but if you are on the petite side, I still recommend the slimmer fitting jeans. So for this type of body shape, I would personally just follow the rules under the tall and petite section. These definitely apply to you.
Getting The Right Fit For The Seasons
Boyfriend Jeans for Summer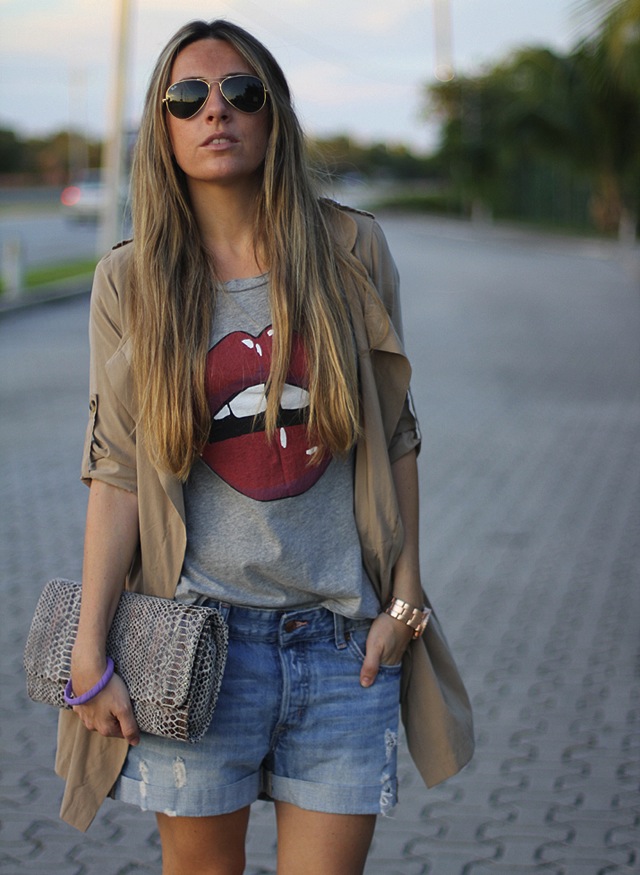 Finding the right boyfriend jeans for the Summer is always exciting! Spring and Summer is the season for that cut after all, so there will be plenty to choose from! Make sure the washes are lighter (think mid to light blue and even white) and that they have a really worn in feeling to them, perfect for wearing to festivals, hiking and picnics. Just follow the rules for your body shape listed above and of course, you can even opt for boyfriend shorts! So many denim brands release a slouchy denim short in the Summertime, perfect for the warmer weather and easy wearing vibe, so finding a pair of those is a great choice! With the boyfriend shorts, I don't really find they have rules, they suit almost anyone!
My suggestions are: Rag & Bone Boyfriend Shorts, Paige Denim Jimmy Jimmy Short, One Teaspoon Bandit Shorts, One Teaspoon Boyfriend Jeans and AG Ex-Boyfriend Jeans.
Boyfriend Jeans for Winter
A lot of you tend to put your boyfriend jeans away when the cooler weather hits, but if you aren't blessed with living in a climate like LA or Australia, don't worry, you can still wear yours during the Winter months! Since it's cold out, it's all about how you style the jeans. You will be wearing a lot of layers, probably including a coat, hat, scarf etc, so the key to wearing boyfriend jeans in the Wintertime is making them as slim as possible. The more fabric you have on your lower half, the larger and more overwhelming it's going to be for your frame, regardless if you are tall, petite, curvy or slim. You want to make sure your jeans are tapered and skinny, with just enough slouch to warrant a boyfriend fit. This way it wont be too much. You can also think about wearing them cropped with ankle boots, a sweater and a coat layered over the top. That's a great way to style them for Winter!
My suggestions are: MiH The Tomboy, Citizens of Humanity Emerson, One Teaspoon Hendrix, MOTHER The Dropout and Paige Denim Jimmy Jimmy Skinny.
     Extra Tips:
Make sure the back pockets on slimmer boyfriend jeans are smaller and flattering.
Make sure cropped boyfriend jeans hit at a flattering height on your calves.
The slimmer the cuff at the hem, the longer your legs will look.
Try to avoid large, square shaped pockets. They aren't flattering from behind.
Try to choose a wash that looks authentic, lived in and real.
Make sure your jeans fit a little tighter to begin with as they will stretch a lot with wear.