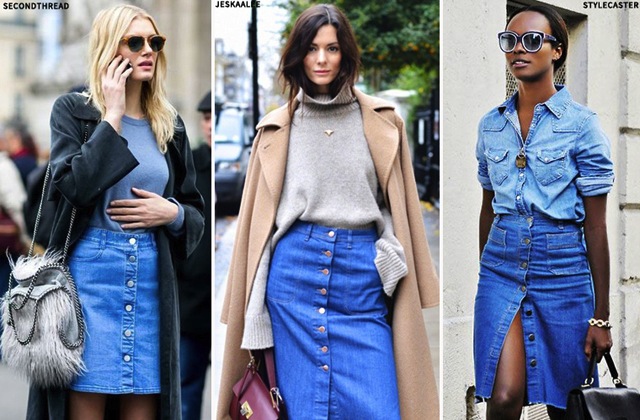 The button up denim skirt has been trending for a couple of seasons now, ever since Alexa Chung released her iconic version in her AG collaboration for SS15. She has gone one better most recently though and designed a few more versions in varying lengths for the Fall 2015 collection and we have seen this style on so many fashion bloggers and celebrities already!
Many brands have done their own take on the trend, releasing styles in long, short and mid lengths in light, mid or dark blue. Some have a more unique appeal with distressing and variations on the buttons, while some are completely classic and speak of the 90's. One thing is for sure and that's that the button up denim skirt trend is staying put for Fall 2015! The big question on everybody's lips right now though is how do you transition denim skirts from Summer into Fall?
Here at The Jeans Blog, we are always about keeping it classic with denim while dipping our toes into the latest trends, so we have you covered on how to look stylish in a denim skirt and not look like you stepped out of a 90's high school yearbook photo. The key tips are simple and they will make you look put together and definitely chic, not geek. Check out how to style a button up denim skirt for Fall below and shop some of the best ones from RevolveClothing!
6 Best Button Up Denim Skirts
Motel | AG x Alexa Chung | Joe's Jeans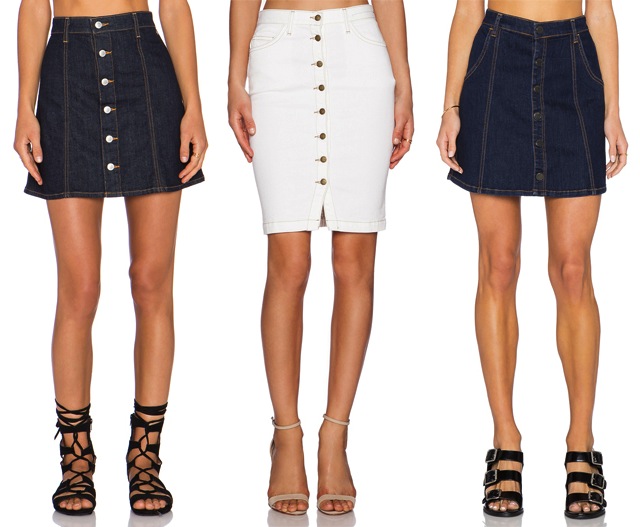 AG x Alexa Chung | Current/Elliott | BLANK NYC
These 6 button front denim skirts are definitely some of the best. The darker washes are classic for the cooler months and pair well with any neutral colours, making them a great base for layering. The light versions will work perfectly while you are transitioning out of Summer and the longer length definitely screams Winter to me! There's a style for everyone here, no matter what you love!
Wear Button Front Denim Skirts With:
NEUW | MOTHER Denim | MLM Label
Button Up Denim Shirts: One of the best ways to wear a denim skirt for Fall is with a denim shirt. Double denim is one of those classic trends that is in all year round and it looks perfect. Try pairing a cropped denim shirt with a higher waisted denim skirt for the ultimate look, finished with some wedges or sandals, or if you want to go for something a little smarter, tuck a longer button up denim shirt into your skirt and you will be all set! Just team these two denim pieces with some heels and a simple clutch. You can't go wrong with double denim and doing it with a denim skirt is a great way to amp it up and get creative!
A.L.C | C/MEO | Lucca Couture
Sweaters and Coats: As it gets cooler, you definitely want to think about layering and keeping warm, especially if you live in a cooler country like I do over here in the UK. I'm thinking the best way to wear a button front denim skirt when there's a chill in the air is with a cosy sweater. A cropped white one will work perfectly, keeping things casual, or you can tuck a longer, more fitted sweater into your skirt to keep it clean. If a sweater just isn't warm enough though, it's time to layer over a coat, pull on some tights and slip on your boots! You can't get more Fall ready with a look like this if you ask me! It's definitely something I'm planning when October comes around! How do you wear your denim skirts?