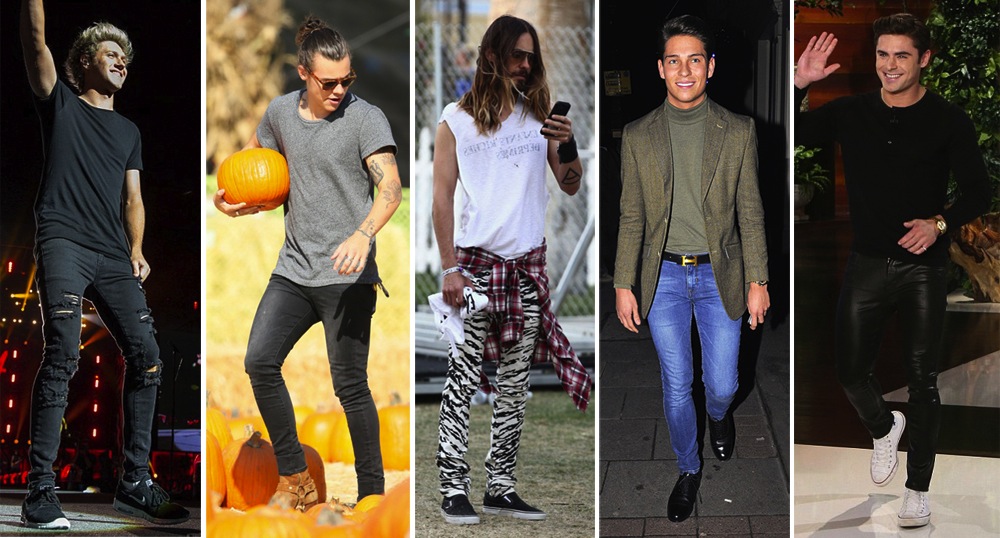 Celebrity Men Love Women's Skinny Jeans
It wasn't uncommon for rockstar men to wear women's jeans a few decades ago, but when the 90's rolled in and everyone favoured extremely baggy (or what I call terribly ill fitting) clothing for that boy/girl band look, skinny jeans and tight clothing vanished. As times change constantly though and fashion evolves and revolves, gone are the days of super sizing your t-shirt and jeans and in are the days where everything is fitted and flattering.
Skinny jeans for women started becoming popular again almost 10 years ago and the men followed soon after. Now it's got to the point where our clothes and jeans just aren't tight enough, especially for the guys. If the super skinny jeans for men just aren't cutting it, what's the next best thing? Women's skinny jeans for men of course. Now don't be alarmed when I say this! I'm not talking about going out and buying the most girly, blinged up pair of jeans you can find and rocking a feminine look if you aren't into that, I'm talking about making like the popular trend of celebrity men wearing women's jeans and making them fit with their wardrobe, so much so that you wouldn't even know they were women's jeans at all.
Buy women's skinny jeans online at: Shopbop | Revolve | ASOS | Topshop
Famous guys like the One Direction band members Harry Styles, Zayn Malik and Niall Horan all love women's skinny jeans and wear them on a daily basis, just to get that tight fit. Zac Efron recently took things further and went for the ultimate women's skinny, in coated black. The Only Way Is Essex star, Joey Essex, loves his women's jeans tight and you also have Russell Brand, Jared Leto, Mick Jagger… They all adore wearing women's skinny jeans and they look amazing wearing them. You wouldn't be able to tell these guys were wearing women's jeans if I hadn't mentioned it, I'm sure. So, check out these celebrity men in women's skinny jeans and let us know what you think!
Harry Styles in Paige Denim Women's Jeans
Harry Styles has become known for his love of Paige women's jeans. He was often spotted in the Verdugo ultra skinny as he always said he preferred his jeans to be super tight, so women's jeans were the only option. That makes sense. Since then, he's been loyal to the Paige brand for years, in fact we have only ever seen him out in his Paige jeans and nothing else. He's got quite the collection now! Given his look of long hair and tattoos, his jeans being this tight don't look out of place at all, in fact they suit him and he looks fantastic. I know many guys who favour Paige women's jeans when it comes to that perfect skinny fit. Not only because they are so comfortable and stretchy, but the minimal and classic design is perfect for going under the radar. You can buy Paige online at Shopbop here.
Zac Efron in Citizens of Humanity Women's Skinny Jeans
Now style icon, Zac Efron, recently jumped on the women's jeans bandwagon, going one further and choosing a coated style. We used to spot Zac in his Diesel and Nudie skinny jeans, but I think he decided that they just weren't tight enough for him anymore. A couple of weeks ago Zac showed up on The Ellen Show wearing a pair of the Citizens of Humanity Rocket skinny jeans in Black Leatherette. I applaud his choice here because if you are going to do coated, these jeans are the way to do it. I've owned them since 2011 and they are still a popular choice for people to buy these days. I even have a male friend who wears his own pair and loves them too since they look just like leather. I think Zac has definitely opened a door here for sales in women's coated jeans to soar! Buy these exact jeans online here.
Jared Leto in Saint Laurent Women's Jeans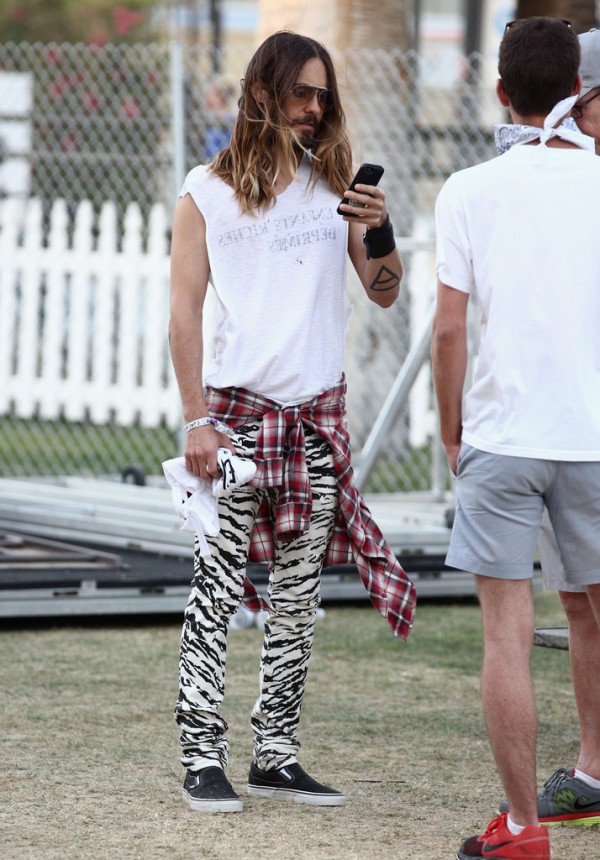 Jared Leto has always been known for his quirky and unexpected dress sense, but with his care free attitude, nobody bats an eyelid to what he wears as it's Jared, and it suits him. A little while back he showed up at the Coachella music festival wearing a pair of Saint Laurent Tiger print skinny jeans from the women's collection. Not only are these jeans nicely fitted on him and flattering to his legs, but the tiger print doesn't even overwhelm him. Not many guys are brave enough to delve into the world of printed denim as it can be quite feminine, but if you style a look like Jared has here, mixing other prints and masculine pieces with it, nobody will know the difference. Don't you think he's totally rocking these? These jeans are now old, but you can shop Saint Laurent for women online at Luisaviaroma.
Naill Horan in Paige Denim Women's Jeans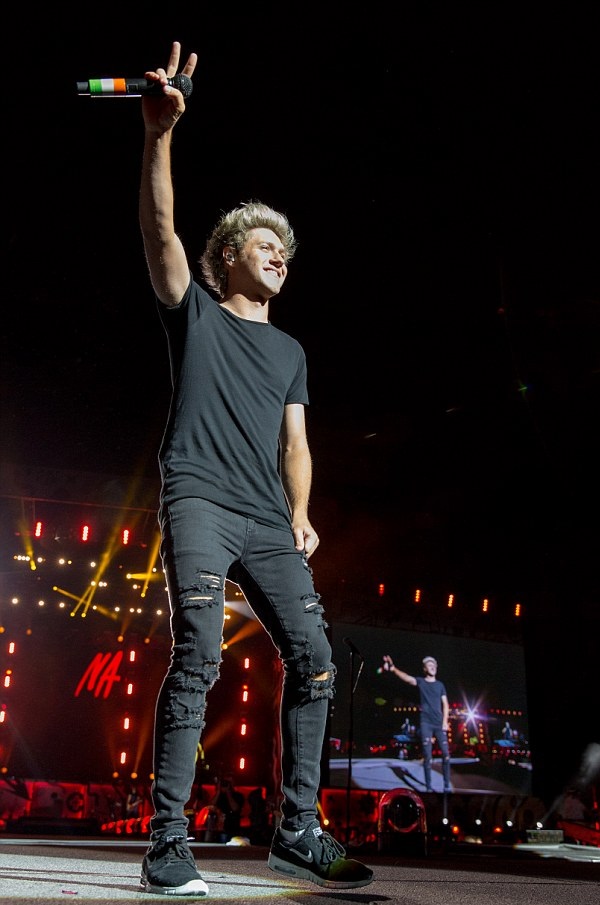 Following in the footsteps of best friend Harry Styles, Niall Horan from One Direction also tested out Paige women's jeans. Going for that ultra skinny fit, he opted for the Verdugo in Ramone Destructed above and also the Tristan blue wash, giving him the tightness he desired. Since these jeans fit in so well with his outfit and they look quite boyish with the distressing, there's absolutely no reason to suspect otherwise when it comes to the gender. That's the great thing about this era being all about fit, we just look for the perfect fit, what's flattering and that's it, gender doesn't come into it when it comes to clothes. Buy these jeans online at the Paige website.
Russell Brand in Current/Elliott Women's Jeans
Ladies man and rocker, Russell Brand, has been known to wear women's jeans for a long time as he always favoured that really tight fit. He's worn men's too, often choosing Neill Barrett jeans, but when it comes to women's jeans, he wore a pair of Current/Elliott Soho Zip Stiletto Jeans in Army Green, which like Zac Efron, also have a coating, but not as shiny. Given the dark olive shade of green that these jeans have, you wouldn't be able to tell they were women's at all, but you can see from the hip zippers and the super skinny fit that they are. With Russell's styling though, they just look like ordinary men's jeans don't they? Buy Current/Elliott online by clicking here.
Zayn Malik in Ksubi Women's Jeans
Ex One Direction band member, Zayn Malik, also opted for women's jeans like his band mates, but he didn't choose Paige. Zayn loves to wear the Ksubi Spray On Skinny Jeans in Carbon Black. Choosing a slightly slouchier fit and a dark wash like this means nobody can tell the difference if these are women's or men's jeans or not. He incorporated them into his personal style perfectly, even with the ankle zippers at the inseams, which are known on women's jeans quite regularly. You can buy these exact jeans in the sale here or you can shop the full Ksubi collection online here.
Joey Essex in Women's Skinny Jeans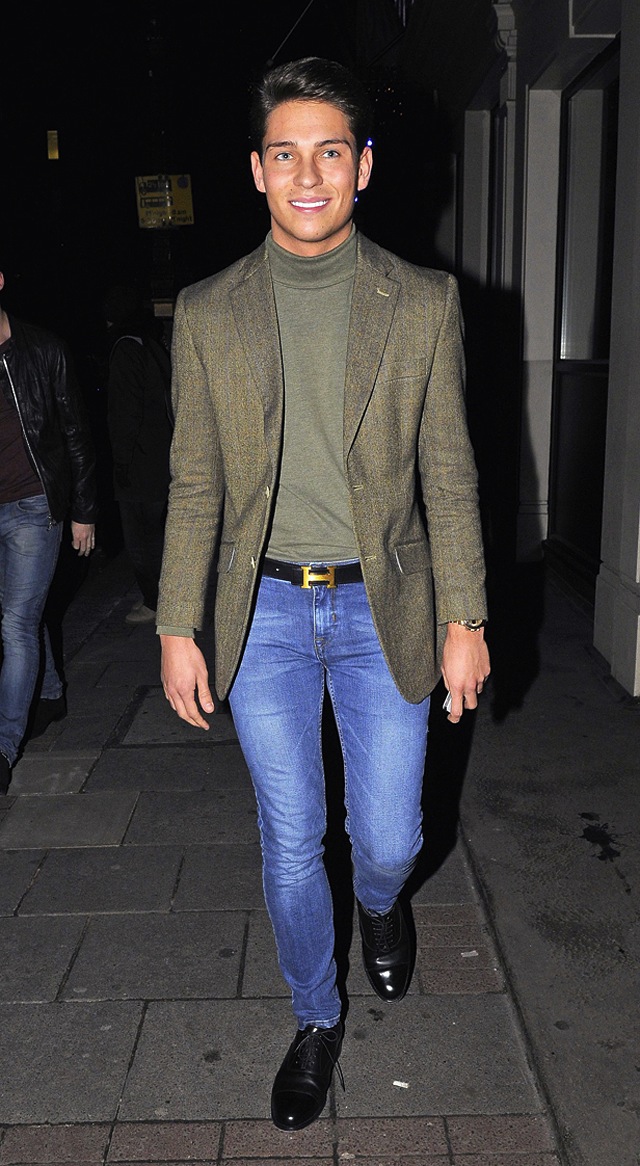 Reality TV star, Joey Essex, has always loved a tight fit. His personal style has always been quite out there, often opting for really tiny short shorts, bum bags/fanny packs and onesies, but he also adores skinny jeans. Joey is quite small and has a petite frame, so it's no surprise that he's chosen women's skinny jeans to get that ultra skinny fit. I'm not 100% sure on the brand of these since they are quite plain and I can't see the back pockets, but I know Topshop do pairs extremely similar to this, so that might be your best choice if you like Joey's look. Buy Topshop skinny jeans online at their website.
Mick Jagger in Coated Women's Skinny Jeans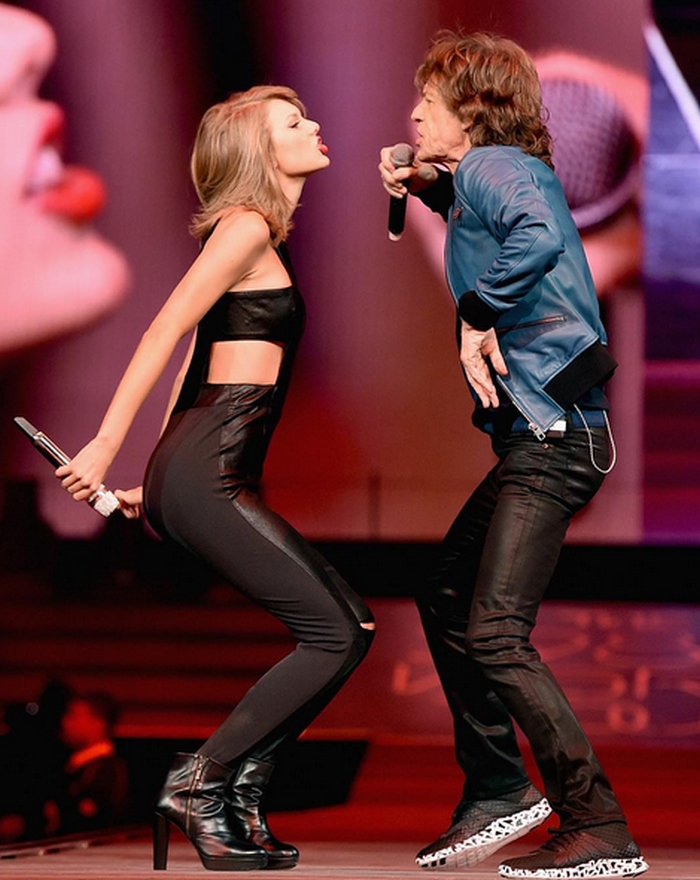 And finally, we have Mick Jagger. Mick used to wear J Brand women's jeans all the time, even their coated pairs, until the brand actually came out with a custom pair of 'Jagger' jeans for Mick himself to wear on his tours. Given how slim he is, I think choosing women's jeans is probably the best option for him as it means he can get that ultra skinny look. I know a lot of shorter guys often prefer women's jeans too because the rises on men's can be too high and uncomfortable, where as on women's, they are lower. You can buy J Brand women's jeans online by clicking here.
– So, if you are looking for some great women's jeans that are plain and inconspicuous so they suit your masculine style, I've recommended a few different brands to you below for their plain back pockets and simplicity in design. Nobody will know the difference. If you would like a more in depth post on the best women's jeans brands for men, do let me know! How many of you guys often wear women's jeans or are you thinking of trying them?
Best plain women's jeans: J Brand | FRAME Denim | Paige Denim | Citizens