Distressed Boyfriend Jeans
Denim trends come and go, but some really stick in my mind or carry on from season to season. I thought it would be a good idea to round up 6 of the best Summer denim trends, ones that I have fallen in love with and trends that are here to stick around for the long haul! Included in this list are the ever faithful boyfriend jeans, vintage high waisted denim shorts, short denim overalls, denim pencil skirts, light wash denim shirts and also the famous skinny cargo pants. All of these are trends that I love and adore and I don't think Summer would be complete without!
Now, getting to the first denim trend for Summer, I couldn't not include distressed boyfriend jeans first could I? They are a staple when it comes to the warmer weather and you can't get more Summery than a light pair of slouchy jeans with rips and shreds all over them. Not only do they keep you cooler in the heat, they also make a fashion statement as there are endless ways to style distressed boyfriend jeans! This can be as simple as some sandals and a tank or as structured as with a blazer, a shirt and some heels. They are incredibly versatile jeans and I think they will be here to stay as a Summer denim trend for years to come. Buy current boyfriend jeans online by clicking here and here.
Vintage High Waist Denim Shorts
Vintage high waisted denim shorts sort of hit it big this year, being worn by almost all of the bloggers and celebrities across the globe. The trend kicked off last year, creating way for people to be thrifty and do some DIY with their old Levi's 501 jeans, but this year it's sort of exploded. Anytime I see someone in denim shorts, it's guaranteed to be a pair of vintage Levi's or a pair of vintage jeans in general. I own 2 pairs of vintage Levi's shorts and I absolutely live in them when it's hot outside, pairing them with shirts, cropped tops, t-shirts and more! They are one of the most versatile pieces that anyone could ask for, so that's why I've included denim shorts as my second Summer denim trend! I'm positive they are here to stay and wont be going anywhere! Buy vintage denim shorts online here.
Denim & Chambray Shirts
Lighter wash denim shirts and chambray have been a classic and a staple for decades. Pairing them with jeans, denim shorts, even skirts and layered over dresses like a jacket, they are a must have when it comes to the Summer months. The lighter weight fabric helps keep you cool and often opting for an oversize fit helps keep things breezy! It's a trend that I can never get enough of and I own numerous denim shirts in all shades of blue as well as sleeveless, cropped and tie dye! You can guarantee that denim shirts will remain popular for as long as denim is popular, especially for Summertime! Buy denim shirts online here and here.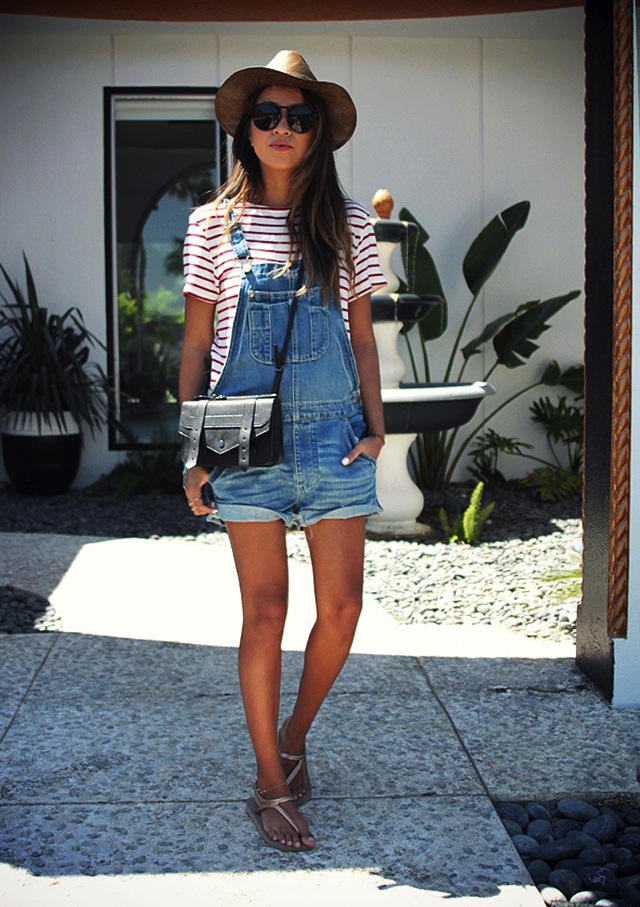 Short Denim Overalls/Dungarees
Now, the denim overalls trend is one that gets mixed reviews from many fashion critics. Some people love them and some people hate them, but I personally can't get enough of them. As long as you style them right, they can look chic and sophisticated and don't just have to be a throw back to the 90's or your toddler years. The trend started creeping back up last year, but for the Summer this year the short overalls trend has been everywhere! Celebs and bloggers have been living in their pairs and styling them in unique ways, with t-shirts and sandals, or dressier with shirts and heels. There's so many ways to wear short denim overalls and the best thing about them being one of the hottest Summer denim trends is the fact that they will transition into Autumn perfectly too! You can find out more in my how to style denim overalls for Autumn post for tips on how to wear them in the cooler months too! Buy denim overalls here and here.
Denim Pencil Skirts
Now denim pencil skirts aren't a trend that are going to hang around for years, but they are a style that I absolutely loved! They became popular this year, being worn with denim shirts and more by celebs such as Rihanna and Beyonce as well as some top bloggers. I think they are a much more sophisticated take on the early 2000's denim mini skirt trend and they look chic. Denim skirts often come with a stigma and it can be hard to break away from, but when the styling is done right, like it is above, they can look absolutely amazing! When it comes to denim, I'm always adventurous and one to accept new trends and try out new styles, so I am hoping that the denim pencil skirt trend might stick around for a little while longer! Buy denim pencil skirts here and here.
Skinny Cargo Pants
Remember the skinny cargo pants trend that kicked off and took over the denim world by storm in 2010? It's still a trend I adore and love! J Brand released their Houlihan pants and the whole denim world went nuts for them! So many celebs wore these, I hadn't seen a trend so popular in a long time! It's died down a lot now and barely anyone wears skinny cargo pants anymore, but it's one that I had to include just because of the magnitude of it when it happened. I still own numerous pairs of skinny cargo pants, 3 pairs of Houlihans and 1 pair of Agnes, both from J Brand, but I also own pairs from Vince, Rich & Skinny and more! I'm hoping that the trend might come back around soon, but even if it doesn't, I still wear mine without an ounce of worry! Buy similar cargo pants online here and here.