It's undeniable that Levi's is the most popular denim brand there is, and even though it took a bit of a backseat between 2000-2010, the brand came back stronger than ever a few years ago and it's pretty much the only one we see out and about on celebrities and bloggers, as well as in the street. Either their newer designs, or the vintage options that are beloved, but the point is, Levi's is the number 1 and I think it always will be! With that in mind, and while we get our Summer checklist up together, I've rounded up 8 pairs of Levi's Jeans that are perfect summer options!
First up, above, is a classic pair of Levi's 501 Jeans, but their the original cropped patch style! I think these are ideal as the 501 is the ultimate pair of jeans and this wash is breathable with lots of distressing, which just makes me think about summer entirely!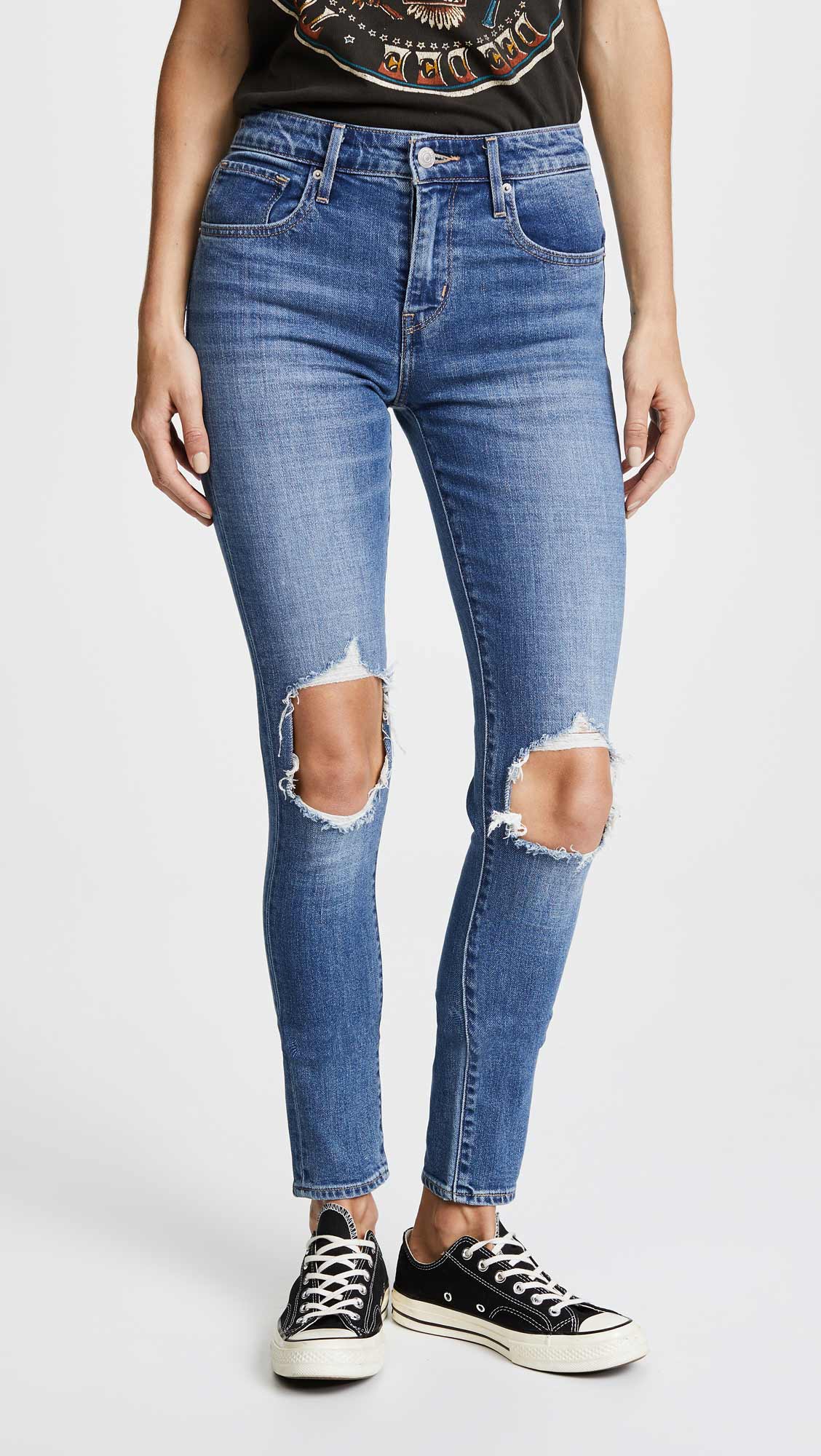 Next up is the classic 721 with blown out knees! I've seen these on a lot of bloggers, and I also owned them for a while, but the knee holes were too much for me and they ran a bit small, so I suggest sizing up on them. If you have the right shape for the 721, I recommend them!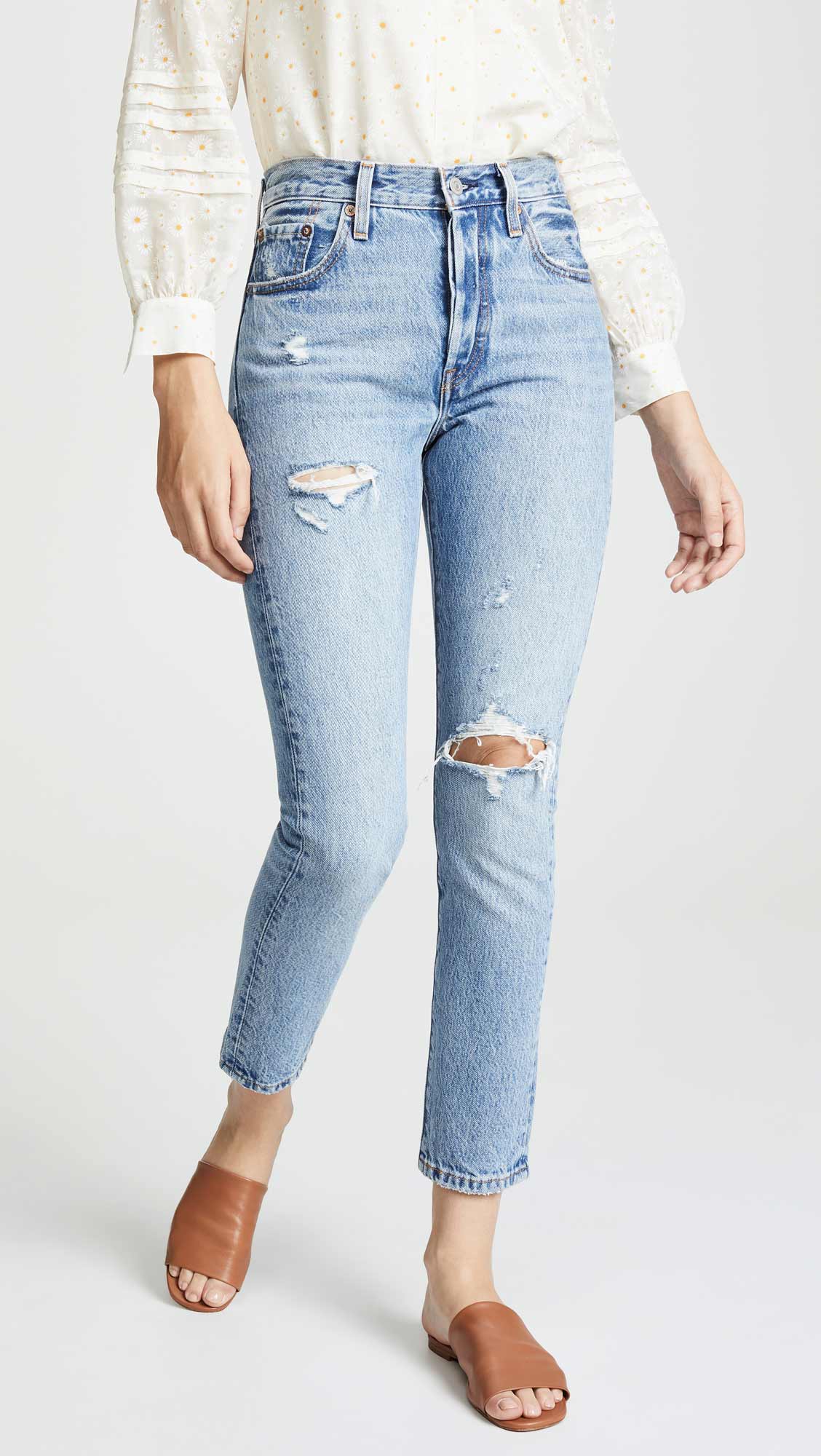 Now the 501 is often too baggy for a lot of you, so they introduced the 501 Skinny a while ago and it's been a huge hit! This wash is just stunning and I absolutely adore it, and it's been on my wish list for ages, I'm just apprehensive as I prefer my jeans to be super stretchy and since these have a more vintage inspired denim, I haven't yet bought them, but for those of you who love original, sturdier denim, these are just gorgeous!
Now the Mile High is one cut that I've had a lot of friends rave to me about. They say it's one of the most flattering high rise skinny jeans they have worn, and I do agree with that based on how they look. I've often been tempted to try them, so I might be giving them a go soon! There's numerous washes available, but I thought this darker blue was pretty!
Another newer cut is the Ribcage Super High Rise and that means that these jeans have a rise of just under 12″, so they're going to go over the belly button, which might be cool! I'm not so sure I love the flared leg for me, as you know I prefer the skinny styles, but I do love a high rise! The name of this wash 'Haters Gonna Hate' is cool too!
Another Mile High option from Levi's here, but this time in a light blue wash which I think is perfect for the warmer weather and wearing with white, or your bright colours. These also look really flattering, so perhaps this wash might be the pair I give a go!
The Wedgie Icon is one that is either loved or hated, and I'm including it here for those of you that love it! They are designed to give you a butt lift and showcase a vintage design, but if you're not familiar with 100% cotton, rigid denim that's worn tight, keep that in mind when you get them that they do require a lot of breaking in and wearing down! Once you do, you will love them!
Finally, the last option, but by all means not the least, these are the Barrel jeans from the Made & Crafted line. I fell for these when I saw the slightly tapered boyfriend fit they have to them, but the wash was also really beautiful, so I thought these looked ideal for the heat! Nice and breezy! Have any of you tried this particular cut?
– So, these are the 8 Levi's jeans that I think are best and a must have for Summer! You can't go wrong with these jeans, but stay tuned for more Levi's posts coming soon! Just click the links below each image to buy the jeans!
*This post contains affiliate links to help keep this blog running.