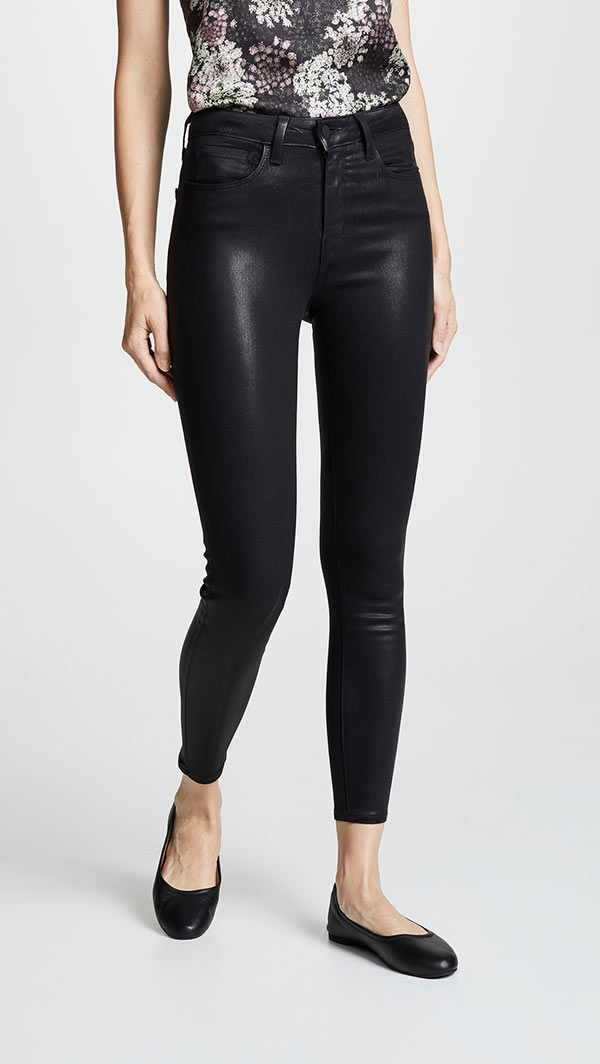 L'AGENCE Margot Skinny Jeans in Coated Black
It's the time of year for coated jeans! Everyone loves to pull out their leather look denim for the Fall months, myself included, because they just give that extra element to any outfit. Coated jeans often feel appropriate for the holiday season, but they start gaining popularity right about now, and I couldn't be more excited to see what's on offer! I've rounded up 6 different pairs of coated jeans for Fall 2020 and these will take you into the Winter months of 2021 as well! There's some jeans here that I need!
First up, we have the L'AGENCE Margot Skinny in Coated Black. I swear by this cut from this brand as I have about 7 different pairs and love them all. It's such a flattering fit. I own this specific pair (hence why I included them first) and they are literally the best coated jeans I own! I used to swear by the Citizens of Humanity Rocket in Leatherette, but these are my new go to! They're super stretchy, incredibly comfortable, and the coating is really shiny! They're perfect!
FRAME Le Skinny de Jeannes in Noir Coated
Next is a pair by FRAME and I included these as FRAME always have a fantastic and flattering fit. The coating seems a little bit more subtle on these, but it's not without its shine. Pairing a black blazer with these jeans, finished off with a silky shirt and some heels? You can't go wrong!
Joe's Jeans The Charlie Ankle Coated Skinny Jeans in Cocoa Bean
Black can sometimes feel too smart and classy, so you need something that's more suitable for the daytime, with a casual vibe. Brown works perfectly for that and these Joe's Jeans are ideal! The coating looks really luxurious, but not too shiny, and the raw hem is a take on coated denim that we just don't see all that often! I would wear these a lot if I owned them!
L'AGENCE Marguerite Coated Skinny Jeans in Deep Ruby Cont Coated
What screams the holiday season more than coated red? Nothing! I haven't yet tried the Marguerite cut, but if it's anything like the Margot, you will love it! It just has a longer inseam, which isn't suited to me as I'm short. This coated red is amazing though! It would be the focal point of any outfit and you will be sure to stand out from the crowd in these!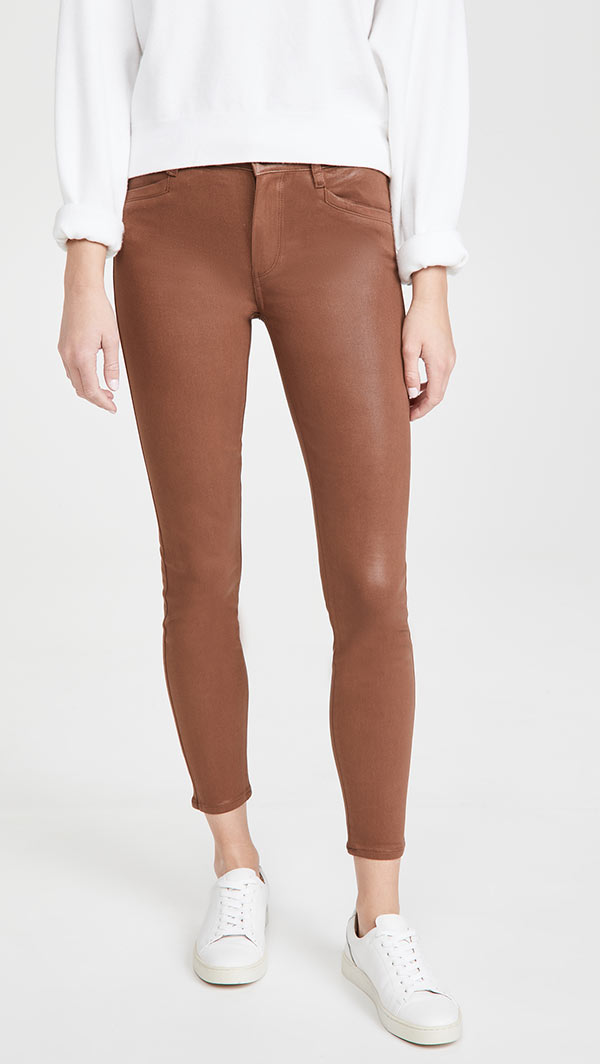 PAIGE Hoxton Ankle Coated Jeans in Cognac Luxe Coating
If the brown pair from Joe's Jeans isn't to your liking, there's a lighter pair with a finished hem from PAIGE here and I think they're equally as gorgeous! I know PAIGE does her coating a little thinner than other brands and it's not as shiny, so it's more of a subtle take that's easier to wear, so these could be perfect for you if you're looking for a Fall jean to wear with sweaters and sneakers!
L'AGENCE Margot Skinny Jeans in Java Coated
Then finally, we have the Java Coated Margot! I own these jeans as well, and they're amazing! Just like the black pair at the top of this article, the coating is really luxurious and of great quality, but this colour is much more unique. It reminds me a lot of a mustard or a light peanut butter shade. They're really fun and even though they're not as versatile, they scream Fall to me!
If you need to know how to wash coated jeans and look after them, you can check out a previous article that I wrote as you might find it useful. Otherwise, which pair of jeans do you love?