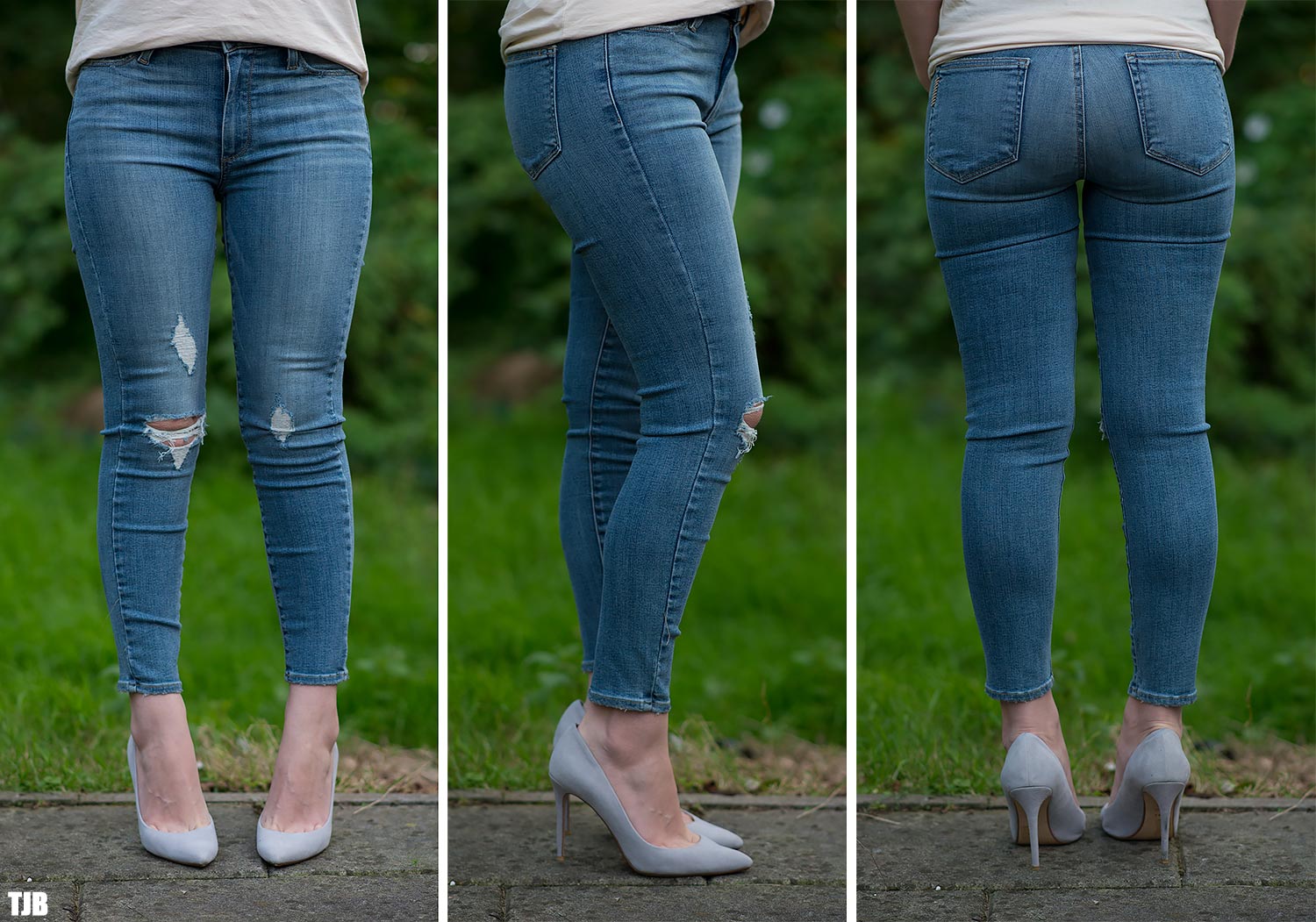 My denim review this week is on the PAIGE Hoxton Crop Skinny Jeans in Sienna Destructed which I got from the brand last week. This is a pair of jeans that I am giving 10/10 to for the first time in a while, and you can find out why below. I'm loving them and have been living in them since they arrived, and I can guarantee I have not been paid to say that as I pride myself in keeping all my reviews genuine, as you know. Sorry it's not a double review today with Adam, but these jeans are too short for the taller guys as they come with a 26″ inseam, but hopefully we can do some more joint ones soon! In the meantime, check out my review below and find out why I'm singing praises for these jeans and why you need them too!
The Cut & Fit
These PAIGE Hoxton Crop Jeans are a fantastic fit! They feature a 10″ rise, an inseam of 26″, and a leg opening of 10″, so you can see they are a high rise, cropped skinny jean which fits really close to the legs. Rises like this are my favourite as they are tall enough to hide any muffin tops that you might worry about, they prevent any builders bum, and they look incredibly flattering with shirts when you tuck them in. Since I am shorter and have a shorter inseam, the 26″ leg length hits just above my ankles as you can see, so they are actually a jean that I can wear cropped without having to cuff them! That's a huge bonus for me as usually the cropped lengths fit me as a full length. I often find that cropped jeans can be flappy at the leg opening too as they're designed to sit a bit higher up on the calf, but these aren't, they're perfectly skinny! Also, with regards to the back pockets, PAIGE is known for making incredibly flattering back pockets and these really sculpt and lift the bum to make it rounded, which is of course so important!
The Size
I'm usually a 27 in PAIGE and that's the size that I took in these, and they fit like a glove. They're a little tighter in the waist, but that's mostly due to my own stomach bloating issues. So I would say they run completely true to size for PAIGE and it's best to get them fitted and tight as they're a super stretchy material which doesn't look so good when it's loose.
The Wash
The wash was what I was drawn to when I saw these jeans. It's called Sienna Destructed and it's a beautiful faded mid blue, with more of a grey undertone to it, or a sandy undertone, so it's not completely blue. It's got subtle lap whiskers, faded thighs, and a slight fade around the butt, however the most interesting part is the distressing. The right leg has 2 distressed holes, and the left one has a little graze, all at the knees. I was literally overjoyed when I saw these knee holes actually fit my knees! I'm so used to them sitting just below my actual knees, so if you're on the shorter side like I am, these will be ideal for you! The holes are done authentically too, so they look really worn in, especially the large one at the knee.
The Denim/Comfort
These Hoxton Crop Jeans are made from the brands famous TRANSCEND fabric, but a newer version from the collection called VINTAGE TRANSCEND. It offers luxurious comfort, super stretch fibers and authentic washes, just like this one. TRANSCEND VINTAGE is the best of both worlds with the look of vintage denim and all the benefits of TRANSCEND's stretch technology. They're made of an 11.25 oz denim, which has a composition of 66% Cotton, 22% Polyester, 9% Rayon, and 3% Elastane. I'm sure a lot of you are familiar with this fabric now, but if you're not, it's a super stretchy, elasticated denim which moulds and hugs your body, meaning you can dance around and stretch in them without restriction, but the difference is that it's designed to not stretch out. It's incredibly comfortable and I could live in this particular pair all day! If you're worried about the polyester being scratchy though (I'm sensitive to it too), it's not on this pair as the denim is so soft, you can't even feel any discomfort or irritation from it at all.
The Details
There's next to no details on these jeans as they're plain and simple, just featuring the classic PAIGE branded stripes on the side of the back left pocket, and a simple leather patch on the back with the brands logo. Other than the distressed areas I mentioned, and a 5 pocket styling, they're really classic and minimal. The stitching is an orange shade, so it's contrasting, and the hardware is tonal, so everything blends in really well.
Overall Opinion
Honestly, my overall opinion of these jeans is so positive, I'm currently living in them! When I got them, I thought the wash was really pretty and something that I was lacking in my collection of newer jeans from this season, as most styles with distressing have looser fits now. The fact that the Sienna Destructed came on a high rise, cropped skinny jean, which just so happens to fit me to perfection in every way possible, I couldn't have asked for more. Plus the jeans are so stretchy and comfortable, I'm pretty certain you would be living in them too if you buy them. I can't recommend them enough, and I'm always honest with what I say in my reviews and like to include some negatives too, but I couldn't find any with these at all. Perhaps the stitching could have been dark blue instead of orange, but that's only if I am being incredibly picky. They're a 10/10 jean for me.
Shop these PAIGE Hoxton Jeans at PAIGE.com for $239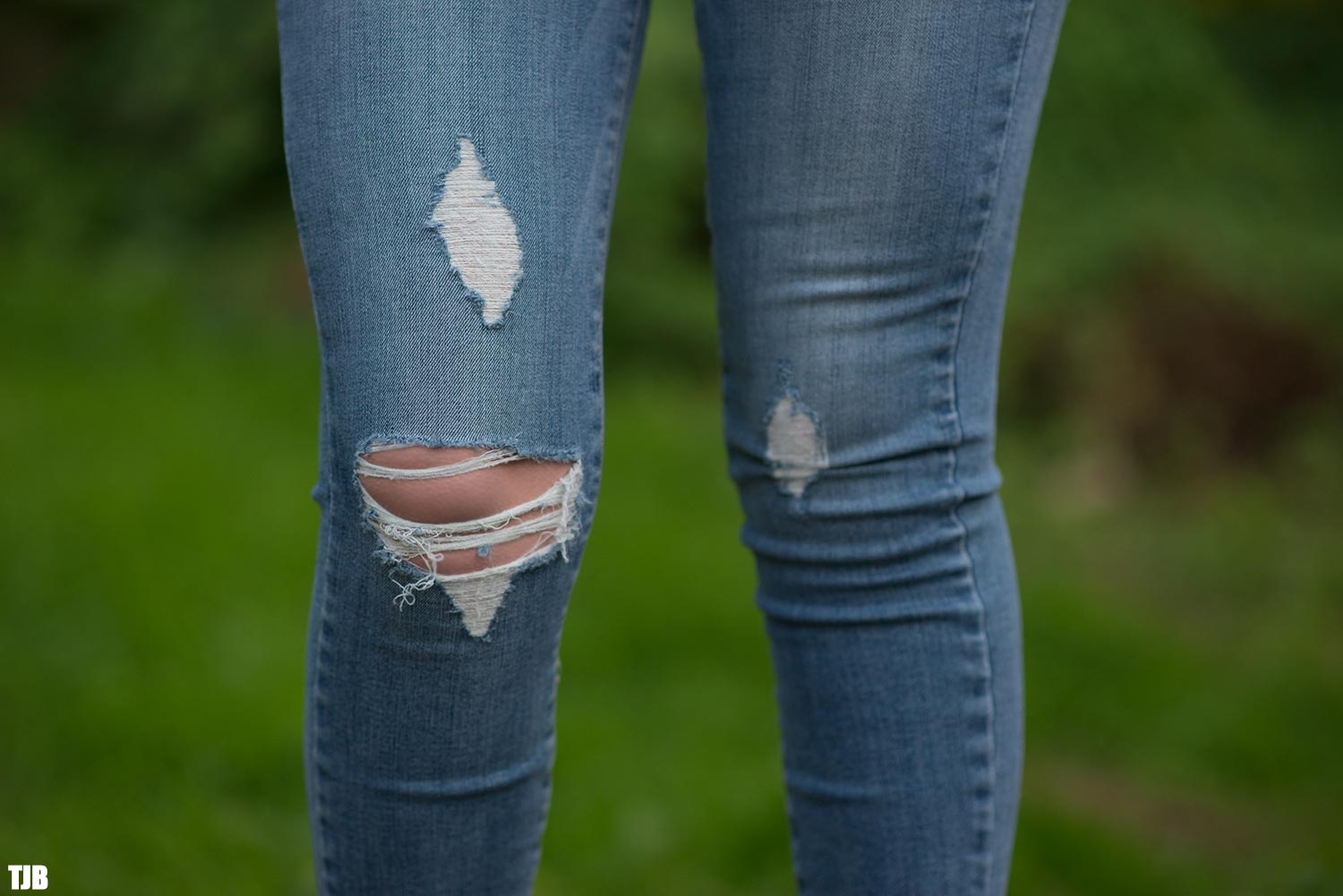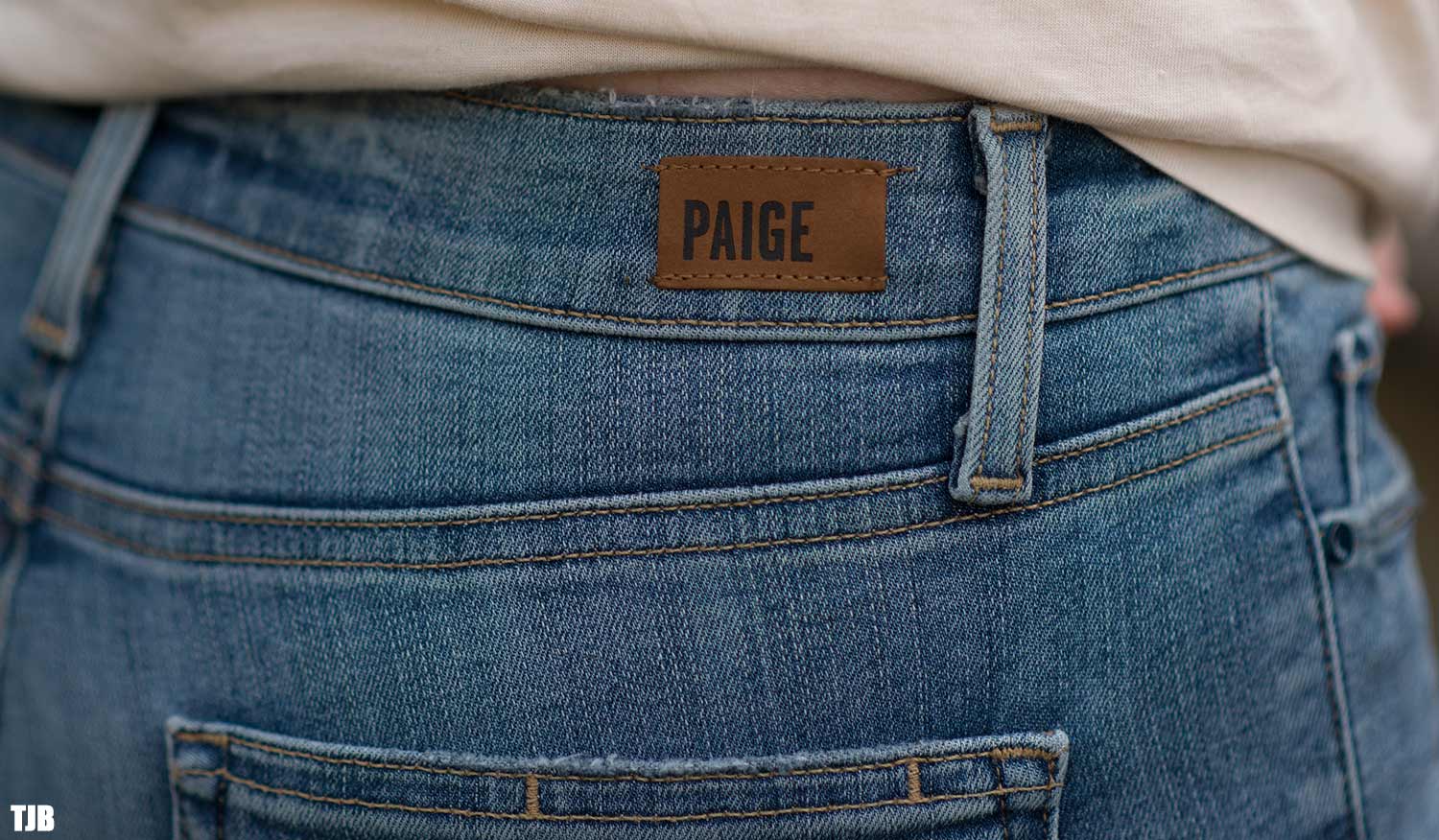 Jeans courtesy of PAIGE / Opinions all my own.