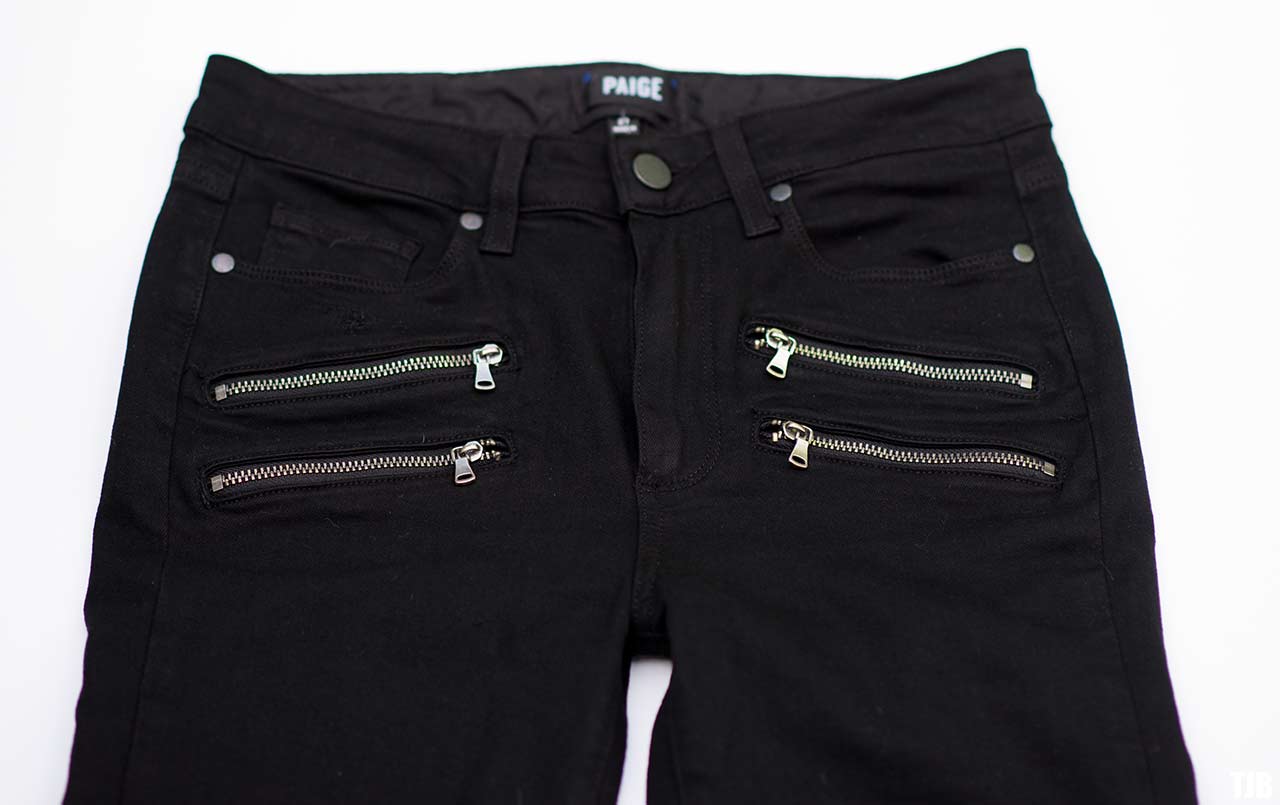 My denim review this week is on the PAIGE High Rise Edgemont Skinny Jeans in Black Shadow. I've been a huge fan of the regular Edgemont cut for years, since it was first released back in 2011 (wow, it was really that long ago?) so when I saw that PAIGE has recently released a high rise version, I knew I had to jump straight on those. I've got quite a few washes in the Edgemont in general, but I never owned a black version and since I generally prefer higher rises these days, these seemed like the perfect pair to try. Not to mention they are made with the TRANSCEND fabric, so that's a bonus.
The Fit: Unlike the regular Edgemont which has an 8 inch rise, the High Rise Edgemont features a rise of 10.25 inches, so you can see it's much higher. The inseam is around the same length at almost 30 inches and the leg opening is 10.75 inches, so it's just a little bit larger than the normal one which is 10 inches. The fit doesn't differ hugely, it just has a higher rise and a slightly looser ankle. One thing I did notice though is that the back pockets are still positioned in the same place, they haven't been raised higher like a lot of brands do on high rise jeans thankfully, so they are extremely flattering on the butt still. All in all, these are a classic high rise, skinny jean.
The Sizing: In terms of sizing, I will admit that I have gained a few pounds over the past couple of months since being on medication which I have now stopped. But I can say that these run true to size for PAIGE. I have a 27 in her TRANSCEND fabric as it's comfortable for me, so I took a 27 in these too. I did used to be a 26, but since I gained the weight, I'm a fairly true 27 these days, so that's how I know they run very true to size. Don't worry about getting the sizing wrong on these as the TRANSCEND fabric is extremely soft and stretchy, so it's best to have them tight to begin with and not looser or fitted as they will stretch a bit.
The Wash: There's not much to say about the Black Shadow wash here except for the fact that it's been a part of PAIGE's collection for many years, in various cuts. It's gorgeous though as it's a beautiful, dark black which doesn't have any undertones to it. Usually black washes tend to have silvery or golden undertones from the denim underneath, but these are pure black and it makes them extremely versatile! The stitching is tonal in a black/dark grey shade too, so there's nothing to stand out and take the attention off the black at all.
The Denim: You have probably heard all about PAIGE's TRANSCEND fabric before (Adam even reviewed their men's jeans) but for those of you who haven't, it's the brands innovative fiber technology that promises a luxuriously soft feel, comfortable fit, and unyielding support. The denim moulds to your body shape and shouldn't stretch out and get baggy due to the stretch in its make-up, so it's incredible. I fully agree that it's soft, much like sateen or silk, and is incredibly comfortable and gentle against the skin, despite it having polyester in it (it's denim content is 54% rayon, 23% cotton, 22% polyester & 1% spandex for reference) as I think the rayon is what makes them so soft. The stretch is fantastic too as you can really pull them and watch them expand before your eyes, so I can honestly say I haven't been uncomfortable in these once. They are wearable all day even if you move a lot.
The Details: Now the only details these have are the 2 hip zippers at either side, which are of course a trademark of the Edgemont. You can see that these 2 silver zippers are positioned on a tilt so that they slope downwards on the hips. This is really good because it means they are much more flattering and give a bit more dimension to your figure, which is important. PAIGE always works with the contours of the women's body when it comes to her designs, so even little details like zippers are never left out. Everything else is tonal and minimal, so it's only the zips that I can speak about for the details today.
Overall Opinion: My overall opinion of these jeans is great. They are made from a thicker denim than the usual TRANSCEND that I'm used to so they will be really good for Winter coming up. I know some of the super stretchy jeans are often very thin and that's not great when you live in a cold climate for 70% of the year, like the UK. I find them to be flattering all over, even with the detailing, but I would say that for me personally, since my legs are shorter, I would like the inseam to be one inch shorter and the leg opening to be one inch tighter, so they are a sleek, skin tight ankle skinny jean. That's my only complaint, but I can hope that PAIGE will release a High Rise Edgemont with a tight ankle fit in the future! Have you tried these jeans?
Buy These Jeans at PAIGE for $229