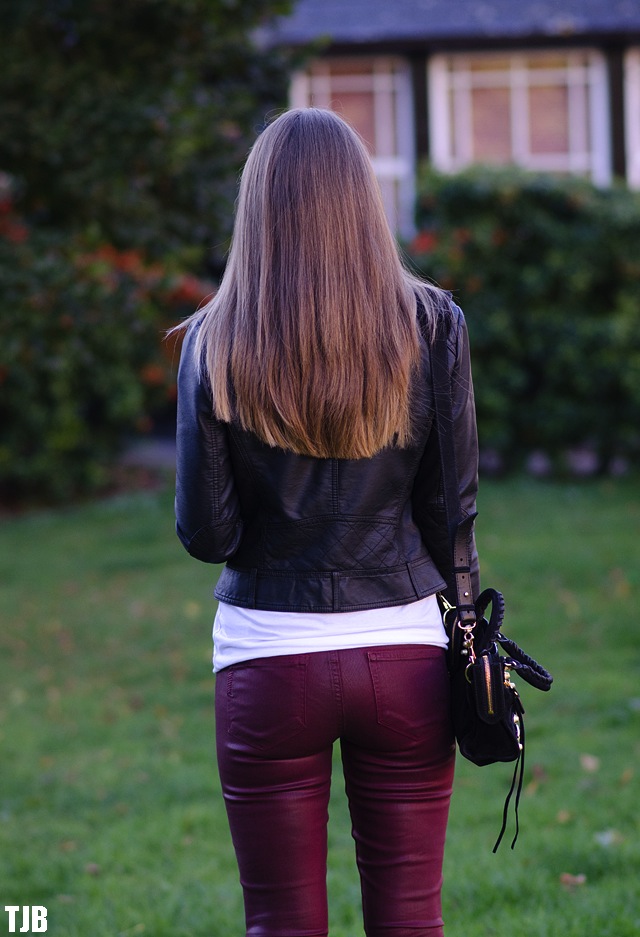 You recently saw my interview with the lovely Derek and Allison at Zappos, kicking off our five series collaboration together, so what's up next? A styling of the gorgeous Paige Denim Verdugo Ultra Skinny Jeans in Shiraz Silk Coating!
As most of you know, Paige is one of my favourite brands and she's a lovely lady, she's the first denim designer I met and befriended at the beginning of my denim career, so I'm always fond of her brand. This is why I'm super excited to be styling these jeans! Burgundy is a weakness of mine anyway and I own multiple pairs of burgundy jeans, but there's one thing about Paige's coated denim that just makes them feel luxurious and special, especially combined with the amazing fit that she has, so you can definitely tell that I would be obsessed with these jeans!
I received them in the mail a couple of weeks ago and I was wondering how I could style them, but I thought what better way to showcase them than in the most classic way possible and true to my usual style? Pairing them with a faux leather jacket, a scarf, white t-shirt and black ankle boots just seemed like the way to go as mixing burgundy with black is a favourite of mine. If I were to get the black version of these jeans, I would probably go with a burgundy blazer as I think the pairing of those two shades is perfect too.
The colour of these Shiraz Silk Coating wash is a really intense, rich, deep burgundy with purple undertones to it, just as I like it! You can see in the photos below of the jeans laid flat just how pretty it is. It's definitely one that I could just stare at, but when it comes to styling options, I think the list is endless! Working with Zappos has been fantastic and I can see myself wearing these jeans with black blazers and heels, white or navy sweaters, ankle boots, scarves and more! Despite them being a waxed burgundy, they are extremely versatile and definitely a pair that you could keep in your closet as a staple.
Unfortunately these jeans have sold out on Zappos now (yep! They are that popular!), but they will be coming back in stock soon! In the mean time, why not head over to the Paige website and purchase these exact jeans there. I think they would look fantastic styled in a similar manner to my outfit here. I would love to know what your thoughts are on these jeans and the outfit that I put together!