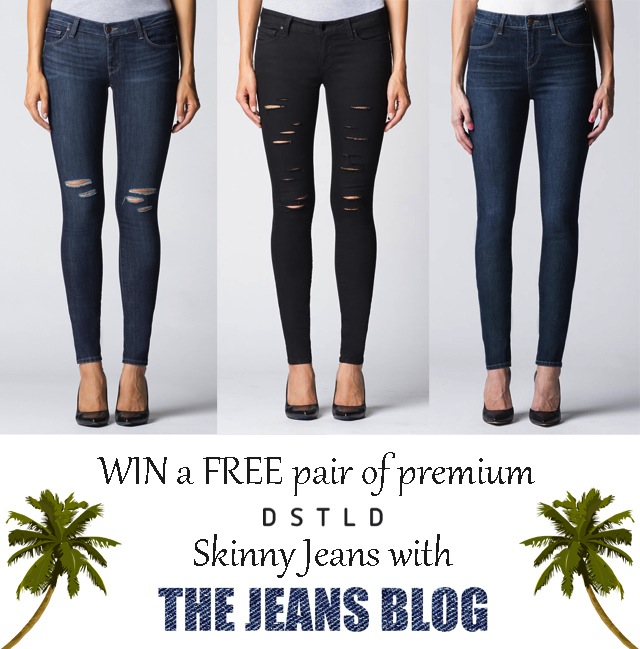 I'm really excited to be bringing you a brand new jeans giveaway! The Jeans Blog has collaborated with premium denim brand, DSTLD, to give away a pair of their skinny jeans to one lucky winner! You can either choose from the three options above (these are my favourites) or you can pick a pair of your own choosing from the website!
DSTLD (pronounced 'distilled') is a newer denim brand which specialises in premium denim jeans for under $100, avoiding the unnecessary mark up in the middle and selling directly on their website. So you are getting the same fantastic quality, based out of the United States, for under $100!
So, how do you enter this giveaway? It's simple! All you have to do is follow both The Jeans Blog and DSTLD on Twitter (click names to follow) and then tweet this entry:
#CONTEST – RT & Follow @TheJeansBlog & @DSTLD to WIN a FREE pair of premium DSTLD Skinny Jeans! http://wp.me/p4GFIT-A9 #giveaway
It's as easy as that! The giveaway will be open for 12 days and will close on Monday 10th November at 11:59:59pm BST. The winner will be chosen by DSTLD from those of you who have entered correctly by following both Twitter accounts and tweeting the entry. You are welcome to enter as many times as you like to increase your chances of winning, but please don't spam your entries. You can also follow The Jeans Blog and DSTLD on Facebook for a bonus entry if you want to! The winner will get to choose a pair of jeans from the website up to the value of $85 (that's most the site), subject to availability. Good luck to everyone that enters and a huge thank you to DSTLD for holding this giveaway with us!