Hudson Nix Lace Up Skinny Jeans in Mercury Hail Denim Review
My denim review this week is on the Hudson Nix Lace Up Skinny Jeans in Mercury Hail. I had seen these jeans numerous times online and had slowly fallen in love with them, so I was elated when I got the chance to review them and test them out for myself. I've been a fan of mostly classic jeans lately, so I'm venturing back into the fun pairs to aid my boredom with plain washes, and these fit the bill perfectly.
The Fit – The Nix cut is a high rise, cropped skinny, which is extremely flattering. It features a 9 inch rise, a short inseam of 26 inches, and a leg opening of 9.5 inches. I'm sure the leg opening could be made wider though if you made the laces looser. As my legs are shorter, they hit just on my ankles for me, which is ok, but I would prefer them to be perhaps 1 inch shorter, but that's the joys of being small! I love where the rise fits, I love the back pocket placement as it's extremely flattering too. It's just a good fit all around. I will say keep in mind though that if you have shorter legs than me and a 26 inch inseam is full length on you, you might not want to get them as with the lace detailing, they can't really be hemmed and wouldn't look so good bunched up.
The Size – I took my usual size of 26 in these Hudson Nix Jeans and they fit perfectly. A little snug at first, but a good fit. If I were to compare them to the Barbara in Hideaway though, these run a bit smaller as I find the Hideaway to fit big. In general Hudson sizing, they fit true to size though. I have a feeling they will stretch out a bit, so make sure they are snug to begin with or the lace detailing might look sloppy.
The Wash – The Mercury Grail wash itself is like a washed out black, but it's coated as well. I wouldn't say that it's coated all over though to create a whole leather look, but it is in places, in a milder way, just to give the jeans more depth and edge to them – which is a good middle ground. You can see what I mean in some of the photos as I managed to get the light to shine on the waxed areas. As black washes go though, I really like this one as it doesn't look pitch black, it's more casual, making it easier to style and more suited to the lace bows as it doesn't make them too smart or feminine.
The Fabric – The denim is a mixture of 43% viscose, 33% cotton, 17% lyocell, 5% polyester, and 2% elastane. It's a thicker weight than the Barbara in Hideaway and a bit thicker than other brands are using at the moment too. It's not a super stretch denim and it's not a jegging, so I would put this fabric in the realm of a modern day stretch skinny. They are very comfortable and they aren't restricting at all. The polyester is minimal as well so if you're worried about itching skin because of it, that doesn't happen. I have a sensitivity to polyester too and it scratches my skin, but these don't, thankfully!
The Details – Now getting to the details of the jeans, obviously they are minimal all over with the standard flat back pockets (no flap) so I would compare them to the Nico in fit, with a shorter inseam, which means they are very classic and plain. Even the usual Union Jack flag rivet on the coin pocket is entirely black, as is the Hudson fabric tab on the top right back pocket. Even the waxed coating (like I said) is minimal. This all makes way for the gorgeous lace cord which is woven into the outerseams at the calves. Depending on how tall you are, the lace starts at mid calf and stops at the ankle where it's tied into a bow. The seams of the jeans are finished and hemmed, so the lace threads through eyelets which are in the denim. They just look so cool and this is what attracted me to the jeans in the first place!
Overall Opinion – My overall opinion of these Hudson Nix Lace Up Skinny Jeans in Mercury Grail is extremely positive. I did mention I would like them to be a little bit shorter, but that's purely because my legs are short. Also, if front pockets are a must for you, these are faux, which I thought is important to mention. The fit in general is a fantastic, flattering, high rise ankle skinny, with beautiful lace up detailing at the ankles which makes them unique and pretty. The coating is a great touch and I love that the jeans are simple and minimal, making the lace the focal point of them. They're extremely comfortable too and I can't wait to wear them with an outfit I have planned for the new year! What are your thoughts on these jeans? Do you own them too?
Buy these Hudson Jeans at Shopbop.com for $225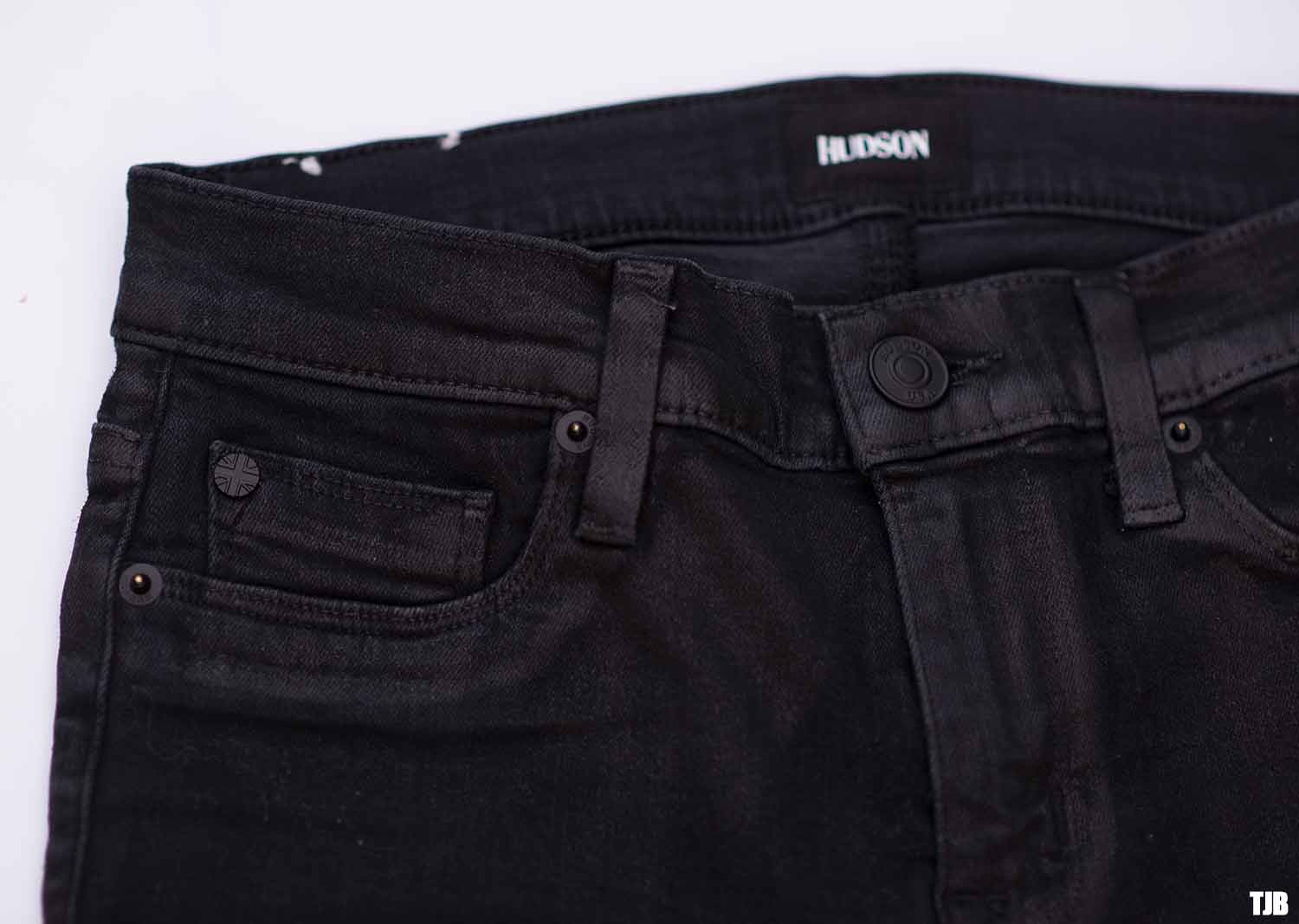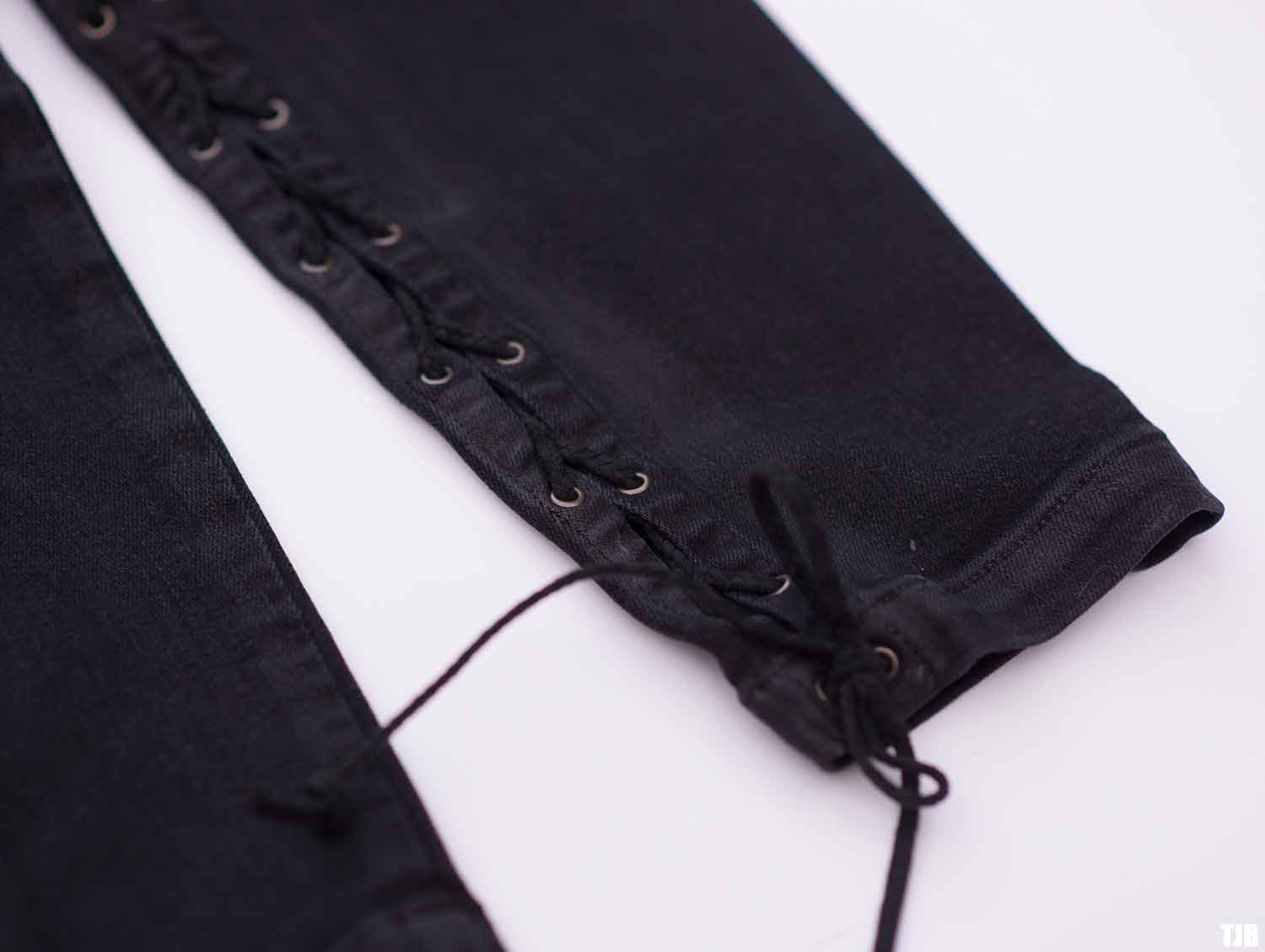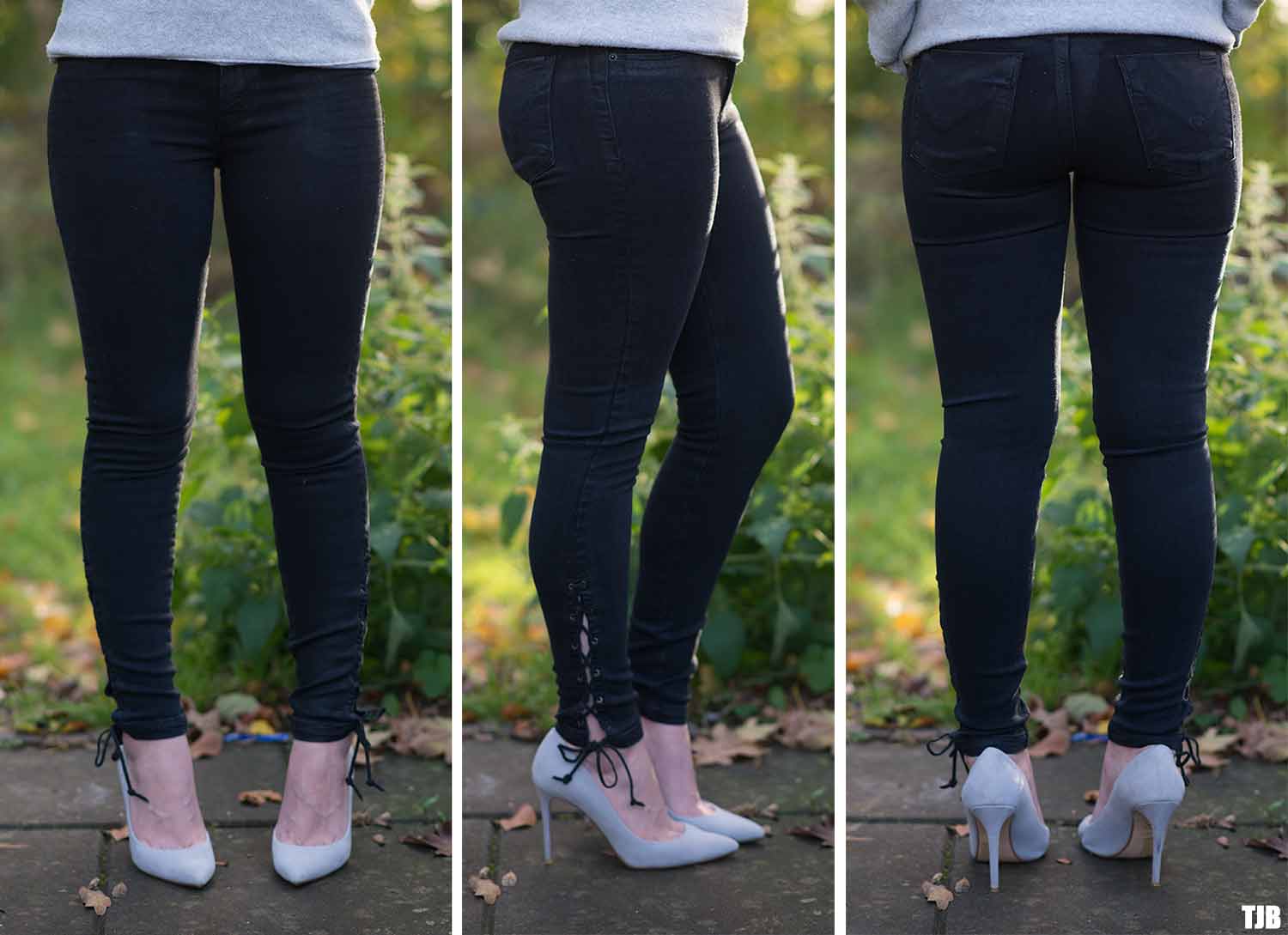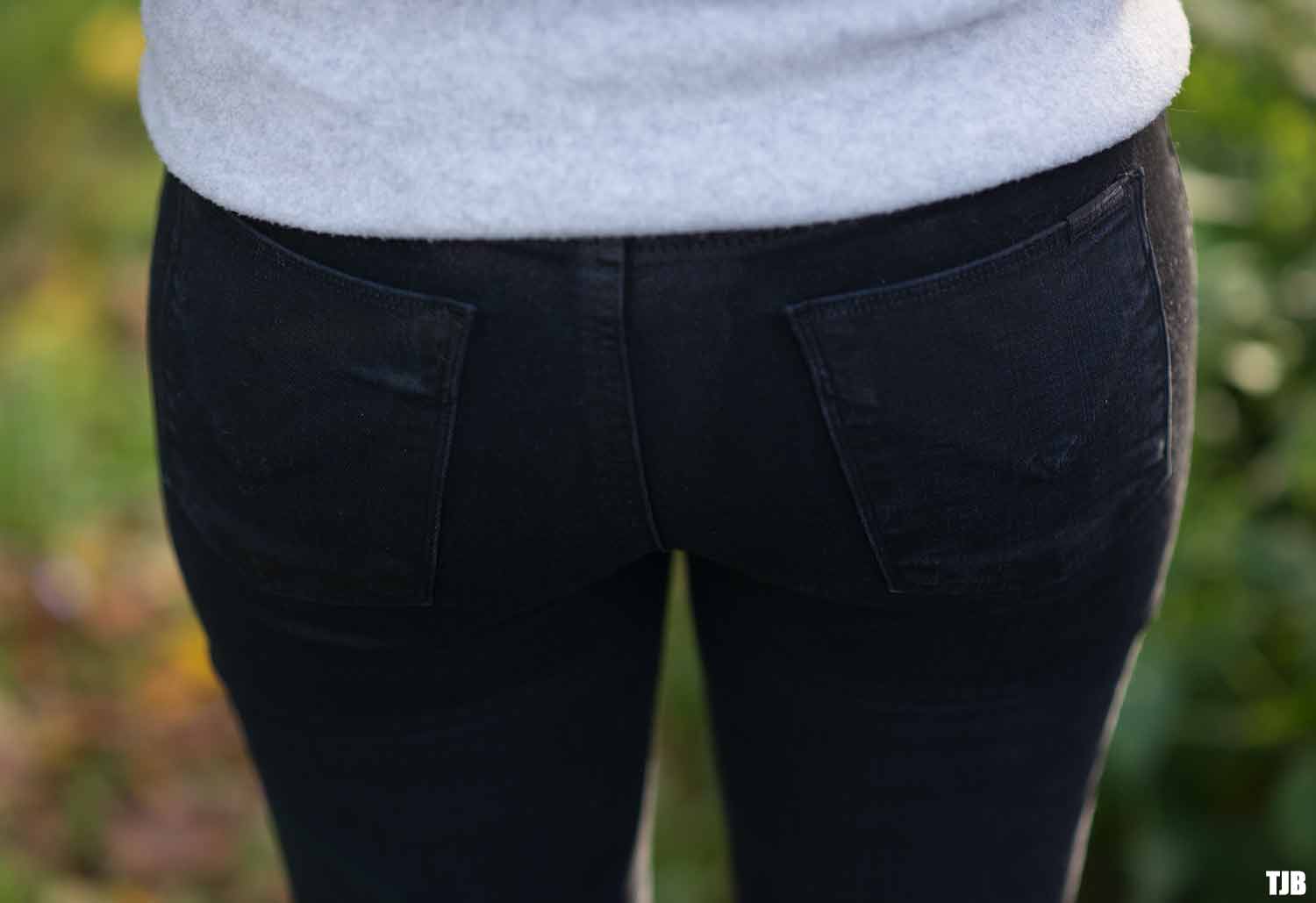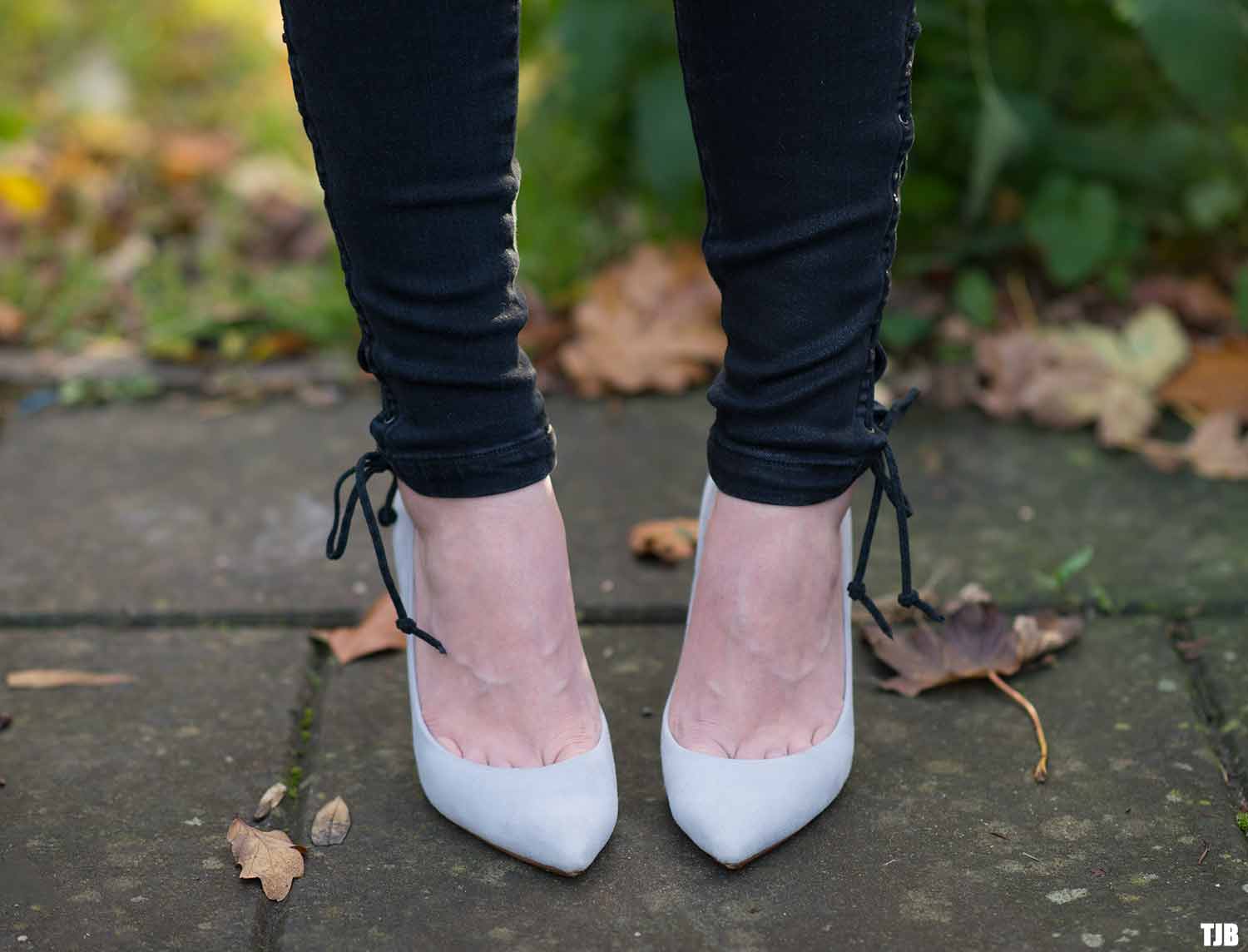 Jeans courtesy of Hudson/Opinion all my own.