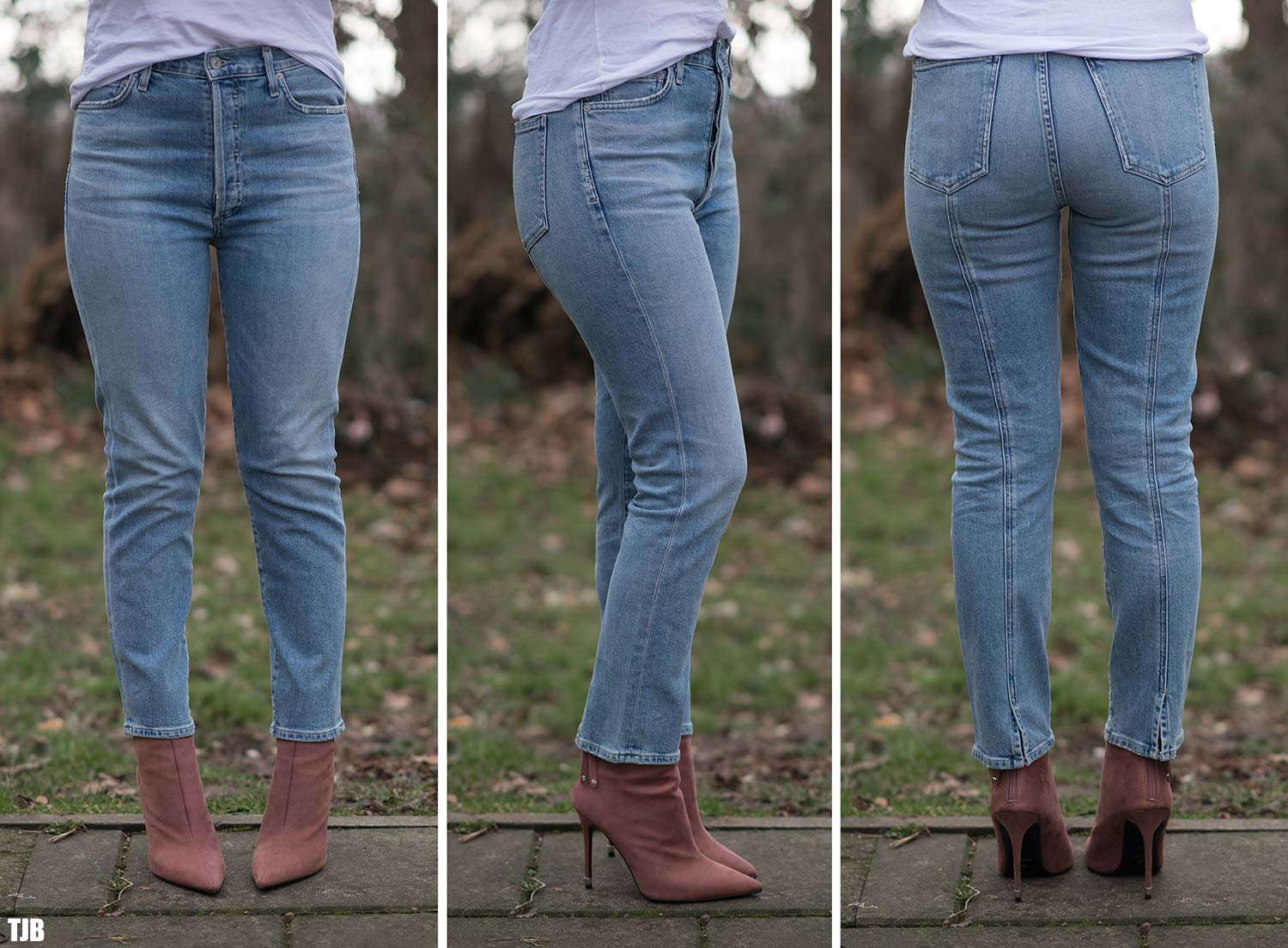 Citizens of Humanity Olivia Seam High Rise Slim Cropped Jeans Outset in Review
It's been a long while since I did a review of any denim that wasn't skinny, mostly because skinny jeans are what I live in and were the biggest trend for many years, however this Spring 2019 is putting skinny jeans on the back burner and making room for slim and straight fits. I've noticed such an up-rise in the want for jeans to be like they used to, thicker, more vintage looking, rather than super stretch leggings, and I'm torn between this. I love the comfort and skin tight fit of super stretchy jeans, but I love the washes and appearance of vintage style denim, which you just can't replicate on such thin, elasticated denim, so I'm somewhere on the fence in between! However, I recently got these Olivia Seam High Rise Slim Cropped Jeans in Outset from Citizens of Humanity, and I'm reviewing them for you to see what I think!
The Fit – The Olivia is a high rise, slim fit jean with a cropped leg. The measurements are a 10.75″ rise, so it's nice and high, a 25.5″ inseam, and a leg opening of 12.5″. As you can see from the photos, they also have seams at the back which go down the centre of the legs from the pockets, to the ankle, which then leads into a slit at the bottom. They're incredibly cool! They have a button fly, adding to the vintage appearance, working front and back pockets, and a straight cut profile. Usually this isn't a fit I would like, but I quite like them paired with boots or heels as the slit at the back of the ankle fits over the boots perfectly, and the seam elongates the legs. Most of the time I am a fan of the Rocket Crop from Citizens of Humanity, that's my go to jean, but these make a nice change. The back pockets as well, for a vintage, high rise inspired jean, are quite flattering. They're positioned higher up, but not too high to make your butt look flat, so I'm definitely into the fit from behind, it's unique and really flattering.
The Sizing – Now these do run a bit bigger for Citizens of Humanity. I'm mostly a 28 in their Rocket jeans, which is what I took these in, but they fit a lot more relaxed than that. I think given the slim, straight nature of the cut, they're designed to fit more casual and slightly looser to make them comfortable, rather than restrictive, however if you do want a tighter fit, go with your smaller size. I could definitely do a 27 in these and have them skinnier on me, but I don't know how comfortable they would be then as the denim is thicker and less stretchy.
The Wash & Denim – These jeans are made of 99% cotton and 1% spandex, which feels so weird typing out as I haven't had a pair of jeans with 1% stretch in them in years! Surprisingly though, due to the more relaxed fit, they are very comfortable. The denim feels quite soft as well, so it's not a thick, rigid fabric at all, it's soft and has some stretch to it, so they're easy to wear. It's nice to have a vintage inspired jean that is actually comfortable, it makes a change! The wash is called Outset and it's a really light blue, with whiskering details on the lap, a faded butt and thighs, and washed out knees, keeping it in line with a worn in pair of old jeans, so these would definitely do you well as a more comfortable alternative to your rigid vintage Levi's that might be painful. It's a wash I quite like and I'm excited to wear more of for Spring, as it's different. I have noticed they're going to stretch out though, I put them on for the first time and within 10 minutes they were loosening up, so I'm yet to report about how much they will give, but that's another reason to size down!
The Details – The details I already mentioned include the back seams and the ankle splits, but since they are vintage inspired, Citizens of Humanity haven't gone overboard with any other details. There's no branding on the pockets, no logos anywhere, you can only tell the brand by looking at the hardware, so if you like simplicity, these are for you!
Overall Opinion – Overall, I think for an alternative to skin tight skinny jeans, these make a nice change. They're relaxed and comfortable, like I said, and quite easy to wear. The seams and ankle splits make them flattering from behind and easy to wear with boots, plus the cropped inseam is great for us shorter ladies as you can see! If you are taller though, these might look even better as the leg opening flares out over your calves, like on the model. The wash is really pretty, my photos don't do them as much justice, they're more accurate with the Shopbop photos in all honesty, and they make the perfect Spring jean! I can't say that I prefer these to my usual skinnies or the Rocket fit, as those are my absolute must have, but I'm enjoying these for a new pair of jeans! They do come with a price tag of $238, which is average for the brand, and you can shop them just below. What's your opinion on the Olivia? Have you tried it?
Buy these Citizens of Humanity Olivia Jeans here at Shopbop.com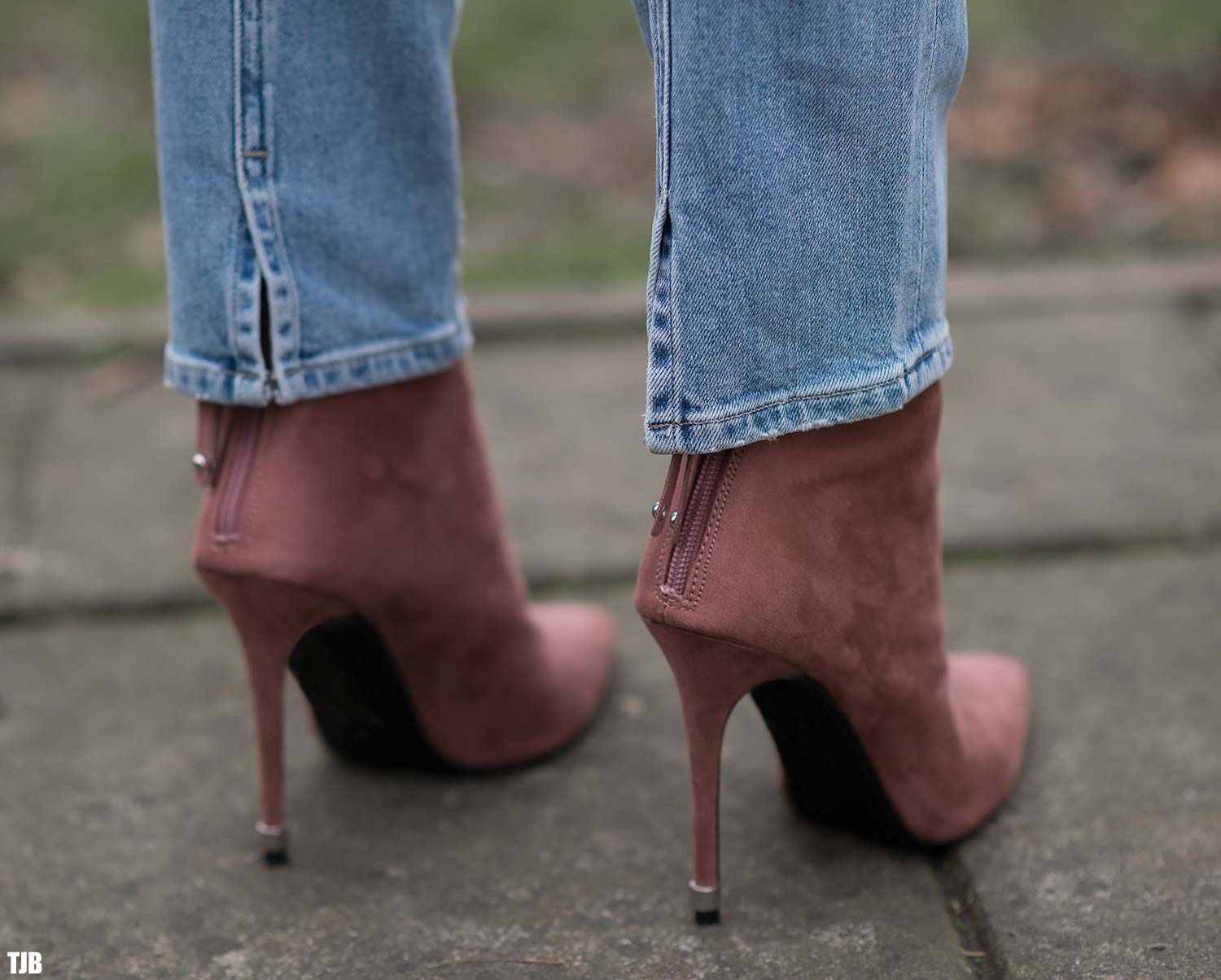 *Jeans courtesy of Citizens of Humanity / Opinions all my own. This post contains affiliate links to help keep the blog running.