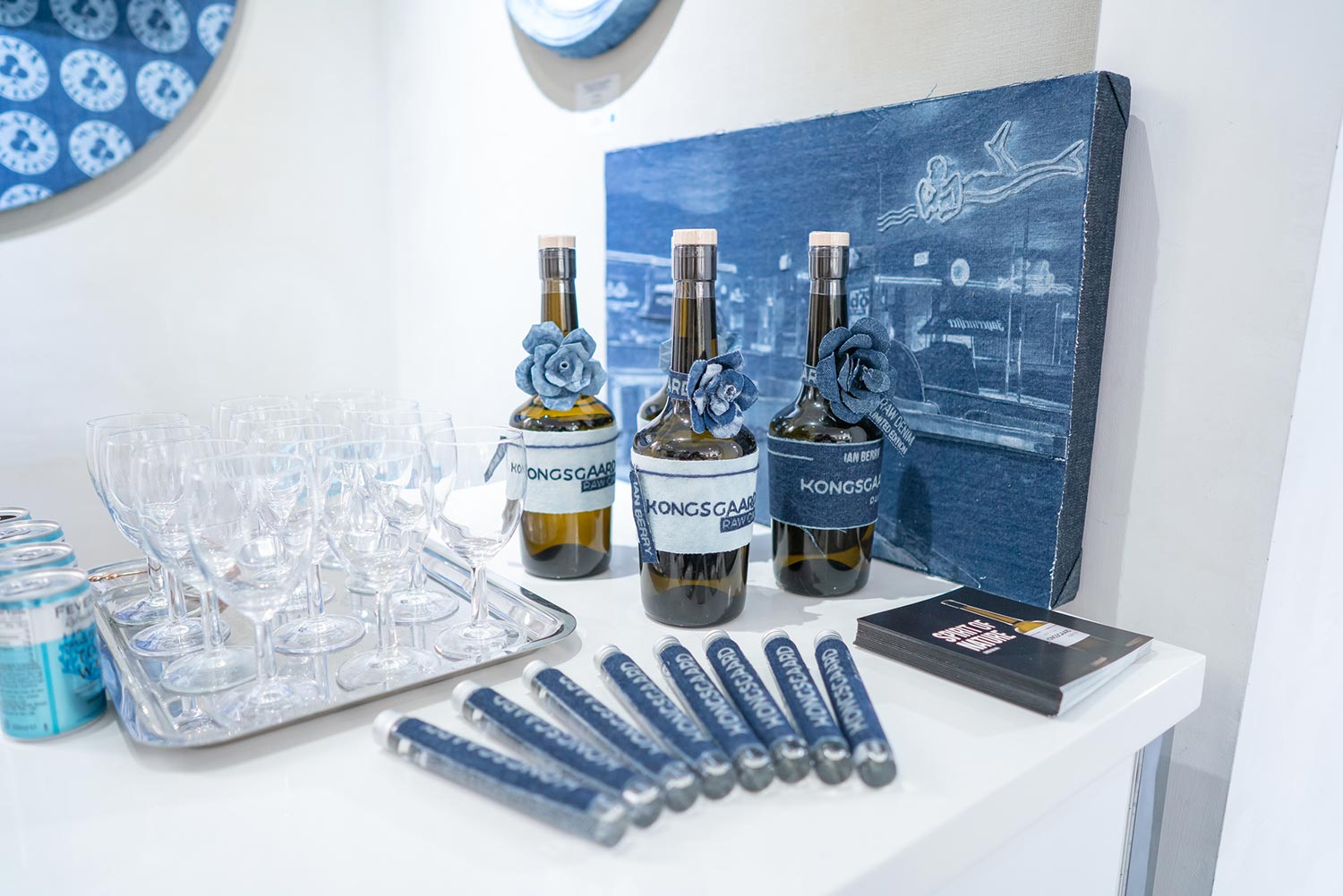 My favourite artist Ian Berry has had another successful show in London, with all the work selling by the opening day! His exhibition Hotel California was named by London magazine Londonist the 'must see show' of the month, and FAD labelled as a top seven show to see in July. The BBC covered it once again – and so are we!
But first, let's talk about the new collaboration he did with Kongsgaard Raw Gin. The bottles look amazing (as you can see above) and I think it's so cool that they are all made out of denim.
Ian collaborated with his friends Soren and Bettina Kongsgaard to make some very limited special denim editions. The Danish Gin makers are famed for their use of apples and also their sustainability – the only Gin brand to plant a whole forest and will be soon carbon neutral!
The Gin is hand crafted so Ian made an edition of ten hand crafted labels – all the letters cut by hand, another ten with Raw denim – the 'Raw Limited Edition' to link with the brands Raw Gin name. And then a further five that were one off originals and made to reflect different pieces of work in Ian's exhibition – like his Hotel California record store, the secret Garden and one to reflect a pool.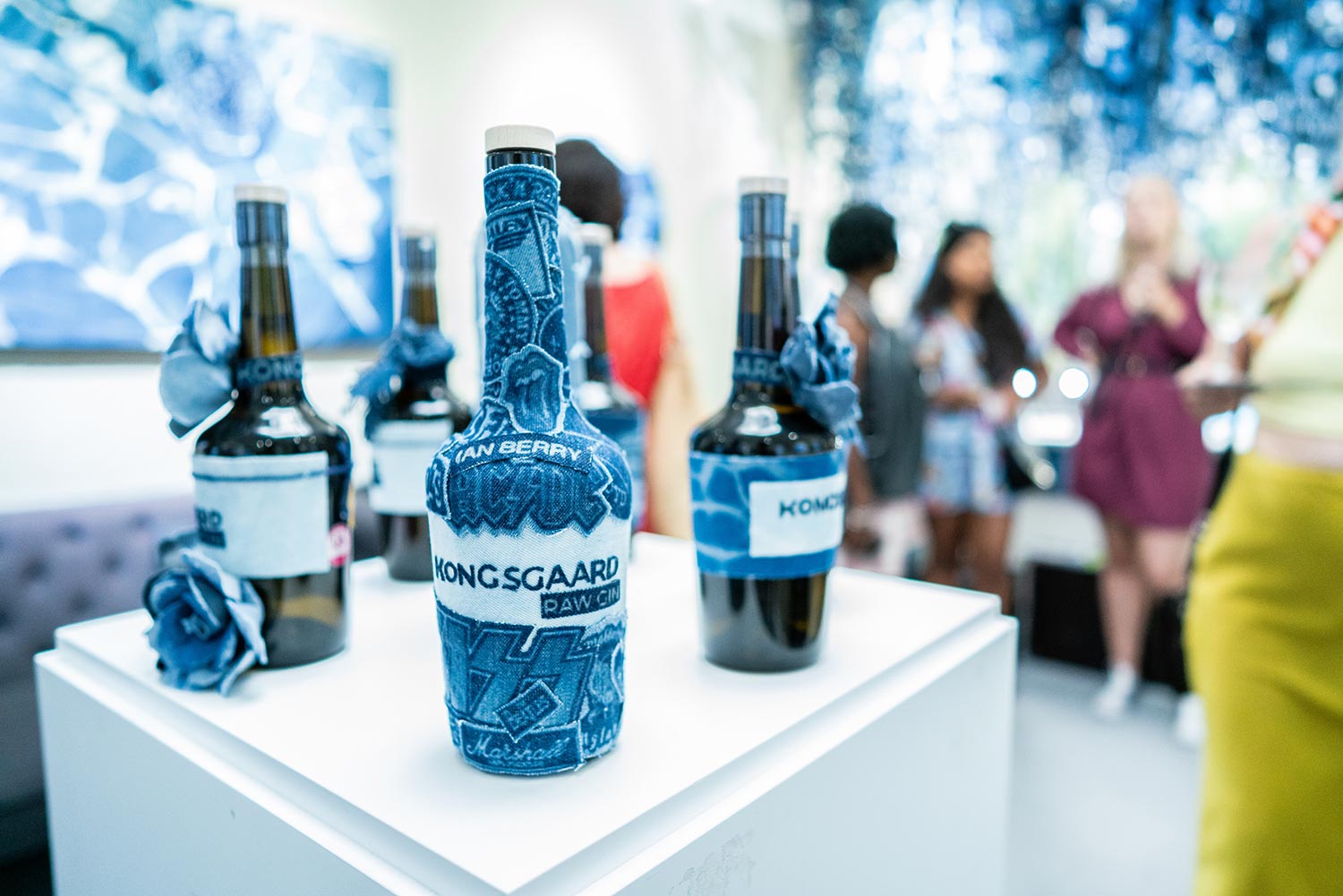 They have just revealed them at the exhibition. It's incredible what Ian has done with this one, where he turned denim back to water with his incredible technique, so when you stand back, you totally don't think it is denim.
'When I started I always wanted to point out it was denim, now I hide that it is denim and see that as a challenge.' Ian said.
I've written about Ian over many years and it is always shocking to see the challenge in each show, like a metallic shiny launderette washing machine, a polished bar top, or the details of the beautiful tiled floor. I love the brightness of one of his latest shows, the new work using brighter denim to reflect bright Californian light with the hotels and pools of the state which made denim the state's official fabric! It's amazing how he can get the material to shine from quite a matt material. Ian portrays the ripples from a swimmer in a pool, and hotels like the Mondrian, Roosevelt and Standard in LA – and you can see the influence of his friend David Hockney.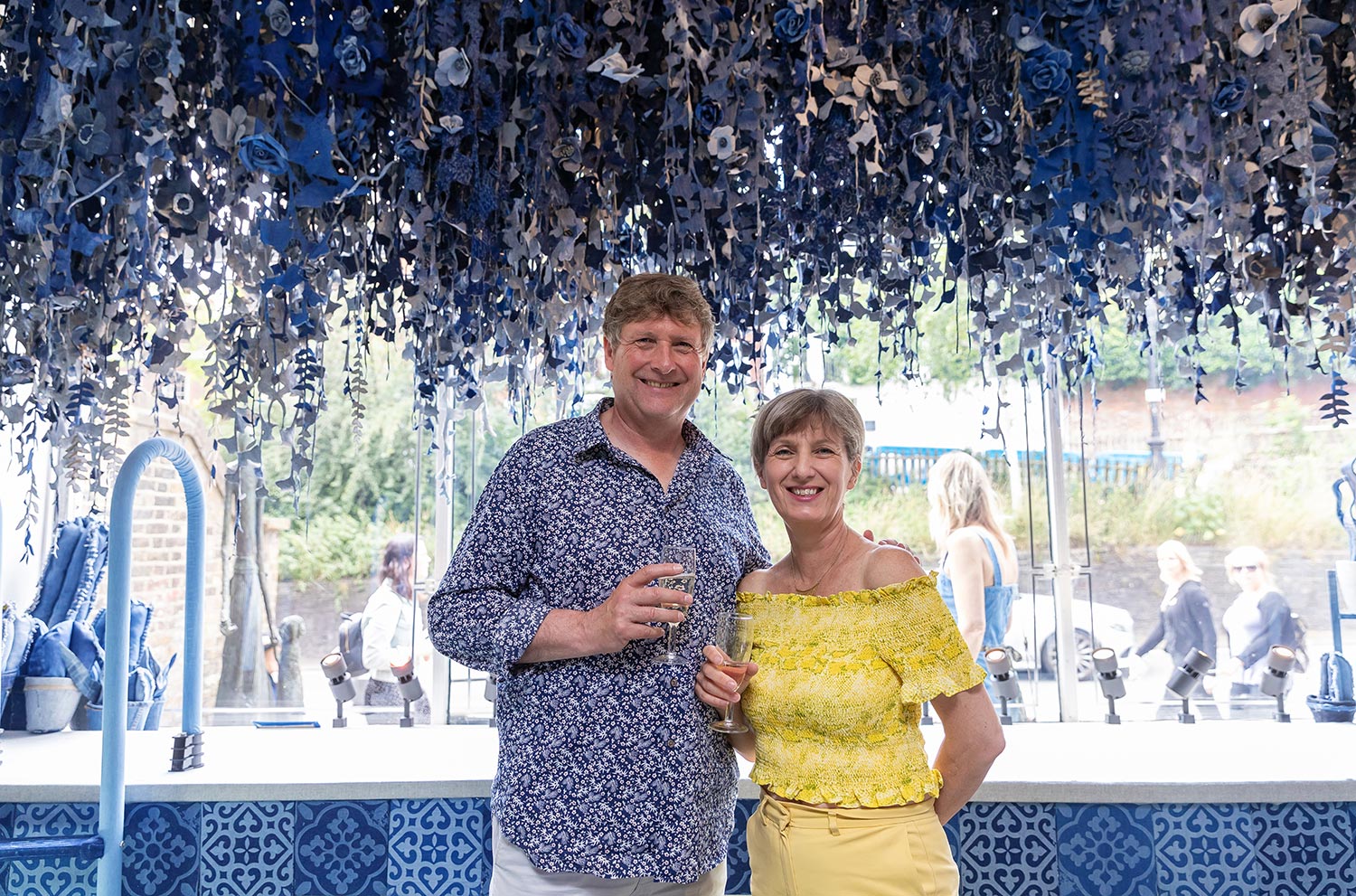 The show also gave a great chance for people in London to see a version of his famed secret garden that has travelled the world. For the first time showing in London, the installation hung in the gallery window, drawing many people toward the gallery in picturesque Hampstead! The install that he made with the help of Tonello in Italy had shown in a version just the week before in Barcelona – an event to celebrate Tonello.
Tonello had been exhibiting with ITMA, their most important event. To celebrate they had an 'Inspiring night where Ian, Tonello and his friend Juan Manual, along with Oficina +39 joined forces to make a new version of the hanging trellis that hung in New York – lit with a mood and a beautiful film of the making of that set a beautiful ambience for the evening.
Ian's exhibition has been such a success, that it sold out on day one. To celebrate this they held another event at London's Catto Gallery (his fourth solo show to sell out with the gallery). It was also in aid of British charity Jeans for Genes – that supports families with Genetic Disorders. The charity is famed for Jeans for Genes day, where schools and workplace allow people to wear our favourite material, jeans in return for a donation in September. Ian's event raised money for the charity but also to start his new relationship with them.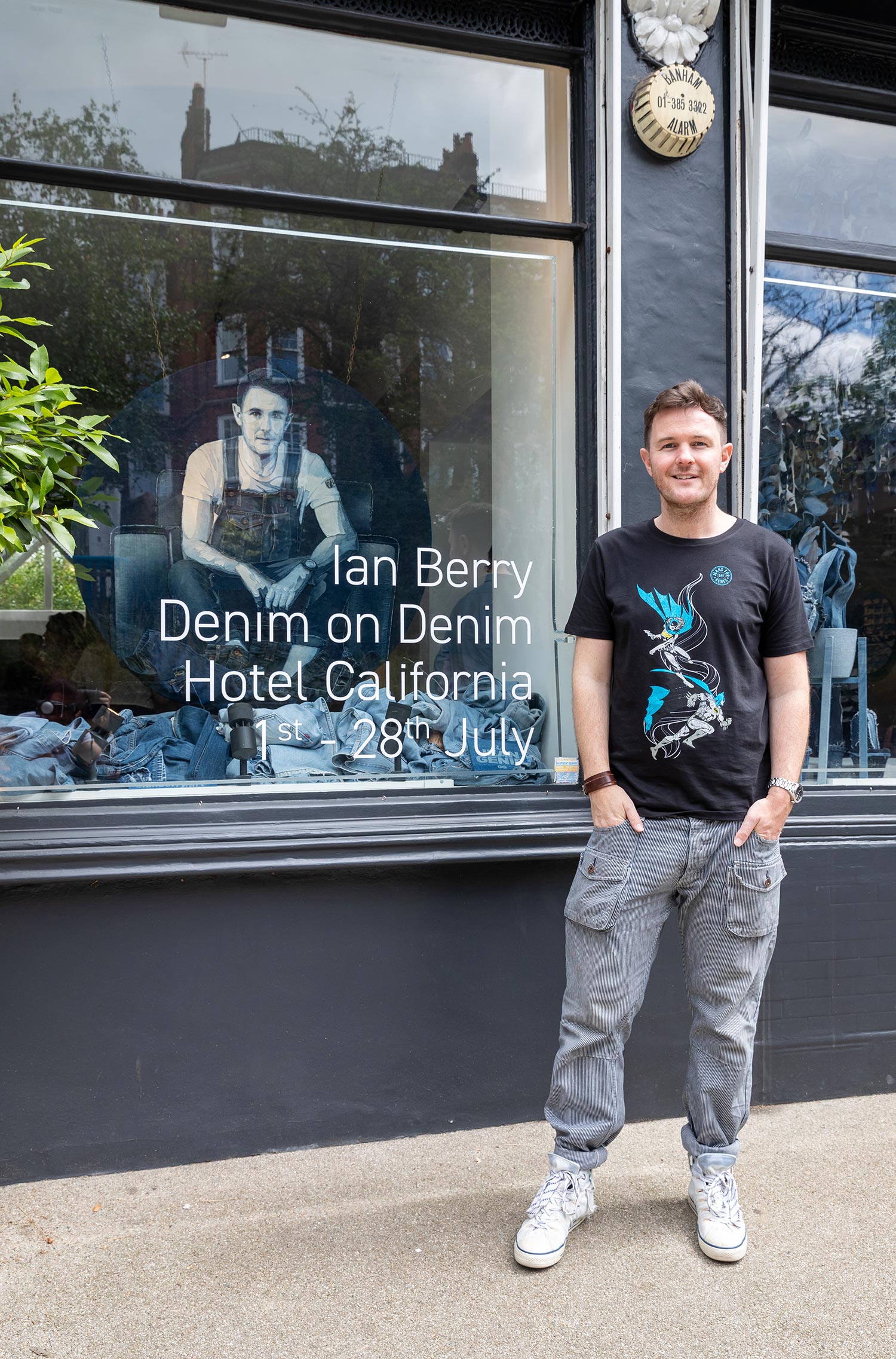 The charity also sells shirts to raise funds, this year working with Warner Brothers for a special shirt. Ian is one of their ambassadors and modelled the shirt for the charity. The Batman version with Warner Brothers is proving popular with children. Ian will do further work with the charity.
Kongsgaard provided drinks for the night, London's hottest day on record! They launched their collaboration but that was not all. Famed Singer Songwriter Newton Faulkner performed on the night including Dream Catch Me, which was part of his number one album in the UK. A friend of Ian's, Ian spoke warmly about him and his music, which was part of the soundtrack of many peoples summers in 2007 and 08 and when Ian took from transition from playing with denim, to becoming a professional artist – so a good time to reflect over the many successful years.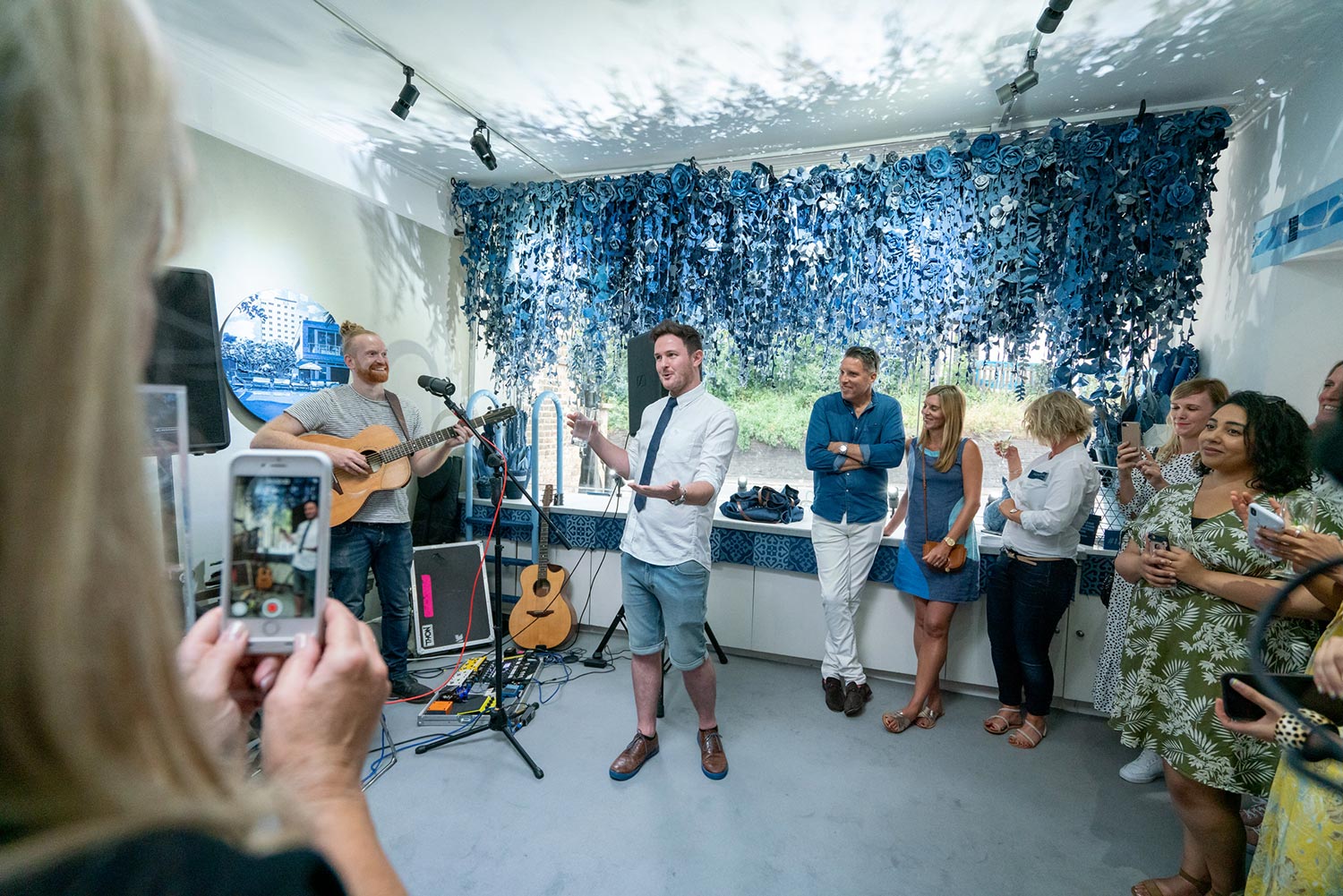 Ian Berry who has worked with Selfridges this year as well as making a Record Store install in the heart of Soho, was also nominated as one of the Rivet 50 with results announced in October.
I know how hard Ian works so I am glad for his success and It is proving to be a great year for him, I hope it only gets better.