8 Must-Have Fall 2023 Fashion Trend Outfits
A change in weather means a change in fashion. Each season is an exciting opportunity to mix up your style, incorporate new trends and add new pieces to your wardrobe. There are plenty of easy-to-wear trends this Fall season to get you ready for the cooler weather. Some of these include denim, and some of them don't, as we like to mix it up a little. I've added ways in which you could wear denim for every single one of these looks though, if you prefer! So, below are 8 transitional outfit ideas to ease into Fall dressing while slowly saying goodbye to Summer.
1) Maxi Skirt + Ballet flats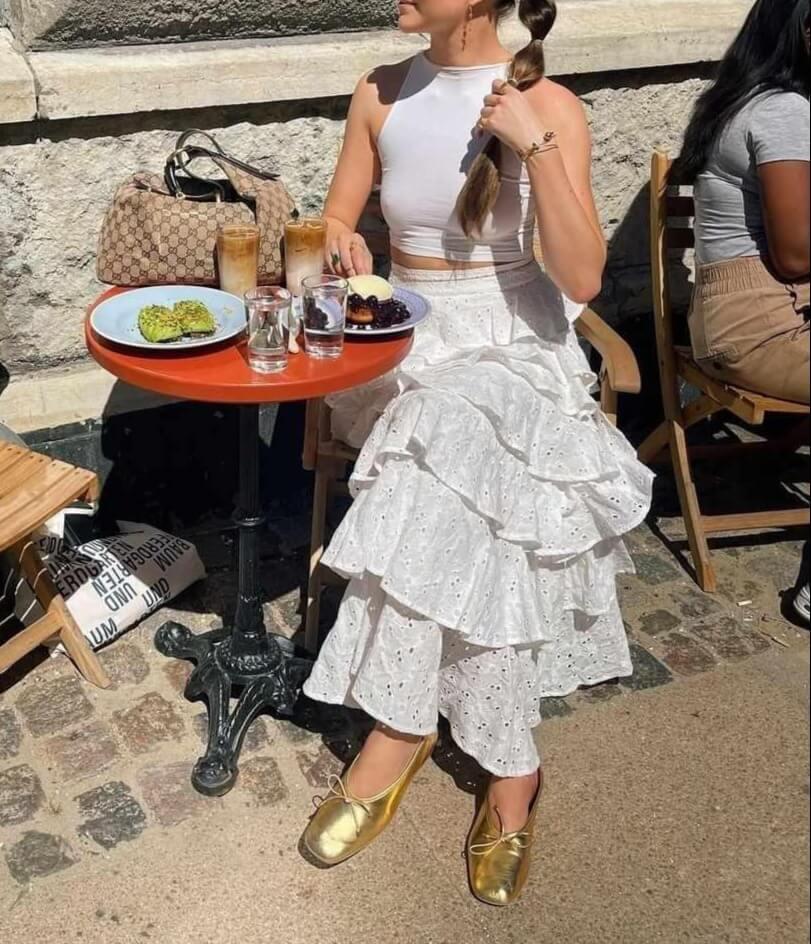 One of the most trendy items this season is ballet flats. These adorable and versatile shoes can be worn for daytime or evening outfits and dressed up or down. This stylish combo pairs it with an equally trendy tiered maxi skirt for an ultra-girly outfit appropriate for warm Fall days. Keeping the top simple with a tank or tee and adding some classic sunglasses balances out the look. You can of course throw a denim jacket on over this, which would look so chic!
2) Mini Skirt and Matching Button Up Shirt
Another excellent option for the early Fall days that are still too hot for long pants is a mini skirt. Mini skirts are going to be everywhere this Fall, and you can dress them up into a chic outfit by combining your skirt of choice with a matching colored button up shirt. This provides enough coverage to be office appropriate for a relaxed dress code and makes the outfit look polished and professional. If you want to add denim to this look, you could try a cute pair of denim shoes like the Roger Vivier denim pumps.
3) White Jeans + Black Top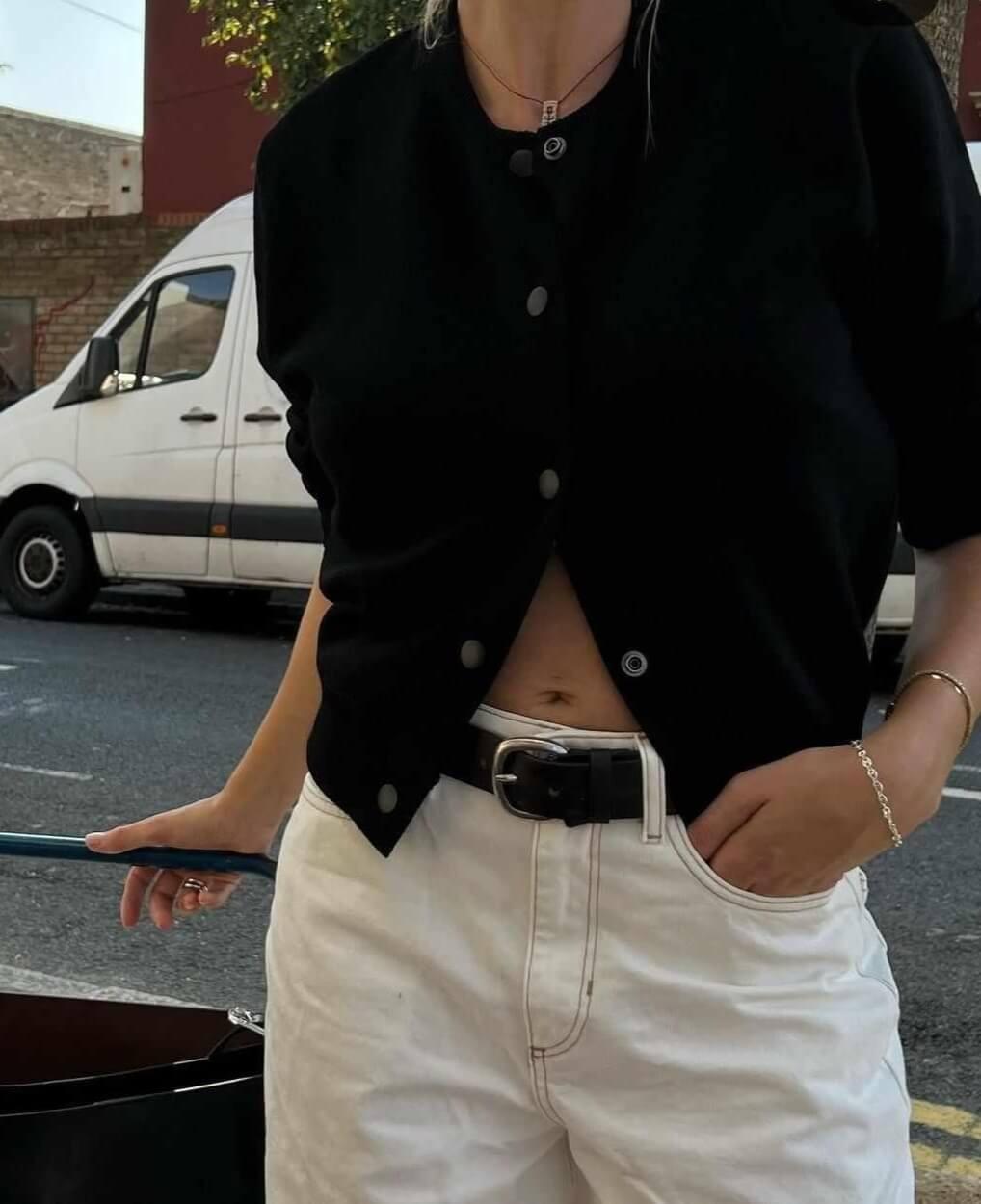 One of the oldest fashion secrets for always looking put together is to stick with neutrals. This outfit idea pulls that off effortlessly for an easy stylish early Fall look. White jeans are a perfect transition item since they offer some warmth while still maintaining a lighter look appropriate for the end of Summer. A black cardigan is the perfect companion along with a belt, some loafers and a chic low bun hairdo.
4) Leather Midi Skirt + Red Sweater
If you love skirts but don't feel comfortable showing off so much skin in a mini skirt, midi skirts are the must-have item of the season for you. They add a feminine flair to any outfit and the leather fabric is perfect for Fall. Pair it with a cozy knit sweater in the hottest color of the season: red. This is an easy on-trend combo to rock any day of the week. Again, you could add some denim shoes to this look!
5) Mini Skirt + Trench Coat + Loafers
Mini skirts are in, and loafers are always a classic Fall shoe. The easiest way to adapt this schoolgirl-esque outfit combo to colder temperatures is to layer a trench coat over the top, or a long overcoat. Trench coats instantly add drama and class to any outfit. The layers of this combo make it a perfect transitional outfit. Of course when it comes to the skirt, denim skirts are trending, so I recommend a mini denim version!
6) Striped Cardigan + Sunglasses
Cardigans are great for Fall and sunglasses are great for summer. When you combine these two together you get a perfect early Fall outfit for the sunny days with slightly crisp temperatures. A buttoned up striped cardigan is a posh French-girl wardrobe staple, and it pairs perfectly with trousers, wide leg jeans, or even some leather pants. The indigo blue denim is perfect for navy blue and white stripes.
7) Neutral Color Palette with Red Accents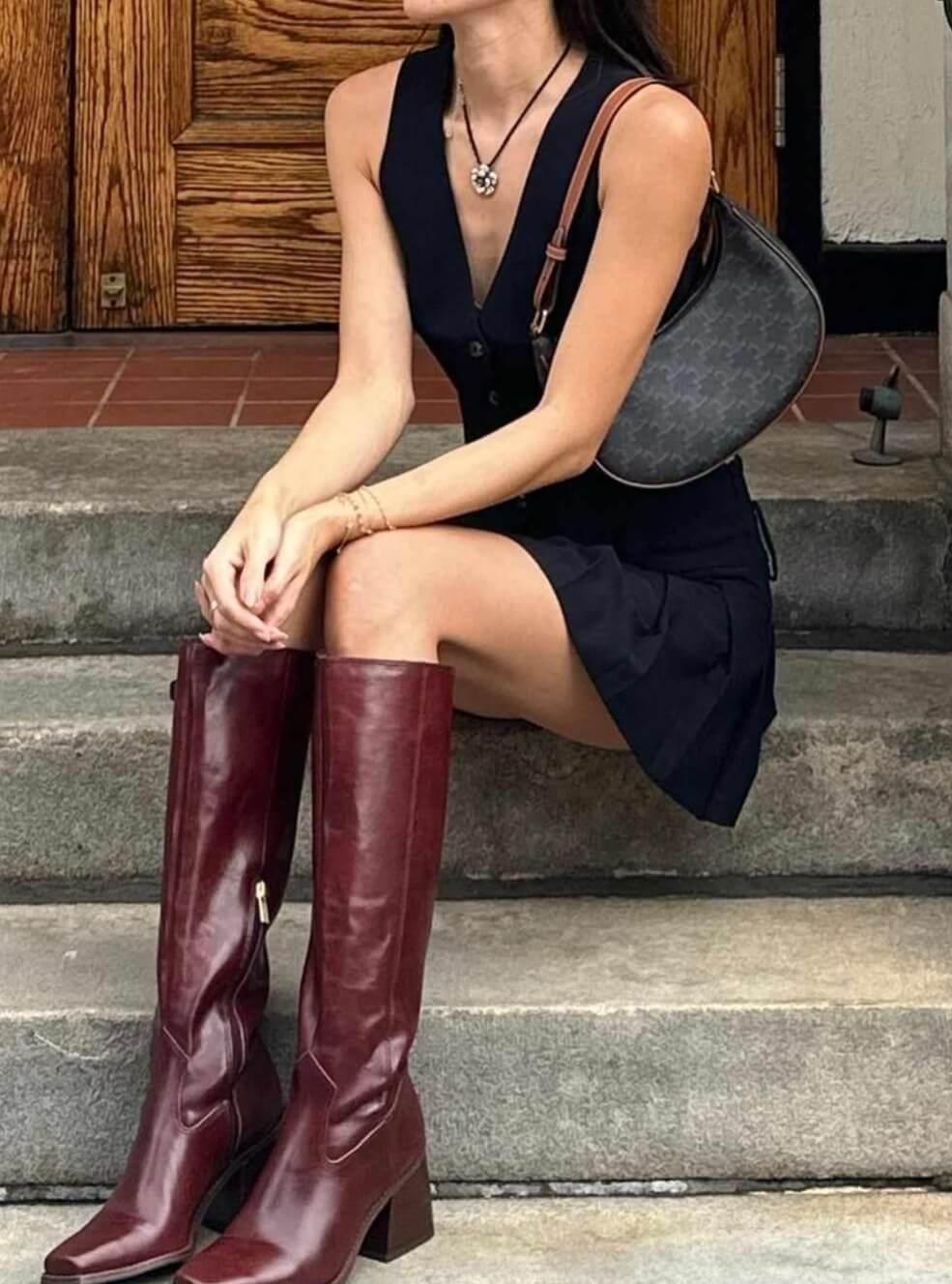 This next outfit trend is less about the items and more about their colors. Red is the must-have color of the season, and pairing it with an otherwise all-neutral outfit is the perfect way to make it stand out. Bright red, cherry red and anything in-between are all right on trend. This outfit pairs some cherry red knee high boots with an all black mini skirt and vest top for a sexy and playful way to wear this trend. You can easily add pops of red to black denim though.
8) A Fuzzy Textured Knit + Cropped Jeans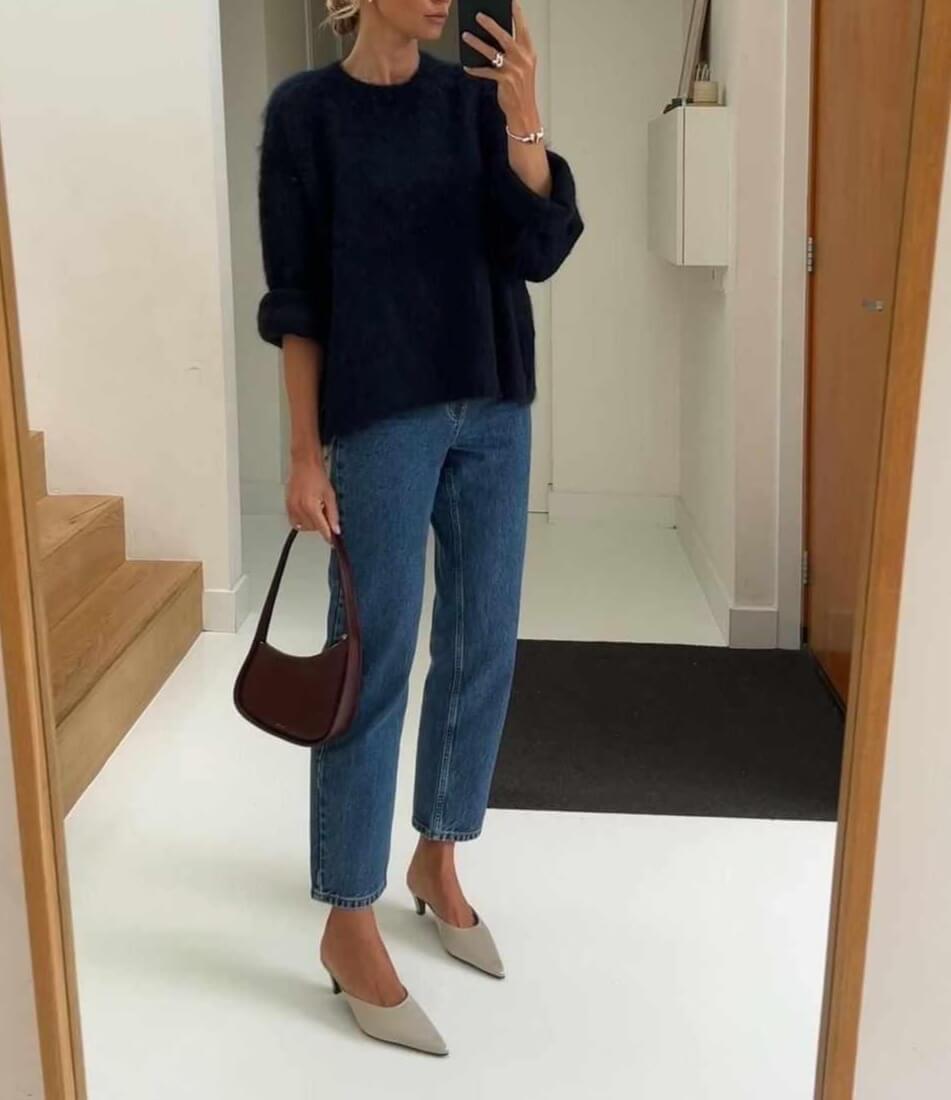 One of the most prominent trends for both the upcoming Fall and Winter season is fuzzy textured knits. They're a fun way to add interest to what could otherwise be a boring outfit. This cozy knit sweater is perfectly paired with some cropped ankle jeans for a casual yet put-together look that gives a perfect opportunity to show off a beautiful shoe!
There are so many stylish ways to wear the season's latest trends, no matter the temperature where you live. Don't forget to have fun, express your personal style and always dress to impress.